https://befamilytravel.com/wp-content/uploads/2019/12/Asheville-WNC-Snow-Tubing-Family-Travel.jpg
1669
2513
BeFamilyTravel
https://befamilytravel.com/wp-content/uploads/2018/11/BFT-LOGO.png
BeFamilyTravel
2019-12-10 11:41:31
2020-01-24 09:32:57
Snow Tubing Around Asheville and WNC for 2020
 Our Annual Christmas Visit to the Grove Park Inn to see the Gingerbread Houses
It just does not feel like Christmas until we take the kids to the Omni Grove Park Inn to see the Gingerbread House displays. This year was The 26th Annual National Gingerbread House Competition™ held at the Inn in Asheville, North Carolina. 
The Gingerbread houses are made 100 percent of edible ingredients although I'm sure they are much nicer to gaze upon than to taste. That does not stop my two kids and probably most children from begging to pluck a candy or two off the delicately arranged masterpieces. The houses are partially blocked by rudimentary fencing or stanchions but does not stop little hands from  reaching through. If you're like me, you will exclaim more than once "Don't you dare touch that!" I think once I had to also add "No! Don't lick it either."
Gingerbread Houses (The Gingers)
As usual our 2-year-old checked out 15 minutes into the visit and we took turns chasing her around the public spaces of the hotel. The whole way to the Grove Park she repeatedly exclaimed excitedly "Me see Gingers!" Apparently after seeing only one hallway "the Gingers" were not as exciting as once hoped. Our 7-year-old, however, was really interested in the magic of it all. She loves arts and crafts so now she is very interested in entering the competition next year. It has yet to be fully decided upon, if her parents are ready to take on that task. We may just stick with one of these kits that we typically let the girls build.
[amazon_link asins='B07F3CL4K3,B07YBGB48N,B06Y5CHVDG' template='ProductCarousel' store='beft-20′ marketplace='US' link_id='f4871598-c6e8-469f-995a-d76edd31f589′]
There are of course entries from all over the country and in every age group from Kindergarten to adults. It is amazing to see all the incredible entries and all the hard work that goes into each entry. I struggle to carry our girls gingerbread kit from the table to the counter. I can not imagine what some of these families do to cross the country with these edible masterpieces. 
Historic Grove Park Inn Christmas
The Grove Park Inn first opened in 1913 so the hotel itself is truly a treat to visit. However, when it is fully decorated for Christmas magnificent Gingerbread creations line the grand halls of this Asheville, North Carolina Landmark Hotel. It is truly stunning to visit the Grove Park Inn at Christmas. Creatively themed Christmas trees sprinkled in among the candy adorned displays really put you in the holiday spirit. We love sitting by the two massive fireplaces and sipping hot cocoa. There is also a beautiful sleigh and reindeer outside on the patio for pictures. That is a great spot on a clear day to photograph Downtown Asheville in the distance.
National Gingerbread House Competition™
You will want to check out Omni Grove Park Inn website before planning your trip to view the Gingerbread houses. There are only certain days and times in which the displays are open to the public. This is the excerpt directly from the Omni Grove Park Inn website for 2018's viewing schedule.
"The Omni Grove Park Inn invites guests not staying at the resort to view the display after 3:00 p.m. on Sundays. Anytime Monday through Thursday, based on parking availability and excluding holidays (December 23, 24, 25, 28, 29, 30, 31 and January 1, 2019). Please note that only Registered Resort Pets will be permitted. No outside pets will be allowed."
We have noticed it follow a similar schedule for several years now. Just to be certain check the website before making plans. Also, important to note there is a $20.00 minimum parking charge per vehicle and I believe that is the same if you park for 1 hour or the whole day. So when you pay to park up plan a nice long stay. They have a great cafe for lunch with sandwiches, pizza, or salad. They also have coffee, desserts, and snacks. There are several gift shops and boutiques. It's pretty easy to spend 3-4 hours there.
https://befamilytravel.com/wp-content/uploads/2019/01/Omni_Grove_Park_Inn_Gingerbread_Houses.jpg
2592
3872
BeFamilyTravel
https://befamilytravel.com/wp-content/uploads/2018/11/BFT-LOGO.png
BeFamilyTravel
2019-11-20 14:28:12
2019-12-23 12:10:45
Grove Park Inn at Christmas
This week (December 2018) we visited The Biltmore Estate in Asheville, NC. There was a foot of fresh snow covering everything and it was beautiful. Biltmore was very thorough to clear and salt the estate roads. It was very safe but quite the site to see the grounds blanketed with beautiful white snow. It was particularly unusual to see the massive bamboo forests bent over with the tops touching the ground under the weight of the snow. We wondered if it was the right decision to take the Kids to The Biltmore Estate.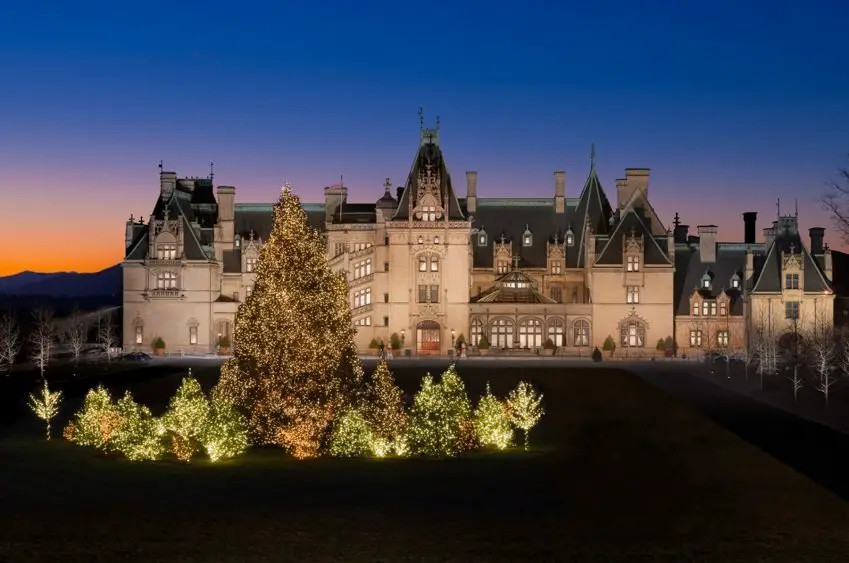 Gift Shopping
First, we visited the shops in the stable right by the Biltmore House entrance. The Carriage House Shop had lots of tasty dips, salad dressings, Biltmore Wines, and juice available for sampling throughout. With a mix of Biltmore souvenirs, Christmas decorations, jewelry, and clothing it was a nice place to gather up a few gifts. Travel Tip: The powdered dips are super light and small for packing. They are a great souvenir or holiday gifts to take home. We also checked out the Toymaker's shop. The Confectionery tested my willpower. A Christmas Past, and the Bookbinder's shop were both neat as well. Then we grabbed an early lunch at the Stable Café in order to beat the rush and to fuel the kids for a few hours in the house.
Tour of the Biltmore House
We queued up in a short line to enter the Biltmore House and it moved rather quickly. Once in it is a self-guided tour so you can move as quickly or as slowly as you need to take it all in. The house was stunning with all the Christmas Décor. You could tell there was so much work that went into the decorations and such attention to detail. The kids loved some of the trees and how fancy they were. The attendants stationed in many of the areas are quite knowledgeable and are very willing to answer any questions they can.
Biltmore Secrets
In the library the attendant engaged our kids by asking if they could pick out the Beauty and the Beast book. Of course, they could not but she showed them right where it was. She also let us know to look out for a staircase in the South Wing just outside of the gorgeous Louis XV Room. The staircase lead down to the balcony of the library just behind the tapestry. It was used to pop down into the library for an evening read or to take a book back to your room before bed.
Imaginations Run Wild
Our 7-year-old thoroughly enjoyed the tour. Toddlers/preschoolers would probably get restless rather quickly. She was enthralled in her imagination with what it would be like if she lived there. It was very sweet! The whole tour through the house is about 1.5 – 2 hours. This was a good length as there are no restrooms inside the house. Make sure everyone has been to the bathroom before starting the tour. 
Visit to the Winery
It was so cold out and the grounds were all Winter Wonderland, so we decided to spend some time at Antler Village. We finished out our day at the Winery for wine tasting. We were a bit weary and did not know how that was going to work out with the kiddos. They offer some coloring sheets and coloring pencils with a cup of grape juice to finish off. I must say the littles were quite content while we tasted the wines. The only drawback was there was no hard surface where the kids could draw. Mine ended up laying on the concrete floor which was not ideal. Some clipboards or lap trays would be a perfect fix and more comfortable.
Fun for the Kids
All in all, it was a wonderful day out and you could easily spend several days visiting Biltmore if the weather were warmer. It was great fun and good exercise for the kids; and equally fun, informative and fascinating for the adults as well. If you're considering a visit to Asheville, North Carolina, The Biltmore Estate should be high on the list of family activities. Don't be afraid to take the kids to The Biltmore Estate. 
If you want to share your fun adventures. Learn from other families about great vacation ideas or family travel tips, then join us in our Private Facebook Group Family Travel Community. Feel free to join our email list for tips, tricks, savings and more. We strive to post valuable content that will help you simplify family travel. 
https://befamilytravel.com/wp-content/uploads/2018/12/Kids-at-Biltmore-House-Christmas-Tree.jpg
563
849
BeFamilyTravel
https://befamilytravel.com/wp-content/uploads/2018/11/BFT-LOGO.png
BeFamilyTravel
2018-12-20 08:00:34
2019-01-04 00:14:37
Take Kids to Biltmore Estate in Asheville, NC
Stay Up to Date!
Sign up for the BeFamily Newsletter! All good stuff – tips, tricks, savings and more. Unsubscribe any time!
We take your privacy very seriously. We will never sell, lend or lease your info.