When planning a trip to Florida, you may be overwhelmed by how many activities there are. It can be hard to narrow down the list or find out which activities are best in the area.
Luckily for you, we've found the best of the best activities in Florida to do with your kids, where everyone will enjoy themselves and have a good time. Here are 15 family activities to try when you're in Florida
Looking for more ideas? Check out these family-friendly activities in Charleston, SC or '15 Best Family Activities In Hilton Head To Do On Your Travels')!
1. Walt Disney World
Top of our list is Walt Disney World in Orlando. Fun activities are abundant at Walt Disney World, with parks like Magic Kingdom, Hollywood Studios, EPCOT, and Animal Kingdom.
In Magic Kingdom, you can see your favorite Disney characters through meet and greets or ride the traditional dark rides of the best fantasy tales we've ever known. Head to Liberty Square for the Haunted Mansion, or see the swashbuckling pirates on Pirates Of The Caribbean!
In Hollywood Studios, you can walk among the stars and enjoy the glitz and the glamor of the movies. You can also ride the Millenium Falcon at Galaxy's Edge or build a lightsaber with Rey and meet a real-life Wookie!
Take a slow day at Animal Kingdom at the animal exhibits, and learn about all of the creatures of Earth, or go to EPCOT to taste the cultures of the World Showcase.
If your kids are all tuckered out, take a lazy day at one of the waterparks, go on slides or float down the lazy river and catch some of the sunshine state's glorious rays!
By far, the best place to visit on your travels in Florida is Walt Disney World. Our Disney World Planning Guide with Printable Worksheets will help your family plan a fun, easy, stress-free, and magical vacation to Walt Disney World.
The 79 printable pages include various Disney World vacation planning information, printable worksheets, and vacation planner templates.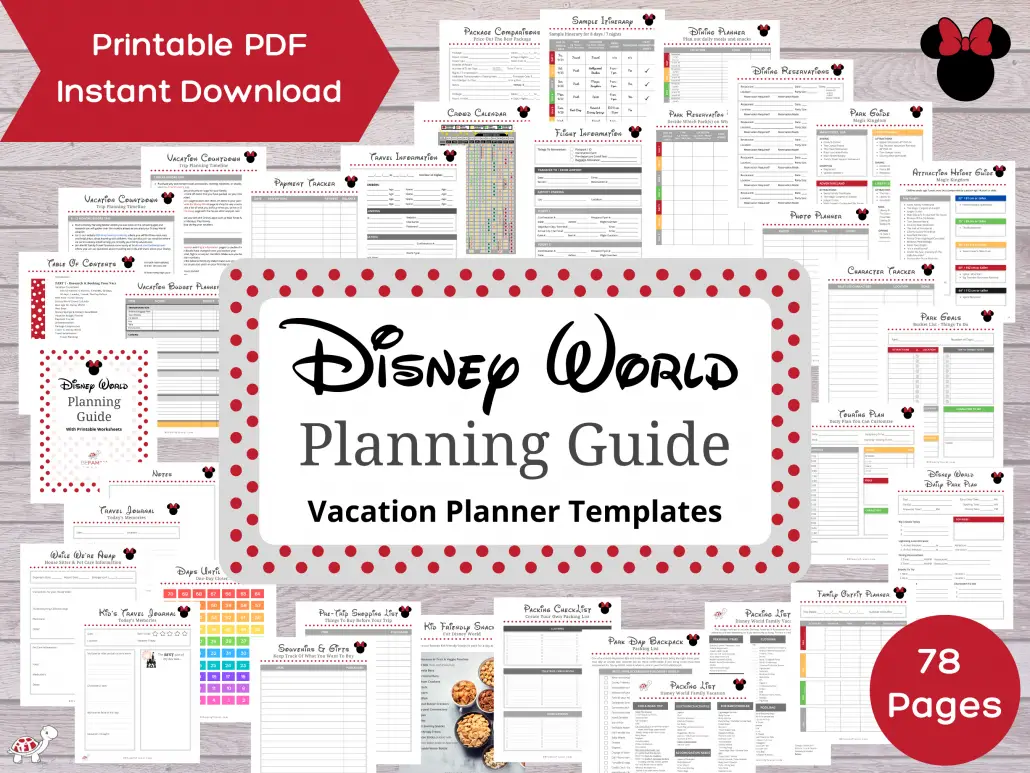 2. Everglades National Park
When in Florida, you have to pay a visit to the Everglades. The River Of Grass is one of the wonders of the world, and you'll get a taste of the Florida wilderness right here.
You can enjoy the sights of the swamp or head on the alligator's trail and take in the view from the observation tower.
3. Busch Gardens
In Tampa Bay, you can visit Busch Gardens. With rides and rollercoasters for all of the family, this place is unmissable in Florida.
You can take the kids on the Serengeti Flyer- a breathtaking ride for thrillseekers that is the tallest and fastest of its kind, or head on one of the tours and safaris.
Tigris, SheiKra, and Gwazi are more traditional coasters suited for extreme thrillseekers, but there are also attractions for younger children, like the Stanley Falls log flume or River Rapids.
This theme park is jam-packed with attractions, making it the perfect, fun-filled day out in Florida for families.
4. Universal Studios
When visiting Orlando, Universal Studios is another strong contender for family-friendly activities in Florida. Universal Studios is all about the movies and provides a behind-the-scenes feel for the action-packed blockbusters.
With New York and San Francisco areas within the park to enjoy a bite to eat, shops, or bars, you can relax and unwind while the kids enjoy all the attractions.
In Universal, you'll find the Wizarding World Of Harry Potter, where you can go to Hogsmeade for yourself, see Ollivanders, Escape From Gringotts, and enjoy the sweet treats of Honeydukes with a Butterbeer.
With countless play areas, rides, encounters, and entertainment, this theme park has to be on your Florida bucket list!
5. Islands Of Adventure
Islands Of Adventure is part of the Universal Florida resort. However, it does offer a little more than Universal Studios itself.
What is impressive about this theme park is its immersive Jurassic Park area, which has everything Hammond could have envisioned and more.
Come face to face with a T-Rex on the River Adventure, meet Blue from Jurassic World, or escape screaming from the Velociraptors on the VelociCoaster!
You can also visit Hogwarts and become a wizard yourself by purchasing your own wands at Ollivanders. Adventure through the castle, coming close to the basilisk, dementors, and gigantic spiders, just like Harry Potter himself.
If your kids are fans of the Wizarding World, then this place is perfect for your family.
If you have younger kids or ones that are fans of the holiday favorite The Grinch, then you can head to Seuss Landing to meet the green man himself, and feel like they are lost in the imagination of Dr.Seuss. Islands Of Adventure is a definite must-see for all families heading to Florida.
6. Dry Tortugas National Park
Dry Tortugas National Park is another fantastic place to visit during your time in Florida. Located in the Gulf of Mexico, west of Key West.
This 100 square mile park has a lot of open water with several islands. Dry Tortugas is only accessible by boat or seaplane, and is a great place to take in all of the sights.
With a 19th century fort, and the opportunity to snorkel with beautiful marine life, there is so much to see and do in these glittering blue waters filled with coral reefs and wildlife.
7. Go To An NFL Game
Florida is home to a range of NFL teams from the Jacksonville Jaguars to the Tampa Bay Buccaneers and of course, the Miami Dolphins. If you're looking for a fun day out for the whole family, you could head to an NFL game together!
8. Volcano Bay
Volcano Bay is part of Universal Resort, which offers adventurous rides and attractions, along with relaxing water lagoons.
Explore the Rainforest Village, Wave Village, the beach and the reef or drift away on the Kopiko Wai Winding River. This place is perfect for families with small children and big kids, with attractions and slides suitable for all.
9. St. Augustine Ghost Tours
If you want to do something a little different while in Florida, then why not take the kids on a ghost tour? St. Augustine is one of the oldest cities in the nation, and is considered one of the most haunted places in Florida.
There are plenty of spooky ghost tours to enjoy including an 1800s cemetery and schoolhouse to get lost in, and learn a little bit about American history.
10. Siesta Key Beach
If you want a day away from the hustle and bustle of theme parks and waterparks, then a day at the beach may be just what you and your family need.
Siesta Key has a stretching coastline with beautiful pure quartz sand that you can enjoy walking along or sunbathing on.
Located near Sarasota, it's one of the most famous beaches in Florida, with plenty of family friendly amenities along the white sands. It's definitely worth a visit.
11. Jacksonville Zoo And Gardens
Jacksonville Zoo and Gardens boasts over 100 acres of award winning gardens and animal exhibits for all to enjoy. It is one of only 7 zoos in the US with an animal wellness team that ensures the animals have the utmost care and attention.
Here, your family will find tigers, giraffes, aviaries, family friendly activities, and educational attractions that will keep your kids engaged and entertained.
12. Fort Lauderdale Beach
Fort Lauderdale is a coastal city in Florida, famous for its beaches, events, culture and activities. You'll find shopping, canals, dining and historic districts.
This place has gained the nickname Venice of America, with amazing waterways to see and visit. If your kids want to see something different, and you're tired of the theme parks, then go here for a fantastic beach day trip.
13. Disney Springs
Just outside of the Disney parks at Disney World, you can visit Disney Springs in Orlando. Disney Springs is a shopping, dining and entertainment district filled with eateries and fun activities.
Kids will love the T-REX restaurant, the Rainforest Cafe inside of a volcano, or there's even a hot air balloon ride!
There are of course stores for Disney merchandise, but also many designer, apparel, homeware, jewelry and art stores for you to enjoy too.
14. Old Town Kissimmee
Old Town is all about the nostalgia of days past. Ultimately, Old Town in Kissimmee is a recreation of the classic and historical architecture and storefronts of simpler times, with options for rides, dining and more.
There's also a car show, unique shops and live entertainment. If you want to step back in time, and give the kids a fun place to visit for the day in Florida, then this is the place for you.
15. Boggy Creek Airboat Adventures
You can't go to Florida without going on an Airboat adventure. Boggy Creek Airboat Adventures in Kissimmee certainly delivers. You can go across canals and lakes, to enjoy Florida's natural beauty.
Whisk across the water within the tall grass of the wilderness, and you'll hopefully get to see some critters and creatures along the way to keep the kids excited, and having fun.
Summary
To summarize, Florida has a lot to offer for families. Whether you want a fun-filled theme park trip in Disney World or Universal, or you prefer a lazy day by the beach, Florida has it all.
You can also visit the Everglades National Park or take the kids on an airboat tour or to an NFL game. Whatever you decide, you can ensure everyone has a great time in Florida.
Watch this video about 30 Fun Things to Do in Miami with Kids
For more about family travel, check out these posts:
Which Disney World Park Is Best?
Tips and Tricks for Disney World
Disney World Itinerary Planning: What You Need to Know
Multi-Generational Travel Ideas For Families
15 Best Family Activities In Orlando To Do On Your Travels
BE Family Products Inc., or (BE Family Travel) participates in the Amazon Services LLC Associates Program, an affiliate advertising program designed to provide a means for sites to earn advertising fees by advertising and linking to Amazon.com. Using any of the links on this website does NOT cost you anything but does help us continue to create content on this blog. Thank you so much for your support and for partnering with us. Let's BE Family.