As an Amazon Associate, BE Family Travel earns from qualifying purchases. Learn More
Planning a Disney World Itinerary can be daunting with all the different attractions and parks to visit. But it doesn't have to be! There is so much to do and see at Disney World, where do you even begin? Here are some tips for planning a Disney itinerary so you can enjoy your family vacation in peace. This is everything you need to know (and do) before you visit Walt Disney World with kids (WDW).
In this post, we will discuss how to plan a Walt Disney Trip and the 15 insider tips for planning a Disney World Itinerary. This covers everything from the best time to visit Disney, our 2023 Disney Crowd Calendar, what is the best age for Disney World, choosing accommodation and transportation at WDW. We talk about Disney park hours, admission tickets, Disney apps, dining reservations, the PhotoPass, Disney pin trading, and some of the big no-no's so you know the main things to avoid at Disney World (see also, 'How Big is Disney World?').
Plan a Walt Disney Trip
Our best tips for Disney World start with planning a Disney World itinerary for your family vacation. If this is your first time visiting Disney it can feel overwhelming, especially when you add kids to the mix. There are lots of things you need to think about before you even arrive in Orlando or enter the Disney parks.
Also, if you want to plan a Walt Disney trip make sure to check out these other posts that you will find helpful. These include Which Disney World Park is Best, Tips and Tricks for Disney World, and How To Pack for Disney.
Get our Disney World Planning Guide with Printable Worksheets to help your family plan a fun, easy, stress-free, and magical vacation to Walt Disney World. The 78 printable pages include a selection of Disney World vacation planning information, vacation planner templates, and printable worksheets.
Disney World Itinerary: 15 Insider Tips
These 15 insider tips for Disney World will help you during the planning stages as you build your itinerary to visit Walt Disney World.
1. Know when is the Best Time to Visit Disney World
Typically the weekdays Tuesday, Wednesday, and Thursday are the least busy days at Disney World. Therefore, mid-week is a great time to visit Disney World. But certain weeks or months of the year can be more or less busy. It's important to be aware of this when planning a Disney World itinerary.
In general, a good time to visit Walt Disney World is between January and mid-March and September and November. So, what is the best time of year to visit Disney World?
The best time to visit Disney World is in the fall. Tourists are scarce and it's not too hot outside, which means you can enjoy all of your favorite attractions without feeling like you're melting. It's also a great time for shorter lines since there are fewer people visiting the parks and most kids are back in school.
Disney World is busy during school breaks, especially the spring break period (mid-March to late April), summer break (mid-June through Labor Day), Thanksgiving week, and Christmas week through January 1st as families celebrate the holidays. When planning your Disney itinerary keep in mind that when schools are in session then crowds might be bigger on weekends as families flock to Orlando for a weekend getaway.
When is Disney World most affordable?
The most affordable times to visit Disney World are in January (after New Year) and in February, and in September (after Labor Day weekend). To choose when you will visit Disney World and to see pricing for individual days click here.
At Disney World, lower admission prices coincide with fewer visitors and shorter lines. The Walt Disney World parks are typically least crowded after New Year, so January 2nd until right before Presidents' Day week (third Monday in February). The week after Labor Day until right before Thanksgiving week. And the week following Thanksgiving weekend until the week before Christmas.
Disney World Crowd Calendar 2023
Here is our Disney World Crowd Calendar for 2023. This is our estimation of the daily crowds at Disney based on the popularity of holidays and events, which are reflected by Disney admission ticket pricing. This is a prediction and crowd levels are subject to change. You will also notice we have included the average temperature High and Low for each month of the year, and an indication of the late summer/fall hurricane season.
2. What is the Best Age for Disney World?
Once you've decided on the best time of year to visit Disney World (see also, 'What Time Are Disney Fireworks?') you want to consider the age that your child(ren) will be at that time. Every kid dreams of taking at least one trip to Disney World during their childhood. My recommendation is to plan a visit to Disney World while your child(ren) are between the age of 5 to 9 years old.
Certainly, kids who are older or younger than the 5-9 age group will still enjoy Disney, but there are two main advantages to this age group.
Height Restriction
Firstly, there's the all-important 44″ height restriction, which children will typically pass around the age of 5. There are plenty of rides that can be enjoyed by children under 44 inches, but at that height, they can do everything except the Rock 'n' Roller Coaster (which is 48″). That means a child who is at least 44″ can do most of the main attractions like Avatar Flight of Passage, Expedition Everest, Space Mountain, and Mission SPACE (Orange).
Plus there are other popular rides with a shorter height restriction such as Splash Mountain, Big Thunder Mountain Railroad, Seven Dwarfs Mine Train, Star Wars: Rise of the Resistance, Slinky Dog Dash, Tower of Terror, Test Track, and Soarin' Around the World. Click here to see height requirements for rides at the Disney parks.
Admission Rate
Secondly, children aged 3-9 years receive the reduced child admission ticket rate. Once a child turns 10 years old they require an adult admission ticket. It's not much more expensive (approximately $5 extra per day). But when you are buying admission tickets for multiple days and for multiple people this extra cost can add up. We learned the hard way when we took our kids to Disney on fall break which was a week after our daughter turned ten!
There is no charge for children under the age of 3 years, but doing Disney with a toddler is a whole different experience. Read our article about what is the best age to go to Disney World. I also share my experience of visiting Disney World with a 5-year-old.
3. Factor in Rest Days
When building your Disney World itinerary it's important to add in some non-park days or rest days. I don't know about your family, but my kids struggle to go non-stop day after day. Visiting Disney World can be exhausting, with lots of walking and late nights. You will likely walk around 20,000 steps during a day at a Disney park, which is about 8-10 miles. Plus time standing in line waiting on attractions.
Our children were ages 5 and 10 years during our recent Disney World trip. Our family can manage about 3 full days at the Disney parks and then we need a rest day to sleep in, relax and chill out by the pool at our resort.
Factoring in rest days allows you to extend your Orlando vacation without the additional cost of paying for more park admission tickets. For example, you may spend 7 days in Orlando, but only pay for park admission on 5 days and use the other 2 days as non-park days.
4. Plan to visit Disney Springs and non-park destinations
Taking a family to Disney can get expensive. There is plenty to do if you choose to have a day or two without paying for park admission. You can spend non-parks days swimming and enjoying your resort. It is the perfect time to walk along Disney's BoardWalk and ride the monorail to visit the various resorts.
Plan to do a Character Dining experience such as breakfast or dinner at Chef Mickey's in Disney's Contemporary Resort. Or watch the evening fireworks at Magic Kingdom from the beach at the Polynesian Village Resort.
Visit Disney Springs which is an outdoor shopping area with over 150 shops, restaurants, and entertainment venues. There are plenty of kid-friendly activities such as Bibbidi Bobbidi Boutique, the LEGO Store, and Playhouse Disney. You can also park for free at Disney Springs (see also, 'What to do in Disney Springs').
Stop by the Ghiradelli Soda Fountain & Chocolate Shop at Disney Springs for a World Famous Hot Fudge Sundae. They're big enough and sweet enough to share! And the Sea Salt Caramel Hot Cocoa is delicious. Or visit the Rainforest Cafe at Disney Springs Marketplace for unique themed dining. Enter the jungle and tantalize your taste buds with flavorful American favorites and kid-friendly cuisine in the middle of a tropical rainforest. There's also a volcano that erupts on a regular basis, so certainly watch out for that spectacle.
5. Choose Accommodation in Orlando
Choosing where to stay when visiting Disney World can be a difficult decision. There are many options, and it's important to find the right balance of convenience and cost for your family. For those on a tight budget, off-site accommodation might be the best choice as you'll save money by not paying for "on-site" perks such as free transportation from the airport to your hotel or preferred theme park admission tickets with your room purchase.
If you want more convenience, staying at an on-site resort will make getting to all of Walt Disney World's four theme parks easier – especially if you have little ones who need to take a nap in between attractions (see also 'How Far is Universal Studios From Walt Disney World?')! Plus there are tons of other special benefits that come with staying at one of Disney's resorts (see also, 'Disney Genie Plus Review').
On the other hand, if you have a bigger budget or plan to spend 1-2 weeks at Disney World, staying on-site could be more cost-effective. You will get discounts on park admission, special dining experiences, and free transportation via Disney's Magical Express.
Regardless of where you choose to stay while visiting Orlando, it is important to book your accommodations far in advance. Sometimes the number of Disney World vacation packages available is limited and it can be difficult to find a room at the resort you want without planning ahead!
6. Decide how you will Travel to Disney World
When planning your Disney World Itinerary one of the first decisions is whether you will fly or drive to Florida. This will depend on how far away you live from Orlando, and what the drive time is compared to the time flying with connections and transfers, and the cost and availability of flights.
We live in Western North Carolina which is about 600 miles from Orlando, or about a 9-hour drive. It's certainly doable to make that drive in one day, and then you have the flexibility of having your vehicle during a Disney vacation. Driving to Disney World is particularly handy if you're not staying at a Disney property and then you can use your vehicle to get back and forth to the Disney parks each day.
Read this article to find out how to simplify a road trip with kids.
If you're visiting Orlando for a vacation and the drive is more than a day trip, then flying is a great option. Flying can offer some flexibility in terms of arrival time, so if you can fly in the evening before your first day at Disney World you will save yourself time and stress trying to figure out how to get there. And if you don't need to rent a vehicle once you arrive at Disney World, flights may be cheaper too (depending on the size of your family)!
Orlando International Airport (MCO) is approximately 17 miles from the Disney World-area resorts and transfers are available between the locations. Orlando Sanford International Airport (SFB) is further away at approximately 43 miles from the Disney World area resorts. Shuttles, Uber rides, or a rental car are available for an additional cost.
Read these articles to learn about navigating airport security with kids or tips for flying with a toddler.
7. Pick up Admission Ticket Cards Before your First Park Day
If you are not staying at a Disney resort you will need to get your park admission card. When you arrive in Orlando go to the Disney Springs Guest Services Welcome Center to check-in and pick up your admission ticket cards from the Disney Ticket Center. It is a plastic card that you can swipe at the park, or you can purchase and activate the Magic Band.
Get this taken care of before your first park day so you can save time when you arrive at your first park. Do not waste precious Disney park time checking in during your first morning at the park. It's much easier and quicker to complete the check-in process ahead of time.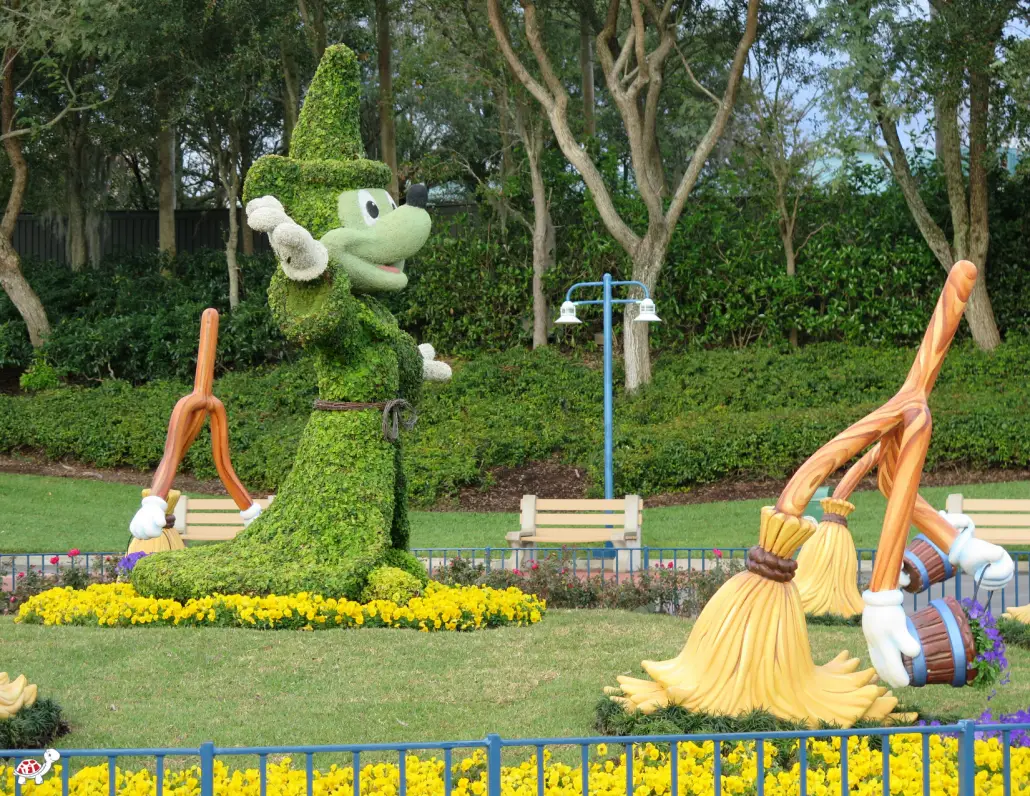 8. Familiarize Yourself With Park Hours
Park hours can vary widely depending on the time of year and day of the week, so it's important to check the park hours ahead of time. Each of the Disney World parks can have varying opening and closing times. These hours of operation can vary by multiple hours from day to night so planning your time appropriately is essential. If you want to ride the most popular attractions, plan to be there first thing in the morning!
You should consider these park opening and closing times when making park reservations. At the time of writing (October 2021), due to the restrictions in place because of the pandemic park capacity is reduced, and park reservations are required. Before booking check the availability of Disney theme park reservations. Due to the limited availability of park reservations, it is recommended that you make park reservations immediately after purchasing your admission.
When planning your Disney itinerary and which day(s) to make reservations at which parks I would consider the following:
Animal Kingdom opens earlier in the morning, so go here early when the animals are more active and awake.
Do not plan to spend a late night watching fireworks at Epcot or Magic Kingdom (leaving at 9:00 – 10:00 pm), followed by an early morning at Animal Kingdom (before 8:00 am).
If possible, arrange to have a late-night followed by a rest day.
Use your rest day to explore Disney Springs, and then have an early morning at Animal Kingdom the following day.
Do a late night at Magic Kingdom followed by a later start at Epcot (around an 11:00 am opening time the following day).
9. Don't try to do it all
Pick the 2-3 rides or attractions at each park that are the most important to your family. If you can get these done during your day at the park then you will feel a sense of achievement.
Your first trip to Disney may feel overwhelming, and if it's a busy time of year with long lines you likely won't have time in one day to every single attraction at a park. And especially when you visit Disney with kids, there is certainly a limit to how much they/you can handle in one day.
Depending on how old your children are, there are certain parts of Disney that will be more or less interesting to them. If you're traveling with toddlers, prioritize seeing characters and spending time in the Disney Junior area at Hollywood Studios. Older kids may prefer to spend more time on thrill rides or trying out other attractions that might not be appropriate for little ones.
Regardless of their ages, it's important to be realistic about what you can/want to do in a day. Avoid meltdowns at Disney from the children (and the parents) and don't try to do it all.
10. Map out your route in advance
Spend some time looking over the park map before you go. Group rides together that are in the same area and plan to get these done at the same time to avoid walking extra steps back and forth across the park. To see maps of the Disney parks click here.
11. Reconsider the Disney Park Hopper
A Disney World Hopper Pass is a ticket that allows you to visit multiple parks in one day! They can be a little more expensive than a single park ticket, but it may be worth it if you want to spend time at different parks. However, if this is your first time visiting Disney World with kids I would not choose the Park Hopper option. You cannot use the park hopper to enter another park until after 2:00 PM, and that depends if the park is at capacity. It takes time to travel between the parks. There is more than enough to fill your day at each park. Instead, optimize the actual time you have there and stay in one park per day. Read this article to help you choose which is the best Disney park for your family.
12. Download the My Disney Experience App
A lot of tips for Disney World revolve around apps that you can download. The best apps to download before your Disney vacation include My Disney Experience (it's a must) and Play Disney. Planning your Disney World itinerary will be much easier to navigate if you are familiar with these apps.
You can use the My Disney Experience website on your desktop, and definitely put the mobile app on your phone. This will help with planning your Disney World itinerary by providing access to information about your trip before you go and while you're at Disney. The focus of the app is based on the idea of "Imagineering," which is to make it easy and enjoyable for visitors at Disney.
The main features of My Disney Experience include access to:
Maps of each Disney World park with locations and informational lists about Wait Times for Rides, Attractions, Dining, Entertainment, Restrooms, Events & Tours, Guest Services, Shops, Resort Hotels, and Transportation.
Dining Reservations
Buy Tickets and Passes
Make a Park Reservation
Park Hours & Info
Resort Hotel Reservations
Mobile Food Orders
Play Disney Parks
Shop Merchandise
Disney Genie Service
Tickets to After Hours events
Virtual Queues
Disney PhotoPass and download photos from Memory Maker
The My Disney Experience app will help you navigate your way throughout the parks as well as let you know what's closed, and how long it takes to get from place to place. The app will provide information about your Disney hotel room, transportation options, waiting time for rides, the map of the park you're in, and more! Make sure your older kids have a copy on their phone too so they can keep in touch about where to meet up if they get lost!
13. Make Disney Dining Reservations in Advance
Disney dining reservations can be made 60 days in advance. Make sure you plan ahead and reserve a table for your family's favorite meals at the best Disney restaurants around!
The popular dining times of 12:00 – 2:00 PM, and after 5:00 PM fill up fast. Consider making a dining reservation for mid-afternoon, around 3:00 PM. Have your family eat a good breakfast and bring or buy some snacks to tide everyone over at lunchtime. Knowing you have a dining reservation around 3 o'clock is a great time to get out of the afternoon heat, cool down in the AC, and have everyone recharge with a meal and hydrate with plenty of drinks.
This will set everyone up to take on the evening at a Disney park. Then finish off with an evening sweet treat like the popular Dole Whip cup or some popcorn.
See your favorite Disney characters and their pals as you enjoy a meal at the various Character Dining locations such as Chef Mickey's, Garden Grill Restaurant, Tusker House Restaurant, or Hollywood & Vine. The Character Dining experiences are currently modified at some locations due to the pandemic. And some Character Dining experiences are unavailable at this time. Learn more about Character Dining here.
Quick Service Restaurants at Disney
You can choose not to make dining reservations at one of the Disney restaurants. There are plenty of quick-service restaurants where you can walk up to the counter to order food and drink. Or use the My Disney Experience mobile app to place a mobile order. Enter in your credit card details ahead of time so the app is ready for you to place a mobile order in the park.
I would not make dining reservations at Epcot, but instead, enjoy small plates of authentic cuisines from different countries around the World Showcase. If you aren't picky about where you eat or want to try different foods, some great restaurants are at Epcot's World Showcase. For example, dine on Japanese food in Japan, or try a delicious French crepe. Such experiences may feel more authentic than what you'll find inside the other Disney parks, and they will be an experience that can't be found anywhere else!
14. Advance Purchase of Memory Maker
Disney Memory Maker is another of the many ways that Disney makes your visits to their parks easier. Memory Maker is a pass that captures pictures of your experience at Disney. Use Memory Maker at Walt Disney World to get unlimited Disney PhotoPass downloads. You can access all of these pictures through the My Disney Experience app on your mobile device. Typically the pictures are available to view within a couple of hours (although it can take up to 48 hours for them to be available).
Disney photographers are positioned around the parks and resorts, and you can use the Disney PhotoPass to view and purchase individual photos. But the Memory Maker is the best way to access and download ALL of the photos taken during your Disney Vacation.
Memory Maker is the easiest way to get Disney photos of everyone in your family group. Therefore, no one is missing as they take a photo and you don't have to ask random strangers to snap a quick pic of your group. We were so glad we added the Memory Maker to our recent vacation package and we received lots of awesome photos of our whole family together (which we don't get very often).
Currently, the Memory Maker regular price is $199. I recommend you do the advance purchase of Memory Maker for $169. Make sure to purchase it before your visit to Disney so you don't forget. Keep in mind that if you purchased Memory Maker at the advance purchase price, any photos taken within 3 days of the purchase date are not included. There is also an option to purchase Memory Maker One Day for $69.
15. Bring Disney Pins for Pin Trading
What is Disney pin trading? Pin Trading is a popular hobby with Disney fans. It is the buying and trading of collectible pins and related items featuring Disney characters, attractions, icons, and events. When you come to Disney, it's easy to spot the eager, smiling faces of children and adults alike looking for any opportunity to trade pins with other guests and cast members.
There are pin trading stations all throughout the Disney Parks. I would recommend you pre-purchase some Disney pins to bring on vacation for pin trading. Disney pins start at $9.99 each at the parks, so this can become an expensive hobby very quickly.
The best way to get started with Disney Pin Trading is to purchase a Disney Trading Pin Lot of 10 starter pins like this. It's also helpful to have a 3-Ring Album Binder for Pin Collection.
The game of Pin Trading can be addicting but in a good way! It's fun to tour the pin trading stations and see the thousands of different Disney pins available and have your kids add something new to their Disney pin collection.
Finalising your Disney World Itinerary
For those traveling with children, planning a Disney World itinerary can be challenging. There are so many things to do and see at the different parks that it's hard to know what is best for your family members of all ages.
We hope these Disney World itinerary tips have been helpful in aiding your decision-making process as you plan a Walt Disney Trip. If you want more ideas or need assistant putting together a full vacation package, then consider using a Disney travel agent. Their services don't cost you any extra and they can be a valuable resource.
The BE Family Travel (see also, '15 Best Staycation Ideas for Families to do on Your Travels') blog has tons of helpful resources to help you plan the best Disney World Itinerary. This post's focus was on what to do before you visit Disney and while you are still in the vacation planning stages. To find out my top tips and tricks for Disney World click here, this post shares everything you need to know when you visit the Disney World Parks.
To learn more about what to pack for Disney and how to choose the best Disney World park for your family read this article.
To find out more about planning a fun, easy, stress-free, and magical vacation to Walt Disney World with your family, check out The Disney World Planning Guide with Printable Worksheets. The 78 printable pages include a variety of Disney World vacation planning information, printable worksheets, and vacation planner templates.
I hope this was helpful! Good luck planning your Disney trip! It really is a magical place and those special memories will last a lifetime.
And remember, let's BE Family so you can enjoy the journey!
Until next time,
💕Ruth
For more about family travel check out these posts:
How To Start Saving For A Vacation With Kids
Which Disney World Park is Best?
Tips and Tricks for Disney World with Kids
Multi-Generational Travel Ideas For Families
How to Pack Your Car for a Family Road Trip?
BE Family Products Inc., or (BE Family Travel) participates in the Amazon Services LLC Associates Program, an affiliate advertising program designed to provide a means for sites to earn advertising fees by advertising and linking to Amazon.com. Using any of the links on this website does NOT cost you anything but does help us continue to create content on this blog. Thank you so much for your support and for partnering with us. Let's BE Family.