As an Amazon Associate, BE Family Travel earns from qualifying purchases. Learn More
Packing Your Car for a Family Road Trip
Packing for a family road trip takes some planning. As a parent, you are often trying hard not to forget anything that you, your kids, or partner may need or want during the trip. You will need to pack clothing and toiletries for the whole family, electronics, toddler or baby essentials, activities to entertain the kids, road trip snacks, and gear for whatever activity you may be heading to do on your vacation with kids. Whether your family road trip is for a beach vacation, family camping trip, or just a visit to see Grandma. There are often a lot of items that you're trying to pack in your car.
Road Trip Packing Lists come in handy so you don't forget those important items. I love to plan, make lists, and think about all the details. My husband calls this my superpower! He is not a planner and is often amazed at how I can remember everything we will need for a family road trip. Furthermore, he often jokes that I pack everything except for the kitchen sink 😂😂 I think he is joking, but then he does get stuck packing it all in the car ready for our road trip with kids.
With all this stuff to pack for your family where do you start?
What is the Best Way to Pack your Car for a Family Road Trip?
Are you wondering what is the best way to pack your car for a family road trip? In this post I will share the quick wins that you can implement to help you know what to pack for a road trip with kids. You will learn how to pack your vehicle for a family road trip using our road trip packing diagram. Our family travel packing lists and road trip checklist will help you remember all the important items for your family vacation. This will help to streamline your family travel prep, and make it easy and stress-free.
Car Accessories for a Family Road Trip
Before you pack the car for a family road trip it is important to think about the items that you'll need within reach during the trip. Depending on the size of your vehicle and the number of people riding in your vehicle you may need to consider adding a rooftop cargo box to your vehicle, or a cargo carrier with hitch to the back, or even a small trailer.
With four people in our mini van we can fit everything we need inside the vehicle. But there have been times we've also had my parents ride with us for a multi-generational family vacation. With 2 additional adults (and their luggage) then we travel with a rooftop cargo box to add extra storage space, and allow room for all the passengers.
Road Trip Checklist and Packing Lists for Family Vacation
It is helpful to use a packing list to make sure you have all the items your family will need. We hope you will find these checklists helpful for a family road trip, or your family beach vacation or a beach day with kids or road trip snacks.
BONUS: Download our FREE Family Road Trip Checklist.
📌 Pin it for later 📌
Must-have Car Supplies for a Family Road Trip
We always carry these must-have car supplies for a road trip with kids in an easy to reach place. This includes a Car Clean-Up Kit which helps to take care of unexpected messes, injuries, and the occasional upset stomach.
The Essential Car Clean-up Kit for a family road trip includes:
Napkins
Paper Towels
Baby Wipes
Hand Sanitizer
Kleenex Tissues
Towels
Disinfecting Spray / Wipes
Trash Bags
Travel First Aid Kit
How to Pack your Vehicle for a Family Road Trip
Each family member should pack a small bag to keep their personal items / toys / activities close by. These items will help entertain the kids on a long family road trip.
Therefore, make sure you keep needed items within easy reach. When you're headed down the interstate at 60 mph, the last thing you want to realize is that little Sammy's activity bag is packed in the back of your car with all the suitcases! Think about the items that can be stored in the back of the car for use at stops.
📌 Pin it for later 📌
What to Pack for a Family Road Trip?
This road trip checklist is the best way to pack your vehicle for a family road trip. You should allow space for:
Personal Items – purse, magazines, lip balm, lotion
Road Trip Electronics including cell phone and car chargers
Trash Can and easy access to a First Aid Kit, Medication and Car Clean-Up Kit
Road Trip Toys and Activities for the Kids with a Pillow and Blanket
Middle Seat Organizer to store miscellaneous items between the seats
Suitcases with Clothing, Shoes and Toiletries – use packing cubes
Gear for your road trip destination such as Beach Gear
Cooler with Groceries and Items for the Vacation Rental Property
Overnight Bag with changes of clothes
Car Packing Diagram for Family Road Trip
In addition to having a vacation packing list and knowing what to pack for your family road trip, you need to know where to pack it. How do you pack your car for a road trip with kids? The diagram below will assist you with knowing the best places in your vehicle to pack the various items.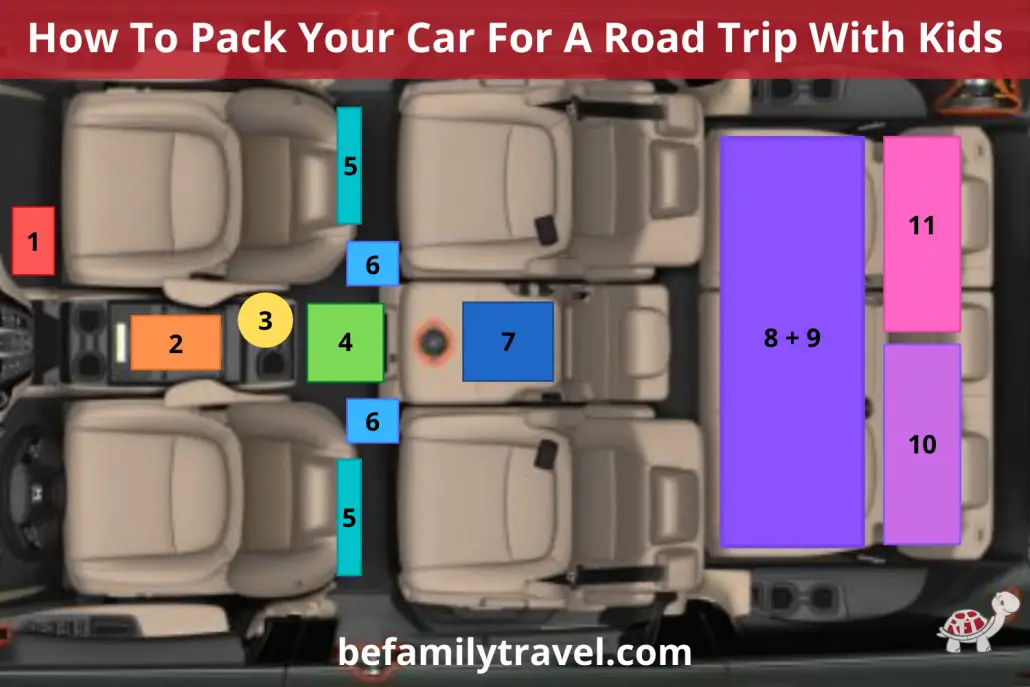 Description of the Car Packing Diagram:
1. Passenger Seat
The personal items for the passenger seat should include items such as magazine, iPad or tablet, purse, lip balm and lotion.
2. Main Console
In the main console we pack road trip electronics including cell phone and car chargers. It's also helpful to keep cash for toll roads or parking. As well as any printed directions or hotel / rental accommodation confirmation details. And don't forget your wireless ear buds or wireless headphones if you want to listen to a podcast while the kids are napping in the back.
3. Trash Can
We always carry multiple plastic grocery bags, or a small box of 1 gallon trash can bags. We store the extras in the passenger car door, and then keep an easy to reach bag between the seats. This helps to keep your vehicle clean and organised during a family road trip. At every stop we insist that everyone throws out any trash and then replace it with a fresh trash bag.
In addition, you'll want to keep other essential items nearby such as a First Aid Kit, Medication and Car Clean-Up Kit with: paper towels, wet wipes, Kleenex tissues, and hand sanitizer.
4. Road Trip Snacks
The most important items to pack for a family road trip are the road trip snacks. Everyone (kids and adults) will be far happier if you can prevent them being hangry and bored. Yes, that hungry-angry state is a real thing! Bring a selection of non-messy and healthy road trip snacks for kids including snacks packed with protein.
In our post about the Best Road Trip Snacks for Kids we include a FREE printable download of our Road Trip Snacks List. These are our favorite family snacks, which your kids will LOVE! We hope you'll find it helpful.
We pack road trip snacks for kids in a cool bag or a portable picnic bag. For cold food items like cheese sticks, veggies or hummus then I use ice packs. If there are pantry items, like granola bars or pretzels, that don't need to stay cool then I place these snacks in a reusable grocery bag. I put the snack bag(s) on the floor in front of the middle seat. This is easy to access by the front seat passenger and the kids in the back of the car.
Meanwhile, who can expect kids to sit calmly in the car if they're jacked up on sugar? Don't bring sticky sugary drinks. The last thing you want is that mess spilled all over your car or your kiddo. Instead bring a refillable water bottle, and some extra water.
Furthermore, we love the Thermos Funtainer for Kids, which is a 12 oz container available in MANY different colors and character designs. It is an insulated 12 hour cold drink stainless steel thermos, and the BEST part… it does not sweat when filled with ice!
5. Kid's Travel Tray
We love to use the BE Family Travel Tray to hold our child's activities. It hooks over the headrest of a front seat, and then rests in the child's lap. It is designed to be used with a car seat, but could be adapted on an airplane using the seat-back tray. The travel tray is perfect for a drink, snacks, coloring book, crayons, and toys to keep everything within your child's reach. And includes a tablet holder, pencil case, and large book pocket.
There is no need to unload the entire play tray when it's time to leave, the side pouches zip and fold in to make the perfect storage as an all-in-one Travel Bag. Also, it detaches into two parts and the lower lap tray is great for toddlers. Also available in red, blue or pink.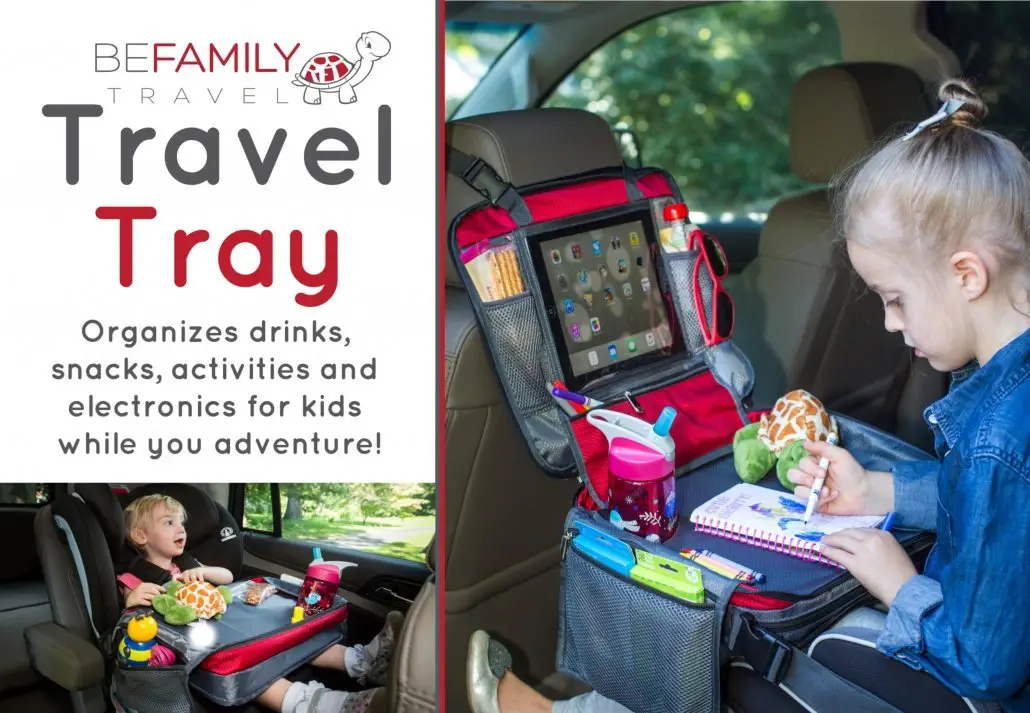 6. Kid's Activities
What are the best travel activities for kids? On a family road trip, kids will enjoy a selection of Craft or Activity Sets, Sticker Books or Workbooks, Printable Road Trip Games for Kids, Toys, Travel Games, Coloring Books and Crayons or Markers, Road Trip Movies, Audiobooks or Books at your child's appropriate reading level. Plus an iPad, Tablet, or Device with wireless Headphones, charger, and travel case.
For more details and recommendations of the best kids travel items please read our articles about Travel Toys for Baby, Toddler Travel Toys, Kid's Travel Crafts or Travel Activities for the Kids Age 4-8, or Road Trip Ativities for Kids Age 9-12 years. 
Similarly, it's a good idea to bring a surprise or something new and exciting that you can introduce mid-journey. You can also use this as an incentive for your kids if they're getting bored or restless. And bring a blanket and pillow so you can encourage your child to nap during the family road trip.
7. Middle Seat Car Organizer
A car organizer is useful to store and organize miscellaneous items between the seats. They are easy to reach by the kids in the back seat. This Middle Seat Car Organizer includes a cooler in the middle, with space to store items on the outside and a flat tray on the top.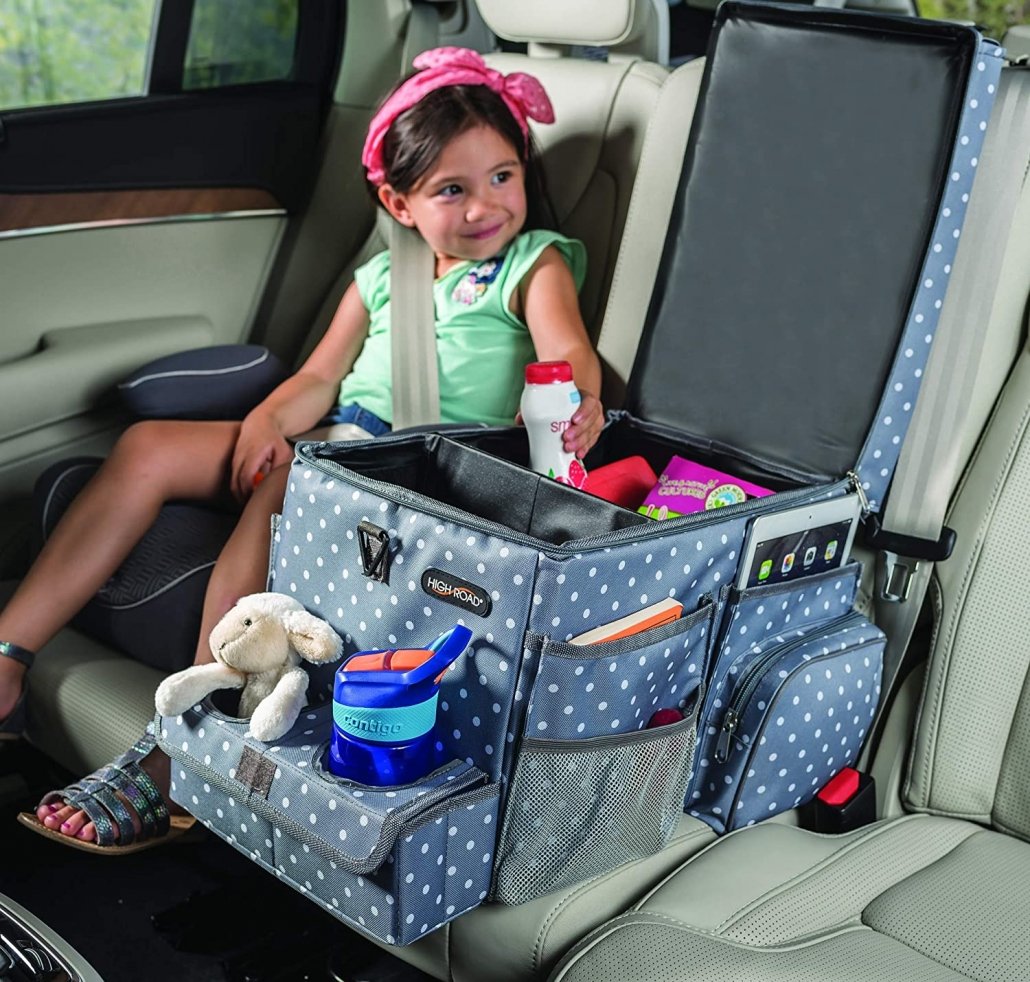 8. Suitcases with Clothing and Toiletries
In the trunk or rear of your vehicle you can pack suitcases with clothing, shoes and toiletries. We recommend using packing cubes to help organize your clothing and squeeze more items into a smaller bag. These Compass Rose Packing Cubes are designed to help you travel carry-on only, but they also work great when packing for a family road trip. I find it best to use different color packing cubes for each member of the family.
Likewise, for a beach trip check out the Ultimate Packing List for a Family Beach Vacation. It includes a FREE checklist that you can download with all the packing essentials for a beach vacation with kids.
Or you can get my Printable Family Travel Packing Lists for your next family road trip, beach vacation, or flight with a baby, toddler, or children.​
9. Gear for your Road Trip destination
Add any gear specific to your road trip destination. This may include Beach Essentials or items for a family camping trip. Basically any items you won't need until you reach your destination. These are the items that are easier to pack ahead of time, maybe the night before, since you won't need them before you travel.
10. Cooler with Groceries
On the tail of the trunk I add any items we may need to use in the rental property (see this packing list for details). We always carry a cooler with groceries for our vacation and any additional snacks for the journey or during our vacation with kids.
Also, I keep a plastic tub / cooler / reusable grocery bag in the trunk to store extra snacks, and any groceries we may need at our beach rental house or during our family road trip.
11. Overnight Bag
If you plan to break up the journey with an overnight stop at a hotel, then make sure you pack an overnight bag. This should be one bag that includes toothbrushes, basic toiletries and changes of clothes for the whole family. Trust me when I speak from experience – it is much easier to unload one small suitcase or overnight bag with necessary items, rather than unpacking the entire vehicle to get to everyone's suitcases! If your hotel has a swimming pool then don't forget swim suits.
Finally we add backpacks for the parents, or a lap top bag or any work related items we may need to have easy access to. Then take a deep breath and hope you can get the trunk lid closed!
Family Road Trip Wrap-up
This is the best way we have found to pack our car for a family road trip. The size of every family, every vehicle, the purpose of the trip and the needs of the individuals varies from one family to another. Therefore, we hope you have found some helpful take away's to assist with packing your car for a road trip with kids. Use those quick wins next time your family is heading out of town, and let us know how you get on!
And remember, let's BE Family so you can enjoy the journey.
Until next time,
💕💖 Ruth
For more about family travel check out these posts:
How to get your Car Ready for your next Road Trip
Simplify a Road Trip with Kids
How to Avoid Motion Sickness in Kids
📌 Pin it for later 📌
BE Family Products Inc., or (BE Family Travel) participates in the Amazon Services LLC Associates Program, an affiliate advertising program designed to provide a means for sites to earn advertising fees by advertising and linking to Amazon.com. Using any of the links on this website does NOT cost you anything but does help us continue to create content on this blog. Thank you so much for your support and for partnering with us. Let's BE Family.