As an Amazon Associate BE Family Travel earns from qualifying purchases. Learn More
Make travel with kids simple – solutions for family travel.
As parents we are creating products to help end the "are we nearly there yet" boredom, and organize your back-seat for good. BE FAMILY Travel Trays will keep the kid's activities organized and easy to reach. Parents want products that are durable, easy to clean, and that help make our hectic lives easier.
Therefore, we stand behind all of our BE FAMILY Travel Products with a lifetime guarantee. We pride ourselves on always being available to help you make your next trip more peaceful. Whether it's across the country, or across town, we want to help you create lasting memories for your family.
Read our posts about navigating airport security with children and what to consider before you travel with a car seat.
Available in red, blue or pink.
Use the Table of Contents below to quickly skip to any section of this post.
Why did BE Family Travel create a travel tray?
At BE Family Travel we simplify Family Travel for you. We strive to provide you with helpful content, an engaged community, and create products that will help make your next family vacation much easier.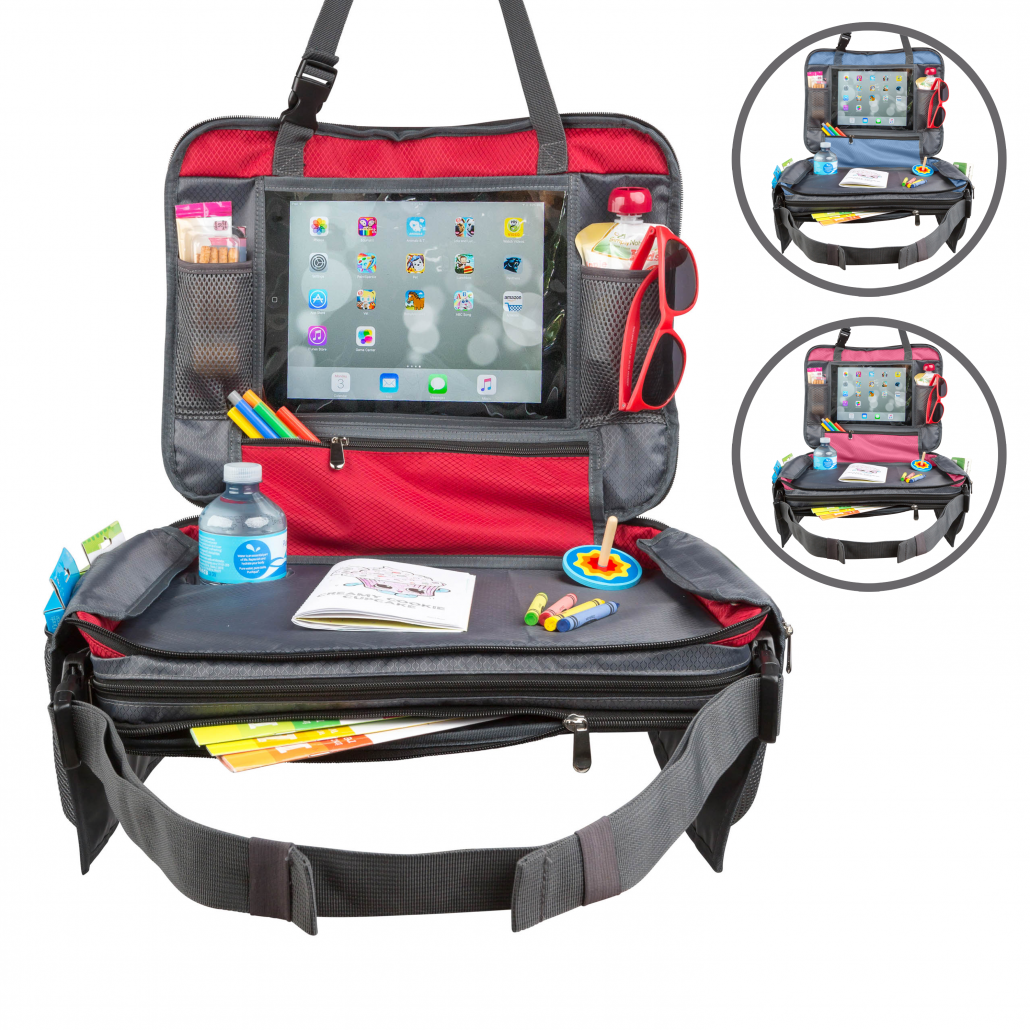 We find one of the greatest challenges for kids on a car ride is boredom. They are strapped in to a seat and can only hold a couple of small things at a time.
As a result they don't really have a flat place to build Legos, color, drive their toy cars around, or play pretend with their dolls. Where do they put a snack cup without it turning over and making a mess?
Our family found a kids travel lap tray online a few years ago. At first it appeared to be the perfect solution to our back seat dilemma.
We LOVED the idea, but were quickly dismayed by the practicality of the travel trays being offered. Lots were flimsy and smelled awful. Most had to be unloaded, due to the pockets snapping on the back, to be carried from the car to the house. We could not find one SINGLE kids travel lap tray that worked like we thought it should. These other trays actually made life harder, not easier! We set out to change that. 
Click here to BUY our BE Family Travel Tray available in red, blue or pink.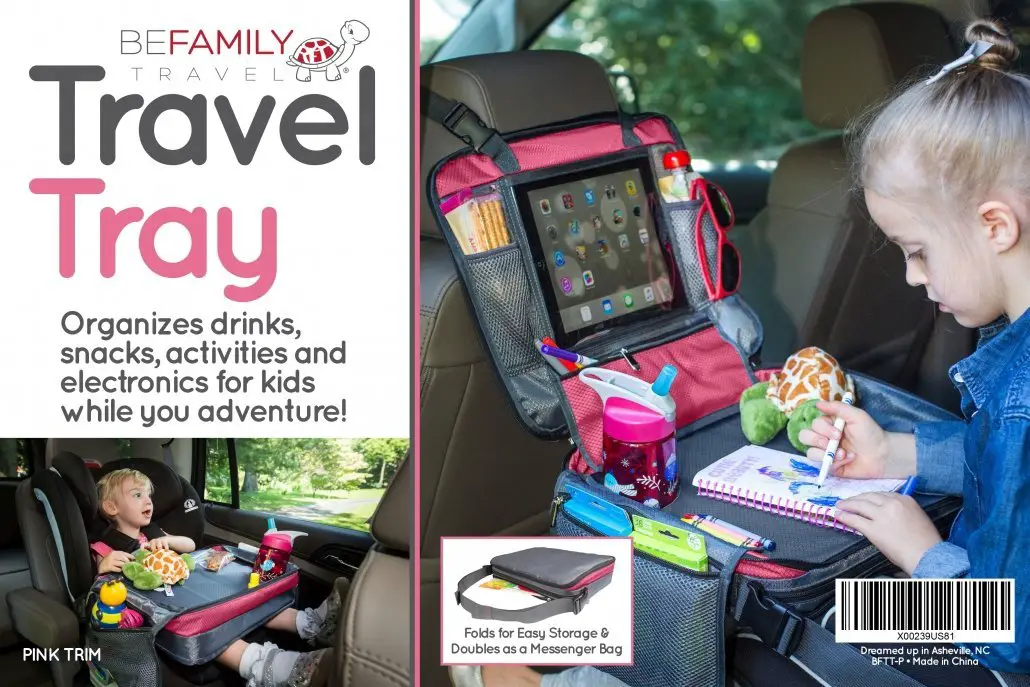 Kids travel tray to messenger bag in seconds.
Our goal was to create a quality product, that our kids would love to use and that was practical and durable. This mission is what led us to create the BE FAMILY Travel Tray.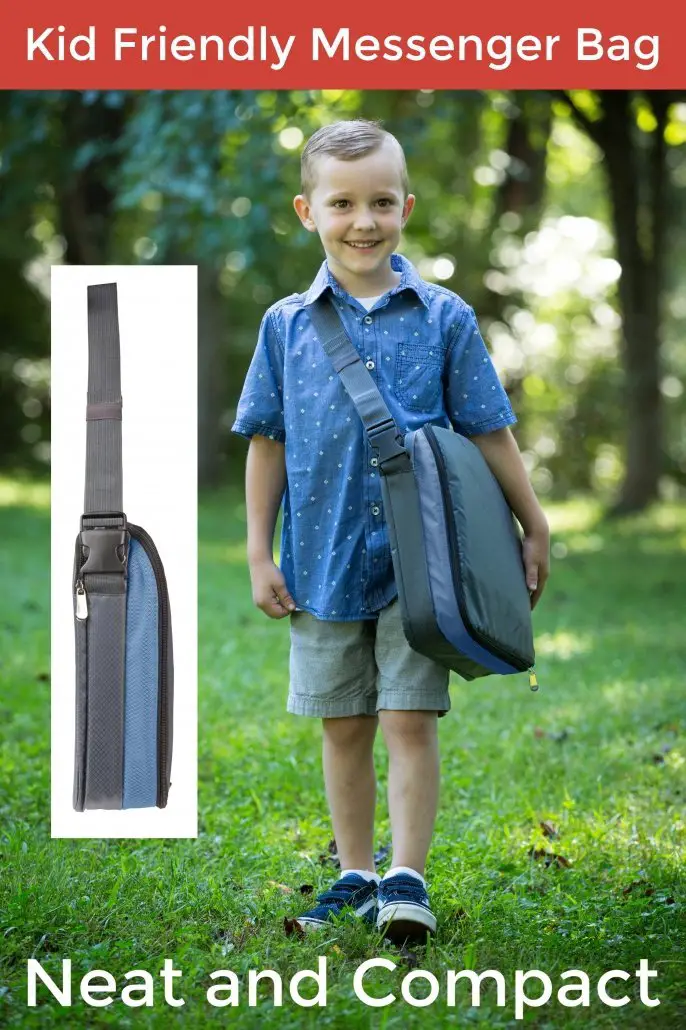 A messenger bag with enough pockets and storage for all your kid's activities. One that converts to a real snack and play tray in 3 easy steps. Best of all, when you're ready to leave the car it just folds and zips right up.
It easily goes right back to be a stylish messenger bag, that your child will love and be proud to carry around.
All the other kids car seat travel trays we could find make you snap the pockets on the back of the bag. Therefore the other bags looked sloppy, and what can you do with all the STUFF that was in the side pockets?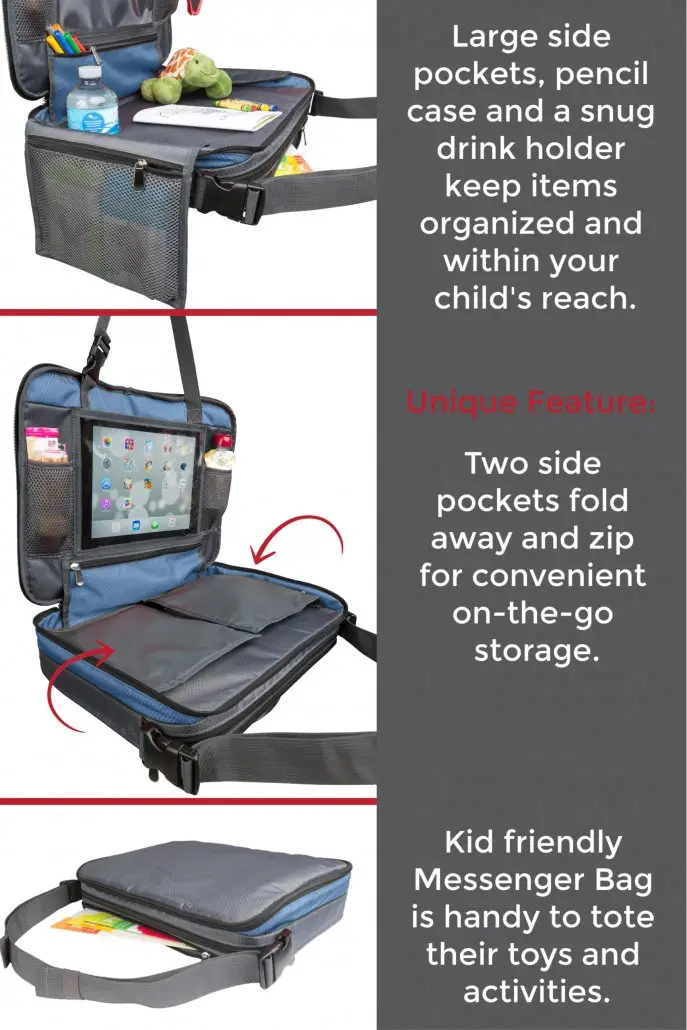 These other travel trays were so much hassle. They would require you to unload both huge side pockets before it would zip up.
This made no sense to us as parents. We needed a simple all-in-one option to keep all of our kids activities together in one convenient place.
So, we created BE FAMILY Travel Trays to feature the unique design of easy fold-in side pouches that zip to secure the contents.
For more tips and tricks on Simplifying a Road trip with Kids, check out this helpful post.
Organized the back seat with our car seat travel tray
Our BE Family Travel Trays will allow your child to pack up all the needed items for a trip across town, across the country, or across the ocean. For more helpful advice read our posts about simplifying a road trip with kids or how to get your car ready for your next road trip.
The zip closed side pockets with our unique flip in to close design, will allow for a lot of storage. From crayons to matchbox cars there is a place for everything your child desires.
The mesh pouches are easy to reach for quick grabs like snacks, sunglasses, or a small doll. The mesh is easy to see through so you won't lose those little figurines, hair ties, or stray pretzels in those deeper pouches. There is also a large book pocket. Perfect for reading material, work books, homework papers, comic books, or magazines. Easy to access at anytime, located along the front of the bag beneath the lap tray.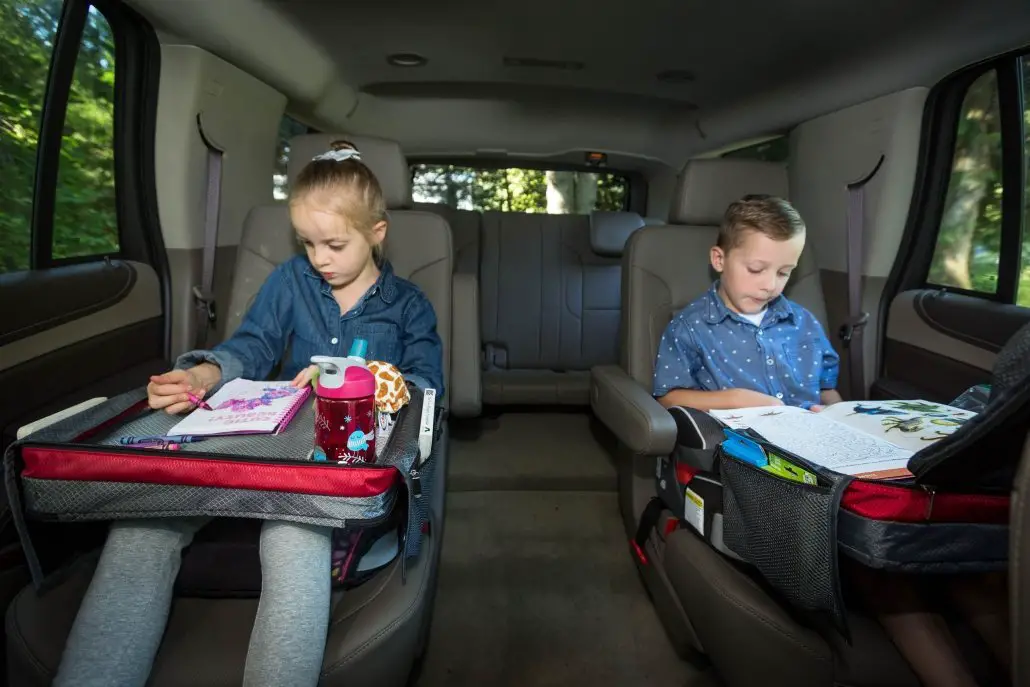 Click here to BUY our BE Family Travel Tray available in red, blue or pink.
A travel tray keeps all activities easily accessible for kids.
There is the large tablet holder with 9.5" x 6.75" protective PVC touch screen. This is designed to fit most tablets, even some with their cases on. However, it does not fit most portable DVD players, it is only designed for tablets.
Below the tablet holder there is a high quality pencil case with a zipper for securing markers, pencils, and pens safely but with easy access when needed.
The snaps on the BE Family Travel Tray are upgraded to the best possible snaps we could find. We were frustrated with cheap plastic snaps breaking and coming loose on other trays. We also spared no expense on the zipper pulls and used the best and most solid we could find anywhere. Your BE Family Travel Tray will keep your back seat organized and your kids busy and entertained for long periods of time.
Click here to BUY our BE Family Travel Tray available in red, blue or pink.
We designed our BE Family Travel tray to quickly and easily remove from the headrest.
Then unique to only our BE Family tray both zippered side pockets flip inside.
No need to remove the items from inside the pockets. Just zip the pockets closed and flip inside. Then zip the bag closed while resting comfortably on your child's lap and stow away during a break in the journey.
Alternatively, they can throw the messenger bag over their shoulder. This will conveniently carry all of their fun travel activities with them to the next location, in a neat and orderly fashion.
Finally – a kids car seat travel tray that has everything.
The BE Family Travel Tray will be your child's favorite bag. They can pack up all their activities, toys, and even school work; quickly and easily toss over their shoulder and head out the door. It is a stylish and sharp looking bag that they will be proud to be seen carrying around. The large padded carry strap is comfortable for carrying over the shoulder. Created with a tough, yet easy to clean material this travel tray will go the distance.
The car seat travel tray with variety
Most of the travel trays we looked at online were all one color. As we well know from having two young girls, that not all kids have the same taste. Of course when they do, we still like for them to have different colors to limit the whose is this one questions. We offer a variety of colors. Currently with 3 very popular variations of the same travel tray to choose from. In this case, BE Family offers you child plenty of options to suit their individual preference.
Click here to BUY our BE Family Travel Tray available in red, blue or pink.
What do parents say about our BE Family Travel Tray?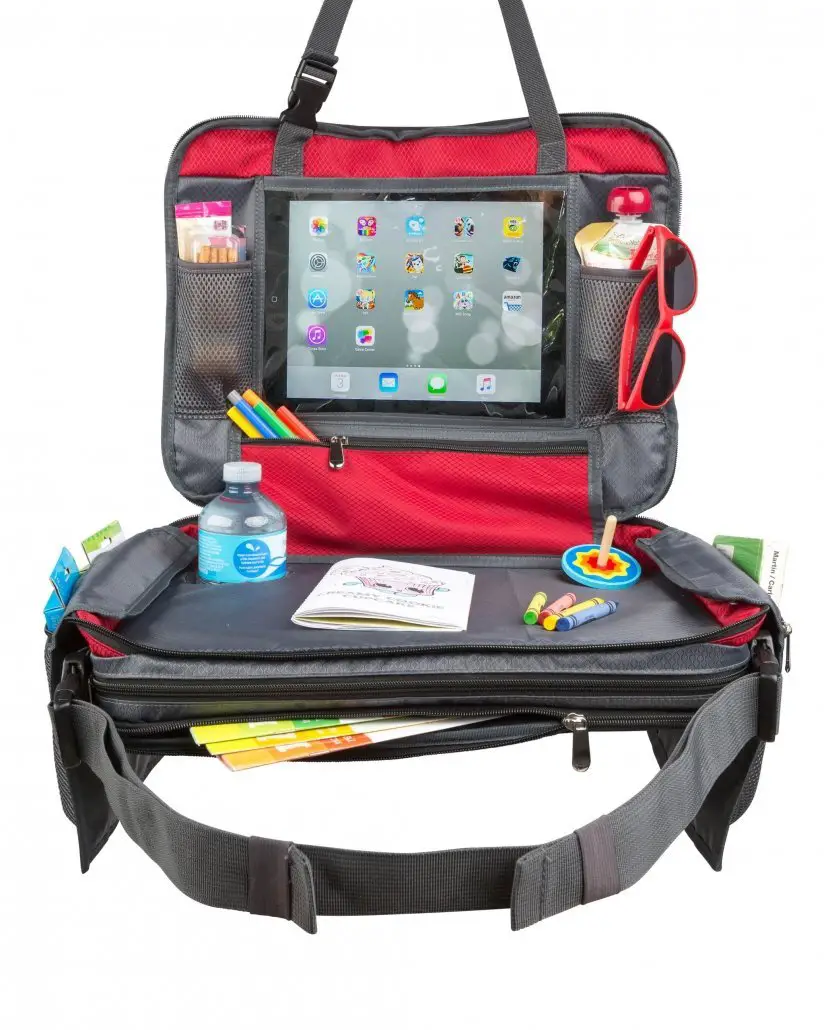 This worked great for my three year old. She wasn't quite tall enough to reach the top pockets but she's three so that happens. Some one commented that they wanted it to fold up, I used the buckle that goes around the seat and clipped it around the head rest so it folded up out of the way. iPads don't work if they're in a bully case but easily fixed. I'm so glad I got this for her. Kept her busy!
What do YOU say about our BE Family Travel Tray?
We love feedback! Because feedback helps us, as parents, to create products perfect for other parents. Our heart at BE Family Travel is to simplify family travel. In order to do that we rely on our community to help us design and create fantastic products and content. Hence, one way you can help us, if you buy or have bought, a BE Family Travel Tray from Amazon please consider leaving us a review and feedback. Click here to review BE Family Travel Tray.
Another way you can provide feedback is to comment on this blog. We always love to hear from our community on the Socials as BE Family Travel. On Facebook, Pinterest, Instagram, and YouTube. In order for us to see and hear your feedback please consider following us and reaching out and engaging with us.
Together we can BE Family and enjoy the journey. 💕
Until next time,
Doug
📌📌Pin for Later📌📌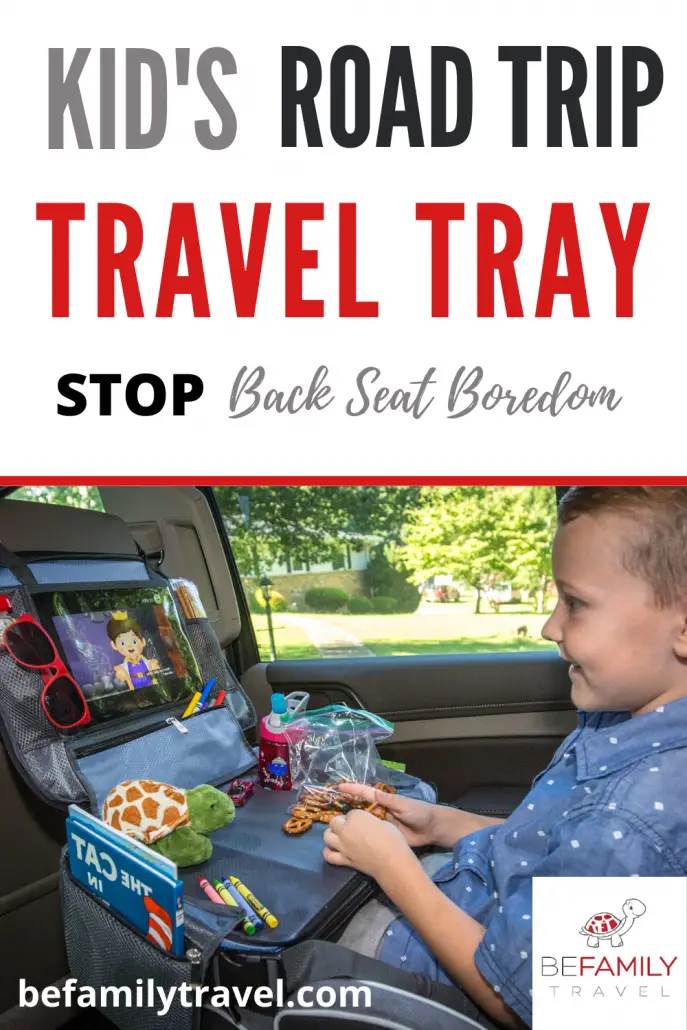 Click here to BUY our BE Family Travel Tray available in red, blue or pink.
BE Family Products Inc. or (BE Family Travel) is a participant in the Amazon Services LLC Associates Program, an affiliate advertising program designed to provide a means for sites to earn advertising fees by advertising and linking to Amazon.com. Using any of the links on this website does NOT cost you anything but does help us continue to create content on this blog. Thank you so much for your support and partnering with us, let's BE Family.