As an Amazon Associate, BE Family Travel earns from qualifying purchases. Learn More
15 Hacks to Fly Through the Airport with Children
Are you concerned about navigating airport security with children? You have meticulously planned your family vacation with children. You put in all the effort to choose a family-friendly destination, made nap-time-friendly flight reservations, ensured you have all the necessary travel gear for your family. And you learned how to apply for a passport for your baby. You researched the best activities to entertain your toddler on a plane and which kid-friendly travel snacks to pack.
Absolutely, you are ready to get on with your vacation so you can take a break from all that planning. But there are more hurdles before you can really kick back and relax… navigating the airport. From check-in, security lines, the airport, and then flying with your children. 
I have dealt with airport security countless times. Facing airport security with children isn't fun, but it has to be done, and there's plenty of hacks I have discovered to make it go more smoothly. In this article, I will share with you everything you need to know so you can survive airport security with your children. And what you need to know about airports in general when you're flying with children.
Over the years TSA security has increased significantly to keep us safe when we fly. I remember the first time I flew to the United States in 2000. The friends I came to visit were waiting for me at the terminal gate as I disembarked the airplane. That would not happen anymore. No one is allowed that close to the airplane without passing through security!  
Before you head to the airport
Each country you are departing can have different security rules. Make sure to check the airport security requirements for the departure country before you travel. I remember flying from England with my 4-month-old, and I had some breast milk I had pumped and put in a small cool bag with ice packs. I had done the same thing when we departed the United States, and it was not a problem at that time. But when we were leaving England I was told that I was not allowed to take the ice packs through airport security. Most nursing mothers know that breast milk is like liquid gold and not something you would dispose of willingly. From the exhaustion of traveling (being up since 3:00 AM), and the emotion of saying 'farewell' to my parents who live in England, needless to say, things didn't go well.
This Mama wasn't happy and the airport security officer got more than he bargained for when I burst into tears. I initially thought he was saying I couldn't take the breast milk with me, but it turns out it was just the ice packs I had to throw away. Luckily I had some extra zip lock bags, so once we passed through security I went to a restaurant to fill the bags with ice to keep the breast milk cold until we needed it.
Printable Family Travel Packing Lists
If you are not sure what to pack when flying with a baby, toddler or children then check out our Family Travel Packing Lists. These are printable packing lists that will help you remember all the items you need to pack when traveling or flying with kids (see also, 'Do Kids Need a Passport?').
Double check the bag your child packed
If your preschooler is anything like mine they want to "do it myself". I'm all for encouraging independence and allowing my daughter to learn and grow from doing things without Mummy hovering over her all the time. But when it comes to airport security make sure to double-check that bag your kiddo packed before you leave for the airport. Remove any toys that resemble a prohibited item. Even small toys appear much larger through an x-ray machine, and items such as toy guns or pirate swords will be confiscated. Items deemed a threat could actually shut down the checkpoint, and you don't want to be that parent.
For a list from TSA of what you can pack in your carry-on and checked baggage click here.
And don't miss out on our BE Family Kids Travel Tray to help store items and end the "are we nearly there yet" boredom.
Do I need a Covid test to fly?
It depends on where you are traveling and possibly your vaccination status to determine whether or not you or your children need a Covid test to fly. For the latest recommendations and travel requirements for fully vaccinated and unvaccinated travelers visit the CDC website. You can also contact your airline to find out the current Covid testing requirements for flying.
TSA PreCheck
Expedite the security process by investing in TSA PreCheck for either one or both parents or guardians. If you're a US resident who travels often you should consider this option. You must submit an online application, schedule an in-person appointment at an enrollment center, with a background check and fingerprinting. Once the TSA knows more about you then you become a Trusted Traveler. 
Enjoy expedited screening which allows eligible travelers to keep on their shoes, light outerwear, belts and you do not have to remove laptops or 3-1-1 liquids. The TSA PreCheck lines typically move a lot quicker than the regular security checkpoint. Travelers aged 12 and under are granted PreCheck status when traveling with a participating adult. Enrollment currently costs $85.00 for 5 years. Make sure that when booking your flight, your name matches your TSA enrollment name exactly (be careful of that middle initial). Otherwise, you'll miss out. For more details about TSA Pre-check click here.
On a side note, if you travel internationally you may be aware of Global Entry. This is a US government program that allows pre-approved, low-risk travelers to receive expedited clearance upon arrival into the U.S. However, every traveler must have Global Entry to use the benefits. Just like children must travel on their own passport, they also need their own Global Entry card. To enroll in Global Entry there is a $100.00 non-refundable application fee. This can be costly if you have multiple family members. Whether it's worth the cost would depend on how often your family travels internationally. For more details about Global Entry or Trusted Traveler Programs click here. 
Bring ID and travel documents 
If you are traveling abroad everyone will need a passport (even the baby). Make sure you begin the process of applying for your child's passport well before your trip. Read our complete guide to get your child a U.S. passport.
If the child is traveling with only one parent, or with a legal guardian without both parents, then it is recommended you carry a notarized consent letter from the other parent(s) stating they give permission for the child to travel, along with the child's birth certificate. This is especially important if you are traveling abroad.
Even when flying domestically, some airlines require children to have identification for travel, such as a birth certificate. Be sure to check with your airline prior to departure.
If you are flying across time zones and concerned about jet lag don't miss our post about surviving jet lag with your baby or toddler. 
Talk to your child about what to expect at airport security
It's important to talk to your child ahead of time so they know what to expect will happen at airport security (see also, 'What to Expect When Flying for the First Time') . Preparing your child will help the process seem less scary.
Here's a short animated video for your child to watch about airport security. Reminding them to: Stop. Screen. Go. at the security checkpoint.
Are you flying with a baby? It will help you to feel more confident if you know what to expect and how to prepare. To learn more about how to travel stress-free with a baby read this post.
Get a ride to the airport
Long-term parking is often located far away from the airport terminal. It can be extremely challenging to manage luggage and your children when trying to walk, or board an airport shuttle bus, from the parking lot to the terminal. 
Consider having a friend or family member take you and your family to the airport. If their car isn't big enough to accommodate everyone then offer for them to drive your vehicle. Other options could be a car hire service, taxi, Uber, or Lyft. 
If there are two adults traveling with the children then drop off one parent at the curb with the children and all the luggage. The other adult can park the vehicle, and then meet the family at the terminal.
📌 Pin it for later 📌
Arrive early for airport security with children
Don't be late. Allow yourself plenty of time to navigate the airport and get through airport security with children. Everything we do with children takes longer than before we had kids! You need to plan for the unexpected, especially if you are traveling with a potty training toddler.
No matter the age of your kids you never know when a diaper will blow out, the baby needs feeding, someone will start to feel unwell or you realize your kid left their winter coat in the car and now you have to trek back to the long term parking lot to find it! With kids anything is possible. These little people have their own needs and desires, and they never choose the most convenient time to need to use the bathroom! 
Planning to arrive early at the airport gives you more breathing room. It helps to reduce the level of stress because if something unexpected happens then you have the extra time and space to deal with the situation. 
For domestic flights, it would be best to arrive at the airport at least 2 hours prior to your flight time. For international flights, you should plan to arrive at least 3 hours prior to your flight. During school breaks or over the holiday travel season airports become a frenzy of activity. You may need to arrive even earlier depending on your travel dates.
Flying with a stroller or car seat  
Every U.S. airline allows you to check a car seat free of charge when traveling with a child. You can check your car seat at the airport baggage counter or wait and check it at your gate. Read our post about what to consider before you travel with a car seat.
Take advantage of gate check
Most airlines will allow parents to gate-check bulky baby gear, like strollers and car seats, at no additional charge. At the gate request gate check tags from the attendant. Attach one tag per item and then leave it at the bottom of the jet-way as you board the airplane. 
Use a stroller gate check bag and a car seat travel bag to cover and protect your baby gear from dirt and damage. Especially if you're traveling in the winter with snow when there's salt everywhere!
Gate checked items will usually be waiting for you on the jetway at your destination when you leave the airplane. Occasionally these items must be retrieved from baggage claim, depending on the airport.

Having access to your stroller is helpful as you maneuver through the airport. I always wear the baby in an infant carrier such as the Ergo or Baby Bjorn which allows me to have my hands free.

Then I use the stroller to transport other items like the diaper bag, carry-on suitcase, winter coats, or even an older sibling who may be tired from traveling (see also, 'Why Does Flying Make You Tired?').
Check-in the car seat
Dragging a car seat through the airport can be cumbersome. It is especially challenging if you need to take multiple car seats, or you are flying solo with your children. Consider checking the car seat free of charge at the baggage counter, so you don't have to carry it through the airport. I have friends that stuff their car seat travel bag with extra shoes and bulky clothing and then check in the car seat. This allows more weight allowance in their checked bags. Just do it out of sight of the airline attendant, before you get to the baggage counter, so you're not charged for extra luggage. 
Check with your airline before your flight regarding their gate-check policy, and to find out about their luggage allowance.
TSA and security screening with children
Despite knowing airport security is necessary it can be very overwhelming to parents who are traveling with children. It can be stressful traveling with young children and all the baby gear that involves, especially getting all that paraphernalia through the security screening process. 
Before your next airport visit with a toddler you should be aware:
Strollers, car seats and all baby carriers will need to be screened either by x ray and/or manually.
Remove children from their carriers and carry them in arms through the walk-through metal detector. Metal detectors are FDA approved and deemed safe for your child.
Children under the age of 12 do not have to remove their shoes.
At no point during the screening process will you be separated from your child.
3-1-1 Liquids Rule
Did you know that baby formula, breast milk, juice, baby food, and even liquid medications in quantities greater than 3.4 ounces are exempt from the 3-1-1 liquids rule at U.S. airport security? That's right when it comes to baby bottles and sippy cups you are in the clear! Just make sure to remove these items from your carry-on bag to be screened separately from the rest of your belongings.
If you are traveling with a baby or toddler you are allowed to bring more than 3.4 oz of:
Breast milk
Formula (and premixed baby formula in liquid of frozen state)
Milk products
Juice
Teethers (gel or liquid filled)
Bottle Water
Canned, Jar and Processed Baby Food
Essential non prescription liquid medication 
It's likely you'll need an additional screening if you bring these items through security, but not to worry, these screenings are completely harmless. 
For more details and a list of what food items you can bring through TSA security, click here. Also, be aware that you can travel with a safety razor. Read this article to learn more about whether you can bring a safety razor on a plane.
Here's a helpful video from TSA with tips on navigating the security screening process with children.
Pack travel snacks in your carry-on
Snacks such as dried fruits, nuts, granola bars, cereals, crackers, and pretzels are all good options when flying. Creamy items such as jams, peanut butter, and yogurt are limited to travel-sized containers that are 3.4 ounces or less per item. They will need to fit into a quart-sized bag when you go through airport security with children. Just make sure you take the zip-lock bag out of your carry-on prior to sending it through the X-ray machine.
Read our post about Road Trip Snacks to provide you with more snack ideas. Many of these dry snack options would be suitable for airline travel. 
Don't wrap gifts
Are you traveling over the holidays, or going to a wedding or celebration, and planning to carry gifts? Security officers may need to unwrap your gifts for security purposes. Wait to wrap them until you arrive at your destination. There's nothing more frustrating than all your wrapping paper and pretty bows being removed. Plan to bring gift bags and tissue paper which are easy to pack, and avoid the possibility of your gifts being unwrapped. 
Let older kids help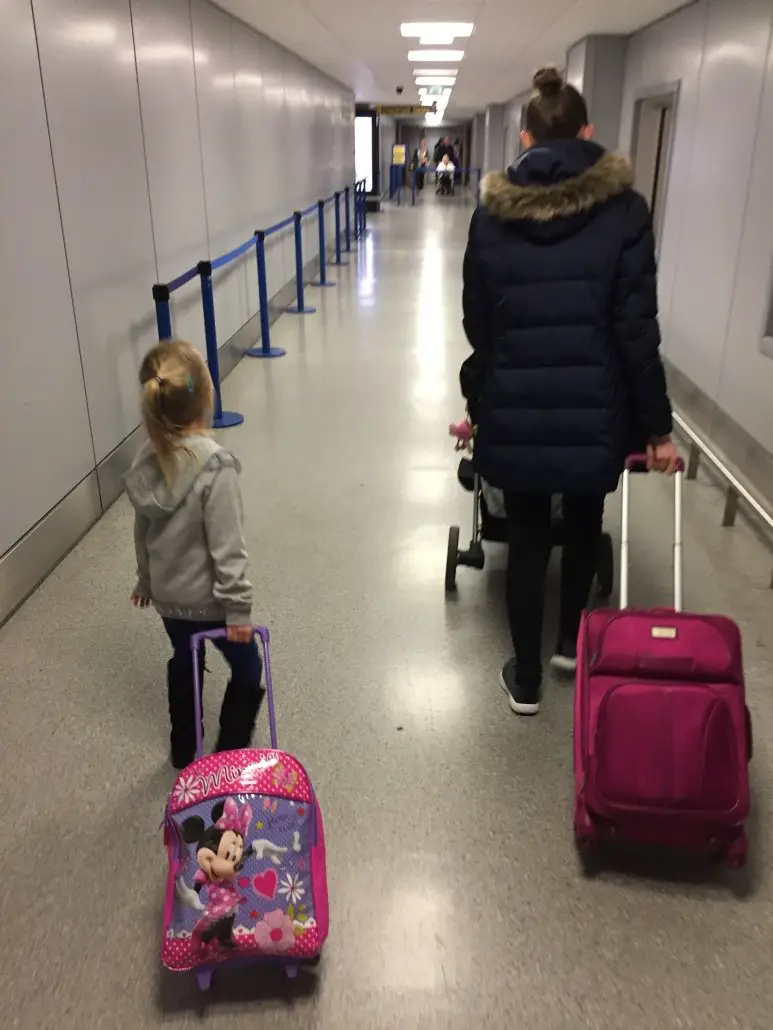 If you have older children then find things they can help with at the airport such as wheeling checked baggage.
Giving children a job to do helps to keep them busy and focused on the task at hand. Most children aged 3 or older are able to carry a backpack or pull a small bag with wheels.
Elementary-age children can carry their BE Family Travel Tray, or wheel a small suitcase.
Older siblings may be capable of pushing a younger child through the airport in a travel stroller. Give children the opportunity to help and show some responsibility, while taking some of the load off you. 
At the airport with children
Once your family has passed through security you should have time for a breather before it's time to board your flight. This is the perfect opportunity for your children to run around, explore and burn some energy before being restricted to an airplane seat.
Many airports offer a Family Lounge with a space for children to play, with amenities such as toys or a climbing structure.
And in most airport restaurants you will find high chairs and children's menus. My children love to watch the airplanes, and some restaurants offer a fantastic window view of the airfield. 
For nursing mothers, there is often a Mother's Room at the airport which provides a quiet space to breastfeed in a private setting. There is often comfortable seating plus a sink and wash area.
In the unfortunate situation that your flight is canceled, and you must spend the night at the airport, then ask your airline if a Passenger Assistance Program is available. Some airports will provide a cot, pillow, blanket, and toiletries to families to help make your unplanned stay more comfortable.
Flying with children
Once you have navigated the airport and passed through airport security with children, then it's time for the flight. Flying with children isn't the easiest task of parenting, it can be challenging and exhausting. The thought of flying with children can even be downright terrifying, but it doesn't have to be that way. Plenty of parents have flown many thousands of miles with their children, and then decided to take another trip which required them to fly again!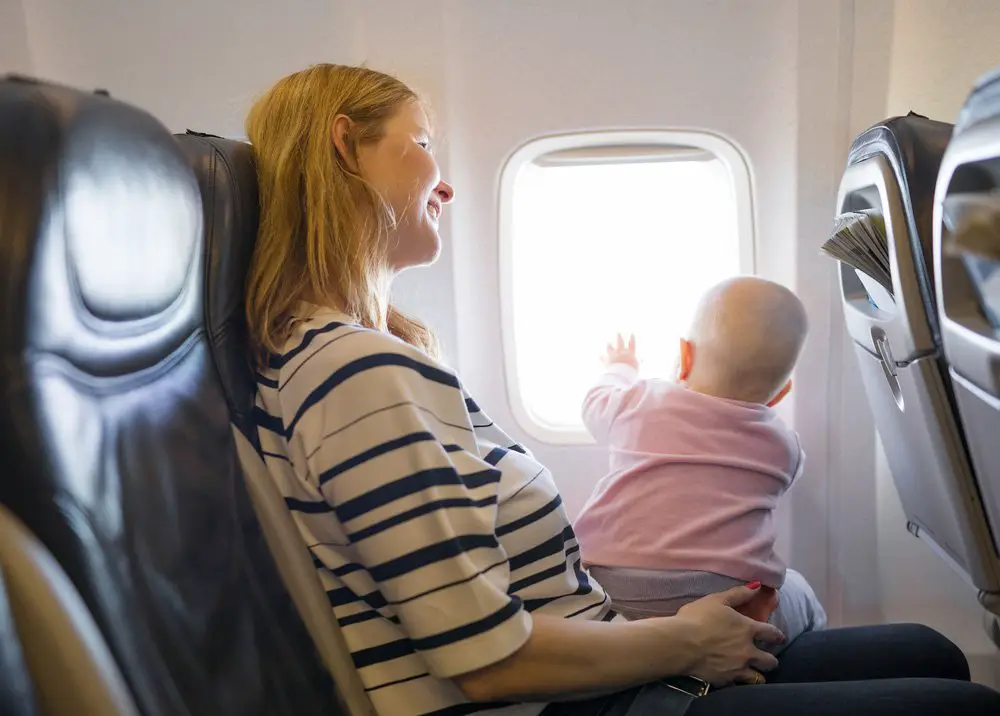 As parents, we can do hard things that will grow and stretch us. The gift of travel and the opportunity for your children to see the world is worth the extra effort. Time together as a family and making memories builds your child's heart which strengthens the family bond. 
Please comment on this post to share with our community about how you survive airport security with children. I'd love to hear about how you crush it at the airport!
And remember, let's BE Family so you can enjoy the journey.
Until next time,
💕💖 Ruth
📌 Pin it for later 📌
BE Family Products Inc., or (BE Family Travel) participates in the Amazon Services LLC Associates Program, an affiliate advertising program designed to provide a means for sites to earn advertising fees by advertising and linking to Amazon.com. Using any of the links on this website does NOT cost you anything but does help us continue to create content on this blog. Thank you so much for your support and for partnering with us. Let's BE Family.