As an Amazon Associate, BE Family Travel earns from qualifying purchases. Learn More
Stress-Free Travel with your Baby
The holidays are fast approaching and as a parent with a new baby, you're likely making plans to travel. Maybe to see family or take a holiday getaway for some fun and relaxation. If you are planning your travel with a baby, it may feel overwhelming. Never fear we have great tips and tricks for you to make the travel go more smoothly.
Traveling over the holidays can be stressful. Especially when you travel with a baby which can make your trip more challenging and unpredictable. And if this is your first time traveling with a baby you may be extra nervous about what's ahead. Fear not! I can completely relate and want to share with you what I've learned along the journey of parenting and travel.  
In this post, I share what I've learned about traveling with a baby, and my top 10 tips for stress-free travel with a baby, especially if you're traveling over the holidays. You can also get my FREE Baby Packing List and find out why traveling with a baby really is worth the extra effort!
What I've Learned About Traveling with a Baby
I am a Brit living in North Carolina, USA. When my first daughter was born in 2011, I was super excited to take her to England so she could meet my family and friends. She was 3 months old that Christmas and we decided to make the trans-Atlantic trip. As December arrived and the day of our flight approached, I began to feel extremely nervous. I had made the trip MANY times before, but never with a baby.
I've since realized that it's actually easier to travel with an infant before the child starts crawling or walking. When my second daughter arrived several years later, I jumped on the opportunity to travel with her while she was small. She was 5 months old that Christmas. We booked the flights before she was even born! We flew to England on Christmas Day, but I'll share more about our decision to do that later!
Planning, being prepared, and giving yourself some grace if it's not all "perfect" will help you take on this new challenge of traveling with a baby. Whether you are taking a road trip with a baby or traveling on a plane, bus or train, being flexible and having a sense of humor will help. Time together as a family and making memories with your child far outweigh the extra effort it will take.
Top "10" Tips for Stress-Free Travel with a Baby this Holiday
Here are my tips to help you not only survive, but thrive, when you travel with a baby. It's a lot more doable than you might think. Be prepared, and then have the confidence to know you can do this!
1. Avoid travel on peak days
Many people want to avoid traveling on an actual holiday and prefer to be at their destination to enjoy the holiday. Therefore, the airports and roads are much busier before and after the holiday. Peak travel days in the US include the Wednesday before Thanksgiving, the Sunday after Thanksgiving, December 23rd and January 2nd. You can usually get better deals on flights if you're willing to travel on an actual holiday. Then postpone your celebration with family to a different day.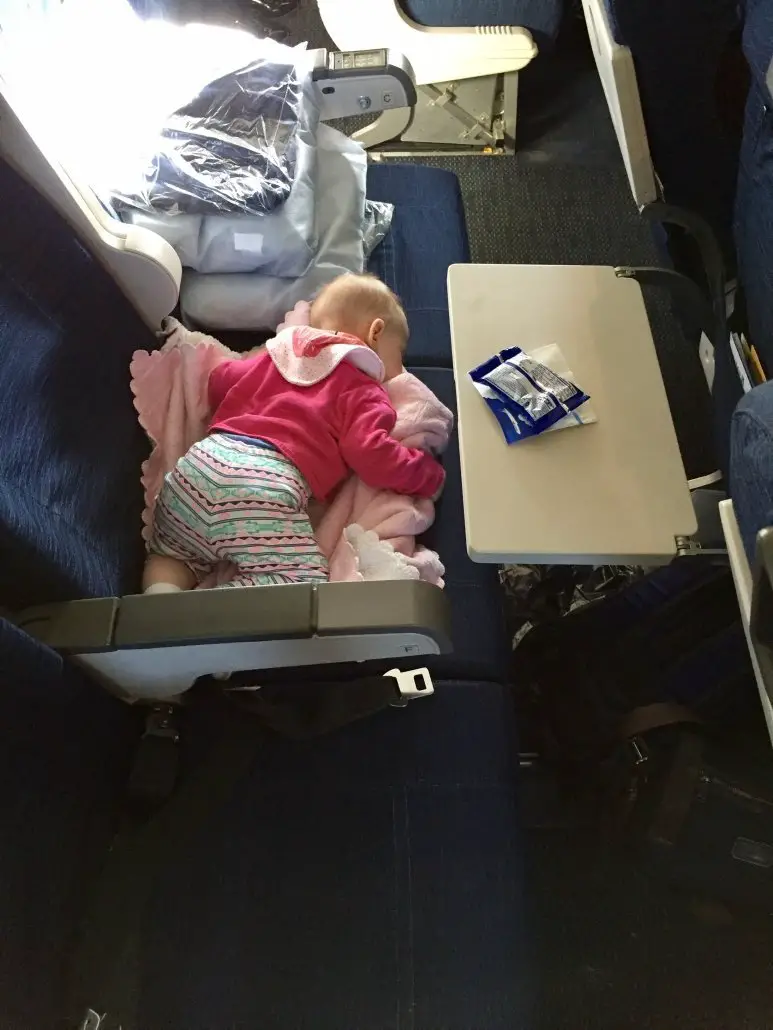 We did this several years ago when my second daughter was an infant. We flew to England on Christmas Day.
The airport was quieter and we were able to get much lower fares with better flight times and less connections. This made the overall journey more direct, and much easier.
We were able to celebrate Christmas in the United States with my husband's family a couple of days early. Then celebrate with my family in England a couple of days late.
Our children were young, they never knew any different. Bonus for our kids was they got two Christmases out of the deal. We were happy that it worked out perfectly for both sides of our family.
2. Pack light and only bring the essentials
I like to be prepared and used to have the tendency to pack everything but the kitchen sink when we would travel. My poor husband was left playing tetras trying to fit all the luggage into our vehicle and then navigating everything around the airport. It was WAY TOO MUCH LUGGAGE!
I've since developed in-depth family packing lists which help me to remember from one trip to the next what items we ACTUALLY need to pack. When you travel with a baby you have enough on your plate without having to keep up with too much luggage. Try to pack as light as possible.
The only Essentials you REALLY need when you Travel with a Baby
a diaper bag with diapers (one diaper per hour of travel, and buy more at your destination)
changes of clothes for you and baby
formula/bottles/cups (you can fill with water after you are through security)
a nursing cover (which made it a lot easier to nurse when in such close quarters with strangers)
diaper cream (3oz or less, if flying, use just in case you can't change baby right away)
plastic bags (to carry wet/messy items)
I also recommend bringing a baby travel kit to keep in your hand luggage which includes: a thermometer, Tylenol (for fever), Ibuprofen (for pain), band-aids, and any prescription medication.
3. Rent or borrow baby gear at your destination 
When you're visiting family see what baby gear you can borrow from Grandma or your sister, cousin etc. They can ask their friends or neighbors, and you'll be amazed at what they can find for you. If you're visiting a place that you're not familiar with then research a local company where you can rent baby gear by the day or by the week.
Also, you can check out Baby's Away, baby supply rentals. With locations across the USA, if you're traveling within the US that will make it easy for you. Or, you can check out BabyQuip which is another nationwide option in the US for baby gear rentals.
When driving it's not always possible, or worth the hassle, to drag all that baby gear with you. Consider renting or borrowing items such as a crib or pack and play, highchair, Bumbo seat, play mat, baby swing, or bouncy seat. And remember that you can buy diapers when you arrive at your destination and don't need to carry a week's worth of diapers in your suitcase!  
4. Reserve a ticket for your infant and bring ID 
A child, less than 2 years old, may typically travel free of charge within the U.S. when accompanied by an adult. Although a lap child is not typically required to pay for a seat, they are required by the airline to be issued with a ticket and to show proof of age.
On an international flight, some airlines may charge taxes and fees even if the infant is sitting on a parent's lap. If you are traveling abroad your child will need a passport. Make sure you begin the process of applying for your child's passport well before your trip. Read our complete guide to get your child a U.S. passport.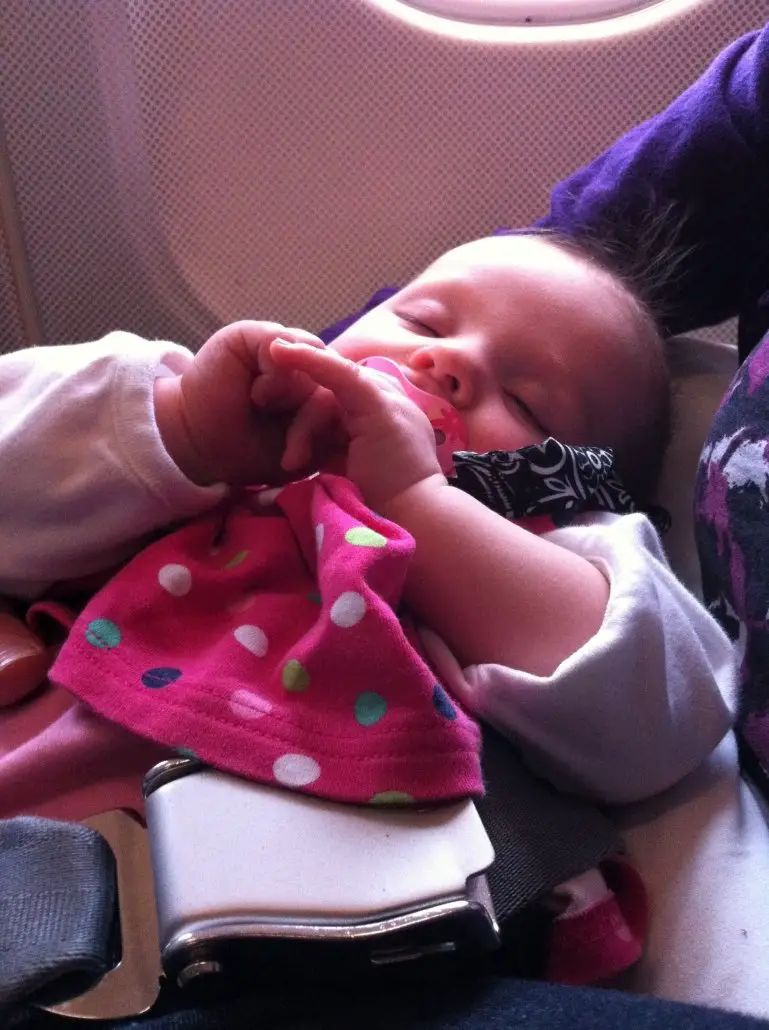 Don't make the 2 year old mistake
I was talking with a friend who planned to take her nephew on a flight to Florida right after his 2nd birthday. I commented that it's unfortunate she didn't plan the trip before he turned two because now she will have to pay for his seat.
She seemed confused by my comment as the parents had (mistakenly) told her that it's free to fly with a 2-year-old. She had not reserved a ticket for the child and thought he would just "sit on her lap". I explained this was not the case and she needed to contact the airline.
She ended up having to buy a ticket for her nephew, and as no seats were available in economy class, she had to purchase a ticket in business class. It ended up being a rather costly mistake and lots of extra hassle the week before the trip.
It is always important to contact your airline, so they are aware than you plan to travel with an infant and to find out the requirements for your flight.
5. Check with airline about baggage allowance
While infants with a paid seat typically get the same baggage allowance as a paid adult ticket, if your child under 2 years old is traveling as a lap child (without their own seat), then unfortunately they are not typically given a baggage allowance. I would always recommend calling your airline ahead of time to find out the luggage allowance for an infant on your flight.
In my experience we've always been allowed to take a stroller through security to the gate. We are then given a "gate check" tag to take the stroller to the door of the airplane and they will store it under the plane during the flight. When we arrived at our destination the stroller was available for pick up at the door of the plane (or sometimes at baggage claim, depending on the airport).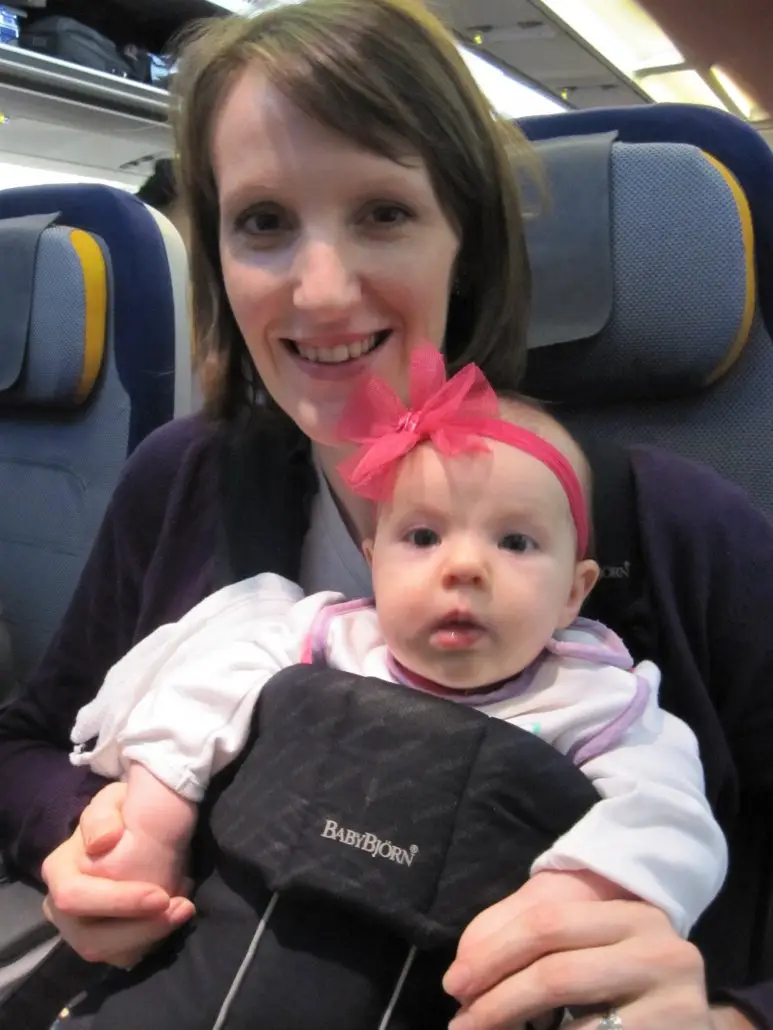 Baby gear for the airplane
I would suggest using a stroller gate check bag to cover and protect your stroller from dirt and damage. Especially if you're traveling in the winter with snow when you'll find there's salt everywhere! And I always like to wear the baby in an infant carrier such as the Ergo or Baby Bjorn which allows me to have my hands free. Plus, the baby loves to be close to you!  And then I use the stroller to transport other things like the diaper bag, carry-on suitcase, winter coats, or even an older sibling who may be tired from all the travel. 
Also, read our post about what to consider before you travel with a car seat.
6. Take a direct flight
When possible take a direct flight to reduce your travel time and time in the air. On an international or long-haul flight call ahead to ask for the baby bassinet which attaches to the wall of the bulkhead section. These are typically complimentary on international flights, though they're subject to availability. If the bassinet is not available, then ask for bulkhead seating to give you some extra space.
Read our post about surviving jet lag with your baby or toddler.
On shorter flights I like to get an aisle seat at the front of the plane. When the seat belt sign is off, I will get up and walk around the cabin for some exercise and to give baby a change of scenery. During takeoff and landing make sure to give your child a drink, snack or pacifier to help reduce ear pain from the pressure change. I would always plan to nurse my baby during that time.
7. Travel while baby sleeps 
When we make the 2-hour drive to Grandma's, we usually plan to drive in the afternoon during our toddler's nap time. When my brother is driving with his two young children, he will typically leave in the evening so the kids will fall asleep in the car. Then he'll drive into the night to reach his destination. Friends of ours always drive overnight so their children will sleep all night until they reach their destination. If you're traveling across the country or abroad consider taking the red-eye flight.
The good thing about a baby is that they will typically sleep a lot, so try to do as much travel as possible while your baby is asleep. Traveling with small children requires flexibility, and you need to be aware that surprises may occur along the way. From traffic to flight delays or missed connections. Try to handle any unexpected changes with grace and a sense of humor. Your baby can sense how you're feeling. The calmer you can remain the better for everyone!
8. Give yourself extra time when you travel with a baby
Everything with a baby seems to take longer, so account for that when making travel plans. Give yourself extra time. I would suggest at least 1-2 hours extra than you'd normally need for your road trip or arrival at the airport. You never know when baby is going to spit up or have a blow out that needs to be dealt with right then. Or when you'll need to stop to nurse or feed baby sooner than you expected. If you can't fly direct and you're booking a flight with a connection, then allow extra time so you're not rushing through the airport with all your gear.
9. Bring snacks but be prepared to clean up messes 
Have some age-appropriate travel snacks easily accessible in the car or in your carry-on bag. We have a great list of easy to pack snacks on Simplify a Road Trip with Kids post. Check it out here. It's rare that children like plane food and a snack will often occupy the child and help avoid a tantrum.
Remember to keep food and drinks bland to prevent motion sickness. My youngest daughter developed awful motion sickness in the car when she was around a year old. There were times we couldn't even make a 15-minute drive across town without her throwing up everywhere!
I've developed more awareness about how to handle travel sickness in children. And I've lost count of the number of times we had to clean the car seat! Now I avoid giving her milk, yogurt, or fruit for breakfast before a road trip. Instead, I stick to bland food such as toast or dry cereal.
I've learned to identify the signs of my daughter's fussing before she gets sick in the car. Now I have a towel at the ready. I use a large towel tucked under her chin and covering her body which helps protect her clothes and the car seat if she gets sick. I keep these towels folded under her seat so I can easily reach back and pass her a towel when needed. Having the necessary supplies and being prepared to clean up messes certainly helps when we're pulled over on the side of the road trying to comfort a sick kiddo. 
10. Dress comfortably
When I travel, I want to be as comfortable as possible, so I always opt for jeggings or yoga pants. Same goes for your baby, and I try to bring coordinating changes of clothes so if she only messes up a shirt then I don't need to change the entire outfit.
I always bring pajamas for baby so if we're going to arrive at night then she'll already be changed and ready for bed. And remember that airplane temperatures can change dramatically, from warm on the ground to cool in the air. Dress in layers and make sure to bring a jacket.
For more comfy clothing tips for the whole family. Check out our post Simplify a Road Trip with Kids.
Family memories are worth the extra effort
Traveling can be stressful. When you travel with a baby it can be super stressful, but if you think through your travel plans keeping your baby's needs in mind then it's a lot more doable. In fact, following these travel tips can help make it less daunting and help you keep your cool.
Always keep in mind that the memories you make are worth the extra effort!
We hope this post will bring you more peace on your family travels. And remember, Let's BE Family so you can enjoy the journey.
You've got this. You can do it!
💖 Ruth
For more about family travel check out these posts:
Road Trip With A Baby: Tips To Help Parents Survive
What are the Best Travel Toys for Baby?
Surviving Jet Lag with your Baby or Toddler
How to get your baby or child a U.S. passport

📌 Pin it for later 📌
BE Family Products Inc., or (BE Family Travel) participates in the Amazon Services LLC Associates Program, an affiliate advertising program designed to provide a means for sites to earn advertising fees by advertising and linking to Amazon.com. Using any of the links on this website does NOT cost you anything but does help us continue to create content on this blog. Thank you so much for your support and for partnering with us. Let's BE Family.