As an Amazon Associate, BE Family Travel earns from qualifying purchases. Learn More
What are the Best Travel Gifts for Kids in 2022?
Traveling with children is a great way to encourage learning and exploration. There are many benefits to raising children who love to travel and see the world. Kids who travel have a better understanding of different cultures, history, architecture, cuisine, and more. It is important to show your child(ren) the world. Choosing the best travel gifts for kids will help to instill in them a desire to travel, seek adventure, and to explore.
Providing your child the opportunity to travel is a gift. Not everyone chooses, or is able, to travel with their children. Planning to travel with kids provides the benefit of spending time together on a family vacation. It allows the space to make special memories with the people you love most and will help strengthen your family bond.
Are you looking to choose the perfect gifts for kids who travel? In this post, we will discuss different types of family travel gifts, and how to travel with presents when flying or in the car.
If you are looking for the best gifts for kids who travel, then keep reading to see our guide to the Top 25 Travel Gifts for Kids in 2022. These travel gifts for kids include luggage, travel gear, electronics, games, and activities that make the best gifts for kids who travel.
If you are traveling with a baby then check out our review of the best travel toys for a baby. You may also be interested in our article about Non-Toy Gift Ideas for Kids, or our Holiday Gift Guides with Travel Gifts for Mom, or Most Popular Travel Gifts for Dad.
 📌 Pin it for later 📌
Family Travel Gifts for Kids
During the pandemic, we could not travel with children like normal to the destination of our choosing. But, now travel is opening up, and many families are looking forward to being together again for the holidays in 2022.
International travel is beginning to resume, and before long, we will be able to explore the world again. In the meantime, read our Family Travel Quotes to inspire your family adventures.
If you are planning to travel with children around the holidays you may consider the family vacation as the actual gift. Take the extra money you normally put towards gifts and use it to cover family travel expenses (see also, 'How Much Money Can You Travel With?'). For example, plan something special during your family vacation that your child(ren) will enjoy in lieu of an actual present.
For more ideas, read these articles about Planning a Multi-Generational Vacation with Grandparents, or Multi-Generational Travel Ideas for Families, or What You Need to Know About Disney World Itinerary Planning.
"Actually, the best gift you could have given her was a lifetime of adventures."

– Lewis Carroll
I often prefer for my children to receive experiences rather than too many physical gifts. If your children are older then talk to them about the option of taking a family trip. Get their input and see if there is something specific they would like to do together as a family.
If you are able to take the family vacation while including special experiences, and you are still looking for ideas of awesome gifts for kids then keep reading. We will highlight our favorite travel gifts for kids below. These include gifts to inspire travel and wanderlust in kids, as well as practical gifts for kids and gear that can be used during travel.
 📌 Pin it for later 📌
How to travel with presents?
If your family is planning to travel over the holidays you are likely wondering about traveling with gifts. It is difficult to travel with large or fragile gifts for kids. Therefore, consider giving less bulky gifts, that are easy to pack and less likely to break or be damaged.
Traveling with gifts when flying
Here are tips about how to fly with gifts:
Do not wrap gifts – TSA agents may require that you unwrap them for inspection.
If you do wrap gifts then pack them in your checked bag.
Bring extra wrapping paper, or put presents in gift bags with tissue paper at your destination.
Check airline baggage fees to know how much weight/space you have to carry gifts.
Check TSA restrictions of what you can bring – even gifts must follow the rules.
Put valuable gifts in your carry-on bag.
Pack gifts inside clothes and consider using bubble wrap for added protection.
Use a hard shell suitcase to help protect gifts.
To learn more read our post about navigating airport security with children.
Traveling with gifts in the car
To avoid strict TSA rules, baggage fees, and lost or broken gifts you may prefer to travel by car with your holiday gifts. But packing your car for a family road trip with kids may leave very little space for carrying gifts.
It may be easier to order gifts online and have the gifts delivered straight to your destination. Or the USPS Carrier Pickup service allows customers to schedule a free pick up of prepaid packages at the same time their mail is delivered. The free Carrier Pickup is now available to virtually all U.S. addresses. Take advantage of having gifts shipped from your home or office directly to your destination, without the hassle of traveling with gifts.
But remember that if you have gifts delivered to your destination for the family members who are traveling with you, then make sure you have space in your vehicle to get them home. This is probably not the Christmas to have Santa bring a new bike for little Johnny! Choose gifts that are small, not easily damaged, and don't have a million little pieces that need to be constructed!
What to do instead of traveling with gifts?
There are lots of non-toy gift options for kids if you prefer to avoid traveling with gifts. Consider giving more travel-friendly presents which are more about experiences and less about physical items. The type of kid's travel gifts that you choose will depend on your child's age, but we have provided some ideas below.
Travel-friendly gifts:
Gift Cards for a favorite store, restaurant, or activity
Membership or Annual Pass e.g. zoo, aquarium, museum
Classes e.g. ballet, gymnastics, soccer, guitar
Magazine or Book Subscription
Movie Tickets or Movies
Experiences on Vacation e.g swim with dolphins, character breakfast
Activities e.g. swimming, skiing, bowling, painting
Monthly Subscription Box
Cash to use on vacation
And remember the vacation itself can be an awesome gift!
Ask relatives to purchase travel-friendly gifts such as an experience for the child to enjoy during the actual vacation. Some of our favorite vacation memories are the experiences that family members gifted our children such as swimming with dolphins in Mexico or visiting a turtle conservation center in Grand Cayman, ice skating in Ottawa, afternoon tea in London, or a character breakfast at Disney.
 📌 Pin it for later 📌
Here is our Guide to the Top 25 Travel Gifts for Kids
If you are looking for physical gifts to give, or practical travel items, these are our favorite gifts for kids who travel. Don't miss number 13!
Travel Gifts for Kids
For kids who love to travel and keep a track of their adventures, or to inspire new vacation plans. Discover the US States, Capitals, National Parks, plus Flags and Landmarks.
Kids can see each and every country pictured on the map, and scratch off to track their travels. It's not just about learning geography and cultures, but also being grateful for life adventures and encouraging curiosity and a desire to explore new places.
It is laminated, foldable, and reusable.  As well as compact, portable, and designed for kids to teach them geography. This is the perfect gift travel gift for kids to be inspired to learn about the wonders of the world.
With a stand and built-in LED lights that illuminate for night view. It makes learning fun and is ideal for curious learners of all ages. This small globe fits children's little hands and is perfectly sized as a desk globe.
Great for airplane games, family adventures, and exploring. The binoculars come in 6 colors which makes this the perfect gift for kids who travel, and they are excellent for learning.
The perfect reference and gift for kids who travel. The world has changed and this new atlas from the map experts at National Geographic captures the state of the planet with completely updated maps, stats, and fun facts. Encourage kids to learn all about the people, places, trends, and developments of our world. And also check out the Kids United States Atlas.
Luggage
A kid's pull-behind suitcase with wheels makes travel fun! Little kids will love rolling through the airport or to Grandma's with their own luggage. Sized perfectly for carry-ons and overnight trips, this luggage is sturdy enough for everyday use or distant journeys. The front zip pocket with mesh divider makes it easy to reach smaller items like snacks or books.
A boredom-busting sit-on, ride-on, carry-on that will keep toddlers entertained through the airport, at your destination, and away from home. The multi-functional strap reduces stress by allowing parents to tow tired children on their rolling luggage or conveniently carry it over their shoulder. It is a fun and practical suitcase for kids on a family road trip. This is one of our favorite travel gifts for kids who are younger. The Trunki Suitcase is the ideal kid's travel companion for vacations, holiday road trips, short breaks, sleepovers, and playing at home.
This is a great Kid's Travel Backpack. Most kids love the independence of carrying their own stuff, and now they can do it in style! Choose from over 30 color options. The large multi-compartment design has a dedicated tech spot tablet computer sleeve. There are multiple pockets, key fob and kids can attach extra gear with a monster hook a bottom straps. If you are looking for gifts for kids who travel often then consider a travel backpack. They are available in a range of colors, sizes, and styles.
Travel Gear
Essential for airplane travel to help kids identify their luggage on the carousel at the airport. These inexpensive travel items make the best family travel gifts. Luggage ID Tags are great holiday stocking stuffers for kids. Add the child's name, address, and number on the inside paper card, to easily identify their luggage from others. The distinct pattern of the travel tags for luggage stands out in a sea of bags so kids can find their luggage a lot faster and easier. Available in a wide variety of designs and colors, including Emojis, Star Wars, Dinosaurs, Minnie Mouse, and more.
A cute U-shaped animal neck pillow for the car or airplane and is a great travel gift for girls or boys. The micro-beads travel pillow offers gentle support and easily molds around the seatback or car seat, gently supporting the child's head without awkwardly pushing it forward. It has an easy-to-remove and washable cover. There is a snap to secure the pillow to a bag, suitcase, or backpack so you don't have to carry it. This kids-sized travel pillow is a family travel gift that is available in a variety of animal designs and colors.
With an adjustable head strap to fit any sized head. This is great for kids' outdoor adventures, or when traveling and exploring new environments, or to stay inside and use as a fun reading light. Choose a headlamp for Boys or Girls as a practical gift for kids who travel. Or consider a LUXPRO Glow in the Dark Flashlight which is a small but tough pocket-sized flashlight. They come in a variety of fun and bright colors that glow in the dark and they fit in the palm of the child's hand. These are ideal travel gifts for kids that are affordable and make excellent stocking stuffers for kids.
The best gift for kids who travel. The travel tray organizes drinks, snacks, activities, and electronics for kids while they adventure. It hooks over the headrest of a front seat and then rests in the child's lap. It is designed to be used with a car seat but could be adapted on an airplane using the seat-back tray. The kid's activity tray includes a tablet holder, pencil case, and a large book pocket and keeps everything within the child's reach.
There is no need to unload the entire play tray when it's time to leave, the side pouches zip and fold in to make the perfect storage as an all-in-one Travel Messenger Bag. The travel tray detaches into two parts and the lower lap tray is ideal for toddlers. Available in red, blue, pink, or teal green.
📌 Pin it for later 📌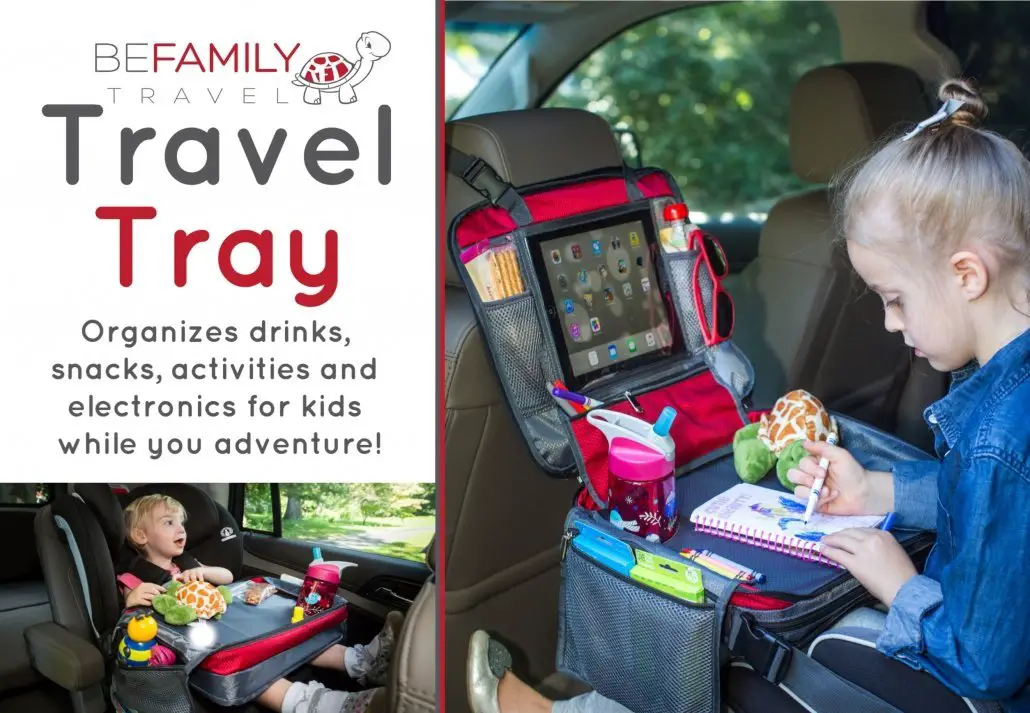 A Reusable Water Bottle is the ideal gift for kids who travel. This 12 oz container is available in MANY different colors and character designs. It is an insulated 12-hour cold drink stainless steel thermos, and the BEST part… it does not sweat when filled with ice! We have these Thermos Funtainer water bottles in various sizes and colors for the entire family and use them at home and on the go, so they make the perfect family travel gifts.
Electronics
Available in blue, red, or purple. Stream through Wi-Fi or view downloaded content on the go with 16 GB of internal storage and up to 7 hours of reading, browsing the web, watching a video, and listening to music.
The best action camera and ideal for budding photographers who want to be just like their parents! A robust travel camera will be a treasured gift for shooting the most memorable vacation moments. This kid's action digital camera comes in a durable waterproof case.  It is ideal for beaches, diving, swimming, rafting, snorkeling, surfing, and a favorite gift for kids who travel or kids who like to adventure. Available in blue or pink.
Geared for reading books, it performs differently than a tablet – so no games, ads, or videos mean zero distractions! Use with Audible, and pair with wireless headphones or speakers to listen to the story. Read our article to find out the best audiobooks for kids.
Includes 8 illustrated board books and an electronic reader that reads each book aloud. Therefore, your child can choose a book, press buttons on the module, and hear the whole story, along with fun and surprising sounds! Following along in the book while listening to the narration is an important first step toward independent reading. Consider this travel gift for toddlers or preschoolers.
19. Headphones
CozyPhones Kids Wireless Headphones are a super soft fleece headband with volume-limited thin speakers. They are comfortable, breathable, lightweight, and make the perfect earphones for toddlers and children who travel. After traveling across town or across the world they are easy to clean. Simply remove the speakers and machine wash your headband. Therefore these Cozy Headphones make a unique and fun travel gift for kids.
Lil Gadgets Kids Wireless Bluetooth Headphones are high quality, sized for kids age 4 plus, and compatible with nearly all Bluetooth devices. The earpads and headband are covered with SoftTouch breathable mesh material for your child's comfort. And the ear pads are manufactured with children in mind — using some nifty engineering to make sure the ear pads won't fall off. Offered in six wonderful colors and now with a one-of-a-kind SharePort feature. This allows one headphone to be connected wirelessly and others to daisy-chain so all listeners are untethered from the device. These headphones are one of the must-have travel gifts for kids and provide 12 hours of battery life with a 180-hour standby.
Games
Card games for kids are compact and easy to pack when traveling (see also, 'How to Pack Formula For Air Travel'). The best card games that are fun travel gifts for kids include Uno, Guess Who, Clue, Spot It, Scavenger Hunt, I Spy Travel
This set of mini travel games are neat and compact, so the perfect companion for traveling. These magnetic board games are enjoyable for kids and adults to play, and include favorites such as Checkers, Chess, Snakes and Ladder, Solitaire, and Tic Tac Toe. These are popular family travel gifts because everyone loves to play board games.
Pack your bags and get ready to hit the road with this latest installment of family fun! You can help create car songs, spot some historical sights, even stop at a roadside diner–with a Mad Libs? twist, of course! With Mad Libs? on the Road, traveling has never been so wacky!
Read this post for more details about the best family travel games.
Activities
23. Creative Arts
Simple travel gifts for kids that make inexpensive stocking stuffers include Crayola Coloring Book, Twistables Crayons, Sticker Books, or a CityScapes Coloring Book for older children.
Read these articles to learn more about kid's travel crafts and the best travel activities for kids or get our free printable road trip games for kids.
Kids can use this writing tablet to draw, sketch, and write, without the hassle of carrying paper. Richgv doodle pad features pressure sensitivity that lets you draw thick and thin lines based on the pressure on your pen. Press one button to "clear" and conveniently erase an image or word. This writing board is ultra-thin, lightweight, and fits easily into a backpack which makes it an ideal travel gift for kids.
This is a special keepsake that a child will treasure for years to come. When it's time for kids to hit the road for the next family vacation they will remember the fun-filled adventure. The Ultimate Travel Journal For Kids is packed with journaling prompts so that every memory can be recorded. This travel activity is for children age 6-9 years old, who will find guided prompts to record their hopes for the trip, new discoveries, highlights, and more. This is a thoughtful gift for kids who travel because once they are back at home they can open their travel journal and relive the adventures and memories from the family vacation.
Round up of Travel Gifts for Kids
I hope you found this round-up of travel gifts for kids helpful as you start to think about the holidays and plan your gift-giving for the little travelers in your life. Whether you choose physical gifts or experiences, or a mixture of both, there is so much value in providing the opportunity for children to travel and see the world.
And remember, let's BE Family so you can enjoy the journey.
Until next time,
💖 Ruth
For more about family travel, check out these posts:
Travel Gifts for Mom: Holiday Gift Guide
10 Most Popular Travel Gifts for Dad
Non-Toy Gift Ideas For Kids: Less Stuff, More Memories!
Simplifying a Road Trip with Kids
How to Pack Your Car for a Family Road Trip
Travel with a Baby Stress-free this Holiday
What are the Best Travel Toys for Baby?
 📌 Pin it for later 📌
BE Family Products Inc., or (BE Family Travel) participates in the Amazon Services LLC Associates Program, an affiliate advertising program designed to provide a means for sites to earn advertising fees by advertising and linking to Amazon.com. Using any of the links on this website does NOT cost you anything but does help us continue to create content on this blog. Thank you so much for your support and for partnering with us. Let's BE Family.