As an Amazon Associate, BE Family Travel earns from qualifying purchases. Learn More
What are the 10 Best Travel Toys for Baby?
Are you getting ready to take a road trip or flight with a baby? Do you want to know what are the best travel toys for Baby? Certainly, packing a selection of baby travel toys will help to entertain your little one as your family is on-the-go. The type of trip you take (road, sea, or air), and the amount of space you have, will determine what are the best toys for travel with a baby.
Traveling with a baby can feel overwhelming. However, being prepared with the essential baby travel gear will help to ease those fears. From many years of traveling internationally through the baby, toddler, preschooler, and now kid phase, I have tons of experience that I want to share with you.
In this post, I highlight the ten best travel toys for baby. These are my favorite baby travel toys that my children loved when they were little. Therefore, I know these will be helpful items to pack for your next family road trip or flight with a baby.
To learn practical tips about how to survive your road trip with a baby click here. If you are planning to fly with a baby then it will also be helpful to read our other posts. Check out how to get your baby a US passport or how to survive jet lag with your baby.
📌 Pin it for later 📌
10 Best Travel Toys for Baby
The best travel toys for baby will provide activities to stimulate your baby's senses. This should include their sense of sight, hearing, touch, and taste — baby's love to put EVERYTHING in their mouth, especially when they are teething.
These baby toys can be used at home, and when you want to travel with a baby then you will be ready to pack the best travel toys. In addition, your child may have some favorite toys that will provide comfort to them as you travel.
Meanwhile, some of the bulky or more noisy toys are more appropriate for a family road trip where space is not limited, and you won't risk disturbing other passengers. Smaller, lightweight items that fit easily in the diaper bag are great for flying with a baby or as you travel on-the-go. In this review of travel toys for Baby, we have a selection of both types of toys.
1. Sassy Ring O Links
The Sassy Ring O Links 9 Piece Set has a textured handle that is easy to grasp and great for mouthing. The different surfaces stimulate baby's sense of touch and teach baby to recognize new objects. While the contrasting black, white and brightly colored links stimulate the baby's developing vision. The links are also handy for hooking other baby travel toys to the car seat or stroller. Therefore, this helps prevent lost items that baby might drop when you're traveling.
2. Skip Hop Bandana Buddies Puppy
The Skip Hop Bandana Buddies Puppy is a Baby Activity and Teething Toy with Multi-Sensory Rattle and Textures. A soft baby travel toy and teether filled with textures, patterns, and sounds! Little hands stay active as baby explores rattles, crinkles, and more. Also available in multiple designs and colors. Bandana Buddies are the perfect travel toy for baby with multi-sensory play, this cute companion is ideal for fun at home or on-the-go.
3. VTech Busy Learners Activity Cube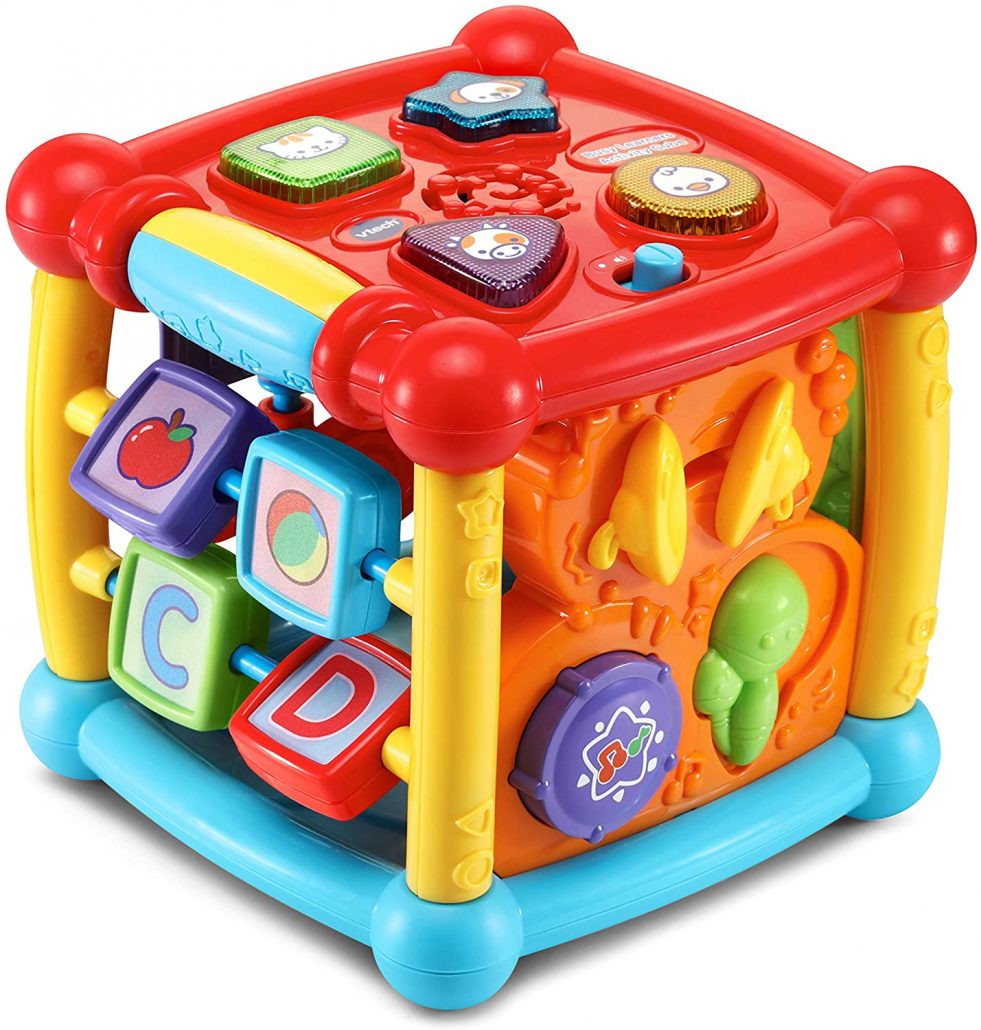 The VTech Busy Learners Activity Cube has 5 sides of play that encourage discovery and exploration; with 4 light-up buttons, it introduces animal names, animal sounds, and shapes. The activity cube has 25 playful songs and melodies that keep your baby engaged and entertained while developing fine motor skills. This travel toy for a baby is designed for 6 months to 3-year-olds. It is made of BPA-free plastic and has an adjustable volume. We loved this baby travel toy on road trips because it is chunky and easy for the baby to hold and interact with, providing hours of entertainment as you travel.
4. Sassy Stacks of Circles Stacking Ring
The Sassy Stacks of Circles Stacking Ring STEM Learning Toy is a 9 Piece Set for age 6 to 24 months. The straight post accepts different sized rings, strengthening hand-eye coordination. Each ring features a different texture and weight, and textural variety is great for mouthing. The colorful beads in the clear ring allow the baby to connect the sound to sight. And the chunky rings make it easy for baby to grasp, strengthening fine motor skills, so this is one of the best travel toys for Baby on a road trip.
5. Vulli Sophie The Giraffe
The Vulli Sophie The Giraffe is made of 100% natural rubber from the Hevea tree. Sophie la giraffe has been the most beloved teether for over 55 years, and on each box, there is a QR code to authenticate your Sophie. Sophie's soft texture and numerous chewable parts (ears, horns, legs), makes her perfect for soothing baby's sore gums during teething, and as you travel. This is our absolute favorite travel companion and one of the must-have travel toys for baby. Therefore, don't leave home without Sophie!
6. Nuby Ice Gel Teether Keys
The Nuby Ice Gel Teether Keys are a dual surfaced teether that is great for assisting in the eruption of front, middle and back teeth. When placed in the refrigerator Nuby's PurICE technology provides gentle cooling on the baby's gums. This easy-grip design is ideal for little hands and helps with coordination. It combines exercise for young hands, gums, and teeth, and is for Age 3 months plus. These teether keys are small enough to fit in the diaper bag so make the perfect baby travel toy for a road trip, flying or when you're on-the-go.
7. Brown Bear, Brown Bear, What Do You See?
The hardback book Brown Bear, Brown Bear, What Do You See? will inspire a child's love of reading. A big happy frog, a plump purple cat, a handsome blue horse, and a soft yellow duck–all parade across the pages of this delightful book. If you're sitting in the back of the car reading to your child they will respond to this singsong text, otherwise, they enjoy the unforgettable images of these endearing animals. Another travel activity to consider is audiobooks for family road trips and your child can listen to this book which is available from Audible.
8. VTech Rhyme and Discover Book
The VTech Rhyme and Discover Book include 6 colorful pages with 3 light-up character buttons on the tabs of the pages to make this a great early learning center. This interactive infant book contains 7 popular nursery rhymes and 4 movable pieces, with over 20 different songs, phrases, and sounds. The lights, sounds, and open-ended questions encourage thinking and learning for your child so they can play while you travel. The educational toy is durable, safe, and easy to clean once playtime is over; wipe down all of the pages, buttons, and sounds quickly and easily, This toy is recommended for kids 6 months to 3 years old. It is one of the best baby travel toys to use on a family road trip and will last for many years as your child grows.
9. Infantino Big Top Discovery Cube
The Infantino Big Top Discovery Cube is a development toy with 6-sides of soft squeezable fun. It includes a clacker ring and a peek-a-boo mirror and is easy for the baby to grasp. This cube makes an awesome travel toy for a baby to provide hours of entertainment as you travel.
10. Nuby Bug-A-Loop Teether
The Nuby Bug-A-Loop Teether assists in the eruption of teeth by gently massaging infant's gums. It features multiple teething surfaces and textures, with bright colors and characters for visual stimulation. This teether is for Age 3 months plus, and it provides another small and light-weight travel activity for baby as you adventure.
Travel Toys for Baby Wrap-up
This list of baby travel toys is the perfect guide to help you know what to pack to entertain your little one when you travel with a baby. You can pick and choose what is most appropriate for the type of family vacation you are taking. Happy packing and safe travels!
And remember, let's BE Family so you can enjoy the journey.
Until next time,
Ruth 💕
For more about family travel check out these posts:
Road Trip With A Baby: Tips To Help Parents Survive
How to Pack Your Car for a Family Road Trip
Essential Family Road Trip Checklist
Surviving Jet Lag with your Baby or Toddler
Travel with a Baby stress-free

📌 Pin it for later 📌
BE Family Products Inc., or (BE Family Travel) participates in the Amazon Services LLC Associates Program, an affiliate advertising program designed to provide a means for sites to earn advertising fees by advertising and linking to Amazon.com. Using any of the links on this website does NOT cost you anything but does help us continue to create content on this blog. Thank you so much for your support and for partnering with us. Let's BE Family.