Are you planning on traveling with your infant? Many parents find this prospect daunting. Flying is already stressful because you have to arrive on time and remember to pack your travel documents as well as everything else. Finding the best diaper bag for travel will make life much easier if you have a toddler or young baby. 
Let's look at the benefits of a travel diaper bag and some of the best products you can find in this range. 
Check it out now!
Do You Need A Diaper Bag for Travel?
A diaper bag for airline travel is invaluable because it is designed to make life easier for you as a parent. 
Sure, you can use any old backpack but diaper bags have separate pockets for every individual item you'll use. When you're on the move with a screaming baby or a distracted toddler, you'll want to access their belongings in a flash.
Most parents will agree that it's an essential purchase for long-haul flights because they're already stressful enough with small children. 
In this post, we will discuss what size diaper bag you can take on a plane, whether diaper bags count as your carry-on item, and what to pack in a diaper bag for travel. Plus, our review of the 7 Best Diaper Bags for Travel with a baby or toddler.
What Size Diaper Bag Can I Take on a Plane
There's no easy answer to this question because it depends on the airline's policies. If you're traveling in economy class then most of them have a limit of about 22 lbs (10kg). Usually, they'll accept bags with dimensions of 9 inches x 14 inches x 22 inches. It may be a little more or less depending on if it's a domestic or international flight. 
Diaper bags should be able to hold at least one diaper per two hours of travel. Meanwhile, consider all the other things you will need like baby formula, a changing mat, baby wipes, feeding essentials, pacifiers, and toys. 
It's also worth thinking about bringing an infant first aid kit in case you need to check their temperature. This list may seem intimidating but it will become second nature after a couple of trips!  
Do Diaper Bags Count as Carry On?
Unfortunately, most airlines will count diaper bags as carry-on luggage. It may seem unreasonable because parents can't avoid bringing travel essentials for toddlers and infants. The majority of major airlines permit you to bring a stroller and travel car seat for free. However, they're less tolerant when it comes to diaper bags.
The way it works is that every person with a paid-for seat can bring a single bag on board the craft. This isn't an issue if you have toddlers that will sit in a separate seat because the bag counts as theirs anyway. 
Typically, their feet won't touch the floor so there's even more room for storage underneath the seat in front of them. 
However, if your baby will sit on your lap for free, then you'll have to compromise because they won't receive any extra baggage allowance. Bear in mind that every airline has its regulations. Sometimes child fares have restrictions so always double-check. 
Some good news is that the TSA and other international flight regulators allow parents of infants to break normal 3.4 oz carry-on liquid restrictions. This is only possible in the case of baby formula, breast milk, and food in acceptable quantities. Read this article to learn more about Navigating Airport Security with Children.
For more details and a list of what food and liquid items, you can bring through TSA security click here.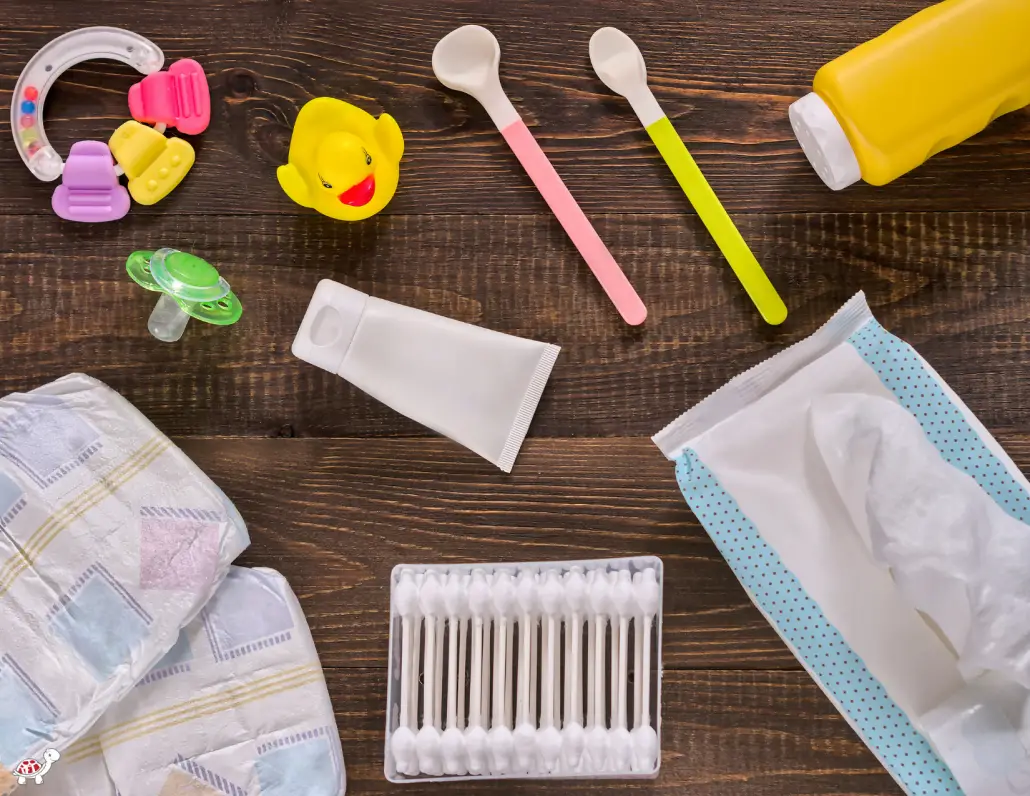 What to Pack in a Diaper Bag for Travel
The travel essentials you need to pack in the best diaper bag for travel with a baby or toddler include:
a diaper bag with diapers (one diaper per hour of travel, and buy more at your destination)
baby wipes, a changing mat and tissues
diaper cream (3oz or less, if flying, use just in case you can't change baby right away)
plastic bags (to carry wet/messy items)
formula/bottles/sippy cups (you can fill with water after you are through security)
a nursing cover (which made it a lot easier to nurse when in such close quarters with strangers)
burp cloths, blankets and bibs (which are easier to change than a whole outfit)
changes of clothes for you and your child
snacks (e.g. cheerios in a snack catcher cup, rice cakes etc.)
comfort item or lovey
books/small baby travel toys or toddler travel toys
a travel first aid kit to keep in your hand luggage which includes: a thermometer, liquid Tylenol (for fever), liquid Ibuprofen (for pain), band-aids, and any prescription medication.
Other items to bring when traveling with a baby or toddler include:
What is the Best Diaper Bag for Travel? 
Now that you know what to pack, let's look at some popular options to help you find the best diaper bag for travel. These items are all available on Amazon with customer opinions based on real reviews. 
The most popular diaper bags for travel are diaper backpacks. When traveling with a baby or toddler you have your hands full so it is easy to wear the diaper bag on your back and have your hands free to manage your child and carry other travel items.
Some moms prefer a more traditional diaper bag that you carry on one shoulder like a purse. These were popular a decade ago when my first child was born, but there has been a general move towards diaper backpacks because they are super convenient and practical. Plus, Dad is usually happier to carry a gender-neutral backpack-style diaper bag.
Review of the 7 Best Diaper Backpacks for Travel
This is our review of the 7 best diaper bags for travel with children.
This designer diaper bag backpack is expensive but very popular. The Itzy Ritzy Diaper Bag Backpack retails for about $125 on Amazon.
It has 17 total pockets with 10 on the outside and seven on the interior. Meanwhile, two of them are insulated for your baby's formula or food. A large number of compartments are crucial when you're traveling with a baby. 
Meanwhile, Itzy Ritzy supplies accessories like a changing pad and stroller straps. The bag has rubber feet to keep the material clean and off the floor. You can choose between using the built-in handle or backpack straps. 
The downside is that some parents expressed disappointment about the quality of the materials and the bag's construction. In particular, the zipper appears to have caused some issues. 
The Parker Baby Diaper Backpack is a lightweight option with more than ten pockets (two insulated). It's smaller than the Itzy Ritzy but that suits a lot of parents because it costs a lot less at about $58 on Amazon.
Parker has created a gender-neutral, modern design that's both stylish and practical. It uses vegan leather accents to highlight the bag's waterproof canvas. 
Furthermore, there is a full-zip main compartment so that it's easy to sort out all of the travel accessories for toddlers that you need. 
On the flip side, some reviewers complained that their backpacks' pockets were off-center. However, the overwhelming majority expressed happiness with this product.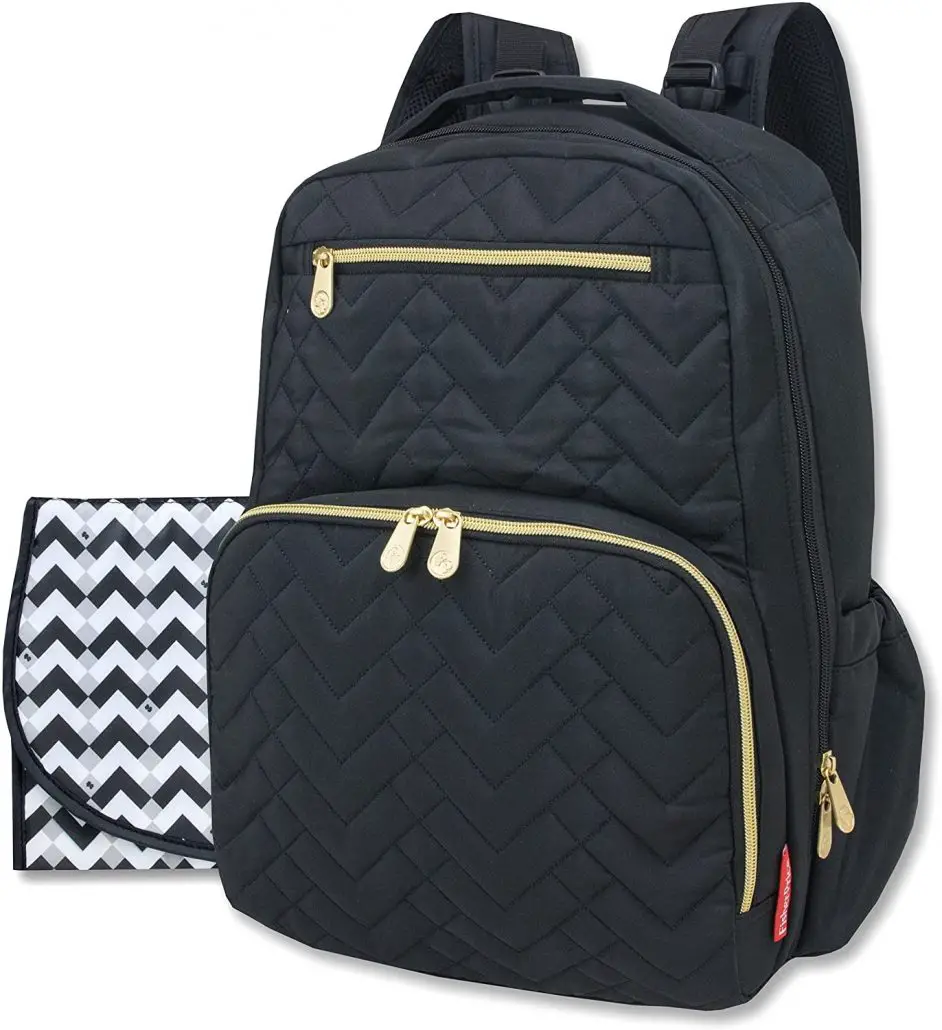 Another reasonable option, the Fisher-Price Diaper Bag costs about $55 on Amazon.
It has 12 pockets and includes room for five bottles. The front pocket is insulated and has room for three bottles of formula while you can put another two inside the stretch sections. There are also large sections that are big enough for tablets and other valuables. 
The bag has four standing feet to help it to stay upright on the floor. It comes with a changing mat which is always a nice touch. Fisher-Price also supplies stroller hooks which every parent will appreciate when they're walking around all day!
Overall this product receives very positive reviews on Amazon with a 4.8 rating. Some people left negative comments about the quality of the stitching. 
Available in eight different colors, the BabbleRoo Baby Diaper Backpack is one of the stylish you'll find. 
This product is large enough for all of your travel gear for toddlers with a 26L capacity. It comes with stroller straps, a pacifier holder, and a changing mat. 
There are almost too many pockets to count. It has a total of 18, five of which are insulated. Meanwhile, there are two main compartments for the bulk of your belongings. The fabric is waterproof and tear-resistant so it should last for a long time. 
Amazon prices this travel diaper bag differently depending on the color you choose. It ranges from about $40 to $47.
Meanwhile, it has an enviable review record. Customers have had a few issues with this product – if any. Indeed, one buyer described it as being like 'Mary Poppins' bag'! 
This attractive diaper bag is reasonably priced at about $36 on Amazon with a two-year replacement guarantee. 
HaloVa markets it as an all-in-one backpack and tote bag combo. The HaloVa Diaper Bag can carry up to 40lbs – which admittedly is more than most airlines will permit. However, it's great if you're traveling on trains or other forms of transport. 
It has two insulated bottle holders as well as a separate wet cloth pocket. Many customers appreciate the cute and compact design. The shorter straps are appealing to some mothers because it's easier to wear. 
However, you don't have to spend a lot more to find diaper bags with more features and pockets. Also, while it has different color schemes available, they're less gender-neutral than other options so Dad might have some grumbles!
The Hafmall Diaper Bag is a bargain at about $32 on Amazon.  
With over 13 pockets, you're sure to have enough space. Two of them are insulated for your baby's bottles while there is also a wet pocket for towels or diapers. Hafmall even supplies a keychain to hang your keys. It's very practical but it's also stylish in a subtle manner.
The wide-open design makes it easy to access your child's travel essentials without any fuss. Furthermore, it's one of the most comfortable bags to wear which is crucial when you're walking around. 
One reviewer claimed that the only negative they found was that it's hard to access the main zipper when it hangs on a stroller. Otherwise, it's more or less flawless.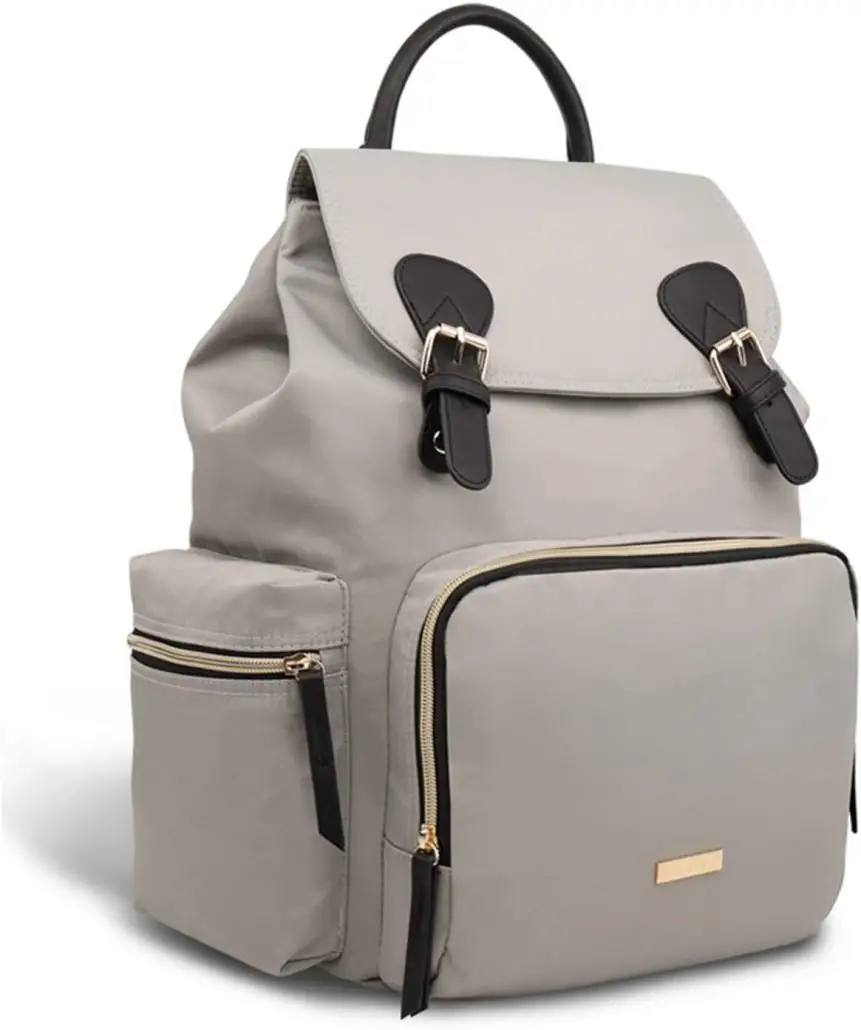 The final entry in this guide is this stylish product from Vogshow. It may be the chicest diaper bag you'll find!
As the name suggests, it's waterproof and durable. Unlike the other products in this guide, it's got magnetic clasps and an anti-theft pocket. The latter is an excellent detail. Vogshow also supplies a designated laptop pocket. 
The Vogshow Waterproof Diaper Bag is useful for traveling with newborns because you don't have to compromise on bringing your belongings. 
With 13 compartments, including, three insulated pockets, this is a large diaper bag that should be big enough for most people's needs. However, some reviewers complained about its lack of durability over time. It is available on Amazon for about $44.
Final Thoughts
All of these products have their pros and cons. 
However, there are a couple of standouts for the Best Diaper Bag for Travel. The Hafmall Diaper Bag is an excellent option considering the price. It has a timeless aesthetic and meets the minimum expectations of most parents. 
If you're looking for a better quality larger bag, then the BabbleRoo Baby Diaper Backpack is your go-to. There are so many pockets, and the feedback is excellent. 
To find out exactly what to pack when flying with a baby, toddler or children, use our Family Travel Packing Lists. This includes a checklist of items to pack in your diaper bag. 
What other toddler travel essentials does every parent needs for traveling with a toddler? Here are the Top 15 Travel Accessories for Toddlers. This must-have travel gear will make traveling with your little one infinitely easier.
For more about family travel, check out these posts:
Travel with a Baby Stress-Free
Helpful Tips for Flying with a Toddler
Navigating Airport Security with Children
Toddler Travel Essentials
BE Family Products Inc., or (BE Family Travel) participates in the Amazon Services LLC Associates Program, an affiliate advertising program designed to provide a means for sites to earn advertising fees by advertising and linking to Amazon.com. Using any of the links on this website does NOT cost you anything but does help us continue to create content on this blog. Thank you so much for your support and for partnering with us. Let's BE Family.