Every parent wants to pack the essential travel accessories for a toddler or baby to make traveling with children easier. A sippy cup is a toddler item that you'll use every day – at home, at daycare, in a restaurant, in the car, or anywhere you take your child. So whether you're staying local or traveling for a vacation, you certainly want to choose the best sippy cup for travel that you can use for every occasion.

As an Amazon Associate, BE Family Travel earns from qualifying purchases. Learn More
That's why you need one that is specially designed for the role. A standard bottle won't cut it. In this guide, we'll try to find the best travel sippy cup for your needs. We'll review some of the most popular products in this category on Amazon. 
We want to help you have the best sippy cup travel experience possible! And to find out more about other helpful toddler travel essentials check out these articles about the Best Diaper Bag for Travel, or pick a Lightweight Travel Stroller for Toddler or the Best Travel Car Seat for Toddler.
What is the Best Sippy Cup for Travel?
The best sippy cups have double-wall insulation so that the beverage stays cool and fresh. Most of them have pop-up silicone straws. They also come in bright and colorful designs to encourage your child to drink. 
It's worth noting that a lot of customers have leaking issues with toddler sippy cups. If they aren't used correctly this can be a potential problem. Consider practicing with your child before you take the sippy cup on a road trip or an airplane for the first time.
Can I Bring a Sippy Cup on an Airplane?
Parents always ask if they can bring their child's sippy cup on an airplane. 
The good news is that yes, you absolutely can. Infant bottles are an exception to standard TSA rules that forbid liquids from passing through security. Simply alert the officer and they'll test it for chemicals or banned substances. 
Once everything is clear, they'll hand it back and you're free to fly! 
Meanwhile, flight crews are always happy to fill your baby's sippy cup with warm water. You can also ask the beverage service to pour juice into them instead of the provided cup. We all know how messy toddlers can be!
Top 6 Sippy Cups for Travel
Here is our review of the best sippy cup for travel options and our pick of the top six. Keep reading to find out the pros and cons of each sippy cup.
Why have one sippy cup when you could have four? 
This RE-PLAY Sippy Cup 4 pack costs $21.99. 
RE-PLAY sells these delightful sippy cups in packs of four. They're available in practically every color you can imagine and have a capacity of 10 ounces. There's no doubt that your infant will love them. 
Another great aspect is that they're made from fully recycled material. Save the planet and feed your infant at the same time! 
These are made from durable hardened plastic. RE-PLAY designs them to stand up to every situation. You can boil, freeze, and microwave without any issues. Meanwhile, they don't contain any harmful chemicals. 
Most reviewers on Amazon have responded with overwhelming positivity to this product. However, some complained that they are not fully leak-proof.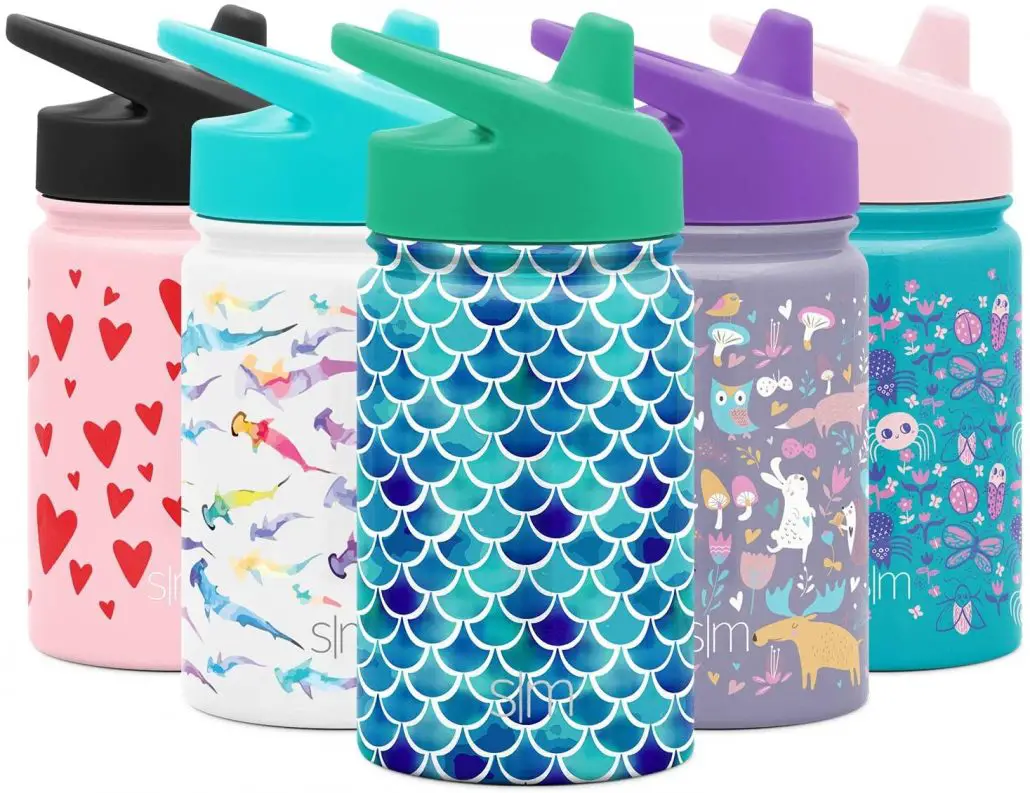 This Simple Modern Kids Summit Sippy Cup Thermos costs $12.99 on Amazon.
Made from stainless steel it's easy to wash and very hygienic. The hardy materials also make it very durable which is important when you're on the move. Another great feature is that it's vacuum insulated. This way you can keep drinks cool for longer.
However, this 10 oz bottle has several flaws. 
Firstly, it's not suitable for hot liquids. Nor is it spillproof. There are similarly-priced options that offer both of these features.  
Another issue is the actual drinking experience. Many parents claimed that their toddlers found it difficult to use the bottle because of the design. This style of water bottle would be better for older children. In short, there are better options out there for toddlers.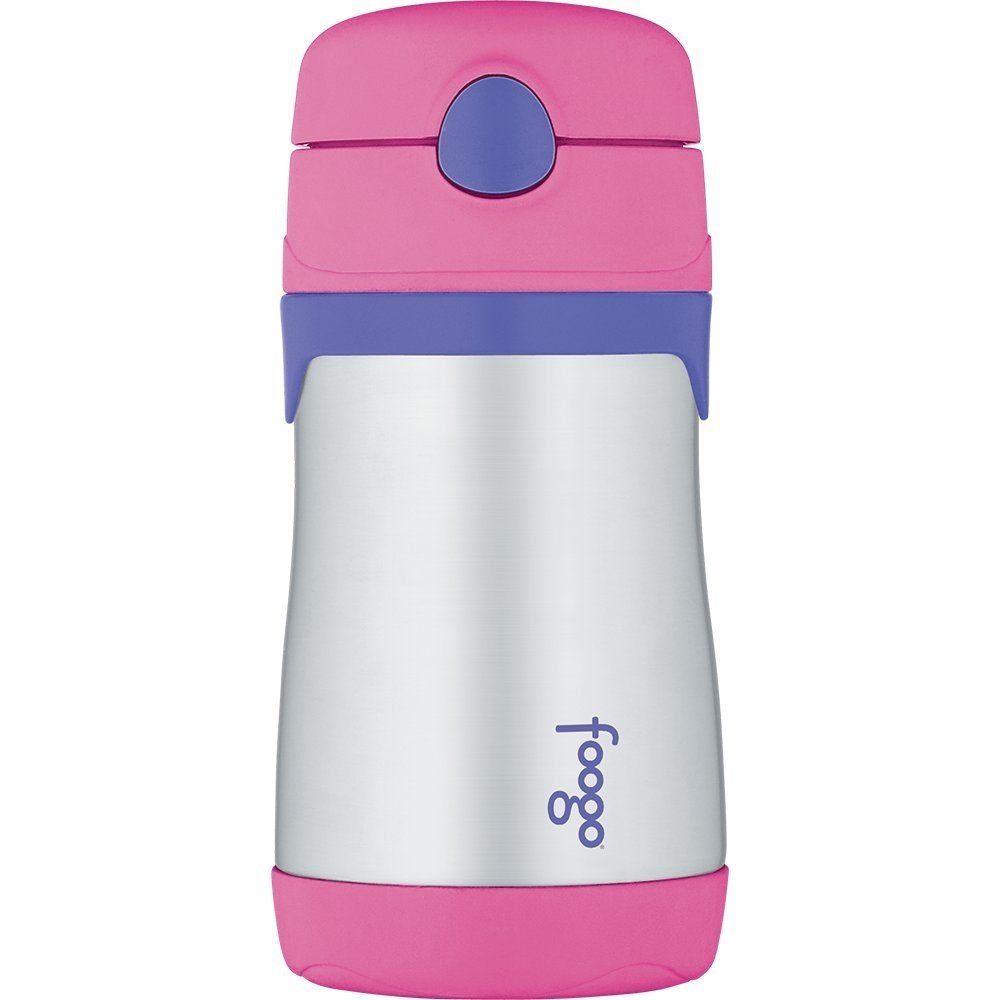 The THERMOS Foogo sippy cup is an advanced but functional product. 
Remember, the best travel sippy cup is the one that's easiest to use. This cup has four parts and is simple to assemble. It's dishwasher safe but hand washing is preferable. Finally, THERMOS ensures that this bottle is made from BPA-Free materials. 
THERMOS doesn't design this sippy cup for hot liquids. On the bright side, it will keep fluids cool for up to 10 hours. Its insulated design means it will not sweat, which is important when carrying in a diaper bag. It's perfect for flying, in the car, or even for when you send your child to daycare. This is a great option for children that are 18 months or older.
Another benefit is that the pop-up silicone straw is safe to use and will help teach your toddler how to use a proper straw. 
It's worth noting that several verified reviewers had issues with the product leaking. Although, from my personal experience this was never an issue as long as the silicone straw was installed properly after cleaning. This is definitely my favorite travel sippy cup with a straw that's ideal for children on the go.
The 10 oz Thermos Foogo costs $15.50 on Amazon and is available in pink or blue. There are also other Thermos Funtainer Stainless Steel Bottles available in a wide selection of colors and designs, in 12 oz or 16 oz for when children are older.
Tommee Tippee's range of insulated toddler sippy cups is some of the brightest and cutest in this guide. The Tommee Tippee Insulated Toddler Straw Sippy Cup is available in a 2 pack for $14.49 on Amazon, they're designed for a life on the move. 
Suitable for age 12 months plus, these tumblers have a 9 oz capacity which is slightly less than the other products that we've looked at so far. However, they have great features like double-insulated walls and easy-grip sides. 
The flip-down lid is spill-free when the straw is disengaged. Meanwhile, the straw itself is made from soft silicone to protect your infant's gums. 
One noteworthy con is that these sippy cups appear to be difficult to wash and reassemble. 
These distinctive stainless steel travel cups are about $25 on Amazon for a 2 pack. Available in a selection of colors. 
This is expensive but they are a premium product with a lot of great features.
The Cupkin Stackable Stainless Steel Toddler Cups use powder-coated stainless steel to enhance the durability of the tumbler. It's durable and sturdy but only uses food-grade materials. 
Despite the cost, it only has an 8.5 oz capacity which is less than some cheaper alternatives. However, Cupkin provides a lifetime guarantee for manufacturing defects.  
If you want a more mature-looking sippy cup that will grow with your child then consider this option from FJbottle. 
Their chic and brightly-colored designs stand out in the crowd. But they don't compromise functionality for aesthetics. The FJbottle Kids Water Bottle with Straw Lid for Toddler weighs about 10z and has a large capacity of 14 oz. 
This is great if you are traveling or going to be out and about for an extended period.
It's spill-proof with a button lock. Also, it has the same double-wall insulation that all the best sippy cups use. Rest assured that your child's drinks will stay cool on that hot summer's day. 
Parents should note that some customers had issues with leaking. At $19.99 each on Amazon, it's not the cheapest sippy cup out there but is a well-made quality item. 
For more about family travel check out these posts:
Best Diaper Bag for Travel
Lightweight Travel Stroller for Toddler
Best Travel Car Seat for Toddler
Toddler Travel Essentials
BE Family Products Inc., or (BE Family Travel) participates in the Amazon Services LLC Associates Program, an affiliate advertising program designed to provide a means for sites to earn advertising fees by advertising and linking to Amazon.com. Using any of the links on this website does NOT cost you anything but does help us continue to create content on this blog. Thank you so much for your support and for partnering with us. Let's BE Family.