Every parent knows that carrying their toddler around can be a real effort. But when you go on vacation it becomes even tougher because you probably won't be able to take your regular stroller. They're too heavy to bring on a plane so you need to use an alternative. That's where a lightweight travel stroller for toddler use comes into play. Otherwise, you'll end up carrying your child in your arms during your break and that's not fun. 

As an Amazon Associate, BE Family Travel earns from qualifying purchases. Learn More
But what type of travel stroller is best? 
Let's look at some different brands and models of lightweight travel strollers so you can find the right one for your needs. 
In this post, we will discuss the weight of a lightweight travel stroller, umbrella strollers, and why you need a lightweight stroller for traveling. Plus, the use of a gate-check stroller bag on airplanes, which stroller you can take on a plane, and a review of the most popular lightweight travel stroller for toddler use on vacation and when you travel.
You may also be interested in our other articles about toddler travel essentials such as toddler travel beds, the best travel car seats for toddlers, and travel high chair seats.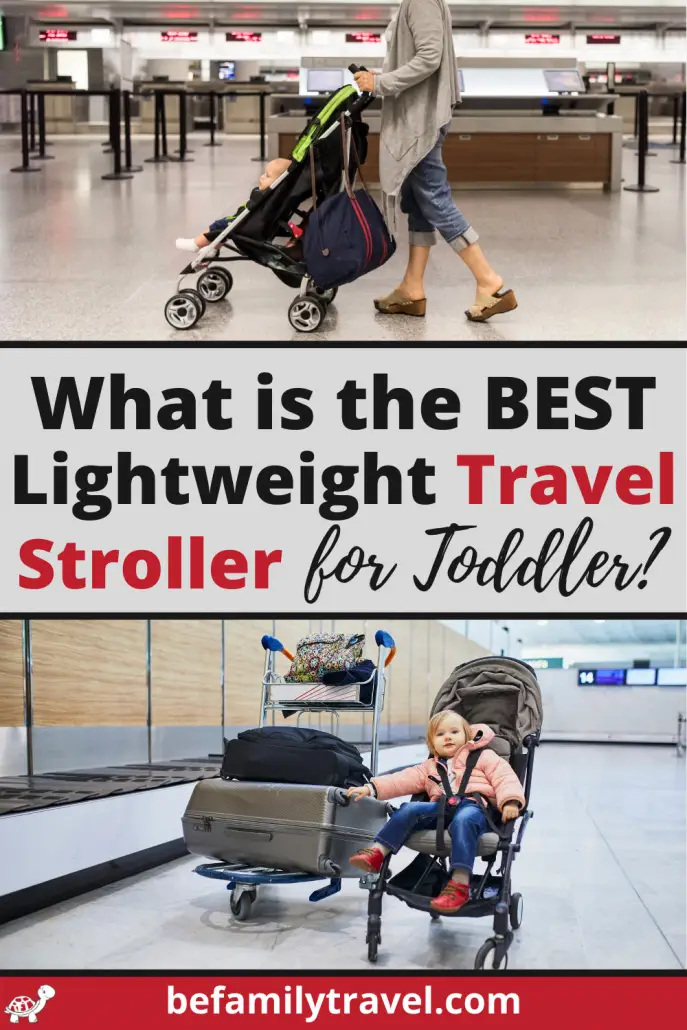 How Much Does a Lightweight Travel Stroller Weigh? 
Usually, a lightweight travel stroller for toddlers weighs under 15 pounds. 
These days, it's much easier to find products that are even nine or ten pounds. Of course, it should be remembered that an ultralight travel stroller is typically is more expensive than other options. 
Remember, that a heavy-duty stroller can weigh 35 pounds or more. They're designed to be robust and long-lasting because you'll use them on a near-daily basis. It's unlikely that you'll get the same use out of a travel stroller if you use one permanently. 
A lightweight travel stroller for toddler use is not designed to replace a regular stroller. It is intended as additional toddler travel gear to make life easier when you're going on planes or have limited room in your car for luggage.  
What is an Umbrella Stroller? 
An umbrella stroller is an answer to your prayers if you're constantly on the move. 
The main benefit of this lightweight stroller for travel is that it's so convenient. They lack the amenities and fancy features of a standard model but they're more practical for airplanes and city life. 
Typically, umbrella strollers lack storage space but some of them will surprise you. It depends on how much you're willing to spend. There are premium options that offer excellent benefits as well as more bare-bones umbrella strollers.
They also use different materials that make your travel stroller lightweight. Be aware of this before you purchase because some cheaper ones may not be safe for your children.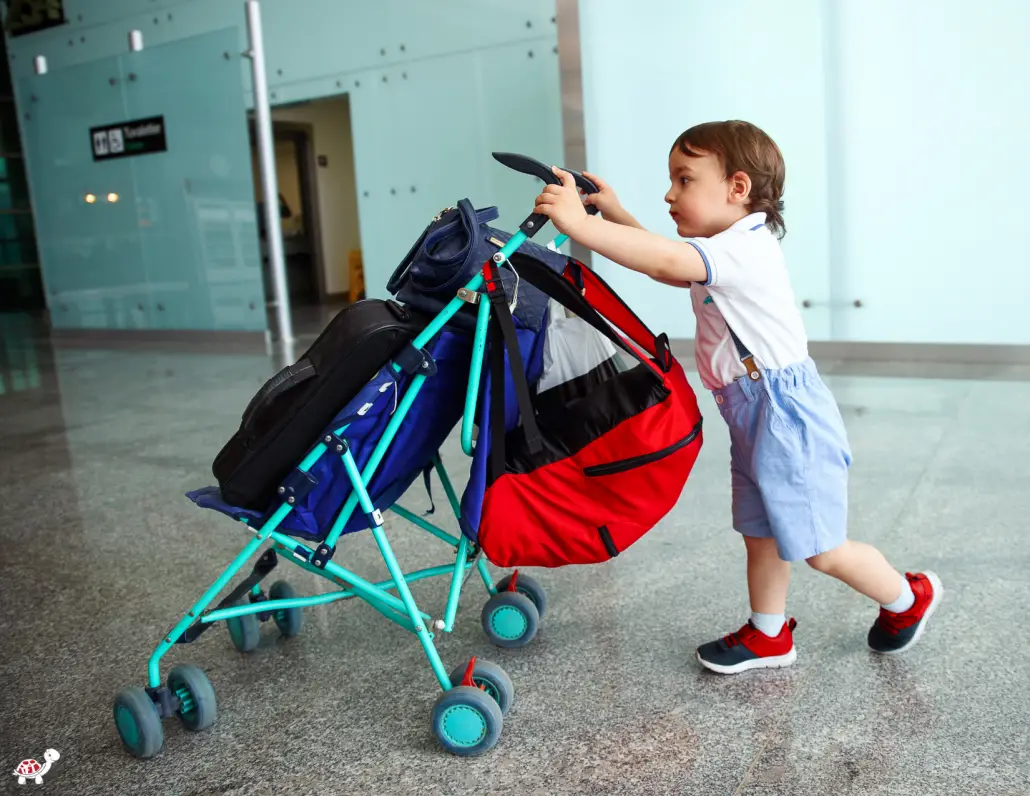 Why Do You Need a Lightweight Stroller for Travelling? 
The short answer to this question is that it makes life easier. 
A standard stroller is much heavier and more difficult to cart around. It may not be possible to bring it anyway because of airline restrictions. This is especially true if you want to bring another piece of luggage like a baby car seat. 
Your lightweight stroller for travel is more convenient and may even have a special carry strap. Sometimes it's more practical for commuting than a regular stroller too. You can stow it more easily on trains and buses. 
What Stroller is Best for Travelling
There are three main types of travel strollers for babies or toddlers. All of these have advantages and disadvantages. Let's look at these in brief now. 
1. Umbrella Strollers:
The main focus of this guide, these lightweight travel strollers for toddlers are usually cheaper and compact. 
However, one issue is that they can be more awkward to maneuver. They also have fewer features than alternative options. 
2. Square-fold strollers: 
These are bulkier than umbrella strollers but they have more features. They're generally a little heavier too. 
However, it's easier to direct them with one hand. They fold into a square shape and are closer to a regular stroller in terms of performance. 
3. Tri-fold strollers: 
This type of travel stroller is the most expensive option.
But you're paying for the benefit of great features in a lightweight structure. They're an excellent model but not cheap. 
Travel Bag for Stroller will protect your Lightweight Travel Stroller for Toddler Use
It's advisable to invest in a travel bag for your stroller because it will provide added protection at the airport. They aren't mandatory but we do recommend them. Many airlines will put your stroller into a bag for ease of transportation anyway. 
Let's be honest: luggage handlers aren't always very careful when they're throwing suitcases and other items around the place. A decent lightweight travel stroller bag will have padding to protect its internal contents. 
Some stroller travel bags have bonus features like UV and water protection too. This is particularly useful if you're flying on a rainy day and your luggage is exposed to the elements. A stroller cover will protect your travel stroller from dirt, and salt on snowy days.
Check out these two excellent examples. 
The J.L. Childress Gate Check Bag for Single Umbrella Strollers is great value at just under $14 on Amazon. 
It's made from polyester so it's lightweight and water-resistant. Meanwhile, it has handles for easy lifting and is airline-certified. As it's very compact, you can stow it without issues when you're not using it, 
J.L Childress doesn't recommend it for baggage check. However, the bright red color makes it useful for airline-check and easy to spot. 
If you're looking for a larger travel bag, then this will suit your needs. 
The J.L. Childress Gate Check Bag for Standard & Double Strollers sells for about $18 so it's not much more than the single umbrella stroller alternative. However, they don't compromise on any of the features. They're exactly the same as the smaller version. 
Just check the dimensions of your lightweight travel stroller for toddler use before you buy a Gate Check Bag!
Which Stroller Can I Take on the Plane?
Every airline has its own policies when it comes to strollers and other travel essentials for toddlers. 
It's important that you do your research so that you don't face any frustrations when you arrive at the airport. You don't want a rocky start to your vacation. Budget airlines, in particular, are stricter about weight and size limits. 
If your child is under the age of two, most major airlines will allow you to bring both a lightweight stroller for travel and a car seat for free. 
This is alongside your regular checked baggage. Many airlines allow you to stow a travel stroller in the overhead bins as long as they are fully collapsible and meet their dimension requirements. It's likely that you'll have to check at least one of the two before boarding the flight. 
However, there may be differences between domestic and international flights so double-check with your airline to make sure! 
Gate check your Stroller
It's highly recommended to gate-check your stroller. This is one of the simplest ways you can protect it. More people will be watching so the handlers will act with a little bit more care.
If you leave it at the check-in desk, it will pass through more hands and potentially face more wear-and-tear.  Plus, you don't have access to use it in the airport.
It is very helpful to have your lightweight travel stroller for toddlers available for your child to use in the airport. It's a safe place to strap in your toddler and transport them through the airport when you may be otherwise distracted or in a hurry to catch a flight.
If you have time for your child to walk through the airport, then a lightweight stroller for travel is a great way to carry bulky winter coats and bags that you would otherwise have to hold yourself. Then, you can gate-check your stroller once you reach your departure gate, and it should be available for you to claim at your destination arrival gate.
You may also be interested in our article about What to Consider Before You Travel with a Car Seat.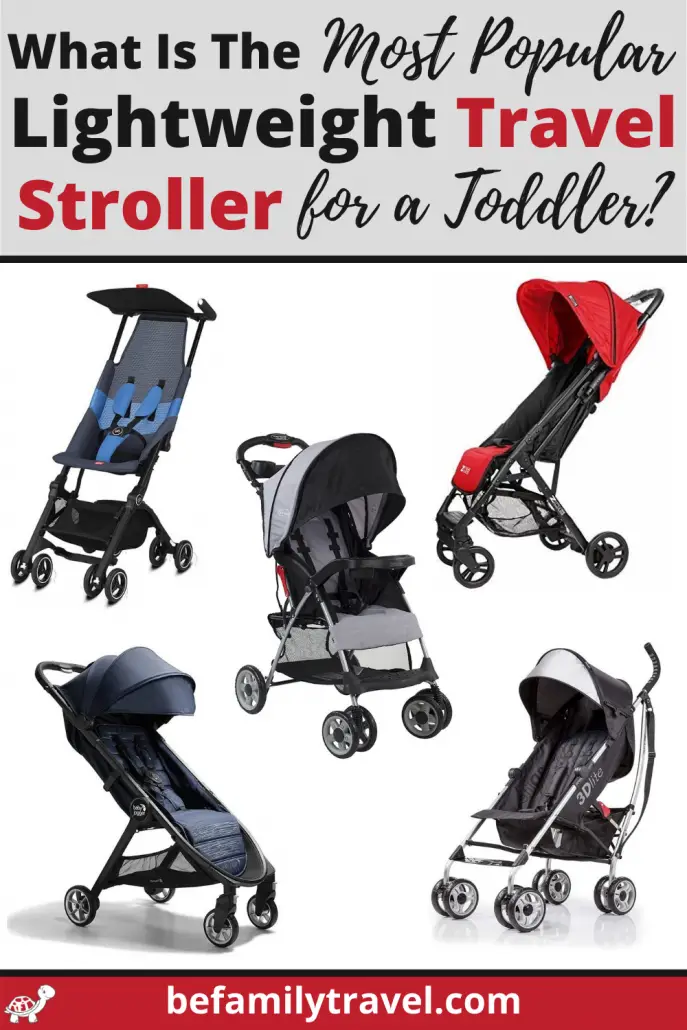 What is the Most Popular Lightweight Travel Stroller for a Toddler?
Here is our review of the best lightweight travel stroller for toddler use on your next vacation.
The Summer Infant 3Dlite is one of the most complete strollers available for purchase today. At about $100 on Amazon, it's also great value. 
It's not the lightest travel stroller at 13 pounds, but it comes with a lot of features. There is a large storage basket under the seat for added convenience. Meanwhile, the handle is higher than many similar problems so you won't have to stoop to push it. 
Furthermore, this lightweight stroller for travel has four reclining positions with a seat weight limit of 50 pounds. Your toddler will sleep peacefully no matter where you are! 
Bear in mind that it's not the easiest travel stroller to fold. Also, the sun canopy is on the smaller side. 
The Baby Jogger City Tour 2 is another great and compact travel stroller. 
It weighs 14 pounds and has a four-position recline with a five-point safety harness. Like the Summer Infant, the seat weight limit is 50 lbs. 
Overall, these products are very similar. The Baby Jogger also has a large storage basket. The auto-lock and the easy-fold system make it easy to use on the move. There's even a carry bag included which is a nice touch. 
Unfortunately, it doesn't self-stand once you fold it.
However, it does cost more than the Summer Infant at about $230 for the standard model. You can also buy a double stroller version for two children. In addition, Baby Jogger provides a City Tour 2 Travel System package that includes an Infant Car Seat.
If you want one of the most compact travel strollers available, GB Pockit has you covered. 
At just 10 pounds, the GB Pockit Air All Terrain Ultra-Compact is very lightweight and has an ultra-slim design. This isn't a travel stroller pretending to be a regular stroller like many other products in this range. No, it knows its place and is very happy to fill that niche. 
This is perfect for anybody who flies regularly and wants convenience. It's much easier to fold and open than many of its counterparts and it's very easy to stow. 
Despite its size, it's remarkably robust. With a weight limit of 55 lbs, even larger toddlers can sit in comfort. Meanwhile, the double-wheel design makes it easier to push on bumpier sidewalks. 
The Pockit Air doesn't come with a carry-bag or straps. Some parents may not like its 3 point harness either. Also, the sun cover is on the smaller side. At $149 it's a slightly more expensive option but it's a great product. 
The Zoe brand is one of the most popular in the world of travel essentials for toddlers. Their Zoe the Traveler XLC is a top-rated stroller with a lot of upsides. 
It's one of the lightest products on this list at just 11 pounds. Meanwhile, it has a weight restriction of 50 pounds.
Another great aspect is its large travel canopy that provides extra UV protection for your child. This is especially important when you're walking around in sunnier climates! There are plenty of great accessories you can add, including an entertainment holder. 
These days it can even be found on Amazon for as little as $99. An honorable mention goes to Zoe the Twin, which has many of the same features but for two children. 
However, some Amazon reviewers expressed concern at the stroller's stability on uneven surfaces.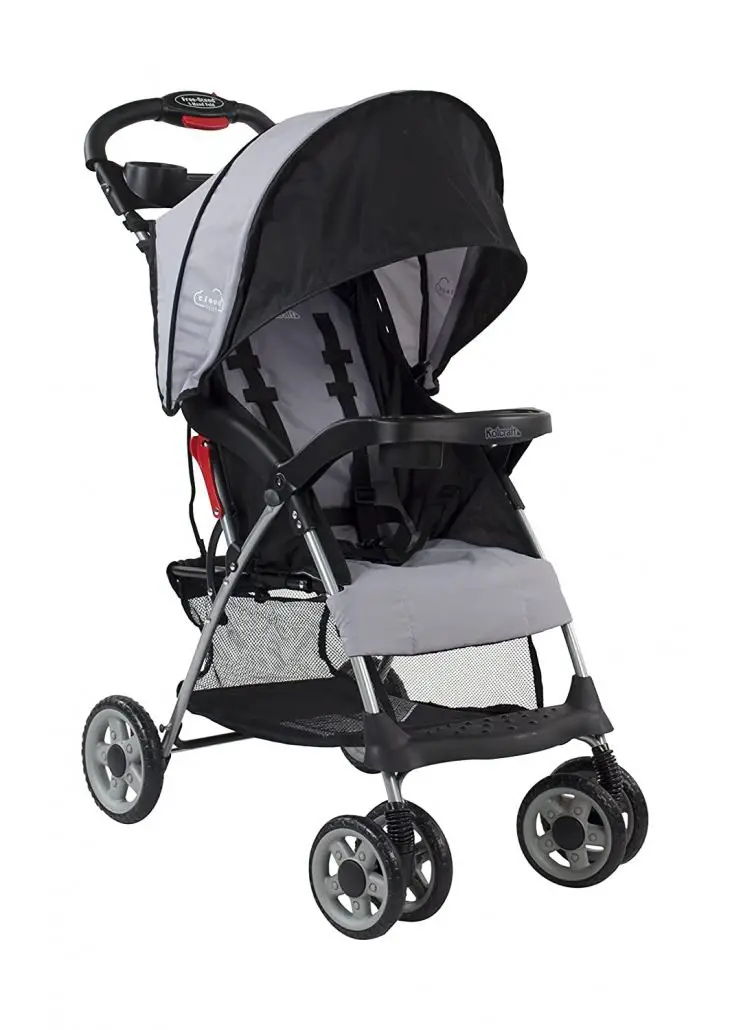 One of the biggest bargains on this list, the Kolcraft Cloud Plus Travel Stroller is excellent value. 
It's available for just under $80 on Amazon and weighs less than 12 pounds. This is a bare-bones travel stroller for toddlers but it does come with some useful features. 
You can attach an extendable canopy with a window as well as a parent tray. The latter includes two drink holders as well as a storage basket.
However, while there are multiple reclining positions, it doesn't go completely flat. There's also a lower weight limit at just 40 lbs compared to the standard 50 lbs. 
This isn't designed to be the best travel stroller on the market. But it will definitely suit somebody who only needs it as a backup or knows that they won't use it very often. 
Other Toddler Travel Essentials
Now that you are set with the best lightweight travel stroller for toddler use on vacation you may be wondering what other travel gear you need?
In order to be fully prepared make sure you have these toddler travel essentials such as a toddler carrier for travel, a travel diaper bag, a sippy cup for travel, a kids airplane bed, and the best travel car seat for toddlers. Once at your destination you will need a travel bed for toddlers and a travel high chair seat.
For more about family travel check out these posts:
What Is The Best Age To Travel With Kids?
What to Consider Before you Travel with a Car Seat
10 Best Travel Booster Seats Review
Toddler Travel Essentials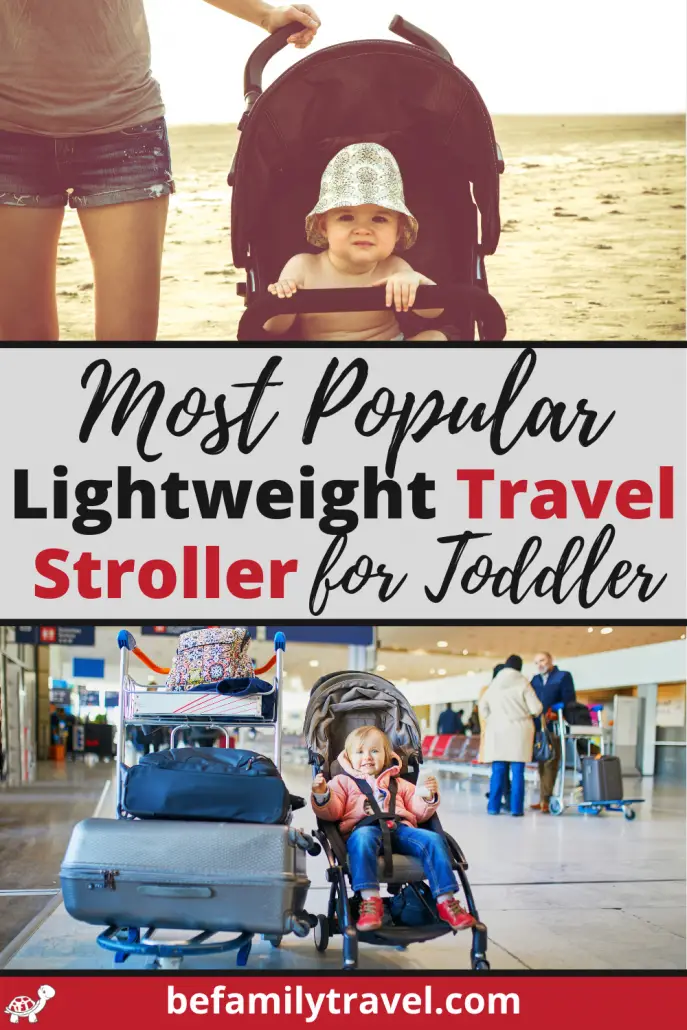 BE Family Products Inc., or (BE Family Travel) participates in the Amazon Services LLC Associates Program, an affiliate advertising program designed to provide a means for sites to earn advertising fees by advertising and linking to Amazon.com. Using any of the links on this website does NOT cost you anything but does help us continue to create content on this blog. Thank you so much for your support and for partnering with us. Let's BE Family.