Using a portable high chair for travel with a baby or toddler will certainly make your life easier and less messy at mealtimes. By the end of a meal, most children are covered in food, so it's helpful to contain this mess (and your child) in one place. That's where a travel high chair seat becomes one of the handy travel essentials for toddlers and babies.

As an Amazon Associate, BE Family Travel earns from qualifying purchases. Learn More
In this post, we will discuss whether a high chair seat is really necessary, whether you can use a booster seat instead of a high chair, and the use of a portable high chair for travel. Plus, a review of the Best Travel High Chair Seat options for your child.
If you are looking for more toddler travel essentials check out our reviews about the Best Diaper Bag for Travel, or the Most Popular Sippy Cups for Travel. And our articles about picking a Lightweight Travel Stroller for Toddler or the Best Travel Car Seat for Toddlers. We hope you'll find this information useful as you travel with children. We are here to help you simplify your family adventures.
Now let's get started with our review of portable travel high chairs to help you find what's right for you.
Is a High Chair Seat Necessary? 
A high chair seat is a great purchase because it makes life easier for parents. You can enjoy your dinner with the rest of the family without having to get up to check on your baby multiple times. It's also a useful way of making them accustomed to eating in one place. 
Meanwhile, it's safer for the infant because they sit in an upright position. Every high chair for toddlers or infants has straps that secure them in place. They're available in multiple styles but the principle is the same. 
Another way it helps parents is that you only have to clean one area. We all know how much mess children can make when learning to eat! 
Can I Use a Booster Seat Instead of a High Chair? 
Booster seats are a popular alternative to typical high chairs. 
Usually, they're more portable and can be attached to different chairs. Typically, high chairs stand in one place. It's also easier to stow them out of sight because they're a lot lighter. This makes a booster seat easier to use on the move too. 
However, some styles are less sturdy than high chairs. It's entirely up to you which style you prefer as both have their pros and cons. 
Portable High Chair for Travel
These days there are many options available specifically for travel. You can take your high chair or booster seat on the move with you. This is great news if you're visiting family members who aren't fully equipped for young children. 
It also expands the range of activities you can partake in with your youngster. For example, there are travel high chair seats aimed at hikers. You can enhance your and your infants' experience by making use of them. 
What is the Best Travel High Chair Seat? 
Now let's look at some of the best travel high chair seats on Amazon. These include traditional high chairs as well as travel booster seats. 
These products all have excellent reviews. Most of them have five-point safety harnesses for your baby's protection. There is a range of options that stand independently or can be attached to regular chairs in different ways.
Check them out now! 
This Hiccapop Omniboost Travel High Chair is available for about $40 on Amazon.
It weighs just over 4 lbs so it's very portable. Wherever you go, you can take it with you because it just pops open. Simplicity is crucial when it comes to toddler travel essentials because children can be tough to handle. 
You want something that works immediately when you need it to. 
Meanwhile, it comes with features like a dishwasher-safe swivel tray and a useful rear pocket. The locking mechanism ensures that it's safe for your child to sit in. Hiccapop also widened the base of the chair for more stability. 
Most reviewers appreciate that everything is machine washable and that it's a sturdy portable travel high chair. You can fully secure it to a regular kitchen seat so your infant or toddler can sit with the entire family. 
Now let's look at a very different style of portable high chair for travel. 
VEEYOO created this range of clip-on high chairs that simply attach to the dining table. It's compatible with most table-tops from 0.8" to 3.4" thick. Meanwhile, it has rubber arms so it won't destroy wooden surfaces. 
Safety is always the most important aspect when it comes to travel gear for toddlers and infants. Some parents may worry that a clip-on chair isn't the most secure style. But it comes with a five-point harness for extra security. 
The VEEYOO Clip-on travel high chair for toddlers is machine washable with a removable cover and a useful storage bag. This portable travel high chair costs about $45 on Amazon and has a maximum weight capacity of 37 lbs.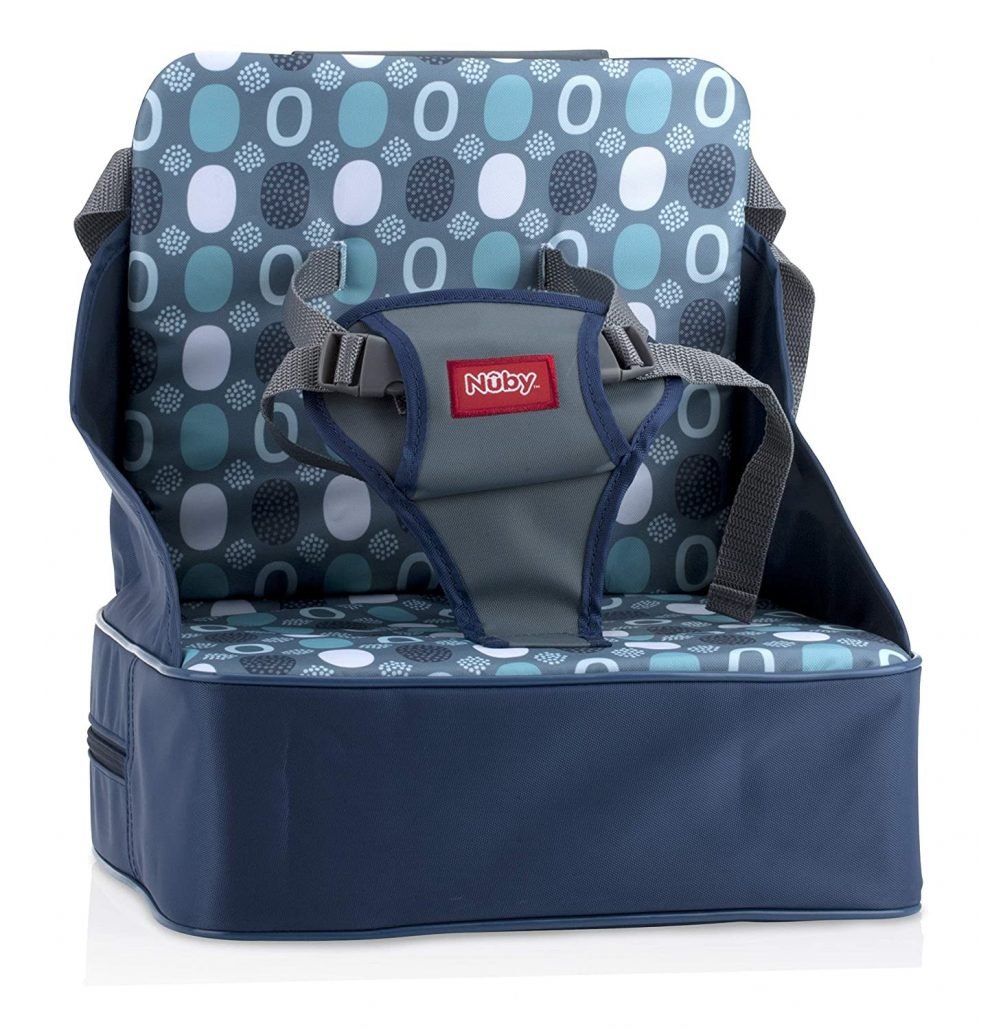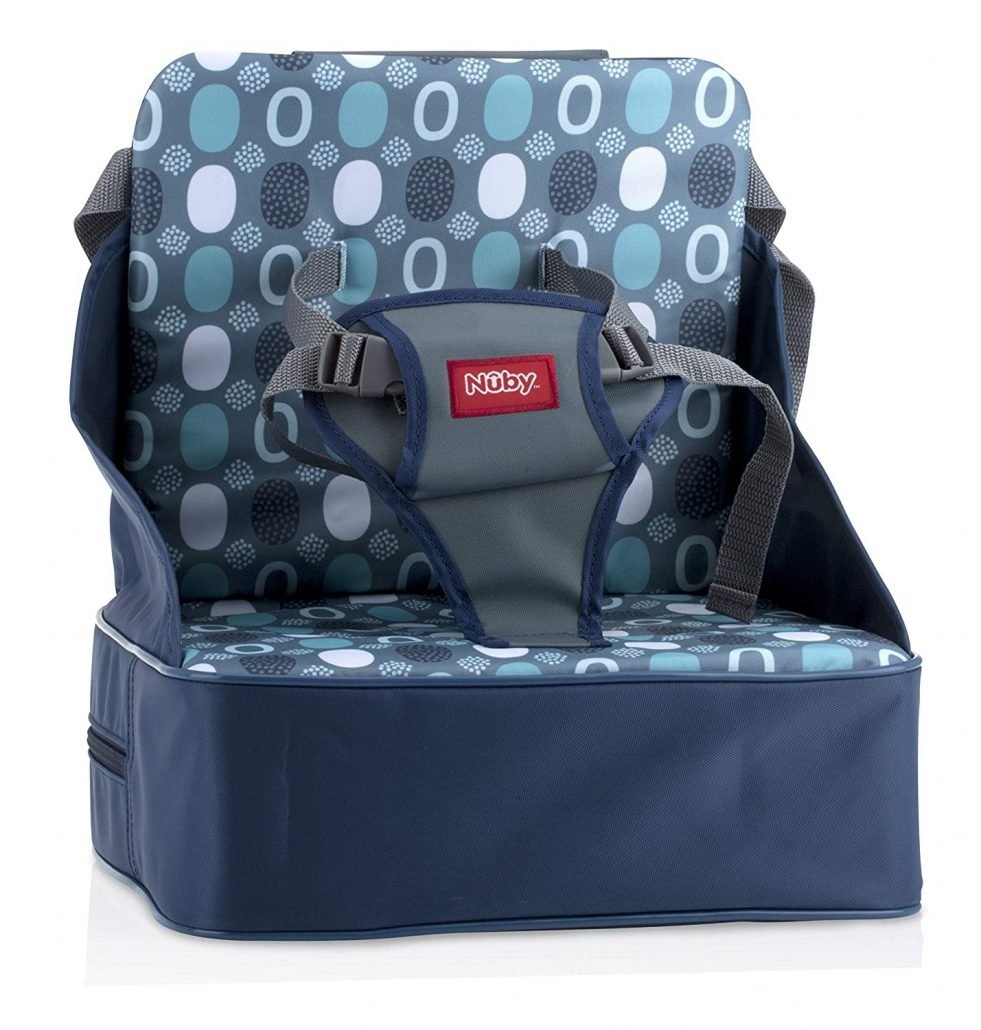 The Nuby Easy Go Booster Seat is available for $23 on Amazon. 
It's a lightweight travel chair for toddlers and one of the most comfortable in this guide. The removable foam padding provides an extra layer of protection and cushioning for your little one. 
This travel chair is easy to strap to a chair and is also highly adjustable. It's not intended to be used as a full-time option. Some parents complained about its stability but a lot of the time that's because they're trying to use it instead of a full-time high chair. 
The lightweight design conveniently collapses for travel. It's very portable but you will need to carefully supervise your infant. For children age 9 months, and up to 50 lbs.
The Ciao! Baby Portable Travel High Chair is effectively a fold-out camping seat for infants. It fills a niche in the market because of its unusual aesthetic. 
This product costs about $60 on Amazon depending on the color and design. It's slimline, easy to fold, and has a maximum weight allowance of 35 lbs. Meanwhile, this travel high chair for toddlers comes with a food tray that can be wiped clean. 
All of this high chair's components are safe for children and it has a five-point safety harness. 
One recurring issue with this product appears to be the tray. Some reviewers complained that it dips down toward the child when they're in the seat. This can result in spills. 
If you're looking for the most basic and simple design, then the Original Easy Seat Portable High Chair is your best bet. 
It weighs less than 4 oz and will fit into most bags. You simply secure the seat over the top of a regular chair and it's good to go. Then strap your baby into this portable chair with the five-point system. 
This seat is machine washable and the straps can be tightened for extra security. As long as your baby can hold their head up, they should be comfortable. Some parents advocate putting a cushion behind it for extra coziness.
This portable high chair is ideal for travel because you can take it with you anywhere. But keep in mind that it won't work with all chairs. Amazon sells it for $27.99.
The Summer Pop 'n Sit Highchair is a versatile and compact option with an impressive 45 lb weight allowance. 
This makes it suitable for growing toddlers, and for babies age 6 months plus. The pop and fold design make it easy to use indoors or outside. It's not the tallest high chair but it's ideal for cookouts and outdoor parties. Meanwhile, the dining tray is dishwasher safe and easy to use. 
It's not the cheapest high chair at $51.99 on Amazon, but it does include a storage pocket and a carry bag. Also, it's only got a three-point safety harness compared to the five-point harness on other portable travel high chair models. 
Finally, let's look at this phil&teds Clip-on High Chair. 
They're one of the most recognizable brands in the world of infant accessories. Unfortunately, the price reflects this because it's almost $110. However, it is more advanced than the VEEYOO alternative.
Firstly, it has a thicker table allowance and will fit tables from 0.8 to 3.75" thick. It is suitable for indoor and outdoor use.
Also, the entire aluminum frame weighs less than 4 lbs and includes padded back support and a shoulder harness system. It includes a dishwasher-safe tray and travel bag that fits easily into diaper bags, purses, and stroller baskets.
It's very safe and has a maximum infant weight allowance of 37 lbs. This clip-on travel high chair can accommodate a child 3 months to 3 years. However, some reviewers on Amazon complain that the leg holes are too small. 
Choosing the Best Travel High Chair Seat
Overall these travel high chair seats each have their own pros and cons. But, depending on your needs and the type of portable travel high chair you are looking for this review has covered them all.
There is a wide selection of clip-on, portable, or collapsable travel high chairs, with dishwasher-safe trays and without. Or machine-washable seat covers, high chairs with a 3 or 5 point harness, or even foam-padded booster seats.
Choose the best option of portable high chair for travel, heading to visit friends or family, camping, outdoor cookouts, and any time you are on the go.
For more about family travel check out these posts:
Best Diaper Bag for Travel
Lightweight Travel Stroller for Toddler
Best Travel Car Seat for Toddler
Toddler Travel Essentials
BE Family Products Inc., or (BE Family Travel) participates in the Amazon Services LLC Associates Program, an affiliate advertising program designed to provide a means for sites to earn advertising fees by advertising and linking to Amazon.com. Using any of the links on this website does NOT cost you anything but does help us continue to create content on this blog. Thank you so much for your support and for partnering with us. Let's BE Family.