Before traveling with a toddler it's important to decide what toddler travel essentials you will need for your trip. Toddler travel gear can help make your journey easier, and ultimately keep your child safe while you travel. Top of the list for safety is choosing the best travel car seat for toddler adventures such as flying or car rides.
In this post, we will be discussing whether toddlers have to be in a car seat on an airplane, and what is an FAA-approved child restraint device? Plus, what kind of car seat you can take on a plane, and how to install that car seat on a plane. As well as a review of the best travel car seat for toddler use.
In order to be fully prepared make sure you have these other toddler travel essentials such as a lightweight travel stroller, a toddler carrier for travel, a travel diaper bag, travel bed for toddler, a sippy cup for travel, a kids airplane bed, and a travel high chair seat. These toddler travel essentials are in addition to a portable car seat for toddlers.
Do Toddlers Have to be in a Car Seat on an Airplane? 
Many parents wonder if they should use a car seat on an airplane. Some of them are confused if it's a mandatory requirement. Others are concerned about lugging another piece of baggage through the airport. 
There are no federal laws requiring toddlers to sit in a car seat on an airplane. 
In short, it's totally up to you. However, it can provide a safer, more secure, and comfortable environment for your child during turbulence and bumpy landings. Some airlines even recommend that you use a portable car seat for toddlers for these reasons. 
To sum up, it's your decision. But the majority of parents agree that it's best to use a portable car seat to avoid unnecessary risks. 
The good news is that you don't even need to pay extra to bring it on board. Most airlines treat car seats and strollers as an exception to baggage rules so there's no excuse!
What is an FAA-Approved Child Restraint Device? 
An FAA-Approved child restraint device is a safety harness with government approval. The Federal Aviation Authority recommends that you use such a device to secure your child while flying. 
Let's look at a child airplane travel harness now. 
The CARES Child Airplane Travel Harness
The CARES child airplane travel harness is the only FAA-Approved child flying safety device. 
The main upside of this product is that it's so compact. You can roll it up and stuff it in a handbag. It only weighs one pound so it's not a burden. Furthermore, it's designed to fit every airplane seat. 
It takes just a minute to install. The harness will secure children between 22 and 44 pounds. 
This child airplane travel harness costs about $65 on Amazon. If you're flying with international airlines, double-check to make sure that they allow it. Some reviewers said that Air Canada doesn't accept it.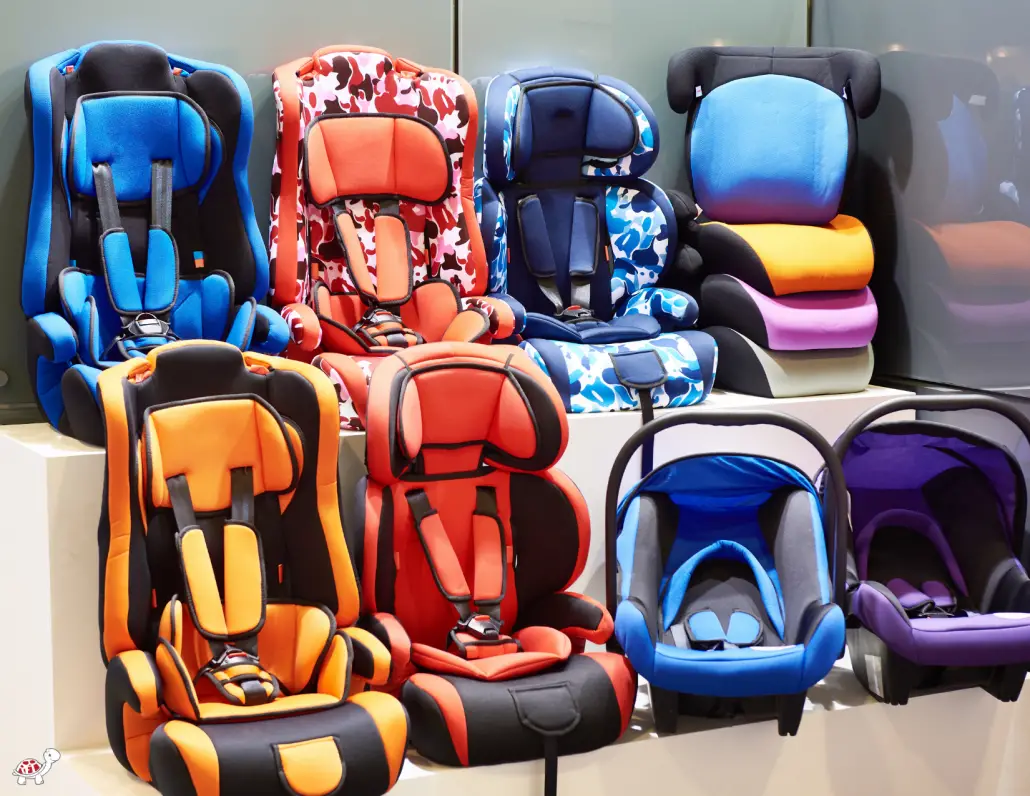 What Kind of Car Seat Can You Take on a Plane? 
The FAA approves the use of specific hard-backed child safety seats for use in cars and on aircraft. It's important to note that not all seats have this approval so check before you buy one. 
According to FAA regulations, your child safety seat should have the message "This restraint certified for use in motor vehicles and aircraft". Bear in mind that booster seats are not acceptable at all because of the style of strap. 
In the U.S. airlines cannot prohibit the use of FAA-approved car seats if you have paid for your child's seat. If your child is traveling for free you can ask if there is an available seat. But if there isn't, you must stow the car seat in the overhead compartment. 
Of course, this won't apply to toddlers because they're too big to sit on your lap for hours!
However, combination car seats are typically fine as long as you leave the harness in. If the airline doesn't accept your seat they'll force you to gate-check it. Don't try to argue because it won't get you anywhere. 
Remember that international airlines are registered to different aviation authorities. They may prohibit you from using your car seat or ask you to use a belly strap for take-off. Of course, this isn't ideal but you don't have a choice if you're already on board. 
Also, you won't be able to sit in the emergency row with a car seat because of the safety restrictions. 
To learn more from the FAA about child safety when flying click here.
How Do You Install a Carseat on a Plane? 
Carrying a car seat onto a plane can be an intimidating prospect. Luckily, they're relatively easy to install! 
Follow these steps: 
Locate the correct belt path on the seat for rear-facing or forward-facing.
Feed the airplane seatbelt through the belt path. 
Buckle the seatbelt. You may have to apply some force when you're tightening the strap so it's extra secure. 
Which Car Seat is Best for Airplane Travel With a Toddler? 
The best portable car seat for a toddler is light to carry. After all, you don't want to be exhausted before you even board the plane! 
They must have high backs and a five-point harness. As we said, they should be certified for use in aircraft too. While many of them have under-seat pads, it's not possible to use these on an airplane. 
Ideally, it should have a convenient removable tray. The child probably won't be able to reach the tray on the seatback in front of them so this makes life a lot easier! It should also be comfortable so that your child actually enjoys sitting in it. 
Premium car seats for toddlers provide excellent ergonomic support. This helps your child's posture when they're seated. 
Finally, it should be easy to install. You don't want to be that person who holds up the entire aisle as you try to fit your car seat!
What is the Best Travel Car Seat For a Toddler? 
Now it's time to look at some great car seats for toddlers. All of these products are airline-approved and come with great features. 
Let's look now. 
Cosco offers a wide range of travel car seats. They are brand leaders in the world of travel essentials for toddlers. 
The Cosco APT 50 Convertible Car Seat for Toddler is one of their most popular options. It's a flexible model with two modes of facing. Turn it toward the rear for toddlers under 40 pounds. Or you can change it to front-facing for kids up to 50 pounds. 
It's extremely safe with a five-point harness and built-in side impact protection. Meanwhile, it meets all the safety standards that you'd expect. 
This car seat weighs just 8 pounds so it's very portable which is important when you're walking around an airport. Finally, the built-in cup holders are a nice touch because they'll keep your little one's bottle secure when the plane takes off. Amazon sells this portable car seat for toddlers for $69.99. 
The WAYB Pico Travel Car Seat looks like it's straight out of a racecar. 
However, this is definitely a children's travel car seat with a lot of positive aspects. It has a weight range of 22-50 pounds and protects your toddler with a five-point harness. This is perfect for road vehicles and aircraft. 
It weighs eight pounds and is easy to stow. One excellent feature is the ability to carry it as a backpack. When you're trying to walk down plane aisles or through busy airports, you'll appreciate this. 
There's no pretending it isn't expensive at $410 on Amazon. Another potential issue is that some parents found that their children aged out of it quite quickly. 
The Diono Radian is a narrow design that works well on planes and in cars. 
It also has a maximum weight capacity of 50 pounds. Diono designed this seat with the potential of fitting three-across so you can easily bring the entire family with you. It's easy to fold when you're on the move. 
There are also steel-reinforced cup holders. These are useful during turbulence on a plane because you don't want your toddler to wear their bottle of juice!
Some parents claim that it's not as effective for rear-facing and it can be challenging to install. It costs $199 on Amazon.
The Evenflo Sonus Convertible Car Seat is a cheaper option than the previous models. It is available for less than $78 on Amazon.
Despite this, it's FAA-approved and surprisingly high-quality. It meets all federal safety standards and has a weight limit of 50 pounds. Meanwhile, there are removable cups, a head pillow, and removable pads. 
If you're looking for a cheaper option for flying then this is a great car seat. Perhaps it doesn't have all of the bells and whistles some of the others do, but it's still effective. 
Don't let the name fool you, this is high-backed car seat is FAA-approved and suitable for flying. 
The Safety 1st Grand Booster Car Seat has an exceptional weight allowance of 65 pounds. As with competitors in this category, you can use it three across. It's also lightweight so you can carry it without becoming a hunchback!
It has an adjustable headrest and comfortable materials to enhance your toddler's overall experience. Furthermore, Safety 1st wanted to provide ergonomic support in all of the key areas and that's reflected in the design. 
There are also removable cupholders and an easy-to-clean pad for use in the car. Remember that under-seat pads aren't allowed on airplanes. 
Some reviewers complained that it wasn't comfortable for their infant but the vast majority left positive comments. It costs about $75 on Amazon.
When traveling with a toddler you must be aware of what to consider before you travel with a car seat. For more information see the read this article.
For more about family travel check out these posts:
Travel Booster Seat for Car Rides and Flying
What Is The Best Age To Travel With Kids?
Toddler Travel Essentials
What to Consider Before you Travel with a Car Seat
10 Best Travel Booster Seats Review
Most Popular Lightweight Travel Stroller for Toddler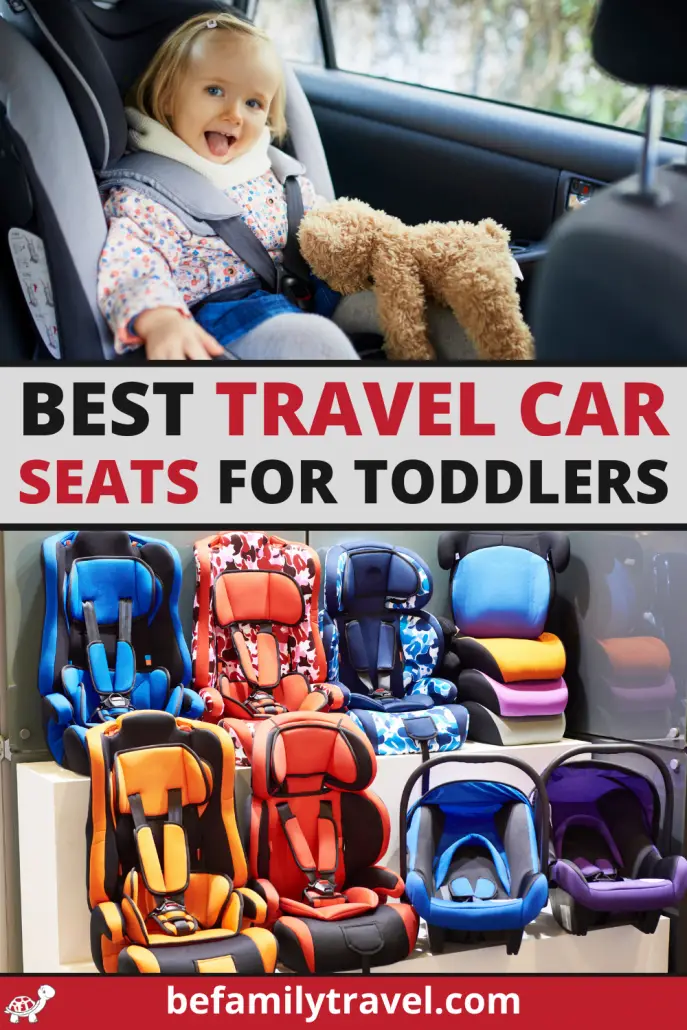 BE Family Products Inc., or (BE Family Travel) participates in the Amazon Services LLC Associates Program, an affiliate advertising program designed to provide a means for sites to earn advertising fees by advertising and linking to Amazon.com. Using any of the links on this website does NOT cost you anything but does help us continue to create content on this blog. Thank you so much for your support and for partnering with us. Let's BE Family.