Every parent knows that a trip with the toddler is a rewarding, albeit, draining experience. After all, there is a lot to plan for given a toddler's special requirements for entertainment, nourishment, and travel safety. So, what are the toddler travel essentials that every parent needs for traveling with a toddler?

As an Amazon Associate, BE Family Travel earns from qualifying purchases. Learn More
This article will cover some of the most important toddler travel essentials. Carrying these with you will make traveling with your little bundle of joy infinitely easier. 
You may also be interested in our other articles about toddler travel essentials such as the most popular lightweight travel strollers, travel high chair seats,  the best travel car seats for toddlers, and toddler travel beds.
Toddler Travel Essentials For Out And About
When traveling with your toddler there are a few considerations to take into account. Firstly, you will need to have the appropriate toddler travel accessories to keep him or her occupied and happy. These include toddler travel essentials such as sippy cups and diapers as well as sources of entertainment such as toddler travel toys. 
Moreover, travel safety is also something to keep in mind. Depending upon whether you are traveling by car or plane, you will also require the appropriate travel seats. Finally, there are supplies to keep on hand in case of an emergency such as a first aid kit. 
This may seem like a lot of things to keep track of, but don't worry. We have compiled a list of the 15 most important travel accessories for toddlers that will help you manage all your child's needs. 
Top 15 Travel Accessories for Toddlers
One of the defining features of a good parent is foresight. This is especially the case when you are traveling away from home and to some new place.  In these circumstances, it is imperative to keep everything that your toddler needs on hand. After all, the last thing anyone wants to face on their trip is a cranky baby.  
Here are the Toddler Travel Essentials that every parent needs to travel with their toddler.
1. Lightweight Travel Stroller for Toddler
Traveling involves a lot of walking. And while adults may enjoy it, walking long distances is not easy for toddlers. Fortunately, you can help remedy this problem by keeping a lightweight travel stroller on hand.
Not only will this keep your bundle of joy from getting tired but it can also be helpful in a pinch when your toddler is sleepy and there is still some walking to be done. 
A couple of options to consider are the Summer Infant 3Dlite Convenience Stroller which comes with a 5-point safety harness as well as 4 different reclining levels. Or the Baby Jogger City Tour 2 Ultra-Compact Travel Stroller which has the distinction of being one of the lightest travel strollers on the market, clocking in a weight of only 14 lbs. 
Want to learn more about using a lightweight stroller for traveling by road or on a plane? Read this article about the Best Lightweight Travel Strollers where we review some different brands and models of lightweight strollers for toddlers so you can find the right one for your travel needs.  
2. Best Toddler Carrier For Travel
When considering mobility it is important to remember that using a stroller might not always be an option. This can be the case when using public transportation, in historical areas with cobblestones, uneven surfaces, or a lot of steps, and even at the airport. In these instances having a toddler carrier can come in handy. 
The market is full of a plethora of different options such as the MiaMily Baby Carrier with Hip Seat. Carrying your child for prolonged periods isn't easy. This toddler carrier comes with inbuilt lumbar support to help the parent avoid back pain.  
This is an especially important feature when traveling since you could be on your feet for hours while standing in lines or exploring a plaza. 
Another option is the Ergobaby Omni 360 All-Position Baby Carrier for newborns to Toddler with Lumbar Support. This product has a thoughtful design. One aspect we love is the hood that protects your child from the sun! It also provides privacy while breastfeeding, which is an added plus. 
Toddler Carrier for Hiking
If you are going hiking, you'll want a carrier specifically designed for the task! One such option is the Luvdbaby Premium Baby Backpack Carrier for Hiking with Kids. This carrier comes equipped with a lot of quality-of-life features. These can be handy in the wilderness such as a built-in diaper changing pad. After all, when a toddler needs a diaper change it really can't wait.
The LÍLLÉbaby CarryOn Airflow 3-in-1 Ergonomic Toddler and Child Carrier is another good choice that is especially suitable for slightly larger toddlers. This carrier can be adjusted to fit a wider range of sizes. It can support children up to 60 lbs in weight. 
Want to learn more about why you need a toddler carrier, including a hiking carrier and a travel carrier? Read this article which includes our review of the Best Toddler Carrier for Travel.
3. Toddler Leash Backpack
Perhaps few things can give parents peace of mind at a busy airport or a traffic-choked city street than a safety harness. This will keep their little one from darting off into danger. Getting this is a toddler travel essential must. Especially if your child will be walking instead of being in a stroller or toddler carrier. 
Consider the Travel Bug Toddler 2-in-1 Safety Harness for purchase. Not only does it come with a playful and adorable stuffed monkey attached to the harness. But the product has a built-in backpack as well for your kid's snacks and coloring books. This safety harness is also available in Dino, Giraffe, and Unicorn styles.
To learn more about keeping your kids safe on family vacation click here. 
4. Travel Potty for Toddlers
Perhaps a few things are as crucial for a successful travel excursion with your toddler as a travel potty. After all, failing to bring one along can mean having to deal with quite the clean-up operation. Not fun at all when you're traveling. 
The following is a short rundown of 5 of the Best Travel Potty Seats for Toddlers. 
The Baby Bjorn Smart Potty is a simple yet elegant product that is lightweight, making it easy to lug around, and comes free from BPAs and PVCs, keeping your child as far as possible from harmful chemical substances. 
Another solid choice is the Jool Baby Folding Travel Potty Seat, which, as the name suggests, can fold up into a compact package. This is a useful feature to have when there is limited space in the baby bag.
The OXO Tot 2-in-1 Go Potty for Travel is a must-have for circumstances in which the child can just not hold it in. This porta potty allows your toddler to do his or her business on the go. Use with potty chair liners, and this is a lifesaver in difficult situations. 
Essentials for Traveling with Potty Training Toddler
In case you need something lightweight the Honboom Portable Potty Training Seat for Toddler is a good choice considering it weighs just 500 grams (1.1 lbs). Moreover, this seat has the added benefit of coming in bright colors. This will certainly add to the appeal of potty time for your toddler. 
Last but certainly not least is the MCGMITT Portable Potty Training Seat which comes as an all-in-one solution for potty needs. Not only is it another foldable device but it comes with its own carry bag. Now you won't need to store the potty seat in one of your bags. 
Read our full review of the best travel potty seat for toddlers. We have plenty of tips to help you when traveling with a potty training toddler.
5. Best Diaper Bag for Toddler 
In case your toddler is not yet potty trained, you may have to rely on diapers when traveling. Owning a diaper backpack certainly makes life a whole lot easier! It keeps your hands free to grab onto your toddler when they're on the move. And it can also be a convenient place to store many of the toddler travel essentials that your child might require. 
One good option is the Itzy Ritzy Diaper Bag Backpack which comes with a built-in diaper changing pad as well as a rubber bottom to help keep the backpack hygienic even when placed on the ground in less than clean areas. 
The Parker Baby Diaper Backpack – Full Zip Diaper Bag with Insulated Pockets is another solid option as it comes with specially designed insulated pockets to hold baby bottles. This is a crucial feature that can come in handy when traveling in extreme climates. After all, the last thing you want is for your little one's hydration to be scalding hot or freezing cold.
Finally, there is the BabbleRoo Baby Diaper Bag Backpack which includes a series of quality-of-life features such as a dedicated pacifier case. As well as a 180-day warranty and 24-hour email support in case you run into any issues.
Want to learn more about the benefits of using a travel diaper bag? Find out what to pack in a diaper bag for travel and on an airplane. Read our review of the 7 Best Diaper Bags for Travel with a toddler.
Some parents might even prefer having their toddler carry their own, albeit smaller, backpack. The Skip Hop Toddler Backpack offers this option thanks to its small, lightweight, and playful design. Making it the perfect choice for your little one's first backpack. 
Travel Gear for Toddler
Traveling with a toddler is one of those situations where anything that can happen will inevitably end up happening. Being prepared for these unexpected situations is the hallmark of a thoughtful parent.
Fortunately, there is a lot of high-quality travel gear for toddlers on the market which can help in exactly these situations. The following are a few of the miscellaneous toddler travel essentials that you should always strive to keep on hand.
6. Portable Travel Bed for Toddler
With young children, you never know when they will run out of energy and need to sleep. There's nothing worse than being caught off guard. Often that can mean putting your little one to bed in an uncomfortable spot. Having a travel bed on hand can be a lifesaver. 
The hiccapop Inflatable Toddler Travel Bed with Safety Bumpers is one such travel bed. The best feature of this product is the fact that it is inflatable. You'll get an electric pump that automatically fills it up with air within 30 seconds. This helps make the bed much easier to set up and then store when not in use. Simply deflate, crumple up, and put it in your bag. 
If you prefer something that does not require an electric pump the Regalo My Cot Pals Small Single Portable Toddler Bed is another suitable option as it can simply be folded open when needed. No electricity required!
For a full review of travel bed options and to find out more read this article about The Best Travel Bed for a Toddler.
7. Travel First Aid Kit for Toddlers
One thing you should never travel without is a Small First Aid Kit for Travel. This product contains all the basic supplies required for small bruises and scratches. It keeps you prepared in case of a serious emergency. You'll even have supplies such as a tourniquet and CPR mask on hand!
When preparing a first aid kit, however, it pays to cover all your bases. Including a thermometer such as this Touchless Forehead Thermometer for Kids or this Braun Digital, Ear Thermometer. Access to a thermometer can prove to be seriously helpful when diagnosing why your little one is not as energetic as usual. 
Also, make sure to include some pain-killing supplies such as this Children's Tylenol Liquid & Chewable Pain Relief.
Finally, remember to keep these first aid items in an easily accessible location. One great option is your hand luggage. You never know when you'll need to pull it out in a hurry.
Toddler Meals and Snacks
One of the most important Toddler Travel Essentials is travel snacks. And to make it easier to be on the go with a toddler then parents will want to pack travel snack cups, sippy cups, and a travel high-chair. Keep reading to learn more about these meal and snack travel accessories for toddlers.
This article provides a list of the best road trip snacks for kids that are easy, healthy, and kid-friendly.
8. Snack Cups for Toddlers
The Munchkin Snack Catcher is an excellent travel container to keep your child's snacks fresh and easily accessible when needed. These come in bright colors and are BPA free, making them both attractive and healthy for your little one. 
9. Best Travel Sippy Cup
Another food-related must-have when traveling is a sippy cup. Not only is this a safe and convenient way for your child to get their hydration but a sippy cup's spill-proof nature also makes an excellent choice when traveling. 
One thing to note is that although sippy cups are indeed allowed on planes, you will need to remove them from your hand luggage. That's because they need to be screened separately by airport security before you board the plane. 
A good candidate for purchase is the RE-PLAY 4pk – 10 oz. No Spill Sippy Cups for Toddler. Not only do these come in attractive colors but they are also made from recycled milk jugs. Who knew raising kids could be this eco-friendly?
Another option is the Simple Modern Insulated Sippy Cup for Toddlers which comes in stainless and with interesting cartoons on top. Making it as durable as it is cute. 
Although not exactly a sippy cup, the THERMOS Foogo Vacuum Insulated Stainless Steel, 10 Oz is my personal favorite water bottle for children above 18 months of age. Thanks to its vacuum insulation and built-in straw, this thermos offers a reliably good drinking experience for your bundle of joy. The best feature is the double wall design allows this bottle to remain sweat-proof with cold liquids!
To see more read our full review of the Best Sippy Cups for Travel.
10. Travel High Chair for Toddler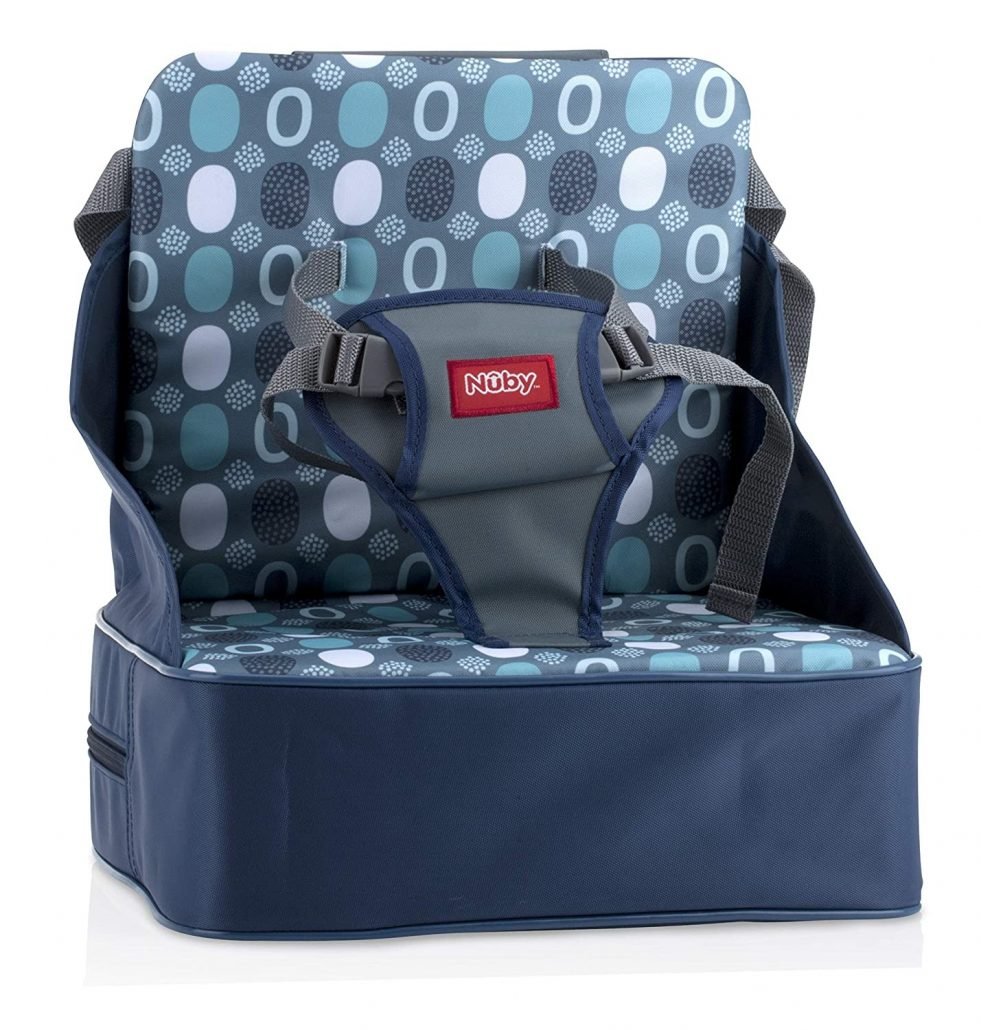 Finding a safe and comfortable place to sit for your toddler can be a challenge when traveling. Doubly so in outdoor situations like camping trips (see also, 'Is Camping Safe?'). To solve this problem, a travel high chair for your toddler is a must-have on outdoor trips into the wilderness. It is one of the toddler travel essentials for a family road trip or a vacation with a toddler.
The hiccapop Omniboost Travel Booster Seat with Tray – Folding Portable High Chair is one such option. Thanks to its folding design and built-in table it is specifically suited for outdoor locations. Moreover, the seat's fabric is washing machine-safe while the eating table is dishwasher-safe for when they inevitably get dirty. 
Another option is the VEEYOO Clip On High Chairs – Portable Baby Seat for Table. Although this product does not have its own legs to stand on, it can be clipped onto tables. That way your toddler can enjoy his or her meal with everyone else. 
Finally, the Nuby Easy Go Safety Lightweight High Chair Booster Seat is suitable as an attachment to already available chairs and can hold toddlers weighing up to 50 lbs with ease. 
Read our review of the pros and cons of different types so you can find the Best Travel High Chair Seat for your toddler.
Travel Accessories for Toddler by Air
Traveling by air with your toddler can be one of the most challenging experiences as a parent. However, with the right equipment, it should be possible without any significant hiccups. 
To learn more we have put together these helpful tips for flying with a toddler.
11. Kids Airplane Bed (Inflatable Cushion)
Long flights can be exhausting and torturous endeavors for adults, let alone toddlers. To make your little one's flying experience much better you can help them fall asleep comfortably on a flight with the help of an inflatable airplane cushion. 
This device serves to turn the standard airplane seat into a toddler-sized bed by fitting in the legroom between your kid's seat and the one in front. Thanks to this, your bundle of joy can enjoy a first-class travel experience even with a regular economy seat by being able to lie down flat and rest. Moreover, there is also additional room for your toddler to play around without the risk of falling into the footwell. 
This Kids Airplane Bed can be inflated and deflated in seconds, making it an excellent choice when you are on the go and need something that will work reliably without too much hassle. 
If you prefer something that does not need to be inflated and deflated each time it is used, the Kids Airplane Pillow to Sleep While Traveling is another decent option. Provided that you have the room in your bag to carry it with you. This can also be adjusted to three different heights.
To see more options check out this article about the Best Airplane Bed for Kid, Toddler, and Baby.
12. Child Airplane Travel Harness
When traveling on a plane there is always the risk of encountering extreme turbulence. Such a situation, although rare, could possibly lead to injury in case your child is not properly secured to the seat. The safest way to travel for your toddler is to be buckled into a car seat that has been approved by the FAA. 
However, a lot of parents still decide to fly with a lap child and many do so safely, after all, the choice about airplane safety is the personal choice of a parent. 
For those parents who would prefer to rather fly with their child in a safety restraint, there is the Child Airplane Travel Harness – Cares Safety Restraint System. This device is specifically designed for air travel and is suitable for toddlers older than a year and who weigh between 22 and 44 pounds. As long as the toddler is less than 40 inches tall. Moreover, it is worth noting that this harness is the only FAA-approved device for children's safety when flying. 
To learn more read our article about What to Consider Before you Travel with a Car Seat. This will help inform your decision about whether or not to fly with a car seat for your toddler.
Car Travel Accessories for Toddlers
Other than walking, traveling by car is the most common method of transportation for most people. Given this fact, it is especially pertinent to look after your child's safety when they hop in the vehicle with you. 
13. Best Travel Car Seat for Toddler
When driving with a toddler on board it is absolutely crucial that they be buckled into a travel car seat. 
Consider the Cosco Apt 50 Convertible Car Seat which has the unique distinction of being one of the lightest child car seats out there, weighing in at a miraculously light 11 lbs. This makes it extremely easy to travel with. Moreover, you can also lift it around without having to worry about the impact it will have on your lower back. 
Another suitable option is the WAYB Pico Travel Car Seat with Carrying Bag. Not only does this seat weigh in at an even more astonishingly low 8 lbs but it can also accommodate a wide range of heights ranging from 30 to 45 inches. 
When traveling with a toddler it is important to know what to consider before you travel with a car seat.
What is the Best Portable Car Seat For a Toddler? Learn more about flying with a car seat and read our review of 5 Travel Car Seats for Toddlers.
14. Toddler Travel Tray
A toddler travel tray is another excellent addition to your arsenal as it can help keep your little one entertained on particularly long car journeys. With this tray, you can lay out electronics, food, a drink, and other activities in the car in a manner that makes it easy for the toddler to interact with the items. 
Consider the BE Family Kid's Car Seat Travel Tray which is available in red, blue, teal green, or pink and can prevent heaps of boredom that would otherwise afflict your child.
15. Essential Travel Toys for Toddlers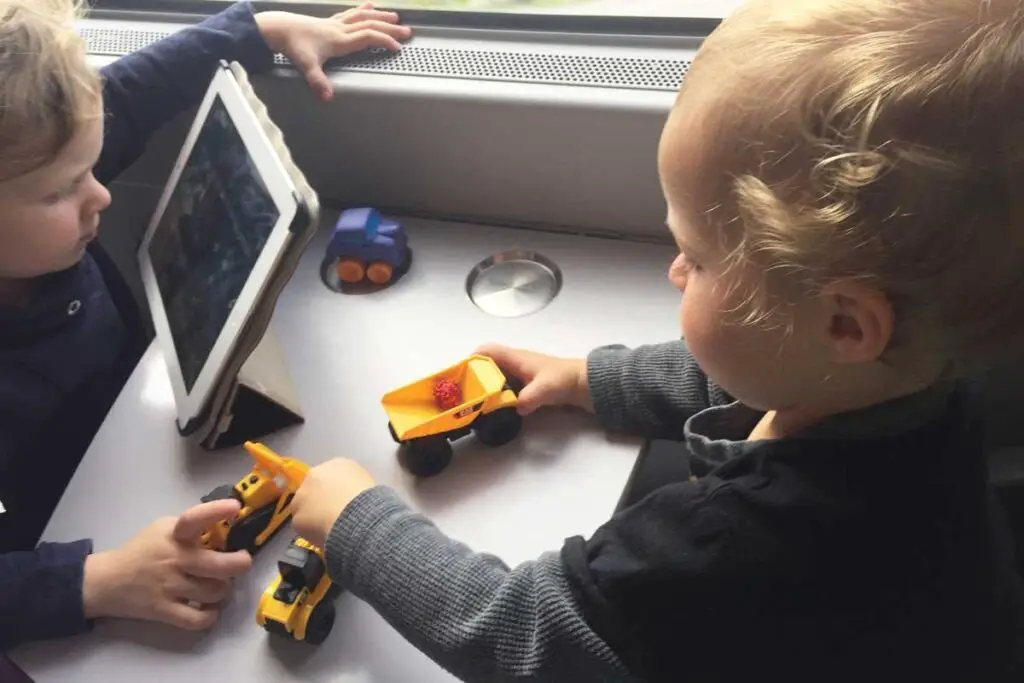 If you have ever spent more than a few minutes with a toddler you have probably noticed that their attention span is abysmally short. Due to this, boredom is a constant enemy of your bundle of joy. Fortunately, by carrying a few simple items with you, you can help alleviate boredom in most instances. 
When going on road trips, consider bringing along toys, coloring books and crayons, mess-free markers and water activity books, stickers, picture books, and an iPad or Tablet with the appropriate headphones and charger. Keeping your little one entertained will be one of the best decisions ever thanks to the avoided crankiness that would otherwise come your way.
Travel Toys for Toddlers are one of the most important must-have toddler travel essentials. To help you we have reviewed over 20 of the Best Travel Toys for Toddlers, and they're all no-mess activities!
Must-Have Toddler Travel Essentials
We hope this article has helped you to identify the best travel accessories for toddlers. There is so much choice and it can be overwhelming to know where to start when packing for a family vacation with a toddler. These recommendations come from a mom who has traveled with kids for over a decade. Being prepared with the best travel gear for toddlers will make the journey more enjoyable for you and your little one.
For more about family travel check out these posts:
Best Travel Bed for Toddler and Baby
Lightweight Travel Stroller for Toddler
Most Popular Travel High Chair Seat
Best Travel Car Seats for Toddlers
BE Family Products Inc., or (BE Family Travel) participates in the Amazon Services LLC Associates Program, an affiliate advertising program designed to provide a means for sites to earn advertising fees by advertising and linking to Amazon.com. Using any of the links on this website does NOT cost you anything but does help us continue to create content on this blog. Thank you so much for your support and for partnering with us. Let's BE Family.