As an Amazon Associate, BE Family Travel earns from qualifying purchases. Learn More
How to prepare for flying with a toddler
Flying with a toddler is completely different than flying with a baby. Toddlers are on the go, curious about everything, and know what they want. They aren't afraid to scream at the top of their lungs if they don't get their own way! 
Keeping a toddler entertained in their airplane seat for the majority of the flight can be terrifying for any parent. Toddlers have a very limited attention span which makes it an especially challenging time to travel. 
In this post we share how you can prepare to head to the airport with a toddler, ways to handle the airport, and our top 15 secrets for flying with a toddler. We will discuss toddler behavior, what to expect on a flight and how to survive air travel with a toddler (see also, 'How to Pack Liquids for Air Travel'). Plus, download our FREE Carry-on Packing List for Flying with a Toddler, available at the bottom of this post.
Use the Table of Contents below to quickly skip to any section of this post.
Before you head to the airport when flying with a toddler
There are several things you can do to prepare for flying with a toddler. Taking these steps ahead of time will help make your family travel experience less stressful.
Bring ID and travel documents
Some airlines require children to have identification for travel, such as a birth certificate, when flying domestically. Prior to departure be sure to check with your airline.
If you are traveling abroad everyone will need a passport (even your toddler). Make sure you begin the process of applying for your child's passport well before your trip. It can take 6 to 8 weeks for a passport application, or expedited processing is available for an additional fee. Read our complete guide to get your child a U.S. passport.
If the child is traveling with only one parent, or with a legal guardian without both parents, then it is recommended you carry a notarized consent letter from the other parent(s) stating they give permission for the child to travel, along with the child's birth certificate. This is especially important if you are traveling abroad.
U.S. Customs and Border Protection is very sensitive to the possibility of child abduction and trafficking, and the child and accompanying adult could be detained if questions arise about the situation. While the U.S. does not require this documentation, may other countries do, and onward travel could be impeded without a notarized permission letter. For example, Canada has very strict requirements in this regard. For more information click here to visit the Customs and Border Protection website.
Talk to your child about what to expect at the airport and on the airplane
It's important to talk to your child ahead of time so they know what to expect will happen at the airport, and on the airplane. Preparing your child will help the process seem less scary.
Arrive early at the airport when flying with a toddler
Plan to arrive early! Allow yourself plenty of time to navigate the airport and get through airport security with children. Read this post to learn more about navigating airport security with children. Everything we do with children takes longer than before we had kids! You need to prepare for the unexpected, especially if you are traveling with a potty training toddler.
At the airport when flying with a toddler
If your child is walking through the airport, then most children aged 3 or older are able to carry a backpack or pull a small bag with wheels.
Giving children a job to do helps to keep them occupied and focused on the task at hand, and will hopefully prevent them from running off. 
Use a child harness when flying with a toddler
Airports can become very busy and congested at times, and with all the distractions it would be easy for a parent to lose sight of their toddler in just a brief second. If, like most toddlers, your child has a tendency to be a "runner" you may consider using a child harness. This is a safety device worn by children when walking with a parent, or caregiver. 
Our daughter liked to wear her monkey backpack when she was a toddler. This was helpful for those times when she didn't want to hold an adult's hand. It gave this Mama peace of mind that she was safe and wouldn't get lost.
The panic of not being able to lay eyes on your toddler immediately is the last thing you need to deal with in a busy airport when flying with a toddler. Family travel can be nerve-wracking, so check out our post about the best ways to keep your children safe on vacation.
Explore airport facilities for children
Once you have passed through security you may have time for a breather before it's time to board your flight. If it is not nap time when you are in the airport then try to tire your little one out and let them play. This is a great opportunity for your toddler to run around, explore and burn some energy before being restricted to an airplane seat.
Parents should be aware that many airports offer family friendly options and facilities for children. These may include a Family Lounge that offers a designated space for kids to play, with amenities such as toys or climbing structures. There may be colorful seating along with device charging stations and stroller parking.
When we had a layover in Chicago O'Hare International Airport we were delighted to find the "Kids on the Fly" exhibit. This is a fun-filled space where little travelers can play, and parents or caregivers can unwind before or after a flight. Our 2 year old loved having the opportunity to run around and play before our next flight.
At many airports you will find Mother's Rooms that are specifically for traveling, nursing mothers. The rooms offer a quiet space for mothers who are breastfeeding their children and would prefer to do so in a private setting. I have found many feature comfortable seating along with a sink and wash area.
Most airport restaurants provide high chairs and children's menus. If your child(ren) likes to watch the airplanes, many cafes and restaurants offer a fantastic window of the airfield.
📌 Pin it for later 📌
Ask your airline about their Passenger Assistance Program
If your flight is canceled and you must spend the night at the airport, don't completely freak out! Some airports will provide cots with a pillow, blanket, and toiletries to help make your unplanned stay a bit more comfortable. Check with your airline to determine if a Passenger Assistance Program is available.
Flying with a stroller or car seat
I don't want to drag the car seat through the airport when trying to keep up with an active toddler. Every U.S. airline allows you to check a car seat free of charge when traveling with a child. You can check your car seat at the airport baggage counter or, if you prefer, wait and check it at your gate. 
I like to have access to the stroller when going through the airport, so I always choose to gate-check the stroller. If your toddler wants to walk (and burn off energy), then use the stroller to transport items like the diaper bag, carry-on suitcase, or winter coats. And if your child becomes tired (or you're exhausted from running after your toddler) then the stroller is available if they need to ride through the airport.
Most airlines will allow parents to gate check bulky baby gear, like strollers and car seats, at no additional charge. Request a gate check tag from the airline attendant at the gate. Use a stroller gate check bag and a car seat travel bag to cover and protect your baby gear from dirt and damage.
Check with your airline before your flight regarding their gate-check policy. Read this post about what to consider before you travel with a car seat.
It's time to begin flying with a toddler
Flying with a toddler is completely different than flying with a baby, or even an older child. Toddlers are on the move, want to explore, know what they want and aren't afraid to yell at the top of their lungs if they don't get their own way! 
When you're trapped in a tin can flying at 30,000 ft being "that parent" on a flight is any parents worst nightmare! Keeping a toddler in their airplane seat for the majority of the flight is terrifying for you and me.
It's important to adjust your expectations of what will happen during the flight, and make sure you have plenty of different activities that your child can rotate between. Let me explain. As a Mama I want to share with you everything I have learnt about how to fly with a toddler. 
Don't expect that you will be able to kick back and relax on the flight like you did in your pre-kid days. You will be engaged the entire flight with meeting your toddler needs to make your journey as smooth as possible. Your flight will include snacks, followed by activities such as coloring, stickers, toys, screen time, books with a favorite stuffy or blanket, potty breaks and hopefully a nap, then rinse and repeat! Be prepared to constantly switch between activities.
Top 15 Secrets to Flying with a Toddler
How do you survive air travel with a toddler? Here's our top 15 secrets to flying with a toddler:
1. Pack toddler travel snacks in your carry-on
Snacks such as dried fruits, cereals, crackers and pretzels are all good options. Use a toddler snack catcher which is a spill proof container to make it easier for your toddler to hold their snack on the go.
Creamy items such as jams, peanut butter and yogurt are limited to travel-sized containers that are 3.4 ounces or less per item. They will need to fit into a quart-sized bag when you go through security.
Formula, breast milk and juice for infants or toddlers are permitted in reasonable quantities through the TSA security checkpoint. Remove these items from your carry-on bag to be screened separately from the rest of your belongings. You are also allowed more than 3.4 oz of Canned, Jar and Processed Baby Food. For more details and a list of what food items you can bring through TSA security click here.
2. Bring a reusable water bottle to avoid dehydration
Avoid dehydration when flying and move around, especially on longer flights. Make sure your child drinks plenty of water. This will help your child to feel better when you land. 
In your carry-on bag bring a reusable water bottle that you can refill after airport security. I love the Thermos Funtainer for Kids, which is a 12 oz container available in MANY different colors and character designs. It is an insulated 12 hour cold drink stainless steel thermos, and the BEST part… it does not sweat when filled with ice!
Another great option is the Thermos Foogo Vacuum Insulated Straw Bottle, which is also stainless steel. It is slightly smaller, at 10 oz, so this may be easier for your toddler to hold. Either way we love both of these water bottles and have used them for years.
3. Stop by the bathroom when flying with a toddler
Take your toddler to the bathroom when you get to the airport (right before security) and again just before boarding. Even if your little one says they don't need to go, insist they try. They'll inevitably have to go again as soon as you're seated on the airplane, but do it anyway.
If your child is potty training you may consider using a pull-up for the flight. You don't know how long you may sit on the runway, or when the seat-belt sign will go out. Talk to your child about why a pull-up is needed. It's easy to change clothes, but they will be stuck in that seat for the duration of the flight.  If they are resistant then put the pull-up on over their underwear as a safety precaution. Then take your child to the bathroom as soon as the seat-belt light goes out.
Read our post about traveling with a potty training toddler to relieve all your fears about potty training on the go.
4. Pack the potty training essentials for your toddler
Make sure you bring the potty training essentials in your carry-on luggage. These include a wet bag for wet clothes (in case of an accident), multiple pairs of extra pants and underwear, plenty of wipes and extra pull-ups. 
5. Don't board first
If you have assigned seats then wait to board last with your toddler, allowing extra time for your child to run and burn off some energy near the gate. If there are two parents traveling with the child then consider one parent boarding the airplane earlier. They can take any gate-check items to the jet-way, and board with any carry-on suitcases. This will ensure there's space in the overhead bins for all your carry-on luggage; and allow time to install your child's car seat on the airplane, if you choose. And it's more likely the flight attendant will be available to assist you before the plane fills up.
Waiting for everyone to board can take 30+ minutes. The other parent can board with the toddler towards the end of the boarding time. That's 30 minutes less that you're trying to entertain and manage your toddler on the airplane.
6. Decide what you need to keep within reach
Don't stow too much in the overhead bin. Decide what items you'll need frequently and keep them close at hand, especially if you have a middle or window seat.
We like to use the BE Family Travel Tray to hold our child's activities. It's designed to be used with a car seat, but could be adapted on an airplane using the seat-back tray. It is perfect for a drink, snacks, coloring book, crayons, and toys to keep everything within your child's reach. And includes a tablet holder, pencil case, and large book pocket. There is no need to unload the entire play tray when it's time to leave, the side pouches zip and fold in to make the perfect storage as an all-in-one Travel Bag.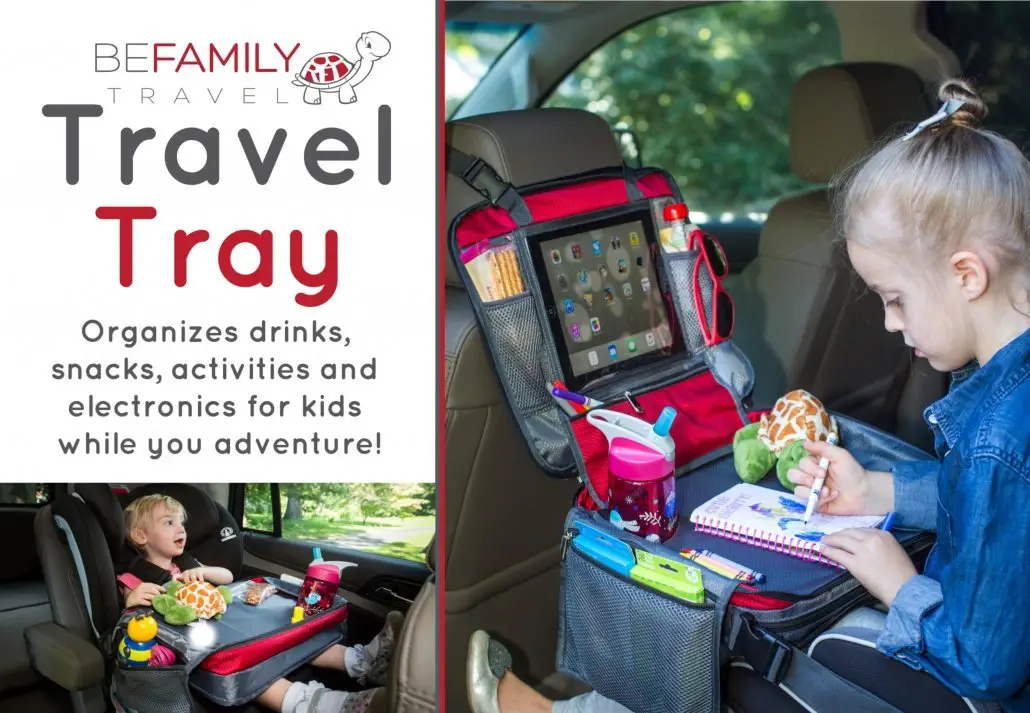 7. Bring a variety of activities to entertain your toddler on the airplane
Flying with a toddler means constantly switching between activities. Initially the plane and all the people on it will be quite a novelty and provide some entertainment. Younger children will be excited and anxious, and curious about everything in their new space. Within the confines of your seat allow your child to touch and play with everything.
You may have a simple plastic water bottle / lid for your toddler to play with, or the menu / safety care in the airplane seat pocket can be a distraction. If you're lucky you may find a willing participant to play peek-a-boo with your child. 
When that excitement dies down you want to be prepared with some appropriate toddler activities. I always make sure to have a fun snack and an activity ready to go for when that seat belt light comes on.
Must-have toddler travel activities include:
Books (with plenty of picture you can talk about)
Coloring books and crayons 
Mess-free markers and water activity book
Stickers
Toys such as Finger Puppets or a Busy Book
iPad, Tablet or Device with Headphones and charger
8. Best airplane activities for flying with a toddler
A toddler's attention span doesn't last long and you will constantly be switching from one activity to another. Always plan to bring a few special surprises to keep up your sleeve, such as a new activity your child has not seen before.
Here's our favorite no-mess airplane activities for your toddler:
Crayola Twistable Crayons are durable with plastic barrels to protect against breakage.
Crayola Mess Free Coloring Set with markers that only color on special paper. They won't color on skin, furniture or fabric so they're great for on-the-go!
Melissa & Doug On the Go Water Wow is a no mess water activity book, and refillable.
Create a Face Sticker Book such as Pirate, Princess or Animals with tons of backgrounds and colorful stickers for kids to create their own face designs.
Finger Puppets or a Finger Puppet Book are good for storytelling and imaginary play with your child.
Busy Book for Toddlers is a cloth book and sturdy sensory toy. It includes activities for your child to focus on matching Velcro colored shapes, to practice with buckles zippers, telling time and general learning.
We have included Amazon links to these items. Buying through these links will NOT cost you anymore for the item, but it does help to support our blog.
9. Toddler attention span is limited for technology
Children have a very limited attention span until they reach around 18-24 months of age, when their attention span for watching short shows will start to appear. Simple apps can be introduced, but likely won't hold your toddlers attention span for long. If you have a few apps then flipping between them can provide a longer distraction.
By age 2+ years, your little toddler will begin to transition into a preschooler and will be much easier to entertain on the airplane. Their attention span grows so they can watch a movie, or parts of it at a time, and play games on a device. They can also spend more time focused on the task at hand, and not switch so frequently to a new activity.
If you plan to use a device don't forget to bring headphones for your toddler so they don't disturb other people on the airplane.  We made this epic mistake on one trip 😬
As your child gets older magazines like HighFive are a great alternative to books. They provide stories and fun activities and take up very little space. ABCmouse.com is great for age 2+ and will keep your child entertained while they learn. And make sure to check out these audiobooks for kids.
10. Be aware of too much screen time
At home we limit technology time, in fact neither of our girls had any TV or screen time until they were 2 years old. But on an airplane we tend to bend the rules and be more flexible. And there's been times on the plane I was ready for a break and find myself hoping they will be glued to a screen!
If you are flying overnight with a toddler be aware that too much screen time can make it hard for your child to relax and fall asleep on the airplane. On a long haul international red eye flight we turn off any screens at least an hour before we want our child to fall asleep on the plane. This gives their brain time to unwind and relax, so they can calm down before trying to sleep.
If you are flying internationally or your flight will cross time zones, there are things you can do to help your child adjust and overcome jet lag. Read our post about surviving baby or toddler jet lag. 
11. Teach children to equalize their ears
Explain to your child what to do if their ears are hurting or if they are having trouble hearing. If you think your kids are having difficulty equalizing their ears, have them take a small drink or a bottle. To help prevent this issue, I always have my children eat a snack and have a drink during take off and landing.
12. Make space for your toddler on the airplane
Ask for bulkhead seating which has extra legroom, and will give you some extra space. Or ask the flight attendant if there's any empty seats available on the airplane, which would allow for you to spread out. 
You can help your toddler to sleep on a flight with an inflatable kids airplane cushion that turns their seat into a travel bed for the airplane! It fits in the legroom space between your child's seat and the seat in front of them. It will allow your little one the space to lay down flat on a regular economy seat.
This also provides more space for your toddler to play, without worrying about your child falling on the floor. It is easy to inflate, and takes seconds to deflate.
13. Take a nap
Once on-board the airplane your child will be very stimulated and will likely struggle to take a nap with all the excitement. Usually once the flight has taken off, drink service is over, and everyone is settled in, that would be a better time to attempt a nap.
14. Dismiss grumpy passengers
Let's face it, on every flight there will be a few people who don't like kids. No matter how well your children do, some people will still be grouchy and unhappy. They'll complain under their breath when your child drops something or voices get too loud. Don't let it concern you. Really, who cares? After the flight you'll never see them again, so return the sneers with a smile. Be proud of your child, they have as much right to be on the plane as anyone else.
15. Know when it's time to switch out
If you're traveling with another adult then don't feel you have to take sole responsibility for entertaining your toddler. Sometimes you just need a break and it's OK to ask for help. Know when it's time to switch out with another adult. If you have older children then switch kids.
Sometimes your toddler will respond differently to the other parent. Flying with a toddler can be exhausting and sharing the experience with someone else will help to keep your positive energy up. 
The final trick to have up your sleeve would be to walk up and down the aisle with your toddler. Sometimes a change of scenery and interacting with other people will shift your child's attitude. I would save this option until you absolutely need it. Otherwise, once your child realizes it's an option, you will spend the entire flight walking up and down the aisle!
In the end
In the end flying with a toddler comes down to just having a lot of little distractions to switch between. If you find it a challenging experience then just remember that the flight is such a small part of your trip. The extra effort and inconvenience are worth it to travel with your children and spend time together building your family bond.
Download FREE Carry-on Packing List: Flying with a Toddler
Here's a roundup of the main items discussed in this post. You can download our FREE list of all the items to pack in your carry-on when flying with a toddler.
Please comment on this post to share with our community about your experience of flying with a toddler. I'd love to hear the good, the bad and the ugly about how you survive air travel with a toddler!
And remember, let's BE Family so you can enjoy the journey.
Until next time,
💕💖 Ruth
For more about family travel check out these posts:
Navigating Airport Security with Children
Surviving Jet Lag with your Baby or Toddler
Complete guide to get your baby or child a U.S. passport
Essential Travel Toys for Toddlers
📌 Pin it for later 📌
BE Family Products Inc., or (BE Family Travel) participates in the Amazon Services LLC Associates Program, an affiliate advertising program designed to provide a means for sites to earn advertising fees by advertising and linking to Amazon.com. Using any of the links on this website does NOT cost you anything but does help us continue to create content on this blog. Thank you so much for your support and for partnering with us. Let's BE Family.