As an Amazon Associate, BE Family Travel earns from qualifying purchases. Learn More
Step-by-step guide for getting your child a U.S. passport
As a parent, one of the best gifts you can give your child is a passport and the gift of travel, which opens the world to them. If you are traveling abroad with your child, even if they're a newborn baby, your child will need a U.S. passport to leave the United States.
In between learning to diaper and feed your newborn and essentially keep a new baby alive, if you have plans to travel abroad, then now you need to find time to apply for your child's passport (to find out more, check out 'Do Kids Need a Passport?').
As a parent, you are likely feeling pressed for time and wondering where to begin with your child's passport application.
Both of my daughters are dual nationals with passports for the U.S. and the U.K. We have been through the passport application process multiple times. The process can feel overwhelming but our step-by-step guide for getting your baby or child a U.S. passport will walk you through exactly what to do. It's essentially just one form and some basic information that you likely have at home. If you follow these instructions, you'll be jetting off with your little one in no time!
📌 Pin it for later 📌
Who needs a U.S. passport?
I recently became a United States of America Naturalized Citizen so now if I want to travel outside of the States, I need to apply for a U.S. Passport. Regardless of your age, if you are flying to a different country, you must present your passport at the airport check-in. Again at the TSA security checkpoint, and when you arrive at your destination. Every U.S. citizen, including infants, needs a valid passport to enter and leave most foreign countries.
Side note: All passport applicants under 16 must apply in person. There is no renewal of a passport by mail for minors so children under 16 whose current passports have expired or are near the expiration date must apply in person as if for the first time.
How long does it take to get your baby or child a passport?
The entire processing time for applying for a passport for a newborn or child will usually take 6 to 8 weeks. However, with a backlog of applications due to the pandemic, the current processing time is up to 11 weeks. However, expedited processing is available for an additional fee. To make it through the process without a hitch, it is essential to begin early and pay close attention to detail.
How to apply for a U.S. passport for your baby or child:
The U.S. Department of State issues passports. As a parent or legal guardian, you must apply in person on your baby's behalf and you must bring your child with you when you apply. Passports for children under 16 are only valid for five years.
Step-by-step guide for getting a baby or child a passport:
1. Fill out Form DS-11
This form is specific to first-time U.S. passport applicants and children. You have the option to fill out Form DS-11 in two different ways: online or download the PDF and fill it out manually. Do not sign your child's application until instructed to do so by the acceptance agent.
2. Provide Evidence of U.S. Citizenship
You must submit one of the following U.S. citizenship documents for your child. Your evidence must be an original or certified copy. Photocopies and notarized copies are not acceptable.
Full valid, undamaged U.S. passport (may be expired)
U.S. birth certificate that meets the following requirements:

Issued by the city, county, or state of birth

Applicant's full name, date of birth, and place of birth

Lists the parent(s)' full names

The date filed with the registrar's office (must be within one year of birth)

Has the registrar's signature

Must have the seal of the issuing authority
Consular Report of Birth Abroad or Certification of Birth
Certificate of Citizenship
If you cannot submit one of the above acceptable documents for your child, you can contact the State Department, or you can find more information about Citizenship Evidence here.
3. Bring a Photocopy of U.S. Citizenship Evidence
Whichever document you choose to prove your child's U.S. citizenship, you will need to bring the original and a photocopy of it. Be sure to photocopy the document's front (and back, if there is printed information) and submit both with your Form DS-11 application.
Photocopies must be:
Legible
On white 8.5"x11" standard paper
Black and white
Single-sided
4. Show Parental Relationship
You must provide documentation that lists the parent(s) or legal guardian(s) of the child applying for a passport.
The following may be used to show parental relationship: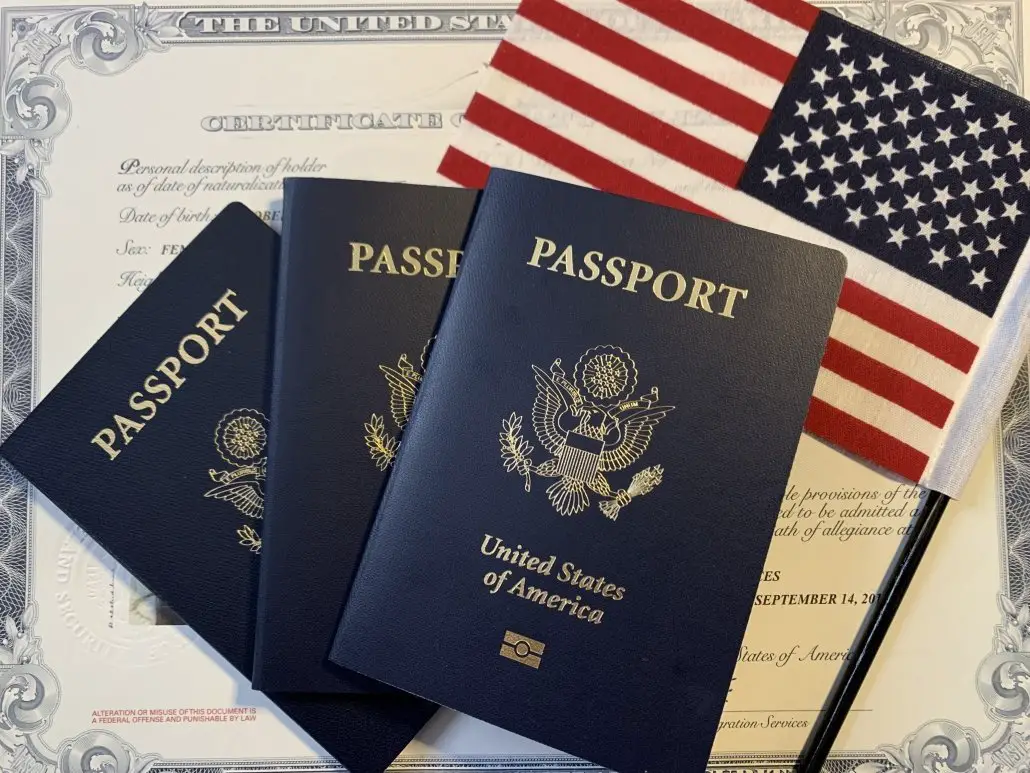 U.S. birth certificate (also evidence of U.S. citizenship)
Consular Report of Birth Abroad or Certification of Birth (also evidence of U.S. citizenship)
Foreign birth certificate
Adoption decree
Divorce/Custody decree
Side note: If you will be using the same document to prove citizenship and parental relationship make sure to bring the original and a photocopy of it.
5. Show Your ID
During the interview/application process, the parents and/or guardians will be required to present their personal ID to the acceptance agent.
The following IDs are considered acceptable primary IDs.
In-state, fully valid driver's license (if you present an out-of-state ID, you will be required to submit an additional ID).
Valid or expired, undamaged, U.S. passport
Certificate of Naturalization or Citizenship
Government employee ID (city, county, state, or federal)
U.S. military ID or military dependent ID
Valid foreign passport
Matricula Consular (Mexican Consular Identification, commonly used by a parent of a U.S. citizen child applicant)
If you cannot present one of the primary IDs above, you may be able to provide two forms of secondary IDs. You can find a list of secondary IDs here.
6. Bring a Photocopy of Your ID
Submit a photocopy of the front and back of each ID that you present to the acceptance agent.
Requirements:
Photocopy must be on plain white, 8 1/2 x 11″ standard paper.
A photocopy cannot be double-sided.
Do not decrease the image size (although you may enlarge it).
7. Show Parental Consent
For a child to be issued a passport, both parents/guardians must authorize it. Of course, the best way to do this is for both parents/guardians to go with the child in person to apply for the passport.
This is sometimes easier said than done. If both parents cannot be present to apply for the child's passport together then there are some alternative options. If you have sole legal authority, you must submit evidence of this with the application.
Examples include:
Complete court order granting you sole legal custody of the child, such as a divorce decree or other custody order
Complete court order specifically permitting you to apply for your child's passport (photocopy is acceptable)
A certified copy of the child's birth certificate listing you as the only parent
Certified copy of an adoption decree listing you as the only parent
A certified copy of the judicial declaration of incompetence of the parent that cannot appear in person
Certified copy of the death certificate of the parent that cannot appear in person
A. If one parent is unable to appear:
They cannot go with the child to apply for the passport; they can give permission by completing Form DS-3053 "Statement of Consent."
You must submit the completed form with the child's passport application. The parent that cannot go with the child must:
Sign and date Form DS-3053 in the presence of a certified notary public, and
Submit a photocopy of the front and backside of the ID that they present to the notary public with Form DS-3053.
B. If you cannot locate the other parent:
You must submit Form DS-5525, "Statement of Exigent/Special Family Circumstances."
Please complete the form with as much detail as possible.
If the non-applying parent is deployed by the military, he or she should be able to provide a notarized Form DS-3053 in most cases. However, in the rare case that the non-applying parent cannot be contacted. You must provide military orders with a Form DS-5525 showing the non-applying parent can't be reached because they are on a special assignment for more than 30 days outside their duty station. Or a signed statement from the non-applying parent's commanding officer that they can't be reached.
C. If neither parent can appear:
Then a third party may apply for the child's passport with a notarized statement from both parents/guardians giving that third-party permission to apply for the child.
The statement must include a photocopy of the parents/guardians' identification.
When the statement is from only one parent/guardian, the third party must present evidence of sole custody of the consenting parent/guardian.
Side note: Written authorization from the parent that cannot appear in person must be less than three months old. In order to issue your baby or child a U.S. passport.
8. Provide a photo for your baby or child's U.S. passport
Now for the fun part! Trying to take a photo of a baby with its eyes open, or a wriggly toddler can be a challenge. You must provide one photo of the child with the application, but do not attach your photo to the form before submitting it to the acceptance agent.

Some passport acceptance facilities provide photo services on-site for an additional fee. Visit the Passport Acceptance Facility Search Page to find a location near you. After that, contact them directly to verify the location offers on-site photo services and to see if you need to make an appointment.
We've always taken our children to have their passport photos taken at our downtown post office. So far, the process has always gone smoothly for us.
Of course, we always plan to avoid nap times, so everyone is in better spirits.
My husband had the pleasure of being made to look like a ghost. He was covered in a giant white sheet to hold our daughters for their newborn passport photos!
To avoid processing delays, be sure the photo meets all photo requirements.
Photo basics:
A color photo, taken within the last six months (preferably more recently for young children).
2 x 2 inches (51 x 51 mm).
It is printed on matte or glossy photo-quality paper.
Submit a high-resolution photo that is not blurry, grainy, or pixelated.
Do not digitally change the photo or add filters.
The child should be alone in the photo, looking forward (does not need to make eye contact with the camera).
Use a plain white or off-white background.
If you choose to take the child's passport photo yourself, here are some tips for taking photos of infants and newborns:
Lay the child on its back on a white blanket or sheet to ensure its head is supported without the aid of a hand.
Alternatively, cover a car seat with a plain white sheet and take a picture of your child in the car seat.
Please make sure no other person is in the photo.
A photo with the child looking at the camera is preferred, although not required. It is acceptable if an infant's eyes are not open or entirely open. All other children must have their eyes open.
9. Calculate fees
Currently, you can expect to spend $135, which includes a passport book ($100) and the acceptance fee ($35).

You can add a passport card for your child (an additional $15), which can be used for entering the United States at land border crossings and seaports of entry from Canada, Mexico, the Caribbean, and Bermuda.

Visit the U.S. Department of State website to calculate current Passport Fees.
Since the application and acceptance fees are separate, they also have different payment options.
Passport Application Fee:
Checks (personal, certified, cashier's, traveler's) and money orders payable to "U.S. Department of State."
Credit and debit cards CAN NOT be accepted
$35 Execution (Acceptance) Fee, Paid Separately:
Money orders at all locations, payable as instructed by the facility
Personal checks and cash (exact change only) at some locations
Credit cards at U.S. postal facilities and some other locations. However, the facility may add a surcharge to cover the costs of a credit card transaction.
Side note: Verify acceptable payment methods with the acceptance facility ahead of time.
10. Submit your child's completed passport application
At last, the paperwork is complete. Now it's finally time to submit your baby or child a U.S. passport application.

If you are applying inside the United States, you and your child must bring your completed application, including citizenship evidence, photocopy of ID, photo, and fees, in-person to submit it at a passport acceptance facility. To find the passport acceptance facility nearest to you click here.

Although some Post Offices offer walk-in passport acceptance, many Post Offices offering passport services require an appointment. Contact your local facility for specific details.
Side note: If you are traveling sooner and cannot wait the typical 6-8 weeks for processing, your child may be eligible to apply in person at a passport agency. Please see Get a Passport in a Hurry for more information.
If you are applying for your child's passport from outside the United States, the process is very similar but may vary by country. Please contact your U.S. Embassy and Consulate for specific instructions on how to submit your child's passport from abroad.
Track the status of your baby or child's U.S. passport application
Once you submit your child's passport application, the routine processing time is typically 6-8 weeks for it to be approved and delivered to you.

You can track the status of your baby or child's U.S. passport application online or by phone.
You can begin tracking his or her application 7-10 business days after you applied.

To track your application by phone, call the National Passport Information Center at 1-877-487-2778 and provide the following information:
Last name (include suffixes and hyphens as appropriate).
Date of birth (MM/DD/YYYY).
Last four digits of the social security number.
To track your application online, simply access the Online Passport Status System. You can even sign up for automatic email updates!
The bottom line
International travel with your children can be educational, inspirational, and life-changing — both for them and for you. Applying for your child's passport can take some time and effort. However, getting your child a Passport and providing them with the opportunity to travel abroad far outweighs the extra effort.
If you're new to traveling with a little one check out our helpful 10 tips for stress-free travel with your baby. When making travel plans keep your child's needs in mind. Planning and being organized will help reduce the stress of family travel.
Our family packing lists will help you know what essential items to pack for your next vacation. And we love Compass Rose Travel Accessories packing cubes by Travel Fashion Girl to help keep your carry-on suitcase organized.
Protect and organize your family's passports
If you're carrying passports for multiple family members, then one tip I suggest for the airport is to label the FRONT of each Passport with their name, using post-it notes.
Then you can see at a quick glance which passport belongs to each family member which will help significantly during check-in. Also at the TSA security checkpoint and when you arrive at your destination. Keep in mind you should not deface a passport, so don't mark it with anything permanent.

Keeping all your passports and important documents together in a document holder like this Family Passport Holder is also helpful. That way all the essential items (Passports, tickets, money, foreign currency, credit cards, etc.) are safely together in one place. Then you can make sure to always keep a track of that one crucial item.
Tips for International Travel with Children
Once your child receives their passport, this wondrous world is wide open to them. You can start making travel plans for your next international family vacation and creating family memories abroad. Check out our posts about stress-free travel with a baby or potty training toddler, helpful tips for flying with a toddler, and surviving jet lag with your toddler or baby.
Also, learn more about how to fly with an infant car seat, and find out the best airplane bed for kids, toddlers, or baby use when flying.
Have you ever had to get a passport for a newborn? How did the process go? Feel free to comment below and share your experience with our community.
We hope this information will help you make getting your baby or child a U.S. passport more simple.
Always remember, Let's BE Family so you can enjoy the journey.
Until next time, 💕 Ruth
For more about family travel, check out these posts:
Helpful Tips for Flying with a Toddler
Best Airplane Beds for Children
How to Fly with an Infant Car Seat
Surviving Jet Lag with your Baby or Toddler
📌 Pin it for later 📌
BE Family Products Inc., or (BE Family Travel) participates in the Amazon Services LLC Associates Program, an affiliate advertising program designed to provide a means for sites to earn advertising fees by advertising and linking to Amazon.com. Using any of the links on this website does NOT cost you anything but does help us continue to create content on this blog. Thank you so much for your support and for partnering with us. Let's BE Family.