As an Amazon Associate, BE Family Travel earns from qualifying purchases. Learn More
Surviving Jet Lag with your Baby or Toddler
Anyone who has experienced international travel is familiar with jet lag and the added complication of different time zones. Now add a baby or toddler in the mix and taking that transatlantic flight to Europe can feel more daunting. How do you survive jet lag with your baby or toddler? Don't let the fear of baby or toddler jet lag stop you from taking that international trip, or flying across the country. It's important to travel and make memories with your family. And for young children, this time together fills their hearts. 
Here we will show you how to survive travel with a baby or toddler. So you feel more confident about how to deal with baby or toddler jet lag next time you travel internationally or travel across time zones. 
Use the Table of Contents below to quickly skip to any section of this post.
Children get over jet lag more easily than adults
For adults, the anxiety of having to deal with jet lag is often worse than actually going through it. Babies, toddlers, and children that are well rested can adjust much better and get over jet lag more easily than adults. The reason? Youngsters are not carrying the same sleep debt that adults are. We neglect our own sleep needs which make jet lag worse. So, well-rested children experience less significant effects of jet lag.
Before you travel – how to prepare for baby or toddler jet lag 
Choose travel times carefully and if possible coincide with a nap time or fly overnight when they will sleep. Make sure your child is well-rested before you begin your trip. If they become overtired it can be difficult for your baby or toddler to relax and fall asleep. 
Even the best-laid plan to travel while your little one sleeps can be thrown out the window with a flight delay or unexpected circumstances. Try to be flexible and remember that your child feels your stress and anxiety. The calmer you can remain the better for everyone.
You may consider several days before your trip starting to shift your child's body clock to the new time zone. Make small adjustments (15-20 minutes) each night to your child's bedtime. This may help minimize the impact of such a large adjustment once you arrive at your destination.
If you are traveling internationally read our complete guide to get your baby or child a U.S. passport. Also, to make your time in the airport less stressful, make sure to read this article about navigating airport security with kids.
Flying with a baby or toddler
When flying with babies or toddlers try to stick to your current schedule. If it's nap time try to get your child to nap. If it's an overnight flight, try to get them to sleep as much as possible. For more helpful tips for flying with a toddler read this article.
Baby bassinets on long haul flights
The majority of long-haul flights will have bassinets for babies to sleep in – some even for short-haul flights. You will need to call ahead to the airline to request the baby bassinet which attaches to the wall of the bulkhead section. These are typically complimentary on international flights, though they're subject to availability. 
Bassinets may be requested for infants up to 18 months of age, but the recommended age limit for bassinet use on international flights is eight months. The weight limit is 25lbs.
If the bassinet is not an option, or it's unavailable, then ask for bulkhead seating to give you some extra space. Or you can help your toddler or child to sleep on a flight with an inflatable kids airplane cushion that turns their seat into a travel bed for the airplane!
Keep your baby on schedule
It's best to keep your baby on the schedule they are used to. If it's nap time and your baby is tired in the airport while waiting for the flight, then let them nap. Once on-board the airplane your baby will be very stimulated and will likely struggle to take a nap with all the excitement. Usually, once the flight has taken off, drink service is over, and everyone is settled in, that would be a better time to attempt a nap.
If it is not nap time when you are in the airport then try to tire your little one out and let them play. Encourage your child to move around and do activities to help him or her to become tired.
Stay hydrated when nursing
Make sure to keep your baby hydrated, so feeding on demand would be the best strategy. During takeoff and landing make sure to give your child a drink, snack, or pacifier to help reduce ear pain from the pressure change. I would always plan to nurse my babies during that time. If you are breastfeeding then make sure to keep yourself hydrated as time zone changes can impact breast milk production. 
Advice for flying with toddlers and children
If you are flying with a toddler be sure to check out our post about traveling with a potty training toddler. This will help relieve all your fears about potty training on the go.
If you are flying overnight with a child be aware that too much screen time can make it hard for your child to relax and fall asleep on the airplane. On a long-haul international red-eye flight, we turn off any screens at least an hour before we want our daughters to fall asleep on the plane. This gives their brain time to unwind and relax, so they can calm down before trying to sleep.
If you're looking for activities to entertain your little ones while on the plane, then check out these articles with Travel Toys for Baby, Essential Travel Toys for Toddlers, Travel Activities for Kids Age 4-8, and Travel Games For Kids Age 9-12.
Use our Printable Family Travel Packing Lists to help you know what to pack. Use this checklist when you are flying with a Baby, Toddler, or your Children.
Dealing with baby or toddler jet lag upon arrival
Once you arrive at your destination there are things you can do to help your child adjust and overcome jet lag.
Here are our top 7 ways to deal with baby or toddler or child jet lag upon arrival:
1. Jump into the local time zone
My best advice to overcome jet lag is to jump into the local time zone as soon as you reach your destination. If you arrive at your destination in the morning, although exhausting, stay awake as long as you can so you can get used to the local schedule.
2. Routine
Babies typically love routine, because it's reassuring and calming. If you implement routines from home at your destination baby will quickly feel reassured and hopefully adapt more easily.
To help your child get over jet lag get them on a regular sleep schedule with a consistent bedtime routine. With our children we have dinner, then play, next sit on the potty, then a bath followed by toothbrushing, story, and prayers, then it's bedtime. After going through this familiar sequence our daughters know the next thing they need to do is sleep 10-12 hours. 
You should try to stick to your typical schedule in the new time zone. Follow the same routine and do not let your child oversleep in the morning or during nap time. If it's lunchtime then eat, if it's bedtime then sleep. Occasionally, if it is a poor nap day an earlier bedtime may be suitable.
3. Sunlight & Fresh Air
In a new time zone if your body clock thinks it's night time then get out in the daylight and get some fresh air. The sunlight is key to get your child's circadian rhythms on track and readjusting their body clock. The fresh air wakes them up. Plan outdoor activities on the first few days after you arrive at your destination. The sunshine and fresh air will help your child feel tired later when it's bedtime.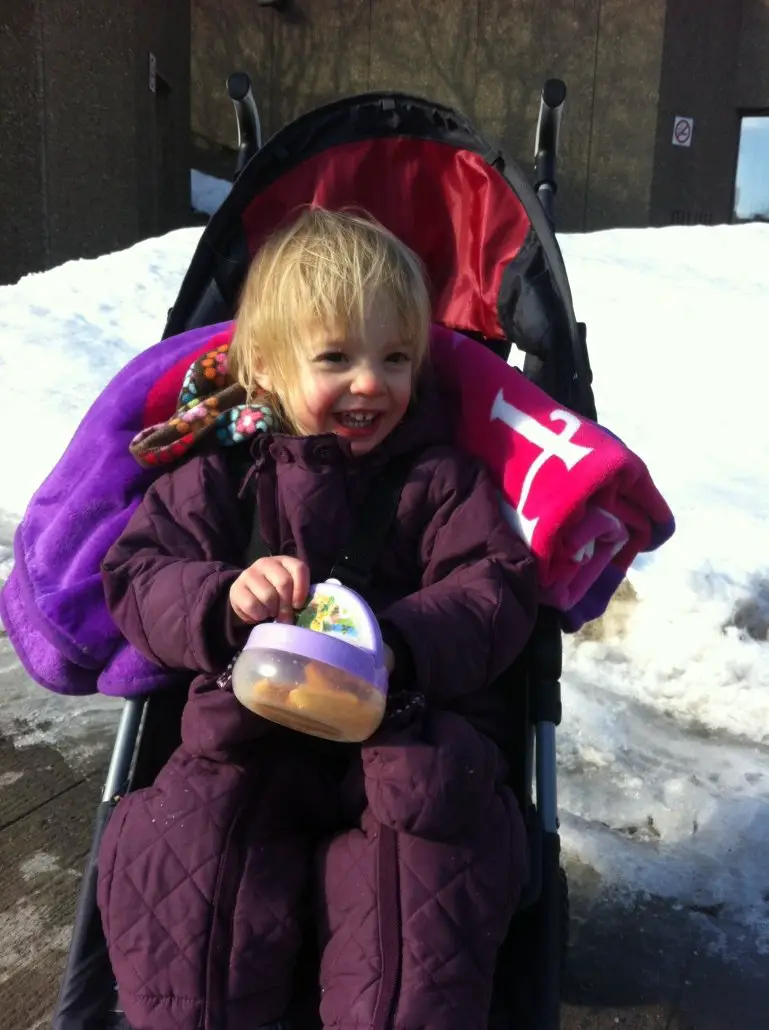 4. Snooze on the go
Dealing with infant jet lag is actually much simpler as the baby can sleep on and off throughout the day while you are sightseeing, just as they would have done at home. Bring a baby carrier so you have the option to wear your baby while exploring your destination. Toddlers can also nap on and off throughout the day in a travel stroller while you are sightseeing.
5. Bedtime in a new timezone
Consider bringing a portable baby travel crib or toddler travel bed on your trip, or rent one at your destination. Once it's time for bed and you finally get your little one asleep in the new time zone, then you're ready to hit the sack yourself. Everyone is finally asleep, but a few hours later your baby or toddler wakes up ready to play. This is one of the most common (and exhausting) baby jet lag symptoms. 
If your child wakes up during the night keep the environment dark, calm, and quiet, with as little stimulation as possible. If they won't fall back asleep try feeding (if this is a part of your normal routine), or play for a limited amount of time, or read a book (like the bedtime routine). Then try to put them down to fall asleep again.

Never go backward! Always honor the hard work you and your baby have put into learning to sleep through the night. By introducing feeds, co-sleeping, or new "habits," you can expect those great sleep skills to revert back very quickly.  

Although it may be challenging, make sure not to sleep in too long in the morning. If you don't get up and get on with your day your child will take longer to adjust to the new time zone.

From my experience typically it has taken 2-3 nights to recover from jet lag with toddlers or babies. For jet lag adjustment you should expect one day for each hour of time zone change.
6. Enlist someone to help
If you are traveling to visit family or friends don't be shy to ask for their help. They are likely eager to spend time with your little one. See if Grandma wants to take your child out for a walk in the fresh air, or run around and play with your toddler to make them tired before bedtime. Traveling is exhausting for you and your child. If you are with family or friends then don't feel like you have to do it all alone. Make the most of the extra pairs of hands and someone to help, if needed.
7. Homeopathic jet lag remedy for children 
Melatonin is an over-the-counter supplement sometimes used as a sleep aid. Most short-term studies show that melatonin is safe with little to no side effects and may help kids fall asleep faster and sleep longer. 
Melatonin is a hormone produced by the brain in the evening on a 24-hour schedule which helps tell the brain when it is time for sleep. Babies do not have a 24-hour sleep cycle and they do not produce much melatonin at all until about 3 or 4 months of age. Early on, infant sleep is regulated by their need to eat. Melatonin production is not part of a baby's sleep cycle and giving it would be counter to their normal body clock. Melatonin is not recommended as a sleep aid for babies.
If you are hoping your child will sleep on a flight, or in a new time zone, you may consider melatonin. Our children (ages 3 and 8) have found great sleep benefits from Zarbee's Melatonin Gummies. We find that during travel our 8-year-old will get "past" tired and the stimulation of traveling will keep her awake on a natural high. The melatonin helps her to relax so her mind and body can calm down. This allows her to give in to her body's desire for sleep. 
Always talk with your pediatrician about the proper dose and timing of melatonin before giving it to your child.
Returning home – overcoming baby or toddler jet lag
Vacation is over and it's time to travel home with your little one. Traveling across time zones you will experience the same symptoms of jet lag, but the time difference will be in reverse. I always love flying from Europe to the United States (east to west across the Atlantic), with a 5 hour time zone shift. This westward travel seems to make jet lag easier for my children and me to adjust. I love being tired (see also, 'Why Does Flying Make You Tired?') at night and going to bed earlier, then waking up earlier in the morning and getting a jump on the day. 
My experience flying from England to Ottawa with a 2 year old
My most vivid memory of dealing with toddler jet lag was when we flew from England to Ottawa, Canada with our then 2-year-old. There was a 6 hour time difference. We stopped off in Ottawa for a conference and sightseeing before we flew back to North Carolina, USA. We arrived in the evening and had to navigate in the dark and cold across the city to our hotel.
After a LONG day of travel, we all crashed as soon as we hit the bed. Then our daughter woke up at 3:00 AM, so we tried everything we knew to help her fall back asleep. But her body clock thought it was 9:00 AM, and she was ready to take on the day! We embraced the early morning start and were able to hit the hotel gym and the pool before daylight. (Tip: if your family is staying in a cold destination make sure the hotel has an indoor pool. It's a great activity for kids when it's cold or snowing outside).  Then my husband stood outside Starbucks waiting for the store to open so he could get an early morning boost!
After all of the traveling, we were ready for a nice big breakfast in the hotel restaurant, and finally, we were ready to hit the streets and start sightseeing by 7:30 AM. It was great, and we got to enjoy exploring Ottawa and ice skating on the Rideau Canal. Then after a full day of fresh air and exercise, we were all ready for an early night. Each day the adjustment got easier as we got closer to our normal sleep and wake times, and then we flew home.
Return to your regular routine at home
When you return home use the same strategy discussed above, for how to deal with baby or toddler jet lag. It is easier to adjust at home because you're not worried about keeping others in the hotel awake. Plus, it's easier to relax at home and return to your regular routine.
Why it's worth dealing with baby or toddler jet lag
Sleep concerns should never stop you from booking vacation travel plans with your family. These trips create memories of a lifetime, and it would be a shame to miss out just because you're uncertain of how to handle the sleep routines for your kids. Even if your children are little and won't remember the trip, time together will build their hearts. 
Most people feel loved through interactions with other humans. Family vacations provide opportunities for these interactions because your family is removed from the distractions and responsibilities of everyday life. 
Giving your child the opportunity to travel is a gift, and there are lots of other non-toy gift ideas that kids will love. Family vacation contributes to a child's general happiness and well-being. These feelings of closeness in a relationship build your family bond.
To learn more about when to travel with children read this article about the Best Age To Travel With Kids.
I hope these tips will help you survive your next international trip, and allow you to thrive when you travel with your family. Please comment on this post to share with our community about your experience of surviving jet lag with your baby or toddler.
And remember, let's BE Family so you can enjoy the journey.
Until next time,
💕💖 Ruth
For more about family travel check out these posts:
Helpful Tips For Flying with a Toddler
How to Travel with a Potty Training Toddler
What is the Best Age To Travel with Kids?
Complete Guide to Get your Baby or Child a US Passport
BE Family Products Inc., or (BE Family Travel) participates in the Amazon Services LLC Associates Program, an affiliate advertising program designed to provide a means for sites to earn advertising fees by advertising and linking to Amazon.com. Using any of the links on this website does NOT cost you anything but does help us continue to create content on this blog. Thank you so much for your support and for partnering with us. Let's BE Family.