As an Amazon Associate, BE Family Travel earns from qualifying purchases. Learn More
Non-Toy Gift Ideas For Kids
Do you ever feel like your home is being swallowed up by all the stuff that you own? As your family grows so do the number of things in your home. Many parents are choosing to reduce the clutter, and are searching for non-toy gift ideas for kids. There are great benefits to prioritizing experiences and allowing more time to make memories with your children, rather than gifting more toys! Traveling with children is another great way to encourage learning and exploration. 
"Actually, the best gift you could have given her was a lifetime of adventures."– Lewis Carroll
Providing adventures for your family takes resources and planning. I prefer for my children to receive experiences rather than too many physical gifts. Children will soon out-grow the toys they receive, but the memories of experiences and family travel will last a lifetime. Giving your child the opportunity to travel is a gift, and there are lots of other non-toy gift ideas that kids will love.
In this post, we will review why children need fewer toys, how to transition from physical gift-giving to non-toy gifts for kids. As well as a round-up of the 20 best non-toy gift ideas for kids.
📌 Pin it for later 📌
Why Kids Need Fewer Toys And More Memories
I remember being pregnant with my first child and being overwhelmed trying to do my baby registry. What was all this stuff that my baby might need? Do I really need the baby swing and the vibrating bouncy chair? Wait, what about the travel system stroller with the car seat, and the jogging stroller, and the lightweight travel stroller? Or which baby toys do I need for my newborn?
Seriously?! There were so many decisions. And come to find out I barely needed any of the baby gear that I registered for.
Consumed by toys
As the kids got older and the baby gear departed our house, I then found we were being consumed by toys! And once your child is mobile then the toys don't stay in the cute bins or on the shelf in their bedroom. No, the toys find their way all over your house, and under your feet, in the middle of the night so you will trip and fall over them in the dark. The toys are EVERYWHERE!
As birthdays and the holidays roll around then family members and friends want to bless your child, but that means MORE toys show up in your home. The child(ren) become overwhelmed by the number of toys they have to choose from, and typically only play with a handful of their favorite toys. Leaving the rest of the toys to gather dust and create chaos in your house! Certainly, the more toys your child(ren) has then the more mess there is to clean up.
Can you relate to this relationship with your child's toys? If so, you are likely looking for a solution.
But, what can you do about your child's toys? The holidays are approaching and your child is expecting to receive gifts. Are you wondering how to reduce the physical gifts and make the shift towards non-toy gifts for kids?
How to transition from gift-giving to non-toy gifts for kids?
If your children are younger there likely won't be such an expectation of receiving more toys. The more toys they received in the past, the more toys they will come to expect.
Are you ready to re-think your gift-giving behaviors?
Now is the perfect time to make the transition to non-toy gifts. In the future you will be thankful you made the conscious decision to help shift your child's expectations. Don't continue the cycle of consumerism and wanting more stuff. Having more toys won't make your child happier.
Start by explaining how blessed your family is with so many toys, but how that creates a lot of extra work to keep all the toys tidy and picked up. Show your enthusiasm about spending family time with your children and creating special memories together.
Children will follow your lead. If you are enthusiastic about non-toy gift options then your child will likely follow suit. Talk about all the possibilities of different experiences and see what sparks their interest. If you are positive about the transition, then they will become excited about having a new experience and making memories rather than receiving more toys.
If you're not ready or wanting to go full throttle and completely stop giving toy gifts to your children, then here's a great compromise. For every new toy your child receives, they will choose an old toy to give away to someone else or donate to a local thrift store. This helps to limit the number of toys in your home, enables children to be generous with their things, and only keep the toys that they are actually going to play with.
What are Non-Toy Gift Ideas for Kids?
There are lots of non-toy gifts for kids. If you are traveling with gifts then many of these options are travel-friendly presents for kids, that are more about experiences and less about physical items. The type of non-toy gifts for toddlers or kids that you choose will depend on your child's age.
If you have a child who loves to travel, then check out our favorite travel gifts for kids here. These include gifts to inspire travel and wanderlust in kids, as well as practical gifts for kids and gear that can be used during travel.
If you prefer to avoid traveling with gifts. Consider giving more travel-friendly presents which are more about experiences and less about physical items. The type of kids travel gifts that you choose will depend on your child's age.
Below is a guide to the best travel-friendly gifts for kids.
Top 20 Non-Toy Gifts for Kids
What are the best non-toy gift ideas for kids? Whether it's kid's birthdays, Christmas, or any other holiday, we've got you covered. Here's our round-up of the top 20 non-toy gifts for kids, which are also travel-friendly gifts.
1. Gift Cards
Gift Cards to a favorite store, restaurant, or activity. Kids love having the choice of where they're going to eat or what they're going to do. Maybe it's for dinner, ice cream or dessert. Or a gift card to a trampoline park or bowling alley. Allow the child to choose who to invite. Maybe they want to spend time with Mom or Dad, or maybe it's a grandparent, aunt, or friend.
2. Membership or Annual Pass
Having a membership or annual pass to a local attraction is the gift that keeps on giving. Examples of places kids love to go on a regular basis include a zoo, aquarium, museum, theme park, nature center, etc. This allows the child to visit their favorite place all year long, and it has great educational and/or entertainment value month after month.
3. Classes
Extracurricular activities can get expensive, especially if you have multiple children or they're doing multiple activities. There is great value in allowing your child to try new sports or learn new skills. Taking a weekly class will help them to find their passions and the things they enjoy. Ideas of classes (individual or group lessons) that are non-toy gift options include ballet, gymnastics, swimming, soccer, guitar, piano, horse riding, cooking, or sewing.
4. Tickets
Tickets to a live sporting event or music concert or performance are a great way to spend time with your child. It gives them something to look forward to, making life more enjoyable. Instead of giving toys, provide this live opportunity for the child to experience something new, fun, and exciting. Ticket ideas include a professional sporting event, the ballet, ice skating, the circus, a play or musical at the theatre.
5. Activities for a Day Out
Plan a day out with activities for the child. Other non-toy gift ideas include outings and activities that kids will enjoy with their friends, family members, or siblings. Physical activities are a great way for kids to stay healthy and burn off energy including swimming at a water park, skiing, bowling, or a trampoline park. How about allowing kids to get in touch with their creative side with a visit to a painting or pottery studio. Or develop their team working and detective skills with an escape room for older kids.
6. Movies or Music
Movie Tickets or digital access to the best family movies are fun for kids young and old. Add a bucket of popcorn and some candy to make a movie gift basket that you can give to the child along with the movies. Or how about a subscription to Amazon Music where kids will be thrilled to have unlimited access to all their favorite songs and podcasts.
7. Magazine Subscription
Encourage your child's love of reading with a magazine subscription. Not only will your child look forward to receiving mail every month, but high-quality magazines provide your child with an on-going dose of fun education while encouraging their literacy skills.
Preschoolers will enjoy National Geographic Little Kids, Highlights High Five or Ladybug will open the door to reading for children for kids age 2-6. For children ages 6 and up there are National Geographic Kids, Highlights for Children, or for wildlife lovers age 7 plus consider Ranger Rick. Sports fans will prefer Sports Illustrated Kids.
8. Audiobooks
Audiobooks are great for kids of all ages and provide entertainment for the whole family, young and old. Certainly, audiobooks are perfect for travel and an ideal way for children to wind down. Use a service such as Audible to buy and stream audiobooks. For more information read our post about the Best Audiobooks for Family Road Trips.
9. Monthly Subscription Box
Subscription Boxes with activities for kids are popping up all over the place. These subscription services cover a vast variety of interests that send a box once a month with project supplies. It really is the gift that keeps on giving! Kids love receiving the box in the mail each month with a new and exciting activity.
Whether you are looking to fuel your child's creativity with an art box such as WE CRAFT BOX Kids Craft Subscription Box for ages 3-9. Or encourage their love of travel with a geography box from Little Passports World Edition Subscription Box for Kids (ages 6-10). Or develop an interest in science and discovery with Little Passports Science Experiment Subscription Box for Kids (age 9+). Encourage kids to start coding from examples and progress quickly to inventing their own apps using Bitsbox Coding Subscription Box for Kids (ages 6-12). Help kids learn about new cultures and cuisines from the kitchen! The Raddish Kids Cooking Subscription Box includes step-by-step recipe guides to fuel a love of cooking (for children 4-14).
KiwiCo inspires young inventors, with science and art projects that encourage kids to become creative problem solvers. Find the perfect crate from science and tinkering, to art and design, or geography and culture. There's even a crate for early learning, so they have activity subscription options for all ages from 0 to 16+. Our readers can receive 30% OFF a crate.
10. Plan a Family Vacation
In our fast-paced lives where family schedules are often packed with responsibilities, it is essential to make time to relax and connect with one another. More important than giving our children more stuff, it is critical to spend time together and make memories. As a parent, the days feel long, but the years pass quickly. Make time to get away with your children and plan a family vacation. Talk to your children about where they would like to travel, or what activities they would like to do at the destination. Planning a family vacation is THE perfect non-toy gift for kids, which will be enjoyed by the whole family!
11. Vacation Experiences or Excursions
If you are taking a family vacation for the holidays or in the near future, then ask relatives to contribute towards travel-friendly gifts. These non-toy gift ideas for vacation include a shore excursion (if you're on a cruise) or an experience for the child to enjoy during the actual vacation. Allow each child or family member to pick the one activity they REALLY want to do during the vacation. Making time to accommodate everyone's wants and needs during the trip will help the vacation to be smoother.
Some of our favorite vacation memories are the experiences that family members gifted our children such as swimming with dolphins in Mexico or visiting a turtle conservation center in Grand Cayman, ice skating in Ottawa, afternoon tea in London, or a character breakfast at Disney.
12. Travel Gear
If you are looking for the best gifts for kids who travel, then check out our Guide to the Top 25 Travel Gifts for Kids. Our favorite travel gifts for kids include luggage, travel gear, electronics, games, and activities that are perfect for a family vacation, and make the best gifts for kids who travel.
13. Cash
All kids love cash to put towards something they are saving for, or to have some independence to spend it on vacation. They feel like a big kid, or like an adult, when they have their own money to spend.
14. Moonjar Three-Part Moneybox
The Moonjar Three-Part Moneybox is a great way to teach children how to save, spend, and share their money. It includes a paper passbook with sections for kids to indicate what they deposited and withdrew from each of the canisters; which is a great help to learning math too. The Family Guide booklet provides advice and ideas that encourage lifelong financial responsibility and learning.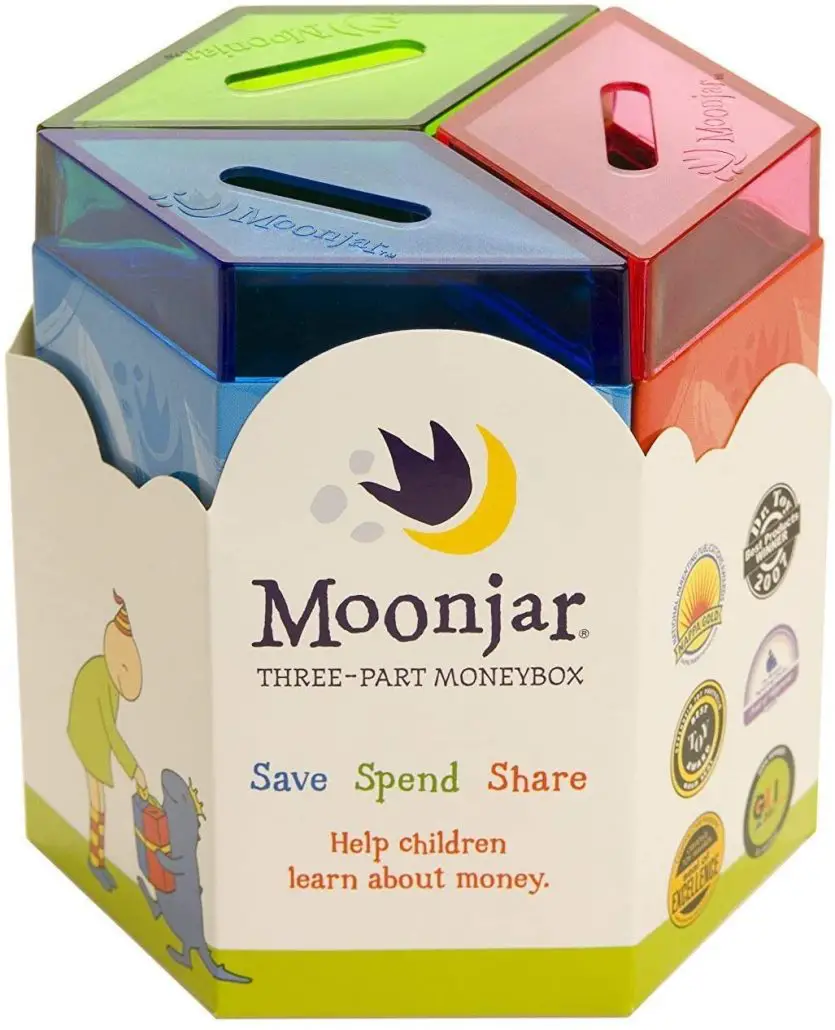 15. Purchase Stocks or make a contribution to a Savings Account
This may not be the most exciting gift for a child, but regular savings will start to accumulate throughout childhood. Then once the child turns 18 they will be extremely thankful for the financial jump start they have in life. They will have some savings at a time when they need to become more independent and responsible for paying for things themselves.
16. Make a Donation
Make a financial donation to a charity or non-profit of the child's choosing in their honor. However, an alternative approach to gift-giving is to collect items to donate at a local food pantry or children's home.
For my daughter's 7th birthday, in lieu of gifts, we asked each of her friends to bring items to donate to the local children's home. We contacted the organization and asked for them to provide a list of their most needed supplies, then we distributed this list to the party guests. They showed up at the birthday party with lots of items from school supplies, cleaning supplies, and children's clothing.
After the party, we boxed up all the items and my daughter was thrilled to deliver them to the children's home. It was a great lesson in teaching my daughter how privileged she is to always have what she needs, and that she can use her influence and resources to provide blessings to other children who are in need. I believe we are blessed to be a blessing to others, and I want my children to carry that truth in their hearts. And know that even as children, they can make a difference.
17. Wall Calendar
Many children like to know what day it is, what is going on, or how many days until __. Having their own calendar will help them to become more aware and plan everything out. Grandmas gives my daughter a calendar each year and writes on every family member's birthday for that year. It will also include all the public holidays. My daughter keeps her hanging wall calendar next to her bed and every evening she will X out that day and look ahead at what is coming up. Last night she asked "did you know tomorrow is Veterans Day?", which in turn opens up the opportunity to explain the significance of each holiday or important event.
18. A watch
Giving your child a cool watch will help them learn to tell the time. A kids smartwatch has many features such as a selfie-cam, voice recorder, games, pedometer, alarm, stopwatch, and calculator. Check out Marvel Touchscreen or the VTech KidiZoom Smartwatch DX2.
19. Monthly Mail
Every child loves to receive mail. With such developments in technology, our forms of communication are changing, and the art of letter writing is dying. A precious gift for a child you don't live with is to send them monthly mail. Whether it's a letter, a postcard of a small package. This is a regular reminder that you're thinking of the child, and they are important and loved because you took the time to write to them. This mail also becomes a keepsake that they can treasure for years to come.
20. Coupons
Another inexpensive gift, but something kids will love, is a homemade coupon book that they can "spend" at any time. Whether it's for "a movie and popcorn night", or "get out of one chore, no questions asked". How about "stay up 30 minutes past bedtime", or "go to the park", or "choose the game for Family Game Night", or "pick what is for dinner"? Kids love to make their own decisions and find it a fun gift to have coupons they can trade in for these privileges.
Non-Toy Gift Round-up
We hope this post will help you to re-think your gift-giving, and reduce the number of toys in your home by providing some great non-toy gift ideas for kids. Most of these gifts for kids are also travel-friendly and make excellent options for gift giving during holiday travel or for a family vacation with kids.
If you are looking for other gift ideas, check out our posts about Travel Gifts For Kids, The Best Travel Gifts for Mom, and The Most Popular Travel Gifts for Dad.
And remember, let's BE Family so you can enjoy the journey.
Until next time,
💖 Ruth
For more about family travel check out these posts:
What Are The Best Family Road Trip Movies?
Travel Gifts For Kids: Guide To Choosing The Best Gifts
Audiobooks For Family Road Trips
Family Travel Games
BE Family Products Inc., or (BE Family Travel) participates in the Amazon Services LLC Associates Program, an affiliate advertising program designed to provide a means for sites to earn advertising fees by advertising and linking to Amazon.com. Using any of the links on this website does NOT cost you anything but does help us continue to create content on this blog. Thank you so much for your support and for partnering with us. Let's BE Family.