As an Amazon Associate, BE Family Travel earns from qualifying purchases. Learn More
When the holidays or dad's birthday are approaching I often struggle to find the perfect gift for my kids to give to their dad. What do you give to the person who has everything they need? Our family loves to travel so usually travel gifts for men are a great starting point. Family travel is an awesome way to reconnect, spend time together and make lasting memories with your children. So, before you head out on a family trip make sure you consider these gift ideas and choose one of the best travel gifts for Dad.
Now that travel is opening up again, and you may have an upcoming family vacation planned. This is the perfect time to find gift ideas for a man who loves to travel. In this post, I will share my favorite travel gifts for dad to help provide you with ideas to show appreciation to the special man in your family. I love to give practical gift items that he will use on a regular basis, or most definitely when our family travels.
Travel Gear for Men
The ultimate Father's Day Travel Gifts for Dad's that love to travel include items such as luggage, travel accessories, clothing, insulated travel cups, or gadgets. Planning a family getaway where dad can enjoy time with his family is another great gift idea for dads that love travel. But, if you are looking for physical travel gift ideas for dad then keep reading to learn about the best travel gear for men.
Top 10 Most Popular Travel Gifts for Dad
Here are the best travel gifts for men, but more specifically our top 10 most popular travel gifts for dad.
1. Travel Backpack
Whether Dad is taking a day trip to a theme park or flying with kids, then it is helpful to have a comfortable and reliable backpack. This Matein Backpack has a USB charging port that is anti-theft, water-resistant, and fits a 15.6-inch laptop notebook. The luggage strap allows this backpack to hook to a suitcase, with a slide over the luggage upright handle tube for easier carrying. This backpack makes a great travel personal carryon for adults. It is ideal for business, travel, or recreation making it a top gift idea for dads.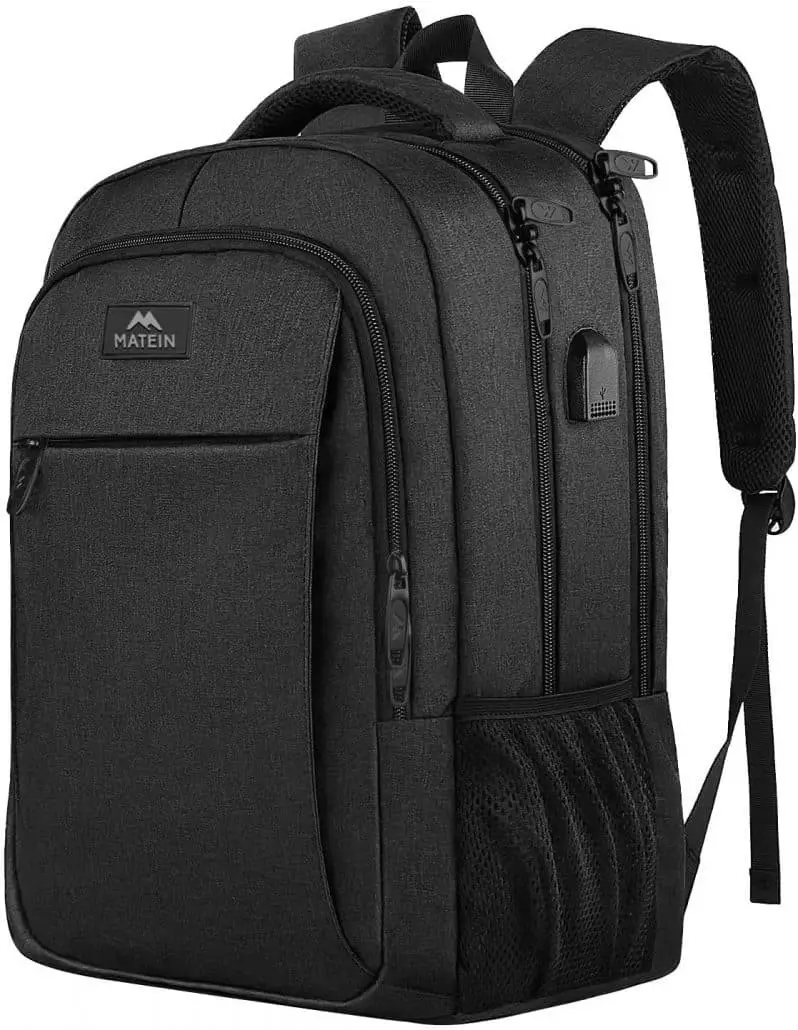 2. Leather Passport Holder: Important Travel Gifts for Dad
An important part of international travel is having a safe way to store and carry a passport and important travel documents. One of the best gifts for dads that travel includes this Leather US Passport Holder Cover with an Airtag Slot. This stylish brown vintage genuine leather passport wallet is where they can put all the necessary things for happy traveling. The Travel Passport Holder is durable and provides proper RFID protection for credit cards. It also fits money, air tickets, and a passport, plus a hidden magnetic clasp that holds the travel documents tight. The built-in holder for Apple Air Tag combines a passport wallet and AirTag ideally to make sure you never lose your passport wallet again. 
3. YETI Rambler Tumbler
The YETI Rambler Tumbler is 20 oz, Stainless Steel, Vacuum Insulated with MagSlider Lid. This is the only drink lid that uses the power of magnets to keep your water, beer, or favorite drink on lock. The Ramblers are BPA-free, dishwasher safe, and have a no-sweat design to make sure your hands stay dry. These double-wall insulated tumblers with an 18/8 stainless steel body, means your drink still keeps its temperature no matter how much of a beating this cup takes. And the main thing I love is that all YETI Tumblers are sized to fit in standard-sized cup holders. A tumbler comes in handy at home or when traveling on a family road trip with kids, making it one of the best travel gifts for dad.
4. Sleep Eye Mask with Wireless Headphones
The TOPOINT 2-in-1 Sleep Headphones and Sleep Mask is a washable cotton sleeping eye cover with a travel Bluetooth music headset. It allows you to listen to your music when sleeping without having to wear additional headphones. This helps you sleep better without being disturbed by outside noise. The Bluetooth 5.0 technology produces great sound quality and easily pairs with smartphones, computers, and most other Bluetooth-compatible devices. The sleep mask uses a bending cartilage design, adjustable and durable, effectively blocking lights coming from the nose area. Best for frequent flyers to sleep on long flights or sensitive sleepers with insomnia who dislike glaring lights. Suitable for home, travel, or any place you need to close your eyes. Consider this travel gift for dad so he can get sound sleep or nap everywhere!
5. Toiletry Bag
The Vetelli Hanging Leather Toiletry Bag for Men is the perfect travel gift for dad. The toiletry bag has four internal pockets to easily store toiletry and grooming accessories. Two compartments expand to easily hold large travel accessories. Made of premium high-grade PU leather which is water-resistant and easy to clean. There is a metal hook so it can hang on the back of the door or on towel racks so it's always easy to access. The hanging bag provides plenty of space to store all of your travel essentials without cluttering your suitcase.
6. Travel Towel
The Rainleaf Microfiber Towel can be used for the beach, travel, camping, swimming, backpacking, or the gym. It is fast drying and convenient to pack which makes it the ideal travel gift for dad. The soft suede-like feel towel is super absorbent, ultra-compact, and lightweight to carry in a reusable bag. The hang snap loop is practical and easy to hang and dry anywhere. This travel towel is another great gift idea for dads that travel.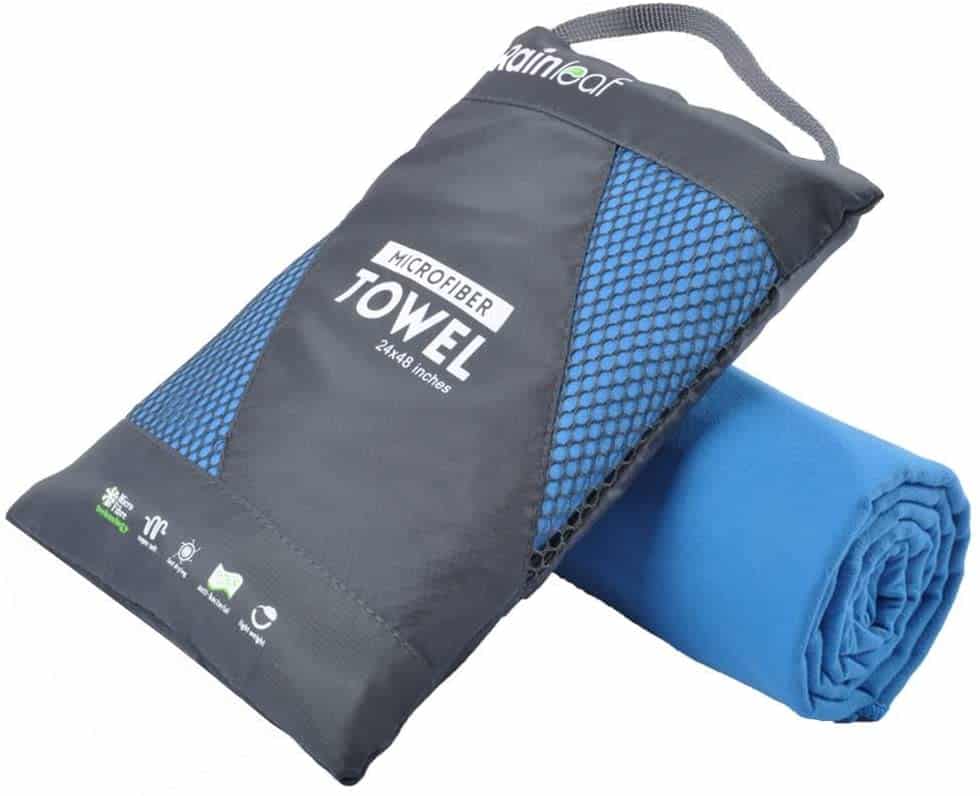 7. Binoculars
When choosing the best travel gifts for dad consider getting him some Binoculars. Ideal for bird watching, outdoor hunting, camping, watching football games, cruise, travel and sightseeing, and other outdoor activities. The Occer 12×25 Compact Binoculars are waterproof and high power easy-focus binoculars with clear low light vision and a large eyepiece. The adjustable eyecups fit eyeglass or sunglass wearers, and also those who do not wear glasses. These binoculars are also suitable for adults and kids and make an ideal Father's Day travel gift.
8. Tactical Pen
The PARIGO Tactical Pen is a cool and unique gift idea for a man who loves to travel. It is an awesome gadgets gift for the handyperson and Do-It-Yourselfer. This multi-tool pen with LED flashlight – including high beam and strobe mode – is a glass breaker ballpoint pen and 4 in 1 tool with a Phillips screwdriver and pen clip. It will write smoothly even when wet. The essential multi-tool pen is ideal for a night walk, hiking, fishing, cycling, backpacking, camping, and travel. Bonus gifts include a 4 in 1 Survival bracelet with flint and steel, whistle, compass, and paracord, plus 3 black pen refills and 3 sets of batteries.
9. Adventure T-shirt for Dad
These adventure t-shirts are fun travel gifts for dad and available in a wide selection of colors and designs. Our favorite is the Adventure You Say? Alpaca My Bags Vintage Funny Travel Gift T-Shirt. These vintage design 70s and 80s with classic sun and retro colors t-shirts have a funny quote alpaca. The lightweight, classic fit, double-needle sleeve and bottom hem t-shirts are ideal for a camper, backpacker, hiker, or traveler. It is a hilarious travel gift for men who love vacations, hiking, or camping.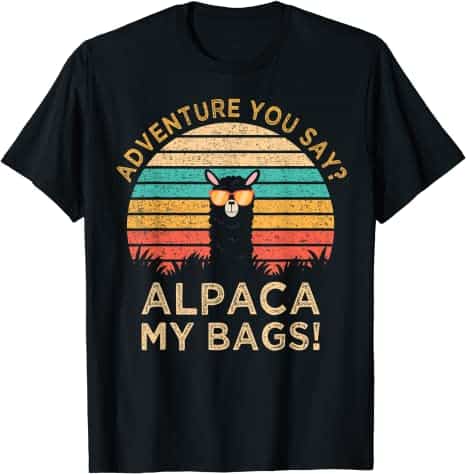 10. Carry-on Suitcase: Popular Travel Gifts for Dad
When choosing the best travel gear for men then a carry-on suitcase would rank with high importance. That's why this is our gift of choice for my girl's dad who loves to travel. His old suitcase bit the dust after lots of wear and tear, so it was time for an upgrade. The Travelpro luggage was recommended by a friend whose husband is a pilot. Travelpro is the brand of choice for frequent travelers and flight crews worldwide.
As a travel gift for dad, I chose the Travelpro Platinum Elite-Softside Expandable Spinner which is a 21-inch carry-on suitcase in True Navy. This expandable carry-on spinner suitcase with external USB port and dedicated powerbank pocket meets FAA regulations for carry-on and checked baggage. With magnatrac spinner wheels for precise control and effortless roll, it includes a removable quart-sized wet pocket for toiletries. The Case Dimensions are 21 x 14 x 9″, and the overall dimensions are 23.5 x 14.5 x 9″. It weighs 7. 8 lbs and has a capacity of 46 liters.
11. Columbia Bora Booney Hat For Dad
A great outdoor travel gift for Dad is the Columbia Bora Booney Hat for men with drawstring closure. The Omni-Shade materials block UVA and UVB rays to help prevent sunburns and long-term skin damage. With moisture-wicking technology, that quickly moves moisture from the skin into the fabric, where it spreads across the surface to quickly evaporate. This sun hat features built-in UPF 50 shielding, a full 3" brim, and is equipped with an adjustable drawcord. This travel hat is available in a variety of colors.
12. Where Should We Camp Next? Camping Guide for Families
For families looking for a gift for Dads who like to travel and go camping with kids, consider this camping guide for families. The book Where Should We Camp Next?: National Parks will help you find the best places to pitch your tent, park your RV or explore memorable glamping opportunities. It includes in-depth profiles for over three hundred amazing outdoor accommodation destinations in fifty National Park Service units.
Whether you're camping close to home or gathering ideas for an epic American road trip with kids, this is a guide to your next national parks adventure. Highlighting unforgettable activities, must-see attractions, and fascinating American history highlights. This is the perfect Father's Day gift for anyone who loves camping, the great outdoors, and adventuring away from home!
Best Travel Gifts for Dad
Ultimately, the best travel gift for Dad that my husband has ever received from the girls is a family vacation. This year we are planning a Father's Day weekend getaway to Pigeon Forge and Gatlinburg, TN, and will spend time making memories at Dollywood.
Find out about the Top Family Vacation Destinations in the US. If you are searching for travel gift ideas for grandad then consider planning a Multi Generational Vacation with Grandparents.
Overall, whether you are planning a family vacation or looking for physical travel gifts for Dad, showing Dad he is loved and appreciated is what's most important.
And remember, let's BE Family so you can enjoy the journey.
Until next time,
💕 Ruth
For more about family travel check out these posts:
Top Family Vacation Destinations in the US for 2021
Plan a Multi Generational Vacation with Grandparents
Non-Toy Gift Ideas For Kids: Less Stuff, More Memories!
Travel Gifts For Kids: Guide To Choosing The Best Gifts
BE Family Products Inc., or (BE Family Travel) participates in the Amazon Services LLC Associates Program, an affiliate advertising program designed to provide a means for sites to earn advertising fees by advertising and linking to Amazon.com. Using any of the links on this website does NOT cost you anything but does help us continue to create content on this blog. Thank you so much for your support and for partnering with us. Let's BE Family.