As an Amazon Associate, BE Family Travel earns from qualifying purchases. Learn More
Once you have started potty training your child will need to learn how to pee-pee on the go. Before you travel with a potty training toddler it is important to find the best potty training seat for toddlers. Some travel potty seats will assist your child in a public bathroom, and others act as a portable toilet and are helpful when traveling in the car.
In this post, we will cover when to use a travel potty seat for toddlers, how to travel with a potty training toddler and what you will need to make it easier. Plus, our review of the 5 Best Travel Potty Seats for Toddlers to help you make the decision about what to use when you travel with your potty trainee. This includes travel potties, folding travel potty seats for toddlers, travel potty seats with bags, and our favorite travel potty for car travel.
What is a Travel Potty Seat for Toddlers?
A travel potty or seat is a plastic support to help your child to stop using diapers and to start using the toilet. There are two main types of baby travel potty and seat. One is a supportive seat that you place on the toilet, and the other is a potty that actually works as a toilet, having a place to collect your toddler's pee and poo.
When to use a Travel Potty Seat for Toddlers?
If you are traveling with a potty training toddler it is important to bring a travel-friendly potty or seat on your trip. All toddlers are different and setting up your toddler for success in potty training is the main goal. If a training potty seat will help with this transition then it's worth the purchase. Introduce any new equipment such as a travel potty or seat in the weeks before you leave home.
Children who are used to having a potty seat at home will have an easier transition to using the bathroom on the go if they are using the same support methods. It is a good idea to test out a potty seat at home before you travel with your child so it feels comfortable and familiar. However, if you are limited on space in your luggage you may consider renting a training potty or child-size seat at your destination.
How to Travel with a Potty Training Toddler?
Take local trips around town first to make sure you and your toddler are comfortable with potty training on the go. No one likes public restrooms, but they are necessary if you want to travel with a potty training child.
Before you travel with a potty training toddler let your child know what to expect in the way of aircraft lavatories, rest areas, or campground facilities. Be aware of auto-flush toilets. Consider covering the sensor with a post-it note or some toilet tissue if the auto-flush scares your child.
What do I need for my potty training toddler?
On a practical note, take changes of clothes and wipes, and bring a wet bag to carry any wet clothes. Also, a disposable toilet seat cover will help protect against germs and is flushable. 
It is beneficial to set a timer because it's easy to become distracted and forget to ask your little one if they need to go potty. The timer helps remind you both that it's time to visit the bathroom. My daughter loves this Potty Training Watch. I set multiple timers at the beginning of the day in increments of time. My daughter feels like a "big girl" wearing her watch and it plays a musical tune when it is time to use the bathroom.
The 5 Best Travel Potty Seats For Toddlers
There are various types of travel potty seat options. These include a compact, simple and easy clean potty that you can use at home or on vacation. Or there is a folding travel potty seat that acts as a support on the toilet. And we have several 2-in-1 portable potty seats for toddlers that double up as a potty with bags or a potty seat for toilets. Keep reading to learn more about these travel potty seats.
Here is a round up of the 5 Best Travel Potty Seats for Toddlers.
Travel Potty for Toddler
One of the best travel potties for toddlers is the Baby Bjorn Smart Potty which is simple, compact, and practical. It is sturdy and comfy to use, as well as easy to empty and clean. Your child can use this potty at home and on trips. It is ideal for road trip travel and to use at your destination but would be too bulky to pack in a suitcase for flying. It is Bpa-free and made of PVC-Free plastic. Available in over ten different colors.
Folding Travel Potty Seat for Toddler
The best-selling Jool Baby Folding Travel Potty Seat is small and lightweight which makes it great for on-the-go. It includes a handy travel bag that makes it easy to pop into a bag and keep close. The 8 super-suction cups keep it very sturdy, allowing toddlers to gain confidence when using the bathroom as a beginner. This Folding Travel Toilet Seat fits most standard and public toilets securely. It can be used by parents who don't want their little ones sitting directly on a public toilet, so helps prevent the spread of germs. Made of BPA-Free materials. This folding travel potty seat for toddlers is available in aqua or pink.
Travel Potty Seat with Bags
If you're looking for a travel potty for the car then you will want a travel potty seat with bags. The best portable toilet for car travel is the Oxo Travel Potty or the MCGMITT Portable Potty Training Seat
Oxo Travel Potty
A popular travel potty seat for toddlers is the OXO Tot 2-in-1 Go Potty for Travel. It opens quickly and easily which is useful for any on-the-go emergencies. It's small enough to be easily transported because the legs fold in for compact storage in cars, strollers, or diaper bags. The legs lock securely for use as a stand-alone potty or on public restroom toilets, and the soft, flexible flaps hold disposable bags securely in place. This travel potty seat for toddlers comes with disposable bags, absorption pads, and a travel bag.
Travel Potty For Car
The top-rated Honboom Portable Potty Training Seat for Toddler is light and foldable, making it easy to carry. This easy-to-use travel potty is small and can be placed in a bag or used in the car. No need to worry about the hygiene of public toilets during travel. Use the disposable bag and throw it away, which makes this travel potty for toddlers easy to clean. The folding toilet is very suitable for indoor and outdoor. It can train the child's toilet habits when placed at home. It can also be used as a standalone potty outdoors, for long-distance driving, traveling, and camping (see also, 'Is Camping Safe?'). This travel potty for the car easily solves the problem of going to the toilet when your child is out and about.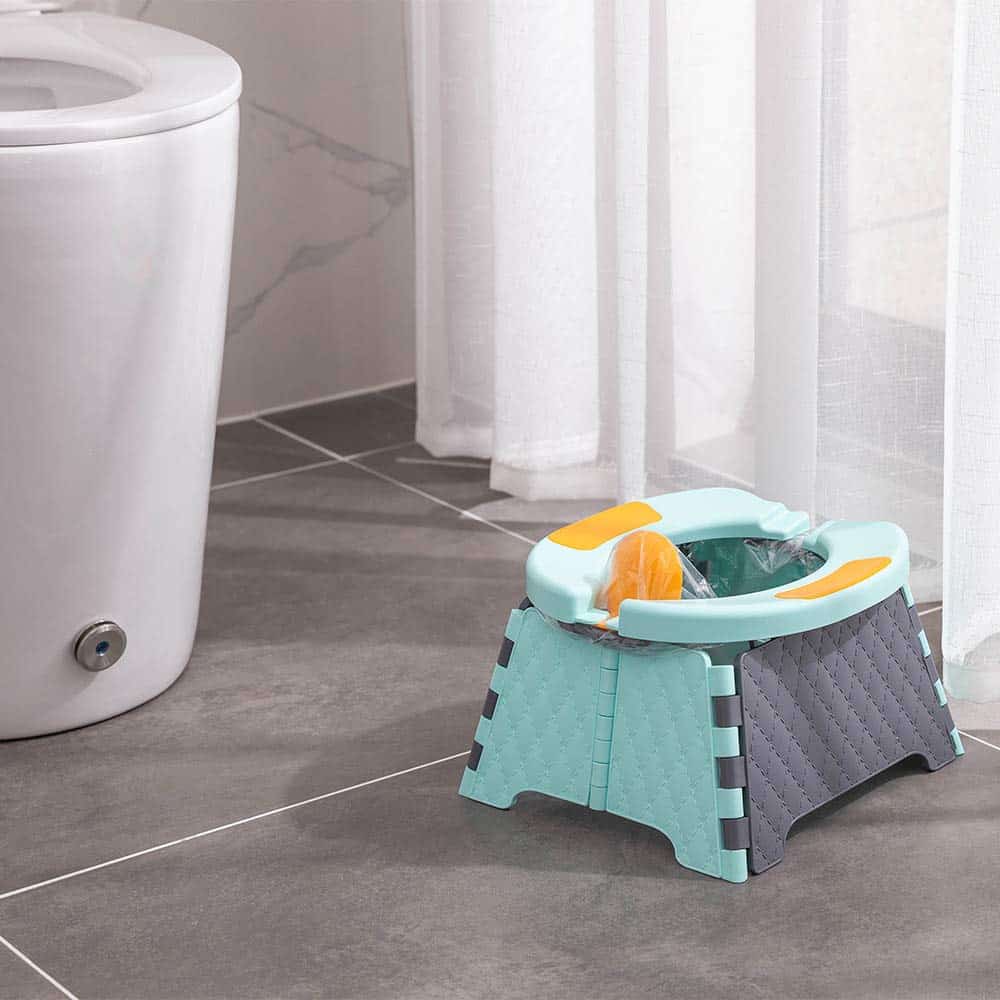 Another 2-in-1 travel potty for the car is the MCGMITT Portable Potty Training Seat. This travel potty seat for toddlers has a foldable training toilet for travel along with a storage bag. It can be used as a stand-alone toilet when you're on-the-go, and also as a toilet seat cover in combination with most toilets. The non-slip footpads and securely locking legs ensure the stability of the toilet seat. The portable potty seat is easy for little ones to use and comes with disposable drawstring potty bags. This toddler toilet folds up and fits in a travel bag which means you can take it everywhere. Keep it in your car, so you don't need to worry about the sanitation of public restrooms. And use this instead of trying to find a bathroom when you are traveling with a potty training toddler.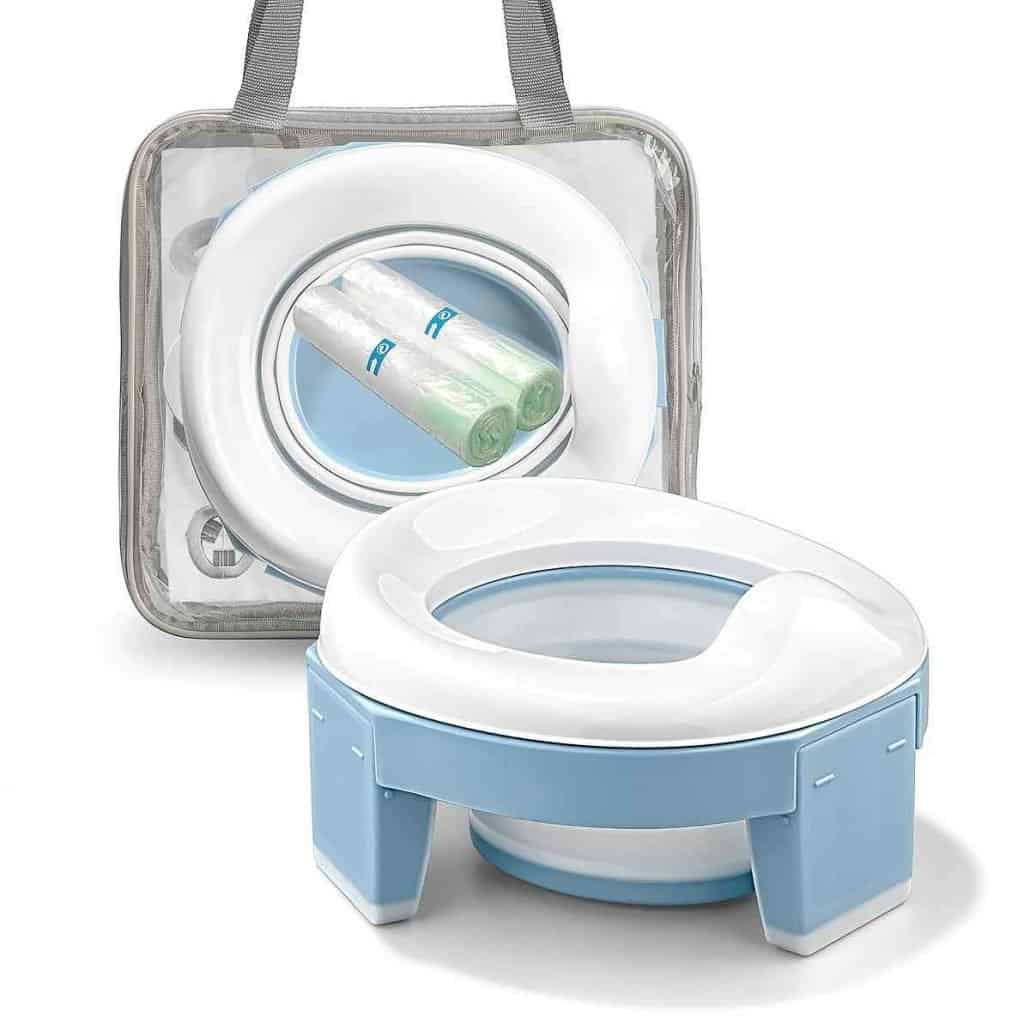 Travel Potty Seat Covers for Toilet
If your child is comfortable using a public restroom when one is available, then you may want to use a disposable toilet seat cover. This non-slip design covers the sides and the front of the toilet in order to keep your child dry. Individually wrapped so ideal for travel with easy storage in your purse. This soft touch and flushable seat cover will help protect your child against germs.
Round-up of the Best Travel Potty Seat for Toddlers
I hope this review is helpful for you when choosing the best travel potty seat for your child. Before you travel with your potty training toddler make sure to test out your travel potty of choice at home to ensure your child is comfortable. The type of travel potty seat you choose will depend on the type of trip you are taking, the amount of space you have, and your child's potty training needs. Whatever you pick, the main goal is to help your child to stay dry and have the confidence to potty on the go.
And remember, let's BE Family so you can enjoy the journey.
Until next time,
💕 Ruth
For more about family travel check out these posts:
Traveling with a Potty Training Toddler
Essential Travel Toys for Toddlers
What to Consider Before you Travel with a Car Seat
Helpful Tips for Flying with a Toddler
BE Family Products Inc., or (BE Family Travel) participates in the Amazon Services LLC Associates Program, an affiliate advertising program designed to provide a means for sites to earn advertising fees by advertising and linking to Amazon.com. Using any of the links on this website does NOT cost you anything but does help us continue to create content on this blog. Thank you so much for your support and for partnering with us. Let's BE Family.