Tips and Tricks to Simplify a Road Trip with Kids
As a family, road trips are a part of our lifestyle. There's no better way to make family travel more affordable, practical, and low stress, while creating great memories for us and the kids. Family road trips are flexible, letting us travel directly to our destination when we need to and also allowing us to stop and experience fun things along the way. I know the thought of a road trip with kids may be stressful, but it does not have to be.
Done right, family road trips are a great way to build strong family bonds. How do you plan a great road trip with kids? Planning. We'll share how we plan family travel, including family road trip lists, road trip snacks, best travel gear for family road trips, the best activities to keep kids busy in the car, screen-free games for road trips, and some down and dirty parent tips from us to you.

As an Amazon Associate, BE Family Travel earns from qualifying purchases. Learn More
Quick Reference Guide
We have compiled a lot of information below. I would suggest reading through at least once. However, the Table of Contents below will help you navigate to a certain section quickly. Use the Table of Contents below for future reference when you return to this post to answer questions or get back to links fast. We hope you find tremendous value.
📌 Pin it for later 📌
Supply Lists for Family Road Trip with Kids
Car Supplies
We start every road trip by making sure we have basic supplies in the car. Having easy ways to take care of unexpected messes, injuries, and the occasional upset stomach are all must-haves. Not being prepared for those unexpected surprises will create a lot of stress and can get your vacation off to a rough start. Luckily we've got you covered with some great tips and tricks for getting that road trip going smoothly.
Read our post about at-home vehicle maintenance to learn how to get your car ready for your next road trip.
A road trip with kids means being prepared for messes! Napkins or paper towels and baby wipes are handy for sticky hands or a bigger mess. Hand sanitizer is a must with all of the eating that happens on a road trip. We prefer to use one that doesn't seem to leave a taste behind. We always keep a basic first-aid kit in the car but make sure to check that it's stocked before a road trip. A few plastic bags are handy for trash, to wrangle a big mess, and just in case of stomach upset. For helpful tips for preventing or dealing with Car Sickness in Kids click this link.
Speaking of big messes… you may have wondered why we still keep a spare diaper in the car, even with no one wearing diapers anymore. I'll tell you below.
Must Pack Car Supplies for a Road Trip with Kids
Napkins / Roll of Paper Towels
Several towels (hand and bath towel size)
Baby wipes
Basic first-aid kit
Plastic grocery bags
Hand sanitizer
Disposable diaper
(yup – even if you don't have a baby, keep one in the car!)
Pillow and light blanket for each kid
Outfits for the Road
Let's talk family road trip clothes. Nothing is more uncomfortable than wearing snug clothing or shoes that squeeze just a bit. A sure-fire way to make extra stops or hear extra complaining from the backseat is to not control what gets worn on long road trips. Our kids have actually learned what they prefer in the car and lovingly call them their road trip outfits! To learn more about exactly what to pack for a road trip with kids, check out our printable family travel packing lists.
The Best Comfy Road Trip Clothes for Kids (and Adults!)
Lightweight long-sleeved shirt – Wearing a long-sleeved shirt for a long day in the car means skipping sunscreen. If you really prefer short sleeves, be sure to throw sunscreen on the exposed skin. It'll be getting sun all day.
Comfortable elastic waist pants
Easy on/off shoes – Spending all day in the car with shoes on is annoying for adults. There's no way our kids aren't kicking their shoes off! Easy on/off shoes means when we stop it doesn't add time putting shoes back on. Easy shoes can include Birkenstocks, clogs, loafer style shoes, flip flops or slide sandals in the summer.
Zip-up sweatshirt or sweater for easy on/off in the car – We skip sweatshirts with hoods! These can be uncomfortable against the back of the seat.
Sunglasses
Sunscreen – Quickly applying a bit of sunscreen to everyone's faces (and arms if needed) will prevent sun damage and the possibility of sunburn ruining your road trip.
Spare set of clothes for spills and accidents – Yup. We know there are clothes for a week in the luggage but it's a nightmare to dig through everything in back for a new shirt after a spill. We pack a day bag with a full change of clothes for each kid and fresh shirts for the adults because who hasn't worn coffee all down the front of them?!
Spare diaper but not for the baby – What better use for a long-outgrown diaper sitting around? Here's a family travel hack – – a diaper is great way to soak up big spills. Water bottle spills can be a real issue on a trip but put a diaper inside out over the puddle and watch it disappear!
Road Trip Snacks
Another secret to a successful family road trip is having access to quick and easy kid-friendly snacks when you are on the road. Sometimes it may feel like the front seat of the car is a full-service restaurant! But there isn't much worse than being stuck in the car with hangry kids. So having a selection of healthy road trip snacks for kids (and adults) will keep everyone happier and make the journey a lot smoother. 
Read our detailed post about the Best Road Trip Snacks for Kids which includes photos and descriptions of all our favorite family road trip snacks. And, to make your online shopping fast and convenient, we have included handy links to all the recommended items.
Our post about Road Trip Snacks also includes a FREE download printable of our Road Trip Snacks List.
Road Trip Snack Hack
When we are preparing to head out of town on a family vacation we love the convenience of ordering a Prime Pantry box. A few minutes spent placing an online order can save you hours in the grocery store.
If you have an Amazon prime account, or sign up for a free trial of Amazon Prime here, then you can have a Prime Pantry box delivered for free with only a $35.00 purchase.
The Best Road Trip Snacks for Kids
These are our favorite family road trip snacks, which your kids will LOVE! Make sure to pack these snacks for your next road trip with kids.
Trail Mix 
Spice up a healthy nut snack with dried fruit, some chocolate, or yogurt-covered raisins. We always pack individual servings in a small reusable container. Our kids love dried raisins, cranberries, cherries, or apricots.
Fruit
Think fruits that can be eaten with your hands. Pre-sliced apples, grapes, oranges, strawberries, blueberries, or bananas. Pre-wash and pre-slice before you leave, and with kids under the age of 5, skip the grapes.
Nuts
Nuts are a healthy snack packed with protein. Our kids love peanuts, whole almonds, sliced almonds, pistachios, cashews, or pecans. Choose roasted or unsalted nuts, to avoid unnecessary salt.
Nut Butter (such as peanut butter, almond butter, or sunflower seed spread) in individual serving sizes are great to dip with sliced apples. If you have young children or a child with a nut allergy then avoid these options.
Granola or Protein Bars
We keep granola bars and protein bars on-hand for family road trips at all times! Kids and adults alike can make it that extra hour to the food destination of choice when there are extra granola bars for everyone.
Greek Yogurt Drinks / Cheese
Greek Yogurt Drinks, Babybel, or String Cheese snacks are another easy way to pack protein for the road. We always carry a small cooler and these items take up very little room.
Snack Size Sandwiches / Wraps
Having the ability to grab one more substantial meal while still driving down the road gives us flexibility as well as a healthier option for one meal. This is especially helpful with picky eaters! We pack sandwiches cut into quarters and wraps cut in half for small meals as we drive. Our favorite quick and easy sandwiches are cheese or nut butter and jelly.
Veggies & Hummus
Cut up some veggies and pack single-serve hummus or ranch dip. Some of our go-to vegetables for road trip travel are baby carrots, sliced cucumbers, snow peas, sliced peppers, or cherry tomatoes.
Road Trip Hack
You can use a traditional school snack container like shown in the picture for separating out your veggies, cheese, and crackers for each child.
We love to use a Bento Box, which allows a lot of flexibility for the separation of dips, vegetables, sandwiches, and even sliced-up fruits.
They come in a variety of colors. Click here to see all the Bento Boxes for Kids
Applesauce or Fruit & Veggie Pouches
These quick and easy pouches can be a lifesaver for when veggies get missed on the road.
Crunchy Snacks
Goldfish, veggie straws, pretzels, animal crackers, mini rice cakes, tortilla snacks, mini graham crackers, peanut butter crackers, Chex mix, or Cheerios in a handy snack catcher.
Popcorn
You can pop your own or purchase it ready to go, popcorn is an easy and healthy road trip snack.
Sweet Treats
We aren't keen on giving our kids a bunch of sugar in the car (or at any time, really). Asking a kid to sit still in the car after a bunch of sugar just seems downright impossible. But what's better than a small sweet treat to celebrate the halfway point of the trip? Or to use as a bribe for later 😉 We stick to treats with less sugar like organic fruit snacks or gummies. Or on occasion, we'll enjoy one of my childhood favorites – a Rice Krispies Treat!
For more information read our full post about the Best Road Trip Snacks for Kids which includes a FREE printable download of our Road Trip Snacks List.
Taking Breaks Throughout the Day on Road Trips
Short breaks on a family road trip are important to give everyone in the car an opportunity to stretch and reduce that cramped cabin-fever feeling. Most medical professionals recommend a general rule of a break of at least 15 minutes every 2 hours. In our best-case scenario, we usually try to get a nice 3-1/2 hour stretch in first thing while everyone is at their best. After that, we stop every 2 or 2-1/2 hours.
Traveling with a Potty Training Toddler
Are you nervous about taking a road trip with a potty training toddler? If your child is comfortable using public restrooms around town, then now it's time to start thinking about your first road trip while potty training. Consider bringing a travel potty or seat in the car. And before your road trip read our post to learn everything you need to know about how to travel with a potty training toddler.
Recommended Travel Products for Road Trips
To keep the kids entertained on a long journey it's important to have a selection of activities available within reach. We alternate between games, drawing, books, play, road trip snacks, and some technology time.
Printable Road Trip Games
Our kids love to start off with their BE Family Travel Trays in their laps. That way they get a chance to play, draw, create, and work on their printable travel games for kids.
We offer a variety of printable games that include our Printable Travel Games for Kids, and our Printable Disney Games.
Best Family Travel Games
Check out our post about the best family travel games to find games to entertain the kids on your next road trip.
BE Family Travel Tray
After the first hour or so we will allow for some technology time. Their car seat travel trays make it easy as we will already have their device in the tablet pocket. The BE Family Travel Tray will help end the "are we nearly there yet" boredom.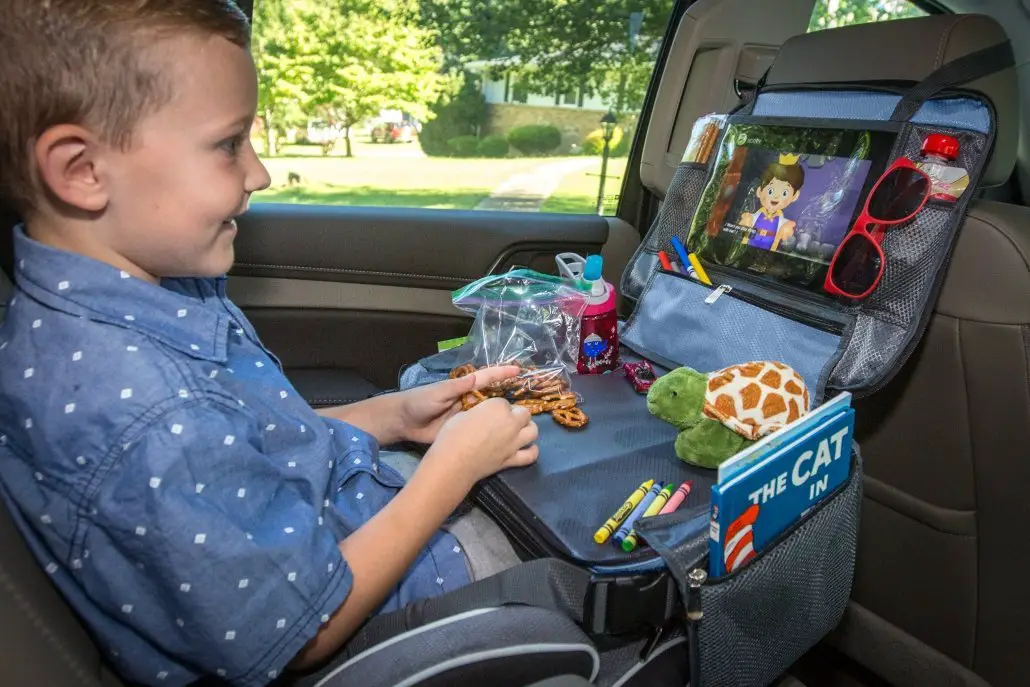 Road Trip Technology Time
Once it is time for some technology time they can turn on their Kids HD Kindle Fire Tablets by themselves. Then they slip on their Bluetooth headsets to watch a short movie or play a game. We love these family road trip movies. Or if you want to limit screen time then these audiobooks for family road trips are popular with kids and their parents!
Travel Toys for Kids
If you are looking for kid-friendly travel toys then we can definitely recommend lots of travel activities for children. Depending on your child's age, check out these articles about Travel Toys for Baby, Essential Travel Toys for Toddlers, Best Travel Activities for Kids Age 4 – 8 years, and Road Trip Activities for Kids Age 9 – 12 years.
The Road Trip Wrap-up
The thought of a road trip with kids can be daunting. However, planning the perfect road trip is possible! Using these packing and travel tips can really help to reduce your stress and bring peace to the backseat. We would love to hear about your tips and tricks that work well for your family.
Similarly, feel free to share your successes or failures so that we can all learn and grow as families that like to travel with our kids. Also, let us know if there are topics around travel that you need help with and we can do our best to address those in future posts.
As always, let's BE Family so you can enjoy the journey.
Until next time,
Doug & Ruth
For more about family travel check out these posts:
How To Prepare Your Vehicle for a Road Trip
What are the Best Road Trip Snacks for Kids?
How To Pack Your Car for a Family Road Trip
Preparing for a Winter Road Trip With Kids
📌 Pin it for later 📌
BE Family Products Inc., or (BE Family Travel) participates in the Amazon Services LLC Associates Program, an affiliate advertising program designed to provide a means for sites to earn advertising fees by advertising and linking to Amazon.com. Using any of the links on this website does NOT cost you anything but does help us continue to create content on this blog. Thank you so much for your support and for partnering with us. Let's BE Family.