As an Amazon Associate BE Family Travel earns from qualifying purchases. Learn More
What is the Best Way of Saving for a Family Vacation?
The holidays are over. Winter is in full swing. You are looking at the calendar and thinking about the year ahead. You start dreaming about taking a family vacation this summer. But how do you start saving for a vacation with kids? Fortunately, time is on your side. Summer is still several months away. That is why TODAY is the best time to get started making plans and begin saving for your vacation.
A family vacation is about getting away from normal life for a while. It is a chance to unwind, relax, and enjoy time with your family to make precious memories together. However, taking a vacation with kids can be stressful enough, but planning and saving money for a vacation can help reduce that stress.
The key to start saving for a vacation is having a plan. The sooner you start, the easier it will be. Doing the hard work now to take a vacation debt-free will help you enjoy the vacation stress-free without reliving a financial nightmare once you return home. It is worth the extra effort to plan and save now, so you can truly relax and enjoy the trip guilt-free. Knowing you sacrificed and saved for a vacation makes the achievement of reaching your goal even sweeter!
In this post, we help you decide what type of family vacation you are saving for, plus the 5 best ways to start saving for a vacation with kids. To help plan your next family vacation we show you easy ways to save money by cutting expenses, as well as what you need to know about the best travel deals.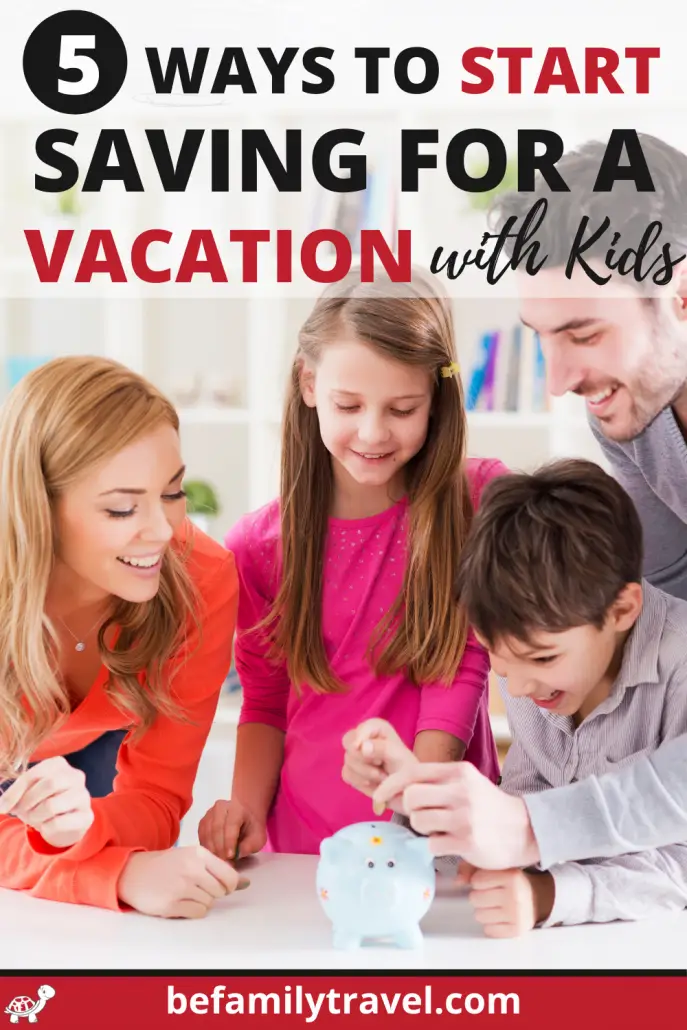 What Type of Family Vacation are you Saving for?
There are many ways to start saving for a vacation, but first, you need to decide what type of trip your family wants to take. Everyone has their preferred type of family vacation and options may include:
City Getaway
Camping Trip
Mountain Retreat
Walt Disney World or Amusement Park
Cruising
Staycation
If you are planning a vacation with grandparents then check out these articles with Multi-Generational Travel Ideas For Families or see our tips to Plan a Multi-Generational Vacation with Grandparents.
For more ideas about places to visit here is our guide to the Top Family Vacation Destinations in the US.
During the Covid-19 pandemic international travel, including flying with kids and cruising, was less doable. Despite initial long-distance travel restrictions at that time, there were still plenty of options to stay nearby and vacation in your local area. Even if your dream vacation to tour Europe or taking an island-hopping cruise in the Caribbean is more complicated during this current season, you can still research and make plans for the future. It is good to have dreams for the future, as they give us something to look forward to. We will travel internationally again! In the meantime, these Family Travel Quotes will inspire your family adventures and encourage you on hard days.
5 Ways to Start Saving for a Vacation with Kids
Here are 5 ways to kick start your vacation savings plan. Having a plan in place is the best way to accomplish your goal of taking a family vacation with your kids.
1. Decide on a Budget for your Vacation
Once you have decided what you want to do and where you want to go, then you can start planning your family vacation. Research how much it will cost to get there. Don't go into debt for a vacation. Taking a trip you can't afford will sour your vacation experience and become a financial burden to pay off once you return home. Decide on a vacation budget and then take steps to save for the vacation.
Divide the cost of the vacation by the number of months until you will take the trip, and this lets you know how much to save between now and your departure date. And let's face it, vacations usually cost more than we expect, so add in a buffer amount for unexpected expenses. Things such as admission to attractions, parking fees, or extra rental items and tips.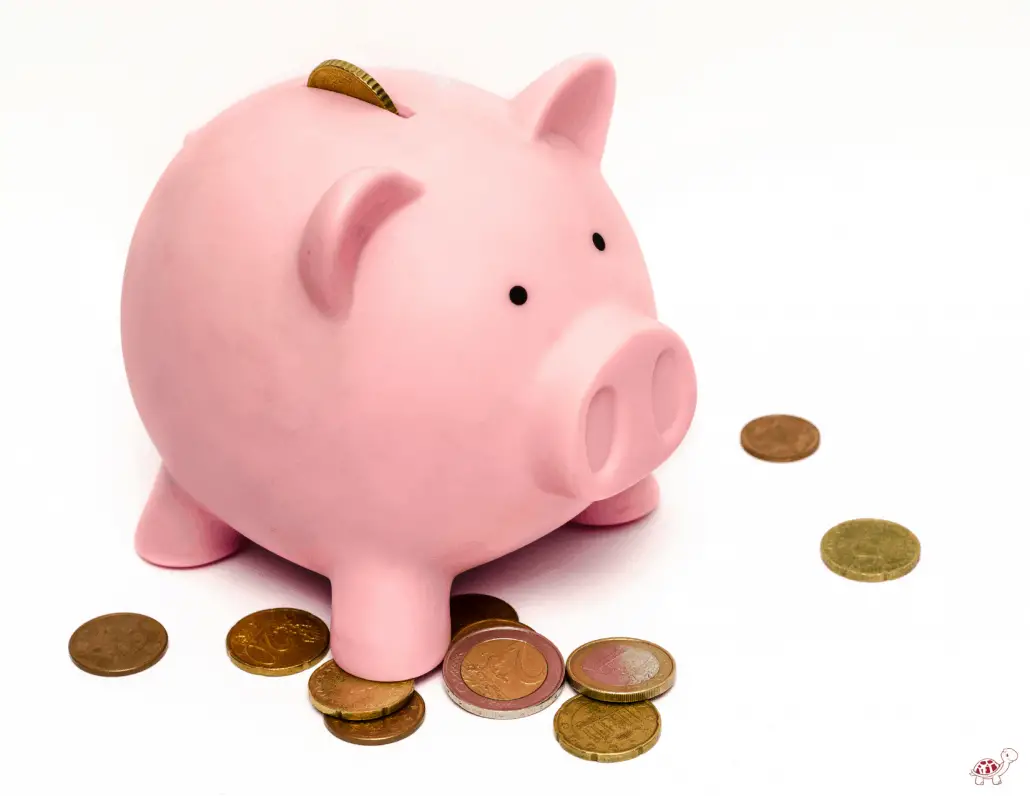 2. Start a Saving Fund for your Vacation
Put money aside every month to start saving for a vacation with your family, and leave it alone! Consider putting your money in a high-interest savings account. Let the fund grow and then the money will be available by the summer when it is time for your trip.
3. Cut your Expenses to Achieve your Goal
A great way to save money for a vacation is to reduce your expenses by cutting back on luxuries. Decide on your priorities, and look for adjustments you can make to your family budget to save money. What is essential, and what is a nicety? It's about choosing your ultimate goal – do you really want to take a family vacation, or do you prefer luxuries? There are ways you can trim in some places to help your savings for a vacation grow, and achieve your goal.
Easy Ways to Save for Vacation by Cutting Expenses
Turn off cable TV and use cheaper streaming options (Hulu, Netflix, Disney+, etc.).
Stop your daily visit to Starbucks (by not spending $5 per day on coffee for 6 months you will save $900).
Reduce the amount spent on eating out and take out food. If you do eat out, order water instead of a soda.
Plan your meals ahead of time so you have food available when needed. Pack lunch for you and your family.
Save money on groceries by shopping at Aldi (I save 1/3 on my grocery bill, which is a saving of over $100 per WEEK).
Give up the gym membership and start working out from home.
4. Make some Additional Income
In addition to saving money for a vacation, you can do things to make some extra money to put solely towards saving for a vacation fund.
Work overtime or pick up some extra shifts if your job allows.
Take on a part-time job for a short time.
Take on a side hustle – babysitting, pet sitting, tutoring, do ride-sharing, shop for people with Instacart.
Start an online store to sell hand-made items such as crafts on Etsy.
Rent out a room in your house.
And, it's amazing how much money is sitting around your home. Go through your belongings and sell what you don't need. I bet you could find $1,000 around your house:
Have a yard sale and sell stuff.
Consign used clothing or shoes, especially your kid's items, at a local consignment sale or store, or online using Poshmark.
Sell used toys, baby gear, electronics, furniture, books, or sports equipment through an online used goods marketplace such as Facebook Marketplace or eBay.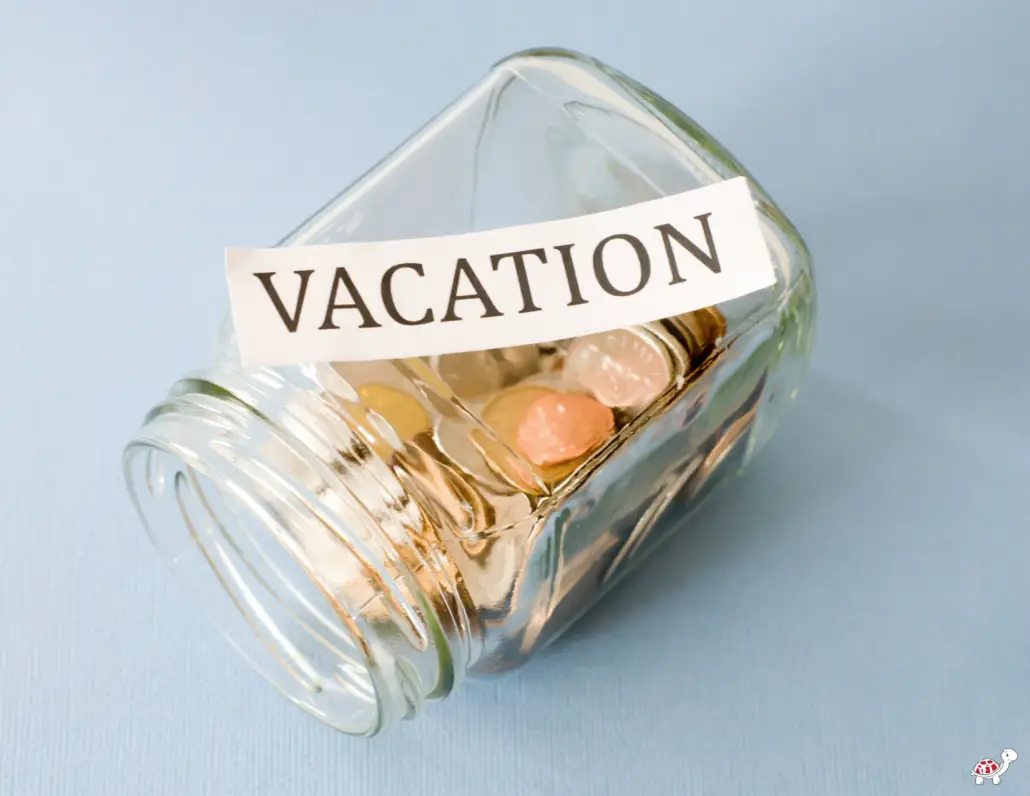 5. Travel Off-season to Save Money
If your goal is saving money for a vacation, then consider traveling off-season or at non-peak times. This would mean visiting the beach during cooler weather, and not during the peak summer heat. Or if you want to visit Colorado then don't go in the middle of winter during the peak skiing season.
Are you planning a Disney vacation with the kids? The best way of saving for a Disney vacation is to visit during the slow season. Places like Disney World are busy and most expensive during peak season (holiday periods, school breaks, summer vacation, and weekends). You can save a lot of time and money if you book a vacation during the off-peak season.
When Disney is less busy the lines are shorter and you will spend less time waiting on attractions. If you want to save money on vacation then the best times to visit Disney World are during January and early February (winter time) and just after school starts in early September through mid-November (before the holidays). Check out our Tips and Tricks for Disney World which also include our 2022 Crowd Calendar.
Before our daughter started school we took lots of big vacations in January. It was a great time to get away for a break after the busy holiday period. We got cheap deals on flights and accommodation and vacation destinations were less busy. If you have preschool-age children I definitely recommend making the most of traveling while your children are young, before you have the restrictions of a school schedule.
Once your children are in school it becomes more challenging to travel during non-peak times. But now that many children can do virtual school and remote work options are more popular for parents it is becoming more accessible for families to travel off-season.
Best Travel Deals when Saving for a Vacation
Airlines and tourist destinations struggled with the global shutdown due to Covid-19. Now that a vaccine is more accessible the world has begun to open up. People are starting to feel more comfortable traveling and taking advantage of travel deals to help save money on vacation.
The travel industry is offering increased flexibility on flights and accommodation as an incentive for people to travel again. Once you feel comfortable traveling with your children again, then you will find great incentives for family travel deals.
Saving for a Vacation Wrap-up
Overall, the best way of saving for a vacation is to have a plan and stick to it. Following the steps, we shared above, and being consistent in saving money for a vacation is the quickest way to reach your goal. This is how you achieve your dream of taking a family vacation with your children.
And remember, let's BE Family so you can enjoy the journey.
Until next time,
💕 Ruth
For more about family travel check out these posts:
How to Pack Your Car for a Family Road Trip
Ultimate Guide & Packing Lists for a Family Beach Vacation
Family Travel Quotes to Inspire Your Family Adventures
How to Simplify A Road Trip with Kids
Disney World Itinerary Planning: What You Need to Know
BE Family Products Inc. or (BE Family Travel) is a participant in the Amazon Services LLC Associates Program, an affiliate advertising program designed to provide a means for sites to earn advertising fees by advertising and linking to Amazon.com. Using any of the links on this website does NOT cost you anything but does help us continue to create content on this blog. Thank you so much for your support and partnering with us, let's BE Family.