As an Amazon Associate, BE Family Travel earns from qualifying purchases. Learn More
Family-Friendly Things to do in Duck, NC
The Town of Duck is located in the Outer Banks (OBX), on the coast of North Carolina. It is a charming resort town that is family-friendly, and there are plenty of things to do in Duck, NC with children. This quaint OBX coastal town is situated with the Currituck Sound to the west, and the Atlantic Ocean to the east. Duck has an excellent reputation for great beaches, fine dining, eclectic shopping, outdoor adventures, and watersports. The Outer Banks is a beautiful area to visit, and Duck NC is the ideal vacation destination for families.
Duck, NC is named because of the hunters that have been flocking to the region since the 1800s for its abundant waterfowl. Today there are many gorgeous and extravagant vacation homes available for rental. This means there are plenty of accommodation options for large family groups on a multi-generational vacation. As well as smaller vacation homes and condos for individual families.
In this post, we will discuss the best activities for families in Duck including my favorite things to do in Duck NC with kids. From these must-visit restaurants, shops, and a variety of fun outdoor activities to my utmost favorite thing about this adorable town – walkability. And if you want to explore the Outer Banks, NC with children then keep reading to learn more about other things to do OBX.
What are the Best Duck, NC Activities for Families?
Family-friendly activities in Duck OBX include kayaking, jet skiing, fishing, and more. The coast is lined with beautiful private sandy beaches with an abundance of shell collecting. There is a vast selection of open-air dining at local restaurants. And my favorite part about Duck is that the town is so walkable. This means you can park your car and choose not to drive the entire time you visit. The town's shops and restaurants are connected by Duck Trail, which runs the entire length of the town along Highway 12. On the sound-side of the town, there is the 1 mile long Duck Boardwalk with spectacular views of the Currituck Sound.
Right next to the Duck Boardwalk you will find the 11 acres of natural beauty known as Duck Town Park. It winds through a forest, swamp, and open green space. This area features amenities including walking trails, a playground for the children, and lots of fun rentals such as bikes. It is the ideal place to relax and enjoy the day!
This Walking Map is available on the Town of Duck website.
How to Plan a Family Vacation with Kids
Are you are dreaming about heading to the beach? You may also feel overwhelmed about embarking on this adventure with your children. Are you wondering about the best way to plan a family vacation with kids (see also, 'How to Plan a Family Reunion')? Our website has tons of practical resources to help you simplify your family adventures.
You may want to read our posts about how to start saving for a vacation with kids or how to simplify a road trip with kids. Then before you head to the beach with your children check out our Family Beach Vacation Ultimate Guide with Packing Lists, and the Beach Essentials for Kids. In our current situation, many parents want to learn about Strategies to Stay Healthy While Traveling with Children, or how to avoid motion sickness in kids.
My 12 Favorite Things to do in Duck, NC
Are you planning to visit Duck beach OBX with your family? You won't be disappointed. There are so many things to do in Duck, NC with children. It is a relaxing and peaceful family-friendly vacation destination. I have visited Duck for vacation four times. It is a place I will return time and time again. I can honestly say Duck, NC is my absolute favorite family beach destination.
Here is why I recommend Duck to families who are planning a family beach vacation. These are my favorite Duck, NC things to do or places to visit.
1. Duck Donuts
Don't miss these warm, fresh, and made-to-order donuts paired with a great selection of coffees. Enjoying delicious donuts at Duck Donuts is a must during your OBX family vacation. You start with a fresh bare donut, add a glaze, add a topping, and a drizzle in any of their many combinations. Duck Donuts has now expanded to other locations and states in the US. The original Duck Donuts store opened in 2007 in the town of Duck NC.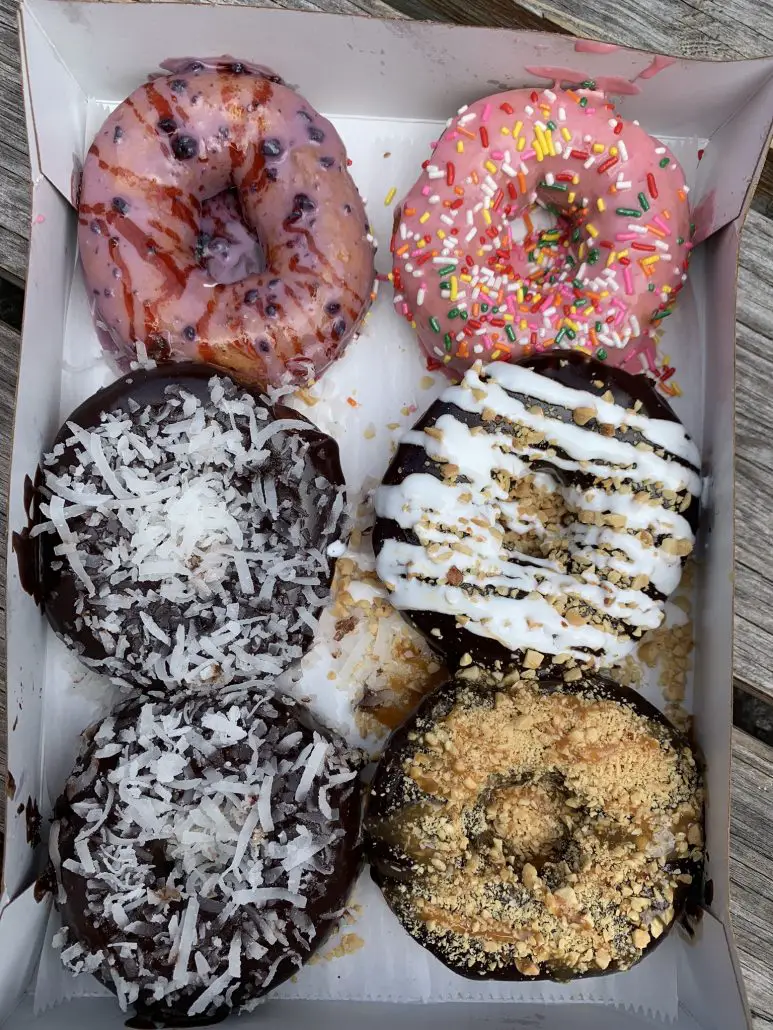 2. Duck's Cottage Coffee & Books
Duck's Cottage Coffee & Books is located at the Waterfront Shops. Visit Duck's oldest and truest full-service coffee shop with freshly brewed pots of coffee and specialty drinks. Pair your drink with a delicious muffin, pastry. biscotti, a bowl of cereal, or a nutritional bar. Then relax in the chairs on the porch and enjoy the fresh ocean breeze.
In the book shop you will find shelves of eclectic and interesting books. The meticulously curated inventory includes both hardback and paperback bestsellers, staff picks, non-fiction, trending cookbooks, children's books and young adult titles.
If you are staying within Duck village, you will find Duck's Cottage is an easy walk, bike ride, or boardwalk stroll from your house.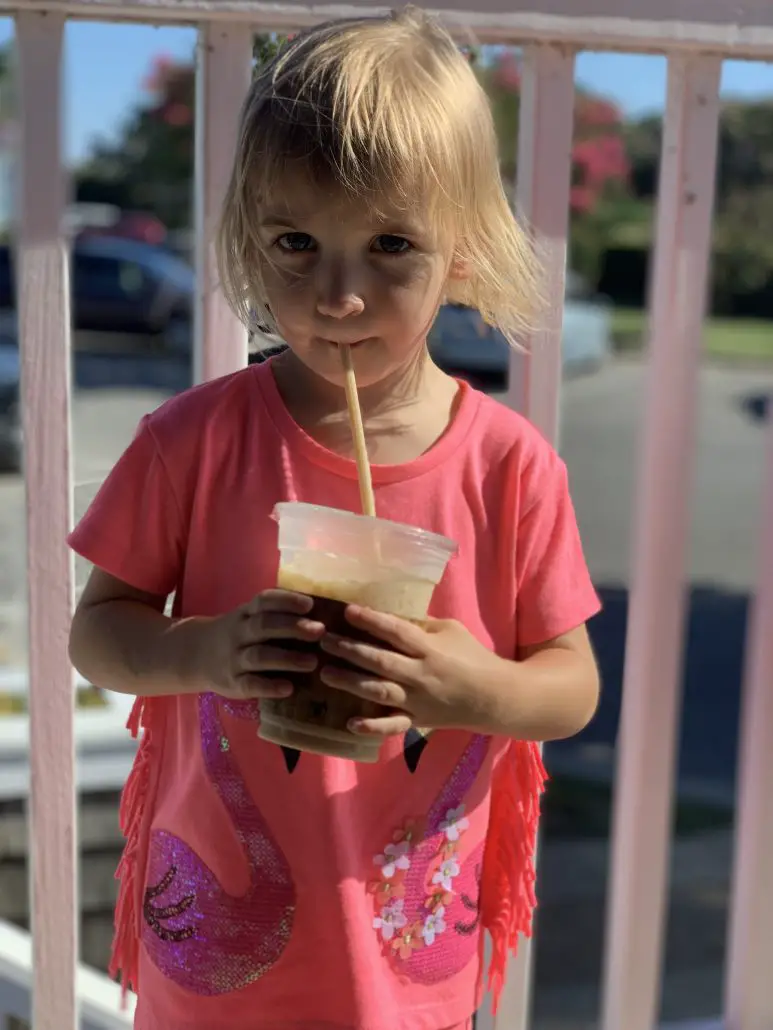 3. Tommy's Market
Tommy's Natural Food Market and Wine Shop is a small-town grocery store with a global conscience. It offers the largest selection of local and North Carolina groceries on the Outer Banks. Plus the largest selection of wine and microbrews in Duck, NC. Tommy's Market is famous for having the best steaks on the Outer Banks. As well as grass-fed beef, local and wild-caught seafood, and simply the best vegan and gluten-free food in the area. They offer take-out food and call ahead grocery pick-up. I have enjoyed many offerings from Tommy's Market including the best crab cakes on the Outer Banks, and my favorite gluten-free baked goods, cheeses, and wine!
4. Aqua Restaurant & Spa
The most beautiful restaurant in Duck, North Carolina, AQUA Restaurant offers fresh regional cuisine, exquisite wines, and casual dining in an elegant waterfront setting on the Outer Banks. The Chef creates many specialty dishes using local-caught fish and seafood, locally farmed ingredients, and all-natural meats. I especially enjoy the yummy desserts that are handmade in house from the freshest ingredients.
If you are vacationing with the grandparents and have the opportunity for a date-night then Aqua Restaurant should be top of the list. Or, if you have a chance to escape the kids for a few hours then plan a visit to AQUA Spa which is the oasis of serenity on the Outer Banks. With a full menu of spa services that are designed to renew and relax you. 
5. Live Music in Duck NC
There are several venues where you can enjoy live music in Duck OBX. Our family favorite is the Tap Shack at Cravings Steaks & Seafood. This restaurant was featured on the TV show Diners Drive-Ins and Dives. Cravings is a full-service restaurant located in the heart of Duck, NC. They also offer indoor/outdoor seating, a full bar, live entertainment, and a drive-thru window, which makes Cravings the hottest place in Duck.
Here is our family dancing and enjoying live music with kids in Duck, NC. This is the large outdoor space at Cravings Tap Shack.
6. Playground in Duck Town Park
If you're looking for free things to do with toddlers in Duck NC or activities for kids then check out the playground in Duck Town Park. It's a delightful spot in the center of town with lots of fun play equipment that is surrounded by shaded trees. There are plenty of benches for parents to relax and watch their children play and explore.
7. Eclectic Shops in Duck OBX
On the Outer Banks of Duck, North Carolina there is a large selection of eclectic shops. Shopping in Duck offers a collection of clothing boutiques, shops for home décor, pets, jewelry, and more. Shopping destinations are surrounded by food eateries and local restaurants where you can refuel. For shopping destinations in the heart of Duck visit the Scarborough Lane Shoppes, the Scarborough Fair Shopping Village, and The Waterfront Shops which meander along the Currituck Sound. There is also a wide selection of independent shops along Duck Road, which winds through the center of the town.
8. Bike Rentals
As you plan activities to do in Duck, NC bike rentals can be at the top of your list. There are many places to rent bikes in Duck Outer Banks. The town is bicycle-friendly with many safe places to ride or park your beach cruiser rental bike. There are LOTS of rental stores in Duck NC to rent bikes, beach, and vacation equipment. Rental store choices include Ocean Atlantic Rentals, Duck Village Outfitters, Kitty Hawk Kites, or Just For The Beach Rentals.
Side note: Just For The Beach is where I spent a summer working in the beach rental store. I was a college student in England and wanted an international summer adventure in the United States. This is where my love of the Outer Banks first began, almost two decades ago!
9. Kayaking
This is a spectacular area to kayak or canoe to sightsee the town of Duck by water. There are multiple sound access points where you can launch your vessel from the kayak launch ramp on the boardwalk into the Currituck Sound. Seeing the marshland wildlife, and exploring the area's waterways with a paddle in hand is one of the essential things to do in Duck NC. Plan your kayaking trip in the sound at sunset to experience one of the best sunset views on the Outer Banks. There are companies that offer private tours or group tours with kayaks or paddleboards. Ideal for those families who would feel safer and more comfortable with a guide.
10. Fishing in Duck NC
There are several ways for your family to go fishing in Duck North Carolina. Those with experience can set off on their own to surf fish in the ocean, cast off in the Currituck Sound, or drop a line from one of the nearby Outer Banks fishing piers. There are Fishing and Crabbing Areas with boardwalk access. If you want more help and you are new to fishing then choose from head boats, off-shore charters, or private guides to introduce you to fishing in Outer Banks.
To go fishing in Duck NC then purchasing an N.C. Coastal Recreational Fishing License may be required, except for children under age 16. But you may not need the license to fish on a certain pier or charter boat so be sure to ask. One of the local tackle shops can advise you about the best ways to go fishing in Duck North Carolina. To learn more, buy fishing supplies, or arrange a local fishing excursion in Duck OBX contact Bob's Tackle Shop.
11. Beautiful Beaches in Duck NC
Duck is nationally-recognized as one of the Top 15 Family-Friendly Beaches in America. There are beautiful sandy beaches that are quiet, ideal for recreation and outdoor fun such as swimming in the Atlantic Ocean, sea kayaking, surfing, walking along the sand, fishing, collecting shells, or relaxing in the sun shine. The Town of Duck neither owns nor maintains any public beach access locations. There are no public parking areas at beach accesses. When staying in Duck, there are private community accesses in most of the subdivisions. Make sure to check with the homeowners' association for your vacation home or with your rental company for the closest appropriate beach access for your vacation rental house.
12. Duck NC is a Walkable Town
My utmost favorite thing about Duck, NC is that it is a walkable town. There really is no need to drive your car during your visit, as everything is accessible on foot, or you can choose to ride a bike. There are plenty of boardwalks, paths, sidewalks, bike paths, and crosswalks that make Duck safe for pedestrians and a bike rider friendly destination.
You have everything you need during your vacation in Duck NC within easy walking distance of the town center – restaurants, shops, groceries, a playground, rentals, activities, and the beach.
If you do want to explore outside the Town of Duck, there are plenty of other things to do on the Outer Banks. These family-friendly activities make Duck the perfect place for a family vacation. Keep reading to discover more Outer Banks destinations that you can visit with children while staying in Duck OBX.
What are other things to do OBX?
During your visit to Duck OBX, you may be looking for other places to visit nearby. Duck is about halfway between the towns of Corolla and Kill Devil Hills or Kitty Hawk, which make it the ideal base if you want to explore the Outer Banks, NC with children. The town of Duck is within close proximity to these other tourist attractions on the Outer Banks.
Corolla Wild Horses
Consider a day trip to the beaches north of Corolla to catch a glimpse of the Wild Colonial Spanish Mustangs. You can choose to take a guided or self-guided tour of the 4×4 off-road area. These feral and wild horses have been stranded on the Outer Banks for centuries. You may be able to spot a small herd of wild horses wandering along the oceanfront or grazing in the sand dunes. Seeing the Corolla Wild Horses is sure to be a highlight of any family vacation to the Outer Banks with children.
Currituck Beach Lighthouse
The Outer Banks is well known for lighthouses featuring 5 lighthouses along the OBX coast. Towering over historic Corolla, the Currituck Beach Lighthouse offers stunning panoramic views of the Currituck Sound and the Atlantic Ocean. With 220 steps, it takes most people about five or six minutes to reach the top.  Children 12 and younger may climb only if accompanied by an adult. Before your ascent, visit the Currituck Beach Lighthouse museum with many interesting exhibits that showcase the tower's history.
Jockey's Ridge
For outdoor activities with children on the OBX then plan a visit to Jockey's Ridge State Park that is located in Nags Head, North Carolina. The tallest living sand dune on the Atlantic coast is a premier location for kites, enjoying the outdoors, sightseeing and sunsets, with a view stretching from the ocean to Roanoke Sound. For the more adventurous hang gliding lessons are available in the park.
H2OBX Waterpark
Visit the H2OBX Waterpark with more than 30 rides, slides, and attractions for families at the newest waterpark on the Outer Banks.
The Lost Colony on Roanoke
If your family is looking for things to do while visiting the Outer Banks, then take the bridge across the sound to Roanoke Island. The Lost Colony on Roanoke is an experience not to be missed! The Lost Colony is an outdoor historical drama that is produced by the Roanoke Island Historical Association (RIHA), a non-profit whose mission is to celebrate the history of the first English colonies on Roanoke Island, North Carolina. The Fort Raleigh National Historic Site protects and preserves the location of Roanoke Colony.
Roanoke Island Festival Park
History comes alive and learning is fun at Festival Park, which is an interactive family attraction that celebrates the first English settlement in America. The park includes a recreated 16th-century sailing ship, living history demonstrators, a museum, and a variety of performing and visual arts.
Wright Brothers National Memorial
North Carolina is known for First in Flight. The Wright Brothers came to the remote Outer Banks between 1900 and 1903 because of the area's steady winds. The Wright Brothers National Memorial is located in Kill Devil Hills, NC, and commemorates the site of the first flight of a successful heavier-than-air powered aircraft. The Visitor Center is home to a museum featuring models and actual tools and machines used by the Wright brothers during their flight experiments. This National Park site has plenty to explore for children who are visiting the OBX. Children can investigate the site along with the activities, and be sworn in as a junior ranger once they've learned all about the Wright brothers.
Every Kid Outdoors
Do you know about Every Kid Outdoors? This special federal initiative for fourth-grade students allows every fourth-grade student and his or her family to visit over 2,000 federal lands for FREE for an entire year!

See America's natural wonders and historic sites such as national parks, national forests, and national wildlife refuges. For additional information, and to print off a paper pass, visit the Every Kid Outdoors website.

Bring your paper pass to Wright Brothers National Memorial and you can exchange it for a more durable and wearable plastic access pass.
Overview of Things to do in Duck NC
The Outer Banks is an ideal vacation destination for families traveling with children. There is plenty to do in this family-friendly beach location. In fact, there are more than enough things to do in Duck NC during a family vacation. You will not be disappointed. As a matter of fact, you may even love Duck OBX as much as my family and return year after year to make precious beach vacation memories.
And remember, let's BE Family so you can enjoy the journey.
Until next time,
💕 Ruth
For more about family travel check out these posts:
How to Pack Your Car for a Family Road Trip
What are the Beach Essentials for Kids?
Ultimate Guide & Packing Lists for a Family Beach Vacation
How to Start Savings for a Vacation with Kids
How to Simplify A Road Trip with Kids
BE Family Products Inc., or (BE Family Travel) participates in the Amazon Services LLC Associates Program, an affiliate advertising program designed to provide a means for sites to earn advertising fees by advertising and linking to Amazon.com. Using any of the links on this website does NOT cost you anything but does help us continue to create content on this blog. Thank you so much for your support and for partnering with us. Let's BE Family.