As an Amazon Associate, BE Family Travel earns from qualifying purchases. Learn More
Family Beach Vacation
Summer is approaching and most parents are looking for a break from the routines and responsibilities of day-to-day life. Many families choose to escape to the ocean for a family beach vacation. Often reservations are made at a beach house or condo rental, and parents work hard to plan and save for their family vacation. Are you counting down the weeks, or the days, until you'll smell that salty sea air and feel the sand between your toes? Once school is out for the summer then it's time to take a road trip with kids and head out for your family beach vacation.
A Simple Beach Vacation
Do you remember how simple it was to travel before you had kids? How you could plan a spur of the moment road trip, throw a swim suit, beach towel and some changes of clothes in a suitcase and hit the road with very little preparation.
When you arrived at the beach all you had to worry about was making sure you had a good book to read and some tunes on your MP3 player. Did I just date myself?! Never the less my beach vacations look a lot different today than they did a decade ago. Now I have two little humans to include in my travel plans.
In my early days of motherhood I was very excited to do all the "firsts" with my daughter. We documented everything – from her first swimming lesson, to babies first road trip and babies first beach trip. I learned a lot about traveling with a baby, and then a toddler, and we made lots of precious memories on family vacations.
Once our second child arrived I started to feel like traveling with kids was too hard. I wondered if family travel was really worth all the hassle? At times it felt like relaxing on family vacation wasn't worth all the energy it took to get everyone there.
Stress-free Family Vacation
Do you feel overwhelmed at the thought of planning a family vacation with kids? Have you made accommodation reservations, but now you're wondering how you practically make this vacation happen? What are all the steps you need to take? Is it really worth it? And how to you take a family vacation without loosing your mind?
Rest assured that every parent has felt like this at some point. You're not alone.
Travel with kids can be stress-free, but it takes intentional planning and preparation. In this post I'm going to share my Ultimate Guide to a Family Beach Vacation. I will share the tactics you need to know to make your family beach vacation simple, easy and stress free. Plus my Family Beach Vacation Packing List so you'll know all the travel essentials for kids. This is our tried and tested Family Beach Vacation plan and I'm excited to share it with you so you can relax and enjoy your vacation prep.
📌 Pin it for later 📌
Making Memories on a Family Beach Vacation
Before you get caught up in the family vacation preparations, it's important to remember your "why" for traveling with kids? Every family has different reasons for why they prioritize family travel. After being quarantined at home for months during the Covid-19 lock down I am reminded of the privilege it is to freely travel and see this beautiful world. I don't want to take for granted the opportunities I've had in my life to travel and explore new cultures, to learn about people, experience history and taste various cuisines. I want my children to have those same opportunities.
For us, it's not practical for every family vacation to be overseas, and there are plenty of destinations for our family to explore right here in the United States. The most important aspect for us is to set aside time to make family memories by being together and enjoying the beach with our children.
Multi-Generational Travel
There are many benefits of multi-generational travel. Our children are blessed with wonderful grandparents so we love to include them in many of our family vacations. The grandparents love to spend time with their grandchildren, and vice versa. We want our children to have distinct memories of spending time with their grandparents. We live far away from both sets of grandparents so this doesn't happen on a day-to-day basis.
By including the grandparents on a family beach vacation it provides the perfect opportunity to have shared experiences together. Plus it's some additional adults to help wrangle the kids, and a babysitter if mom and dad want a date night out without the kids! We have also found that cruising with the grandparents is also a perfect extended family vacation. Check out our tips for planning a multi-generational vacation with grandparents.
Family Beach Vacation Packing Lists
Once you have decided on the best travel destination for kids and who is coming on your family vacation, then it's time to start thinking about packing! What are all the beach travel essentials and travel gear that you'll need for the kids?
The Ultimate Family Beach Vacation Packing List
This is my Ultimate Packing List for a Family Beach Vacation, and it includes EVERYTHING that our family packs. I wanted to include this resource to help you with packing for your family beach vacation. There's so much to think about when you're packing for the whole family and it's easy to forget all. the. things. So I've encompassed lots of items, but feel free to pick and choose the items that are appropriate for your family needs.
We all have different preferences, but this is a very comprehensive list to help remind you of all those little items you may not realize you're missing until you get to the beach. There's nothing more annoying than realizing you don't have a pair of scissors or your kid's swim floats when you get to the beach, and having to take the time to go buy new ones.
Of course there's usually a big box store or a grocery store close by, but I'm the kind of person who hates to spend money buying something at the beach when I have the exact item at my house. I prefer to pack all the essentials so I don't have to think about re-buying them at the beach. Plus, who wants to spend running out to the local Walmart, rather than heading down to the beach? Not me!
There are some items I choose not to travel with and I'll discuss those below. I make a shopping list of the things I need to buy from the grocery store when we arrive at the beach. This helps make the trip to the grocery store quick and simple so I can get back to the beach house and get started relaxing on our family vacation.
I print off the Ultimate Packing List for a Family Beach Vacation and put it on a clipboard, then I'll mark off items as I pack them in suitcases, bags, tubs or laundry baskets.
📌 Pin it for later 📌
I also created these Printable Family Travel Packing Lists for your next family road trip, beach vacation, or flight with children. These 10 pages will help you pack everything you need for a family vacation with a baby, toddler, or kids.
What is the Best Way to Pack your Car for Family Beach Vacation?
Before you pack the car for a road trip it is important to think about the items that you'll need within reach during the trip. Depending on the size of your vehicle and the number of people riding in your vehicle you may need to consider adding a rooftop cargo box to your vehicle, or a cargo carrier with hitch to the back, or even a small trailer.
With four people in our mini van we can fit everything we need inside the vehicle. But there have been times we've also had my parents ride with us, so with 2 additional adults (and their luggage) then we'll travel with a rooftop cargo box to add extra storage space.
How to pack your vehicle for a Family Road Trip
Each person should pack a small bag to keep their personal items / toys / activities close by. These items will help entertain the kids on a long family road trip.
Make sure you keep needed items within easy reach. The last thing you want to realize when you're headed down the interstate at 70 mph is that little Tommy's activity bag is packed deep inside the trunk with all the suitcases!
Think about what can be stored in the back for use at stops. And if you're stopping overnight in a hotel to break up your journey, then make sure to pack an overnight bag. This should include changes of clothes for the entire family, toothbrushes and basic toiletries, and don't forget swimsuits if you plan to use the hotel swimming pool (see also 'The 7 Best Pool Toys for Hot Summer Days').
We find it easier to pack one small carry-on size suitcase for the entire family, for the overnight stop, rather than dragging everyone's big suitcases into the hotel for one night.
We always carry these Must Pack Car Supplies for a Road Trip with Kids in an easy to reach place. This includes a Car Clean-Up Kit which helps to take care of unexpected messes, injuries, and the occasional upset stomach. These items include: napkins, paper towels, baby wipes, hand sanitizer, Kleenex tissues, towels, Kids 'N' Pets Odor Remover Spray, trash bags and a travel first aid kit.
Where to pack items for a Family Beach Vacation
In addition to having a vacation packing list and knowing what to pack for your family beach vacation, you need to know where to pack it. How do you pack your car for a road trip with kids? The diagram below will assist you with knowing the best places in your vehicle to pack the various items.
What to pack for a Road Trip to the Beach?
This road trip checklist is the best way to pack your vehicle for a road trip to the beach. You should allow space for:
Personal Items – purse, magazines, lip balm, lotion
Road Trip Electronics including cell phone and car chargers
Trash Can and easy access to a First Aid Kit, Medication and Car Clean-Up Kit
Road Trip Toys and Activities for the Kids with a Pillow and Blanket
Middle Seat Organizer to store miscellaneous items between the seats
Suitcases with Clothing and Toiletries
Cooler with Groceries and Items for the Beach Rental Property
Overnight Bag with changes of clothes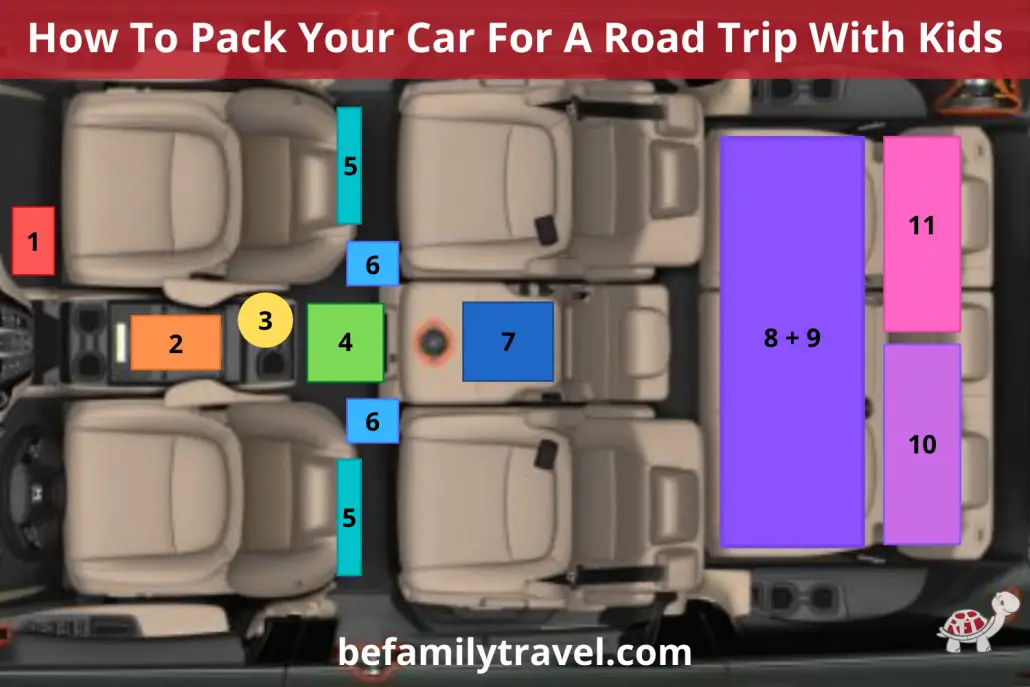 For full details about this packing diagram, read our post about how to pack your car for a road trip.
How to Entertain the Kids on a Family Road Trip
What should you pack to entertain the kids on a family road trip? When you're taking a road trip with kids the activities you choose to pack will depend on your child's age. On a road trip kids love: craft or activity sets, sticker books, workbooks, toys, travel games, coloring, books, family audiobooks, road trip movies, and screen time. For more information and product reviews you can check out our posts about travel toys for toddlers or travel activities for kids or the best travel crafts.
Printable Road Trip Games
Road trip printable games can be used for children of different ages, especially as siblings can compete against each other and their parent(s) to win! Printable travel games will help keep your children entertained and prevent boredom from hours in the car as you hit the road for your family beach vacation.
We created these printable road trip games that you can download for FREE. They include: Road Sign Scavenger Hunt, Coloring Page, Tic Tac Toe, Word Search, License Plate Search Game – and our favorite – Road Trip Bingo. We hope they will come in handy for your next family vacation.
Of you can get the Ultimate Activity Pack of Printable Travel Games to entertain the children on your next family road trip. The 30 printable pages include a variety of travel-themed road trip games, activities, and more for children age 3 plus (and even the adults will want to join in too).
This large selection of Printable Travel Games is an inexpensive way to engage your children in fun activities and help pass the hours on your next family trip. And, avoid screen time for kids.
Road Trip Snacks
Your road trip will go a lot smoother if you pack a selection of healthy road trip snacks. The kids (and adults) will be happier if they don't get hangry. Eating road trip snacks will give kids something to do to help with boredom. We created a printable Road Trip Snacks List which you can download here for FREE. These are our favorite family snacks, which your kids will LOVE!
Car Seat Travel Tray
We love to use the BE Family Travel Tray to hold our child's activities. It's designed to be used with a car seat. It is perfect for a drink, snacks, coloring book, crayons, and toys to keep everything within your child's reach. And includes a tablet holder, pencil case, and large book pocket.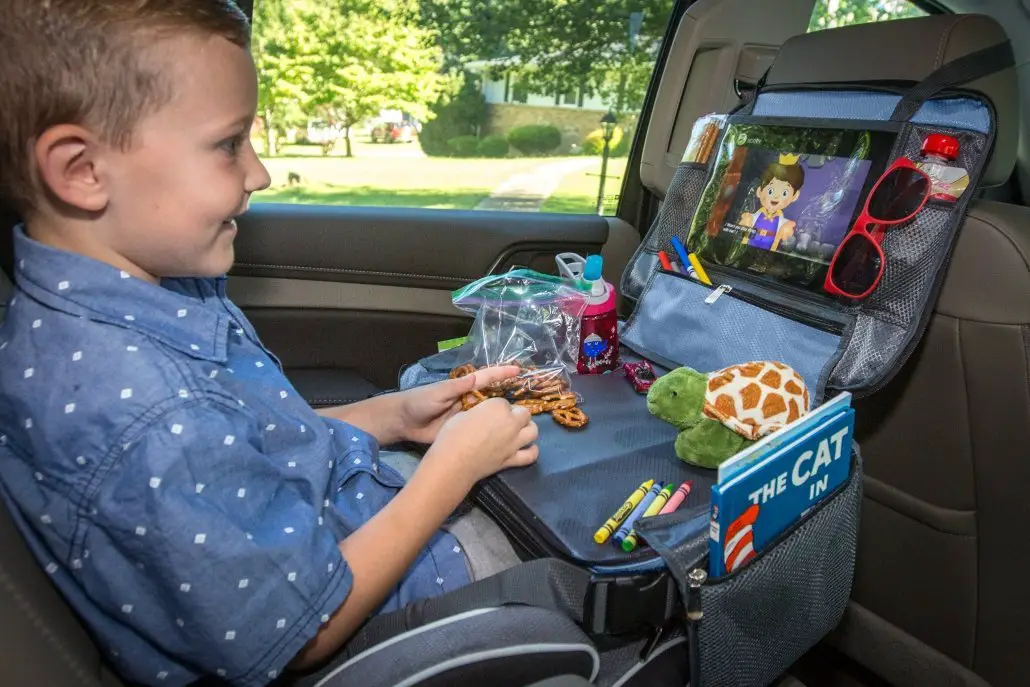 There is no need to unload the entire tray when it's time to leave, the side pouches zip and fold in to make the perfect storage as an all-in-one Travel Messenger Bag.
It detaches into two parts, and the lower lap tray is great for toddlers. Also available in red, blue, teal green, or pink.
Groceries and Meal Planning for Family Beach Vacation
When traveling with children on a family vacation it is helpful to have access to a kitchen to prepare meals. There are times when a hotel stay is appropriate, but for a family beach vacation we prefer a rental house or condo because there is a kitchen. Kids want to eat all day long so it's easier to stock the kitchen with groceries at the beginning of the week. And then have access to prepare food whenever you want to.
It's helpful to put together a grocery list ahead of time and plan simple, quick and easy meals that your family likes to eat. Consider bringing any dry goods and pantry items with you, and then pick up fresh produce and refrigerated items when you arrive at the beach. Ordering ahead from Walmart Grocery Pick Up will also save you time.
We often carry a cooler so we can add groceries with a bag of ice, and pick them up before we arrive at our beach property. Often check in isn't until after 3:00 PM so we try to arrive at the beach destination earlier in the day so we have time to pick up the groceries.
Family Beach Vacation Meal Planning
I am working on a post about Beach Vacation Meal Planning which I look forward to sharing with you soon. This will include some of our favorite healthy family meals. Plus a Grocery List that you can download and use to help simplify your family vacation meal prep.
We like to have simple breakfasts, a light lunch and then cook a meal in the evening. We often eat 4-5 dinners at the beach property and then go out for dinner a couple of times.
Check with your host to see if you will have access to a gas or charcoal grill, is the kitchen supplied with a slow cooker or a blender? These items are important to me because my kids always want to drink smoothies. My husband loves to grill out, which helps us to share the cooking responsibility 😍 And I like to use the slow cooker to make these Crock-Pot Shredded Chicken Tacos. Slow cooker recipes can be started in the morning before we head out to the beach, they cook during the day, and then dinner is essentially ready when we want to eat in the evening.
Beach Rental Property on Family Vacation
When you arrive at your beach rental property the first thing you need to do is clean it. With so much concern over Covid-19 it is important to take disinfectant wipes and clean surfaces, door knobs, light switches. Once you feel comfortable that the property is clean then it's time to unload and settle in to your new home for the week.
If you have a baby or toddler it's important to make sure you "baby proof" the property. Items such as cabinet locks, outlet covers or a baby stair gate will come in useful.
Examine the property for any delicate items that may be easily broken by a young child. Move them out of reach. Be aware of any furniture or items that may be dangerous to a youngster. Move items such as glass or sharp corners. Little ones are intrigued to explore their new environment, and it's amazing what they can get in to very quickly! Be vigilant and take whatever precautions that you can.
Before you travel to your beach rental property check with the host to see if they provide items such as: linens, pillows, towels. If not, there may be options to rent linens and towels from a laundry service. And what is the expectation for cleaning the property before you leave? Often they want you to empty the trash and strip the sheets from the bed before you depart. But every property is different so make sure you're aware of what you need to do to ensure your security deposit is returned.
A Beach Day with Kids
The real reason you've put forth all this effort to get your whole brood to the beach is so you can feel the sea breeze and the sand in your toes. Your kids are excited to hit the beach and start building sand castles. A day at the beach with kids can be stressful, but it can also be so much fun and create wonderful memories if you are prepared.
Beach Essentials for a Day at the Beach
These essential beach items have significantly helped make our family beach vacations more simple and enjoyable.
For a Day at the Beach with Kids you will need:
Beach Hacks for Family Vacation
Our favorite beach hacks will save you time / money / stress. Doesn't every parent want to reduce the effort it takes to make it to the beach with kids?
Avoid being on the beach during the middle of the day (12:00 PM to 3:00 PM)

This is the hottest part of the day when young skin is most likely to burn. Head out earlier in the morning, or later afternoon when it's cooler (and less busy).

Beach Toys
Use a Ziploc Bag for Electronics

This will keep items – such as a cell phone, cash or keys – clean and dry.

Bring Reusable Shopping Bags as Beach Bags

You can pick them up at stores like TJ Maxx or Trade Joe's for $1. They are cheap, but well made, and you don't have to worry about getting sand in them or messing up an expensive beach bag.

Baby Powder

Did you know that baby powder removes sand? Rub powder on your child's arms and legs, and watch the sand fall off. 
What to do at the Beach with Kids
A day on the beach is often a totally different experience than your regular family routine. Unless of course you are lucky enough to live at the beach, in which case I'm sure you're a pro at family beach days! For the rest of us who often only come to the beach once a year, it is a real contrast from every day family life. Because everything is so different my kids find it SUPER exciting to head to the beach!
There are plenty of games and activities that kids enjoy at the beach. During your family beach day you can:
Build Sand Castles
Swim or Splash in the Ocean
Snorkeling
Play Frisbee
Walk on the Beach
Search for Seashells
Spell words in the sand with seashells and stones
Look for Dolphins
Play on the Boardwalk
Go Fishing
Bring a Boogie Board
Fly a Kite
Blow Bubbles
Play Ball
📌 Pin it for later 📌
Best Family Travel Games for Beach Vacation
It is a good idea to pack a few family travel games to take on your beach vacation (see also, '15 Best Family Activities In Myrtle Beach To Do On Your Travels').
Why to pack family travel games:
Bad weather happens – if that day at the beach ends up with an afternoon thunderstorm, then you've got a back up indoor option.
Family Bonding – which occurs when laughing and playing with your kids.
Fill the gaps – sometimes you just need something to keep the kids busy for an hour between activities. A quick and fun card or board game will come in handy.
Wind down – after a busy day of sightseeing it's hard to head directly to bed. Try letting the kids play a board game while you relax with a good book.
To find out more about our favorite board games or card games check out this post. It will help you to choose the best family travel games for a vacation.
It's time for your Family Beach Vacation
Now you've put in all the effort to research and plan the best family beach vacation it's time to go! Head out to your top vacation destination for families and enjoy the break and time away with your family. Traveling with kids requires flexibility, and everything may not go exactly to plan, but that's OK. Roll with it and be thankful for the opportunity to have a family getaway and enjoy time together.
I'd love to hear where you're headed on your next family beach vacation. Feel free to share any beach destinations that are great for family travel. This will also help our community with their family travel plans.
And remember, let's BE Family so you can enjoy the journey.
Until next time,
💕💖 Ruth
For more about family travel check out these posts:
Simplifying a Road Trip with Kids
Beach Essentials: What to bring for Kids
Family Travel Quotes to Inspire Your Family Adventures
How to get your car ready for your next family road trip
📌 Pin it for later 📌
BE Family Products Inc., or (BE Family Travel) participates in the Amazon Services LLC Associates Program, an affiliate advertising program designed to provide a means for sites to earn advertising fees by advertising and linking to Amazon.com. Using any of the links on this website does NOT cost you anything but does help us continue to create content on this blog. Thank you so much for your support and for partnering with us. Let's BE Family.