As an Amazon Associate, BE Family Travel earns from qualifying purchases. Learn More
Travel Crafts for Kids
What are the best travel crafts to keep kids entertained on a long journey? These crafts for children are no-mess, pre-packaged, simple and easy for busy Mom's who are packing for a family vacation. I am asked regularly, by parents, how to avoid too much screen time for kids while traveling. They are interested in non-electronic options for their little ones. Above all they need ideas to prevent boredom while traveling with kids. Travel Crafts for Kids are a great option to add into the rotation of activities to keep children occupied while you travel. In this post we discuss our favorite travel crafts for kids, to help keep kids (and their parents) sane!
Use the Table of Contents below to quickly skip to any section of this post.
Travel Crafts for Family Vacation
When preparing to leave on a family road trip or a flight with kids, parents are looking for kid's travel activities or travel toys for toddlers. Traveling with kids means your journey will consist of activities such as craft or activity sets, printable road trip games, coloring, books, toys, travel games, sticker books, workbooks, family audiobooks, screen time, or family road trip movies, followed by travel snacks, then rinse and repeat!
Before leaving on a family vacation I find myself on Pinterest looking at all the super cute craft ideas. I often think how such crafts would be perfect activities for my kids on our next trip. However, the reality of trying to pull together all the needed craft supplies – while I'm busy getting my family packed for vacation – means it never happens. So, no matter how good my intentions, I'm never able to pull off DIY travel crafts.
📌 Pin it for later 📌
Pre-packaged, all-inclusive, ready to go Travel Crafts
Certainly my kids love to craft, especially my 8 year old daughter. Therefore, as a busy Mom I love to order pre-packaged, all-inclusive, ready to go craft options, that don't require any prep when I'm in a hurry. We have tons of craft supplies at home, and we spend hours crafting new creations, but when it's vacation prep time I've often got too many other things on my mind.
Similarly, the intention of this blog is helping parents to simplify your family adventures. Traveling with children is challenging and exhausting, but it's worth ALL the extra effort. Therefore, we want to remove the stress of family travel so you will look forward to creating family memories, and not dread preparing for your next family vacation.
Best 5 Travel Crafts for Kids
These are our favorite travel crafts for kids age 4-9 years. These travel crafts are no-mess, pre-packaged and ready to go activities for your next family adventure. They are lightweight and can be easily packed in a BE Family Travel Tray or in your carry-on luggage. Above all, these travel crafts are the perfect activities to entertain your child on an airplane or on a road trip.
Melissa & Doug On-the-Go Felt Friends Craft Activity Set
Wikki Stix Traveler Playset
Wikki Stix is made with non-toxic food grade wax and hand knitting yarn.
Furthermore, this product offers clean, quiet, hands-on and engaging play for any occasion – in the car, or on the plane. This travel craft is a great on-the-go activity!
The kit includes a convenient, bright red carrying case for imaginative play during travel.
Paint by Sticker Kids
Paint by Sticker Kids is available in multiple designs including: The Original, Unicorns & Magic, Zoo Animals, Beautiful Bugs, or Under the Sea.
This travel craft for kids includes everything you need to create ten sticker paintings on sturdy card stock. Plus, all the pages are perforated – making it easy to tear out each finished work to frame and share! Your child will paint their design with stickers! Furthermore, it's simple – find the sticker, peel, then place the sticker, and watch your painting come to life!
Make-a-Face Sticker Pad
Create a Face Sticker Pads are available in various designs including: Characters, Princess or Animals. They include 170+ stickers and 20 full color background pages for kids to create their own face designs. This activity promotes fine motor skills and creative expression for children age 3+.
Melissa & Doug Design-Your-Own Jewelry-Making Kits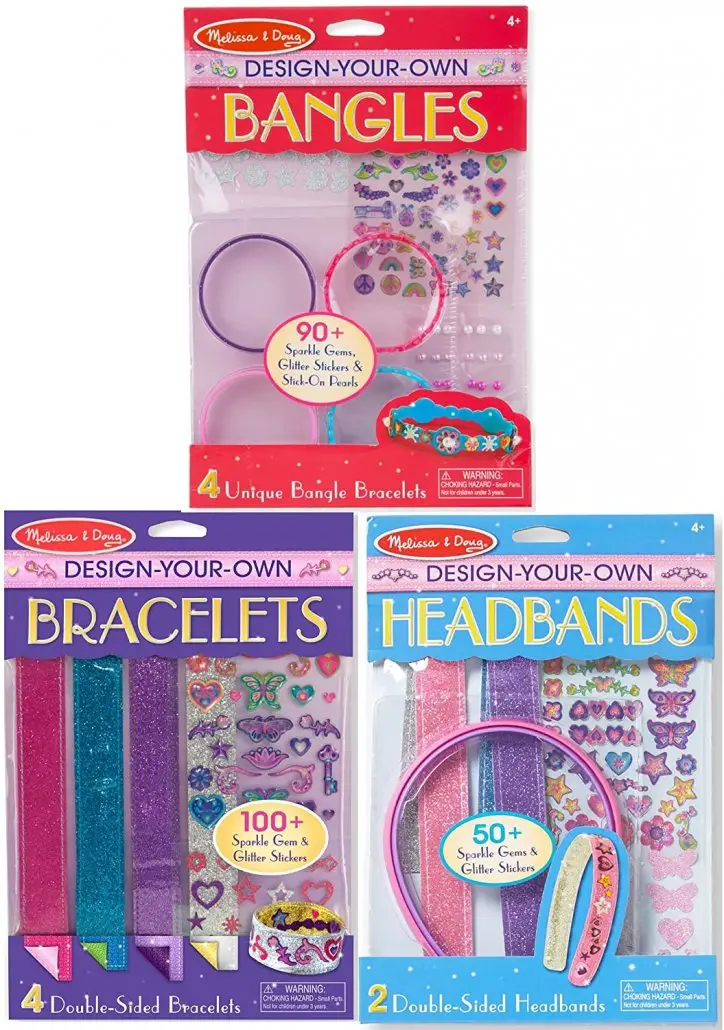 Melissa & Doug Design-Your-Own Jewelry-Making Kits include Bangles, Headbands, and Bracelets.
Each all-inclusive design kit includes at least 50 decorative stickers. There are multiple items in each kit and the simple process creates amazing results.
Therefore, this is the perfect travel craft for kids age 4+ when your family is on the go.
Also, for more great at home crating ideas visit our friends at JK Crafts who provide tons of helpful crafting tips and craft projects that your family will love!
Travel Activities for Kids
Another recommended travel activity for children is our FREE Printable Road Trip Games. Download these games that we created, they are tried and tested by kids, to provide hours of entertainment on your family travels. Including Road Sign Scavenger Hunt, Coloring Page, Tic Tac Toe, Word Search, License Plate Search Game – and our favorite – Road Trip Bingo. Download our FREE Printable Road Trip Games HERE.
In the meantime, we hope your kids will enjoy these travel crafts and these activities will help to simplify your family adventures. Having plenty of activities to rotate between will help to occupy your child. Plan to take regular breaks to stretch your legs, especially if you're traveling with a potty training toddler. Also, make sure you're aware of how to avoid to motion sickness in kids to make your journey smooth and uneventful.
Let us know what travel crafts your kids enjoy that would be a great addition to our next family vacation.
And remember, let's BE Family so you can enjoy the journey.
Until next time,
💕💖 Ruth
For more about family travel check out these posts:
Audiobooks For Family Road Trips
Simplify A Road Trip With Kids
The Best Travel Activities For Kids Age 4-8
The Best Road Trip Activities For Kids Age 9-12
📌 Pin it for later 📌
BE Family Products Inc., or (BE Family Travel) participates in the Amazon Services LLC Associates Program, an affiliate advertising program designed to provide a means for sites to earn advertising fees by advertising and linking to Amazon.com. Using any of the links on this website does NOT cost you anything but does help us continue to create content on this blog. Thank you so much for your support and for partnering with us. Let's BE Family.