As an Amazon Associate, BE Family Travel earns from qualifying purchases. Learn More
Taking a family road trip is an affordable way to travel if you have children. It also provides the opportunity to carry all the travel essentials in your vehicle. Plus, the added bonus of having your vehicle available to use at your vacation destination. But traveling with children requires a lot of extra stuff. Many parents find it stressful to know what to pack and how to prepare for a winter road trip. Traveling in the winter requires more preparation to ensure your family stays safe should you encounter bad weather.
Before your family hits the road for a winter adventure it's important to prepare your vehicle. Especially since you will be traveling during winter with cold temperatures, and the chance of ice or snow. There are winter road trip essentials that you need for your car and supplies to keep your family safe during a road trip emergency.
When deciding the best way to pack your car for a winter road trip with kids there is certain cold-weather gear that needs to be kept accessible. Follow our Car Packing Diagram below to see how to pack for a winter road trip.
In this post, I will share with you the important ways you can prepare your vehicle. And all the winter road trip essentials you will need! As well as showing you what to pack for a winter road trip with kids, I will share the best way to pack your vehicle, road trip ideas for kids, and a winter safety checklist for before and during your journey. Plus, the ultimate travel accessory to hold your child's drinks, snacks, and activities to keep them within easy reach as you travel.
What to Pack for a Winter Road Trip with Kids
When considering what to pack for a winter road trip with kids there are certain items that will help make your trip more smooth. From personal items for each family member to items for the actual vacation. Or road trip activities for kids and travel toys for a baby or toddler. To vehicle supplies that are essential for a winter road trip in a cold destination, and the preparations you can make beforehand. As well as safety advice to be aware of before and during winter travel. This post will cover it all! Read on to learn everything you need to know to prepare for a winter road trip with kids.
And keep reading to get our FREE Printable Road Trip Checklist so you don't forget any of the essentials for your next road trip with kids.
How to Prepare your Vehicle for a Road Trip
The last thing you want to deal with is your vehicle breaking down during a road trip with kids. It is important to take precautions to prepare your vehicle for a winter road trip. Have your mechanic perform a basic tune-up and ensure your vehicle is in optimal driving condition for a long road trip. To learn more read this article about how to prepare your car for a road trip.
Under the Hood
Start under the hood and check the battery because a weak battery will struggle in cold weather. Don't put yourself at risk of being stranded by waiting until your battery starts to show signs of weakness. Many auto parts stores or a car battery shop will test your battery for free.
Check your car's fluids before going on a road trip. To see if you have a fluid leak look for spots under your car where you typically park it.
The 6 main fluids to check to get your car ready for a road trip include:
Engine Oil
Engine Coolant
Brake Fluid
Power Steering Fluid
Windshield Wiper Fluid
Transmission Fluid
Vehicle Exterior
Next, you need to check the vehicle exterior. This includes inspecting the windshield for any tiny chips or hairline cracks. Test the windshield wipers, and check the blades and arms. A bad set of wiper blades can make driving treacherous, and even dangerous if you encounter bad weather.
Check your side mirrors are clean and adjusted correctly. Consider adding a blind spot mirror for extra safety.
Vehicle Lights
Checking your vehicle's lights may seem obvious, but we rarely notice when a bulb is out until someone tells us. You will need a second person to help you test the lights on your vehicle.
The 6 vehicle lights you should check to get your car ready for a winter road trip include:
Headlights
High Beams
Tail Lights
Turn Signals
Hazard Lights
Daytime Running Lights
Tires – Tread & Pressure
This is where the rubber meets the road! You must check your tires before you head out on a family road trip. Driving with bad tires could put your family's safety at risk. Start by checking the tire tread on all four tires. More tread allows more water to be expelled between the tire and the road. This improves your traction on the ground to avoid hydroplaning and increases stopping distance.
Tires are not safe and should be replaced when the tread is worn down to 2/32 of an inch. For more tire safety information visit NHTSA.
A simple way to measure the tire tread is the quarter test. Have you heard of that? Hold a quarter with George Washington's head down and place it in the tire tread groove. Ideally, part of his head will be covered. But if Washington's entire head is showing then consider a new set of tires.
Use a tire pressure gauge to check the tire pressure before you hit the road. The tire pressure can vary whether the vehicle is loaded or unloaded. If your car is packed and you are hauling a heavy load consider firming up the tire pressure. You can reduce the pressure once you arrive and unload. Make sure to re-check the tire pressure before leaving your destination.
Wheels and Brakes
Ensure your wheels are balanced. There is nothing worse than getting to 65 mph on the interstate to find your car has a shake. If your wheels are out of balance it's much easier, and more comfortable, to get this fixed before heading out on a winter road trip.
If you notice a shake while breaking then it's important to have the brake pads checked or changed. Brakes are harder to check without taking the wheels off. Warped rotors can also cause a shake when you are trying to stop. If you are having your rotors changed then consider changing your brake pads at the same time.
Spare Tire
It is a good idea to check your spare tire before packing your car for a family road trip. If you've never used it then be aware of where it is located. Make sure you have the necessary tools to change the spare tire. It's good to know whether you have a full-sized spare tire or just a donut tire.
Winter Road Trip Essentials for the Car
Now that your vehicle is ready to go, you should also carry basic snow supplies for your winter road trip, as well as essential supplies to help in case of an emergency. Here are the winter road trip essentials to keep in your car.
Ice Scraper
Before you hit the road you will likely need to defrost your windshield. Keep an ice scraper in your vehicle to scrape your windshield before you begin your road trip. And a can of windshield de-icer will help to melt the snow more quickly.
Winter Grade Washer Fluid
All the salt and dirt on the roads will make your windshield dirty. Don't try to clean it with water which will freeze to your windshield. Stock up on winter-grade washer fluid because you will likely get through a lot during a winter road trip in the USA.
Traction and Snow Removal Supplies
Pack a snow shovel, snow brush, and sand, or kitty litter in case your vehicle gets stuck during a winter road trip. The sand or kitty litter will give your tires enough traction on icy spots. You will be glad to have a snow shovel and broom if you get stuck in the snow and need to dig your vehicle out to get back on the road. A tow strap will come in handy if your vehicle is stuck and you need someone to help pull you out.
Snow Tires or Tire Chains
When taking a winter road trip in the USA it is important to be aware of each state's tire chain laws. These laws dictate when you can, should, and absolutely must use tire chains, as well as when it's not permitted. Make sure you know your tire size before buying chains. In case of icy and snow-packed roads, carry tire chains and know how to use them. Using tire chains during snow, rain, or slippery conditions will help keep your family safe on a winter road trip.
Full Tank of Gas
Start with a full tank of gas before you head out on a winter road trip with kids. And don't go below half a tank of gas. You never know when you will hit traffic, experience slow winter driving conditions, or be forced to stop on the interstate due to bad weather. If you are stopped or stuck during a winter road trip then you may need to run your car to keep warm while you are waiting for help. To avoid carbon monoxide poisoning it is essential that you keep the tailpipe clear of snow and only run the engine intermittently.
Winter Roadside Emergency Kit
If you do get stuck on the side of the road it is important to be prepared with these supplies that you will find in a winter emergency kit like this. Double-check that your roadside emergency kit includes jumper cables or a jump starter pack, safety vest, flashlight, emergency markers, and flares.
Road Trip Packing List
Firstly, you have prepared your vehicle and packed all the winter road trip essentials for your vehicle. Now it's time to start thinking about a winter road trip packing list. What are the road trip essentials to pack for your family? How will you entertain the kids for hours in the car? This checklist (download) removes all the guessing and helps parents know exactly what to pack for a road trip with kids.
Winter Road Trip Outfits and Supplies
Be prepared, in the event you have to spend the night in the car with your family, with these winter road trip outfits and supplies. Above all, you never know when winter weather may cause delays. Therefore, it is important to be prepared so you can keep your family safe should the unexpected occur.
Here are the important items to include in your winter road trip packing list (see also, 'What to Pack on an RV Trip').
Sleeping Bags and Blankets
Make sure you have a way to keep warm if you get stuck for an extended period during your winter road trip with kids. Hiking sleeping bags pack down small and can be stored under the seats. We also carry blankets or small throws for Mama and the kids. Dad usually drives and likes the vehicle cool so everyone else is more comfortable if we can cover up with a blanket.
We carry extra towels in case anyone gets sick. These would come in handy if we needed more layers to cover up and keep warm. Read this post to learn more about how to avoid motion sickness in kids.
Hand Warmers
For winter travel hand warmers are easy to pack and can help you stay warmer in a pinch. Insert into gloves or pockets and they provide up to 10 hours of heat. They are available in several styles designed for your hands, feet, and body.
Extra Food Supplies and Water
No family road trip is complete without a selection of healthy road trip snacks for kids. In addition to snacks to eat during your journey, it is important to carry extra food supplies and plenty of water in case you get stuck on the road for an extended period. If there is bad weather and you cannot get to a restaurant or store to buy food. Therefore, it is important to have high-calorie and protein-rich food that won't spoil. Think nuts, jerky, dried fruits, granola, tuna pouches, and even chocolate (since it's winter and won't melt).
Winter Road Trip Outfits
Winter Road Trip Outfits must include layers and snow clothes that are warm and waterproof. Dress your child in layers that can easily be added or removed as the temperature may vary throughout your road trip. Don't be tempted to dress the kids in only lightweight pajamas just in case of an emergency. If your vehicle slides off the road and you get stuck in cold weather then the temperature inside the car will drop quickly.
The best snow clothes to pack for a winter road trip include:
Hat (we lose the most heat through our head)
Scarf
Multiple pairs of wool socks
How to Pack for a Winter Road Trip
This diagram shows you how to pack your car for a winter road trip with kids.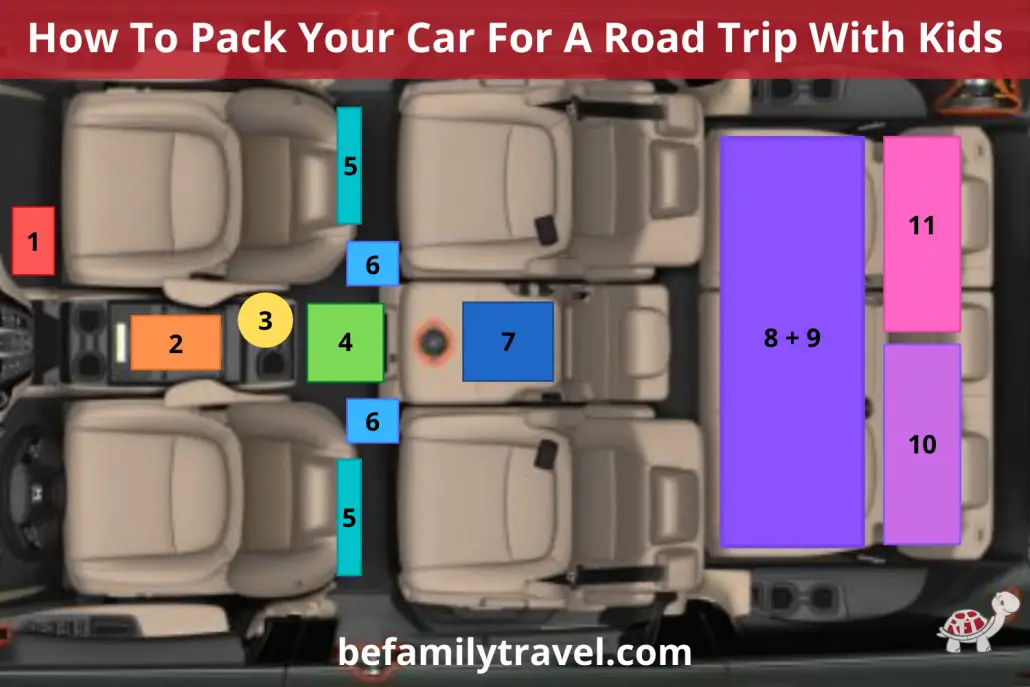 This winter road trip packing list is the best way to pack your vehicle for a family road trip. You should allow space for:
Personal Items – purse, magazines, lip balm, lotion
Road Trip Electronics including cell phone and car chargers
Trash Can and easy access to a First Aid Kit, Medication and Car Clean-Up Kit
Road Trip Toys and Activities for the Kids with a Pillow and Blanket
Middle Seat Organizer to store miscellaneous items between the seats
Suitcases with Clothing, Shoes, and Toiletries – use packing cubes
Gear for your road trip destination such as Snow Gear 
Cooler with Groceries and Items for the Vacation Rental Property
Overnight Bag with changes of clothes
To learn more read our detailed post about How to Pack Your Car for a Family Road Trip.
Keep Snow Clothes and Cold Weather Gear Accessible
Even if you don't plan to stop and play in the snow you should keep your cold-weather gear easily accessible. Kids get restless on long road trips and often need a break to stretch their legs and run off some energy. The last thing you want to do in cold temperatures, or when it is snowing, is to dig around in your trunk looking for snow clothes. Knowing where you put the snow gear will make it much easier to kit everyone up in snow clothes before they get out in the cold.
Make sure you have some large trash bags in case you need to carry soaking wet clothes. But ideally, you would lay out damp snow clothes in the back of the car to dry before your next road trip break.
Winter Road Trip Ideas for Kids
Are you looking for ideas to entertain the children on your next family road trip? When traveling with kids the journey must include a selection of activities. The best winter road trip ideas for entertaining kids include travel crafts or activity sets, sticker books, workbooks, printable road trip games, toys, travel games, coloring, books (including audiobooks and podcasts), music, screen time, family road trip movies, followed by snacks, then rinse and repeat! Click here to learn more about simplifying a road trip with kids.
Get our Printable Travel Games for Kids – The Ultimate Activity Pack, which has 30 pages to help to entertain the kids on your next family road trip.
Winter Road Trip Checklist for Safety
Finally, every parent wants to be aware of safety when traveling with children. How do you keep children safe inside the car? There are several simple precautions you can take before and during your journey. Follow this winter road trip checklist for safety.
Communicate Your Plans
Plan the route you will take and tell someone where you are going. Check-in with this person throughout your journey so they are aware when you reach your destination. It's best to take this precaution in case you lose cell phone coverage somewhere remote and get into difficulty. This contact person is aware of your intended location and can raise the alarm if necessary.
Check the Weather Forecast and Road Conditions
Be aware of the weather forecast ahead of time. It is better to wait out a storm at home. Don't head off on a winter road trip unaware of an impending storm and end up stuck on the road. Know the road conditions radio station, phone number, and website for the states and highways that you will be traveling. The Federal Highways Administration provides national traffic and road closure information.
Don't Wear a Thick Jacket under the Car Seat Harness
Dressing your child in a heavy winter coat in the car seat can be dangerous. This can make it difficult to buckle the car seat properly. Check the car seat straps are not too loose. Also, young children can overheat in a thick jacket. It is best to dress your child in layers and then cover them with a blanket.
Ensure the Car Seat is Installed Correctly
To help keep your child safe in the event of an accident it is important to make sure the car seat is installed correctly. Find a car seat safety technician to install the car seat correctly in your vehicle. Use the National Child Passenger Safety website to search for a technician in your area. Or check with your local fire department, ambulance service, or hospital to see if there is a car seat tech on staff.
Parenting Tip: Before embarking on a long road trip with a baby for the first time get your child used to the car seat. Strap your baby into the 5-point harness and take some shorter local rides in the car. This will help get the baby used to the car seat and the motion of riding in the car.
Keep Children in a 5 Point Harness as long as possible
Using a car seat with a 5 point harness is the safest option for your child should they be in an accident. It may be tempting to graduate your child to a backless booster seat or just to use the regular car seat belt. If your child still naps in the car then don't use the backless booster yet because the child will slouch out of the seat belt. This provides much less protection than a car seat with a 5 point harness. The high back booster will hold your child's head upright when they sleep and hold their bodies in a safe position in case of an accident.
The National Highway Traffic Safety Administration website has a very useful Car Seat Finder to assist you with choosing the right car seat for your child.
Wear Seatbelts Correctly
If your child is big enough to ride with a booster seat, or just the seat belt, then make sure they sit straight up with the shoulder belt resting on their shoulder. Don't allow your child to tuck the seatbelt under their armpit. This will not provide adequate protection in the event of an accident. Winter driving can be hazardous so it's important for everyone to buckle up safely in their seats.
Keep Child's Activities Within Reach
Reaching into the backseat to pass your child items is dangerous anytime you are driving, but especially in winter. It is essential to keep your child's activities, snacks, and drink within their reach. If they have easy access to what they need then you can keep your full attention on the road.
We like to use the BE Family Travel Tray to hold our child's activities. It's designed to be used with a car seat but could be adapted on an airplane using the seat-back tray. It is perfect for a drink, snacks, coloring book, crayons, and toys to keep everything within your child's reach. And includes a tablet holder, pencil case, and large book pocket. There is no need to unload the entire play tray when it's time to leave, the side pouches zip and fold in to make the perfect storage as an all-in-one Travel Bag. It detaches into two parts and the lower lap tray is great for toddlers. Also available in red, blue or pink.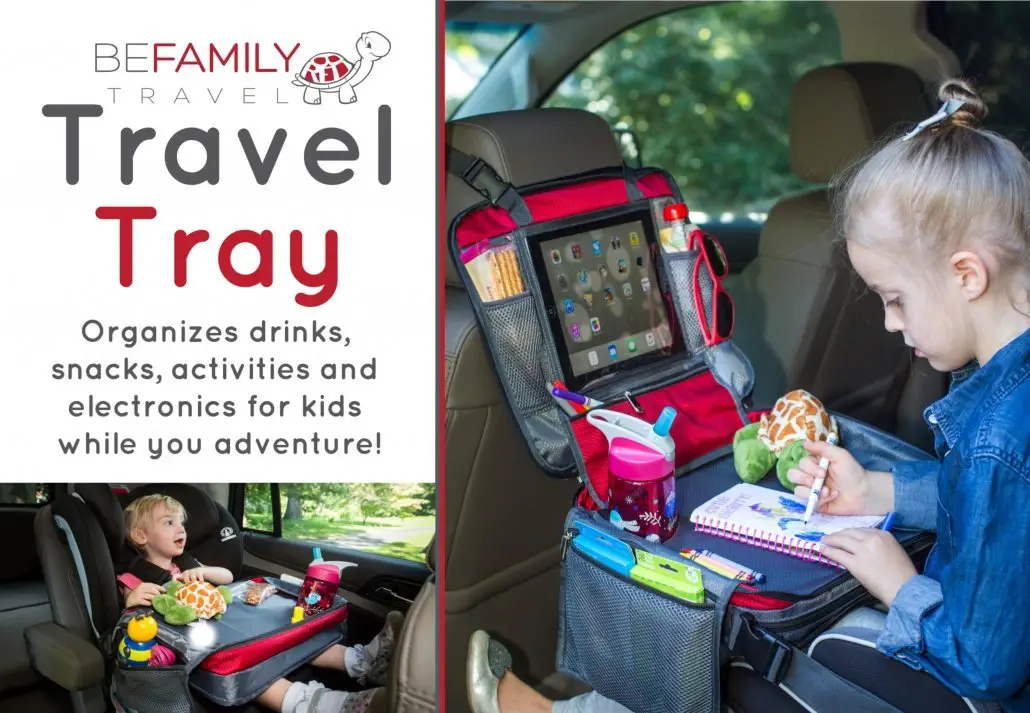 Winter Road Trip with Kids Wrap-up
I hope this post will give you the confidence you need to plan that winter road trip with your family. I have taken the guess-work out of your road trip planning and provided you with lots to consider. Overall, taking these steps to prepare for your winter road trip will help your travels to go more smoothly. We aim to help you simplify your family adventures. Use the road trip checklist to make sure you don't forget any of the winter road trip essentials. And follow the safety checklist to help keep your family safe as you travel.
And remember, let's BE Family so you can enjoy the journey.
Until next time,
💕 Ruth
For more about family travel check out these posts:
How To Prepare Your Vehicle for a Road Trip
Simplifying a Road Trip with Kids
What are the Best Road Trip Snacks for Kids?
How To Pack Your Car for a Family Road Trip

BE Family Products Inc., or (BE Family Travel) participates in the Amazon Services LLC Associates Program, an affiliate advertising program designed to provide a means for sites to earn advertising fees by advertising and linking to Amazon.com. Using any of the links on this website does NOT cost you anything but does help us continue to create content on this blog. Thank you so much for your support and for partnering with us. Let's BE Family.