As an Amazon Associate, BE Family Travel earns from qualifying purchases. Learn More
Taking a family vacation with kids is a great way to get away from your daily routine and make memories as a family. But, what are the top family vacation destinations in the US for 2021? It is important to choose a family vacation destination that appeals to the kids and the adults, with something to do for everyone.
Parents may want to rest and relax by the pool or on the beach, while kids may prefer the thrill of rollercoasters at a theme park. If you are taking a multi-generational vacation with the grandparents then you will want to pick a location with activities suitable for all ages. Whether you are planning an action-packed adventurous vacation in the outdoors, a city trip, or a beach getaway. The United States is a vast and diverse country with endless options for great family vacation destinations.
In this post, we will provide inspiration for your next trip by highlighting the best kid vacation spots in the US. As well as discussing whether or not you should book a vacation with kids in 2021, the travel deals that are available and the precautions you should take. Plus, our list of the top family vacation destinations in the United States.
Where is a Good Vacation Spot for a Family?
Choosing a good vacation spot with kids depends on what is important to your family. Are you looking to take a family road trip and stop at multiple destinations? Or are you wanting to travel further afield and planning on flying with kids? This decision may depend on the length of your trip, your vacation budget, and how long you want to spend traveling vs. the actual time at your destination.
You only have 18 summers with your child before they are grown. Start thinking now about the must-see family vacation destinations that you want your children to visit. Check out this post about the best ways to start saving for a vacation with kids.
Should I Book a Vacation with Kids for 2021?
Even if you have decided on the next vacation destination to visit with your kids, your plans have probably been affected by the pandemic. Covid-19 had a massive impact on the travel industry and many travel plans were canceled or postponed. Now parents are wondering "should I book a vacation for 2021?"
Even with the rollout of the Covid-19 vaccine, there is still much uncertainty about when we will be able to travel freely. There is concern about future waves as the virus surges, and many countries have border closures and shifting quarantine restrictions. All this uncertainty means many families are choosing to vacation closer to home in 2021.
The Best Travel Deals For Families
There are currently many great travel deals available before travel and prices are expected to increase in the second half of 2021. If you see a good deal you could book now as long as you take precautions. Make sure you protect yourself and can change or cancel the trip without penalty.
Many airlines and hotels have much more flexible cancellation policies now than prior to the pandemic. They want to encourage tourists to travel but understand that consumers are nervous to commit to a trip without flexibility. This makes it challenging for the travel industry, but provides added confidence for families to travel. Read the cancellation policy carefully before you book.
If you have loyalty points or frequent flier miles, now is the time to use them. Not only will you avoid spending cash, but you're also unlikely to lose them if you have to cancel. Many of the fees that applied to reward cancellations before the pandemic have now been waived.
Once travel resumes wholeheartedly, travel experts expect a deflation of loyalty point value as airlines and hotels bump up point thresholds for tickets and rooms. Therefore, since our family has not been able to fly internationally this past year we have been using our United Airlines miles to book hotel accommodation and stay for free!
Top Family Vacation Destinations in the US for 2021
Many families are choosing to travel within the US this year. Parents are looking for outdoor activities and destinations with wide-open spaces to vacation with kids. This may be the year to hold off on a big city tour with crowds of people and instead opt for being outdoors. The best family vacation destinations in 2021 include the beach, the mountains, National Parks, and even the countryside and theme parks are popular.
Lots of amusement parks and attractions are open with reduced capacity. This is the ideal time to be outdoors at a theme park or even Disney World because there are significantly fewer people allowed to visit each day. The parks are not crowded so the lines and wait times for rides are much shorter. Our family visited Dollywood, TN in late 2020 and 2021 and I was very impressed by the social distancing measures and safety precautions that were in place.
Here is a list of the Top Family Vacation Destinations in the US for 2021.
Where are the 10 Best Family Vacation Destinations in the US?
Here is our round-up of the Top 10 Vacation Destination for Families with Kids in the US for 2021. In future years I would recommend adding more big cities to the list. However, for our current pandemic situation, these are the 10 Best Family Vacation Destinations in the US. This list will provide inspiration for your next trip with activities that everyone in your family can enjoy. Keep reading to learn more about each of these destinations, and find out why they made our top 10 list.
1. Walt Disney World – Orlando, FL
The magic of Walt Disney World Resorts is timeless! Whether you are taking young children, teenagers, grandparents, or anyone in between, Disney has something for everyone. Orlando, Florida is family-friendly with plenty of attractions and unique adventures, which makes it a top vacation destination for families.
Visit the four extraordinary parks at Walt Disney World Resort including Magic Kingdom Park, Disney's Animal Kingdom, Disney's Hollywood Studios, and Epcot. As well as water parks, themed resort hotels and spas, golf courses, camping, the Disney Springs outdoor shopping center, dining, and other entertainment venues.
Little ones will be in awe and amazement at seeing their favorite Disney characters. Social distancing requirements make this "meet and greet" different than pre-pandemic but this is no reason to postpone a trip to Disney.
The reduced capacity in the parks makes wait time shorter and attractions less crowded. The social distancing and mask requirements are taken seriously to keep visitors safe and healthy. And, 2021 is the 50th Anniversary which makes it the perfect time to plan your dream trip to Walt Disney World. These celebrations will last for 18 months, from October 2021 to early 2023.
Read our articles to learn more about Disney World Itinerary Planning: What You Need to Know and don't miss our Tips and Tricks for Disney World.
2. Destin, FL
Destin is one of the top family vacation destinations in the US. Located on the Gulf of Mexico in the Florida panhandle. Destin is known for its stunning white sandy beaches, golf courses, amazing fishing opportunities, and the Destin Harbor Boardwalk.
Firstly, experience The Crab Island Adventure Tour, which is a fun-filled excursion in a 34′ power catamaran. Activities include water inflatables, kayaking, paddle boarding, snorkeling, shelling, and more. Take a glass-bottom shuttle boat to the famous Crab Island sandbar for some fun in the sun. The shallow water is perfect for kids to learn how to snorkel and look for hermit crabs or fish.
Additional things to do in Destin with kids include Big Kahuna's Water & Adventure Park, with over forty water attractions and a mini-golf course. The Gulfarium Marine Adventure Park is a marine park that features dolphin encounters and shows with sharks, rays, and dolphins.
The Henderson Beach State Park provides an experience like no other, with thirty-foot white sand dune and warm gulf waters. This majestic shoreline also offers fishing, a nature trail, and 60 campsites connected to the beach via a boardwalk.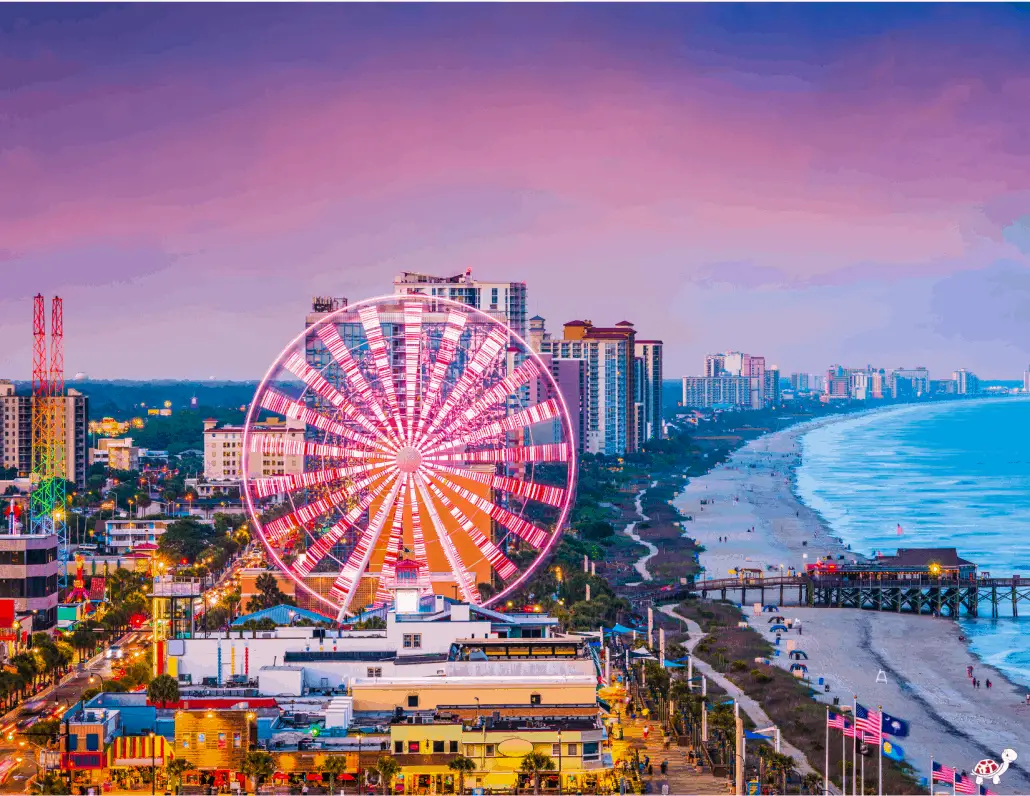 3. Myrtle Beach, SC
Myrtle Beach is a kid-friendly destination with all sorts of activities for families. Located on the coast of South Carolina, Myrtle Beach is an affordable family vacation destination that is popular for its 60 mile stretch of beaches. Kids will enjoy the day building sandcastles and swimming in the Atlantic Ocean. There is a beachfront boardwalk lined with souvenirs, arcades, and restaurants. As well as one of the country's tallest Ferris wheels, the landmark SkyWheel, and the Family Kingdom Amusement Park.
The Myrtle Beach area is crowded and heavily developed but it still tends to be a favorite vacation spot for families. With over 80 golf courses in Myrtle Beach, including 50 mini-golf courses, a round of putt-putt is the perfect outdoor family activity. There is a vast selection of family attractions and museums in Myrtle Beach including Ripley's Aquarium, WonderWorks, the Pirates Voyage & Dinner Show, or Alligator Adventure.
If your family prefers to escape the bustling beaches and enjoys nature and the outdoors then visit Myrtle Beach State Park. This park is nestled among the oceanfront maritime forest and provides a nature trail, educational opportunities, and some of the best surf fishing South Carolina has to offer. Also, close by are the Brookgreen Gardens, a sculpture botanical garden, and wildlife preserves with trails through several ecosystems in nature reserves on the property.
4. Charleston, SC
Charleston is a historical South Carolina port city, famous for its incredible food, palm-tree-lined cobblestone streets, and pastel antebellum houses. Full of charm and southern hospitality, Charleston has lots of things to do with kids.
During a family vacation in Charleston plan to visit the Children's Museum of the Lowcountry, which is a hands-on exhibit for children under-10, the South Carolina Aquarium, and our family favorite is taking a horse-drawn carriage ride. Older kids will also enjoy the Fort Sumter National Monument, viewing the beautiful historic homes at The Battery & White Point Gardens, and Magnolia Plantation & Gardens.
There is a wide selection of family-friendly restaurants in Charleston, many offering delicious fresh seafood. If you prefer to include time on the beach during a visit to Charleston, then the beach-front areas of Folly Beach, Sullivan's Island, and Isle of Palms are close-by.
5. Outer Banks, NC
The Outer Banks (frequently abbreviated OBX) is a string of barrier islands off the coast of North Carolina. It is a popular family vacation destination, known for its expansive sandy beaches and slower pace of life. The OBX is a hidden gem because it has maintained much of its natural beauty and rich history.
The OBX has are plenty of family-friendly activities for children and adults. From relaxing in the sun on the beautiful beaches to enjoying the large selection of outdoor activities and sports such as bike riding, hiking, kayaking, paddle boarding, or fishing. There is a vast selection of open-air dining at local restaurants, family amusements, and eclectic shopping. Visit museums, monuments, and lighthouses to learn more about the Outer Banks' history.
There are plenty of family-friendly things to do in Duck, NC with kids. Be sure to catch a glimpse of the Wild Horses in Corolla, fly a kite then watch the breath-taking sunset at Jockey's Ridge State Park, and visit the Wright Brothers National Memorial in Kitty Hawk to learn about the first in flight. Read this post to learn more about the most popular things to do in Outer Banks with kids.
6. Asheville, NC
Asheville is a popular tourist destination for families, located in the beautiful Blue Ridge Mountains of Western North Carolina. It is known for its vibrant arts scene, historic architecture, and spectacular mountain views.
If you are wondering what to do in Asheville with kids, then you won't be disappointed. Asheville offers an abundance of outdoor hiking trails, with many trails suitable for children, on the Blue Ridge Parkway, in Pisgah National Forest, or The North Carolina Arboretum. Our family's favorite hiking spots are Craggy Gardens and Graveyard Fields. For older kids who enjoy the outdoors, there is mountain bike riding or tubing on the French Broad River with many access points along the river.
When visiting Asheville with kids allow time for the Asheville Museum of Science, the WNC Nature Center, the Asheville Pinball Museum, and the Adventure Center of Asheville.
LaZoom offers a Kid's Comedy Tour on a big purple bus around downtown Asheville. Geared towards kids 5-12 years old, this wildly funny, yet educational and entertaining tour features the best combination of Asheville history and kid-centric comedy. This tour is fun for kids and adults and will leave the whole family roaring with laughter.
However, Asheville is perhaps best known as the location of George Vanderbilt's Biltmore Estate – a historic house museum and tourist attraction. Families are invited to come and play for a day at Biltmore. The estate is the perfect place to create lifelong family memories. There is a kid's audio guide of the Biltmore House available. Children will also enjoy the playground, farmyard, ice cream at The Creamery, bike riding, and exploring the beautiful gardens and landscape.
Beer City USA
Asheville is also famous as Beer City USA. There are dozens of breweries offering a wide choice of local brews. Many of the breweries are kid-friendly and welcome families by providing outdoor games and activities for kids. Check out Highland Brewing or the Sierra Nevada Taproom nearby in Mills River. And Asheville is also known for its vast selection of local farm-to-table dining options. Our favorite family-friendly restaurants in Asheville include Early Girl Eatery for breakfast. Plus, Tupelo Honey, White Duck Taco Shop, Rocky's Hot Chicken Shack, and BimBeriBon.
7. Pigeon Forge, TN
Pigeon Forge is a mountain town in eastern Tennessee, located in the Great Smoky Mountains. The Island is a popular attraction for kids in Pigeon Forge. This family-friendly entertainment center offers live music, games, and exciting rides, along with a selection of restaurants, a hotel, and retail shops. The dancing fountain timed to music and The Great Smoky Mountain Wheel are a big hit with our family!
The main attraction in Pigeon Forge is Dollywood, which is Dolly Parton's Appalachian-themed park with rides and an adjoining water park. Offering over 50 world-class rides, high-energy entertainment and music, and award-winning dining. Dollywood has a kid-friendly atmosphere with fun for the whole family.
Dollywood offers four seasonal festivals which are unique, but our family's favorite time to visit Dollywood is for Smoky Mountain Christmas in November or December. It is the perfect place to get in the Christmas spirit with more than five million holiday lights, along with festive holiday performances and holiday-themed food.
Our family enjoys visiting Dollywood so much that we are season pass holders. This is an affordable way to play at Dollywood multiple times throughout the year, and the season pass essentially pays for itself after a second visit. It is worth upgrading at least one adult to the Gold Season Pass to receive free parking (a $20 saving per visit) and a 20% discount on food, merchandise, and lodging. If you have a preschooler age 4-5 years they may be eligible to receive a FREE Pre-K Imagination Season Pass to enjoy FREE fun at Dollywood and Dollywood's Splash Country.
Visit Gatlinburg, TN with kids
Just a few miles south of Pigeon Forge you will find the town of Gatlinburg, TN. This is another fun mountain town popular for family vacations. Gatlinburg has many family-friendly attractions including Ripley's Aquarium of the Smokies. As well as the Space Needle observation tower, and the Sky Lift Park with a 2.1-mile aerial cable car. Families also love Ober Gatlinburg which is a mountainside amusement park. It features skiing, mini-golf, wildlife encounters, a mall, and more.
One of our favorite places to stay with kids in the Smoky Mountains is Wilderness at the Smokies, a few miles north in Sevierville. This luxurious family resort features a year-round indoor waterpark, two outdoor waterparks, and a family adventure center. There are multiple on-site dining options suitable for families, and in the winter there is an outdoor ice skating rink.
With their close proximity to one another, you could stay in any of these mountain towns and easily access the family attractions in Pigeon Forge and Gatlinburg.
8. Lancaster, PA
Located in Pennsylvania Dutch Country, Lancaster, is one of the oldest inland towns in the United States. Lancaster is the ideal vacation destination for families with younger children. Teenagers may get bored, but there is plenty to do in Lancaster with little kids.
Visit Hands-on House, Children's Museum of Lancaster, with interactive exhibits geared for kids ages 2 to 10. Dutch Wonderland is a 48-acre amusement park with roller coasters, water slides, kids' shows, a castle, and campgrounds. For the train enthusiast, take a steam train ride through Pennsylvania Dutch Country on the Strasburg Rail Road.
The Cherry Crest Adventure Farm is 5-acres with a corn maze, pumpkin patch, slides, wagon rides, and a petting zoo. Explore Amish Country to learn more about Amish history and heritage.
Visit The Amish Farm and House, a historic Amish site that offers guided house, bus, and farm tours, with a schoolhouse and animals to view. Or The Amish Village provides an authentic view of today's Amish lifestyle. The 12-acre heritage museum offers guided tours through an 1840s Amish homestead, barn, and schoolhouse.
Get a glimpse of a real working farm with a farm stay at Verdant View Farm. Wake up and head to the barn for morning chores and a hands-on farm experience before a family-style breakfast. Children will love to milk a cow, feed the goats, collect fresh chicken eggs and visit the bunnies.
Refreshing Mountain is a year-round retreat and adventure center providing family-friendly fun, with zip lines and ropes courses.
Nearby, families will also enjoy Hersheypark, a family theme park located in Hershey, PA. Or kids love Legoland Discovery Center in Philadelphia.
9. San Diego, CA
San Diego is a coastal city in California, on the Pacific Ocean. Known for its beaches, parks, and warm climate. It is a popular vacation destination for families because there are tons of fun activities for the whole family. San Diego boasts more than 70 miles of sandy beaches where families can take surfing lessons, go sea-kayaking, or build sandcastles.
Head north to Carlsbad to visit the Legoland California Resort. Filled with more than 60 kid-friendly rides, shows, and attractions all built for interactive fun. Kids can even drive their own cars at the driving school. Legoland is geared for families with children between the ages of 2 and 12! During the summer months, kids will love to splash and cool off at the Legoland Water Park.
What are the Best Attractions in San Diego for Kids?
Balboa Park is a 1,200-acre historic urban cultural park. It offers more than 16 museums, multiple performing arts venues, lovely gardens, and trails. There are many other creative and recreational attractions, including the San Diego Zoo.
San Diego offers many options for sea life and animal lovers. The San Diego Zoo Safari Park is a 1,800-acre zoo in the San Pasqual Valley area of San Diego. The African Tram is the park's main attraction. It transports visitors through a wide-open landscape similar to that of an African safari. Also, SeaWorld San Diego is home to world-class animal shows, presentations, and exhibits. You can get close to dolphins, penguins, sharks, and more.
Belmont Park is a historic beachside amusement park with a retro vibe. The USS Midway Museum is a historic naval aircraft carrier with exhibits in downtown San Diego. When it's time for the kids to eat, San Diego has an abundance of family-friendly restaurants. Visit Old Town, which is a neighborhood with over 25 eateries within a one-mile radius.
10. Sedona, AZ
The desert town of Sedona is a top family vacation destination in Arizona. With many outdoor attractions and cultural treasures, there is no shortage of fun things to do in Sedona with kids. And the bright blue skies and dramatically colorful landscape, make Sedona one of the most beautiful places on earth.
But, what are the best things to do in Sedona with kids? Families visiting Sedona enjoy chasing the stunning sunsets, exploring galleries, and hiking the kid-friendly trails in the great outdoors. Red Rock State Park is a terrific place to explore with its child-friendly hiking trails suitable for kids age 6 plus. Visiting this park will enable you to see Cathedral Rock, one of the most famous landmarks in Arizona. This destination is ideal for families who want to take a picturesque and fun nature trip.
If you are looking for a child-friendly place to cool off then head to Slide Rock State Park. This 43-acre apple tree farm in Oak Creek Canyon promises to offer a fun and memorable family day out. Don't forget to bring swimsuits for your family so you can enjoy the cold natural water slide.
End your day in Sedona watching the awe-inspiring sunset from the Sedona Airport Overlook. This lookout point provides views of the town and the rugged red sandstone hills that are illuminated at sunset. Be aware that all available free parking spots will be taken long before sunset, so get there early to find your spot!
Summary of the Top Family Vacation Destinations in 2021
Whether you are looking to plan a beach getaway, an adventurous outdoor vacation, or visit attractions in a city this post offers plenty to choose from. Every parent must choose what is most important for their family on a vacation, to make the experience enjoyable for everyone. Therefore, I hope this roundup of the top family vacation destinations in the US will provide inspiration for your next trip in 2021 and beyond.
And remember, let's BE Family so you can enjoy the journey.
Until next time,
💕 Ruth
For more about family travel check out these posts:
How To Start Saving For A Vacation With Kids
How to Pack Your Car for a Family Road Trip?
Family Beach Vacation – Ultimate Guide & Packing Lists
Family Travel Quotes to Inspire your Family Adventures
BE Family Products Inc., or (BE Family Travel) participates in the Amazon Services LLC Associates Program, an affiliate advertising program designed to provide a means for sites to earn advertising fees by advertising and linking to Amazon.com. Using any of the links on this website does NOT cost you anything but does help us continue to create content on this blog. Thank you so much for your support and for partnering with us. Let's BE Family.