As an Amazon Associate, BE Family Travel earns from qualifying purchases. Learn More
These kids' travel accessories will help entertain your little ones and provide solutions for packing and storage on your next family road trip. If you are taking a family road trip or traveling with kids, then check out these essential road trip accessories for kids. When we ran a giveaway for our family travel community, with our favorite road trip accessories, we received lots of inquiries about the items in The Ultimate Road Trip Travel Bundle for Kids, so we wanted to share more details about them.
What are the Best Road Trip Accessories for Kids?
These road trip essentials for kids will help your family travels go a lot smoother. As parents, this is our overview of the top 5 best road trip accessories for kids.
The BE Family Travel Tray will hold your child's activities. It hooks over the headrest of a front seat, and then rests in the child's lap. It is designed to be used with a car seat, but could be adapted on an airplane using the seat-back tray. The travel tray is perfect for a drink, snacks, coloring book, crayons, and toys to keep everything within your child's reach. And the kid's activity tray includes a tablet holder, pencil case, and large book pocket.
There is no need to unload the entire play tray when it's time to leave, the side pouches zip and fold in to make the perfect storage as an all-in-one Travel Bag. The travel tray detaches into two parts and the lower lap tray is great for toddlers. Available in red, blue or pink.
📌 Pin it for later 📌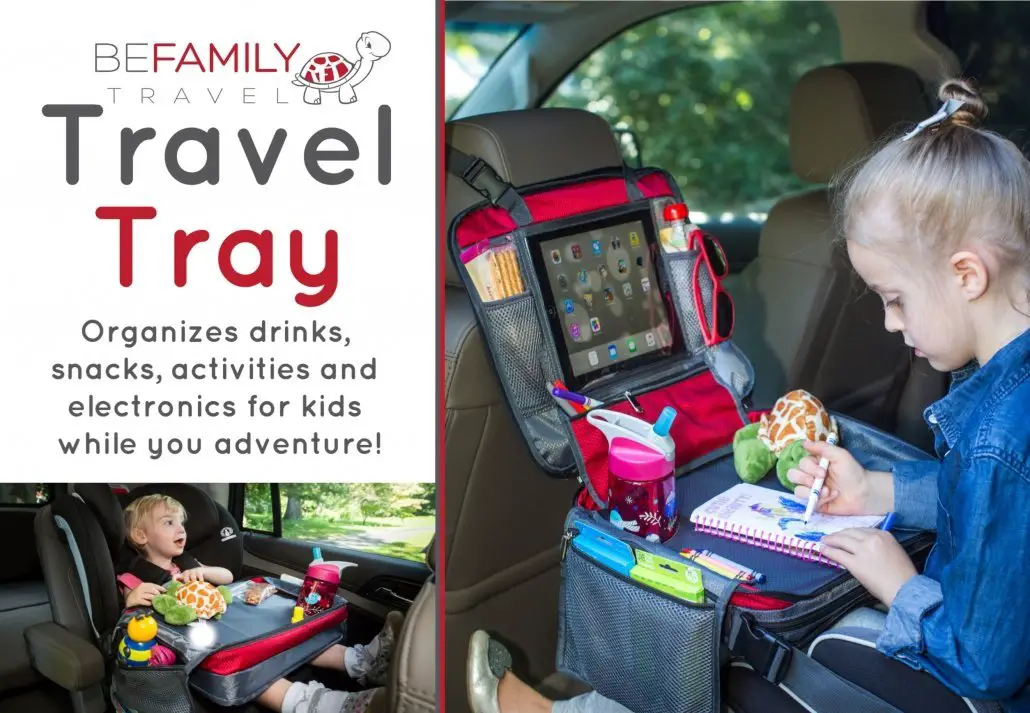 Our friend, Alex, from Travel Fashion Girl, is running a sale on her Compass Rose Packing Cubes. Click here to buy now and SAVE while stock lasts. These packing cubes are the perfect width for international carry-on luggage (dimensions are 13 x 5 x 2.8 inches).
The color and number coded organizational system includes 2 grey and 2 red packing cubes. Each cube has a number from 1-4 offering maximum luggage organization.
This carry-on packing system was by blogger, Travel Fashion Girl. It offers six unique packing strategies for an efficient, stress-free travel experience. The different combinations of color and numbers on the bags make it easy to separate your family members clothing. We bought multiple sets of these packing cubes and divided up the colors / numbers for each family member. The kids are red, and the parents are grey.
We use the packing cubes to organize clothing for each day of our road trip (see also, 'What to Pack on an RV Trip'). Or by destination, or the type of clothing. There are multiple ways to use the packing system on a road trip with kids. Packing cubes are also handy in a diaper bag or backpack to help organize items and keep essential travel items within easy reach (see also, 'How to Pack a Backpack for Travelling').
The structured fabric retains the flat rectangular shape so your packing cubes always fit in your suitcase. They don't bulge or lose shape once filled so you can neatly stack them like shelves or lay them flat on top of each other. They offer more compression than a standard packing cube due to durable fabric and quality zippers. These packing cubes look small but customers fit 3-10 clothing items in each cube.
The Trunki Kids Ride-On Suitcase is a boredom busting – sit-on, ride-on, carry-on. It will keep toddlers entertained through the airport, at your destination and away from home. It is a fun and practical suitcase for kids on a family road trip too. The Trunki Suitcase is the ideal kid's travel companion for vacations, family road trips, short breaks, sleepovers and playing at home.
The multi functional strap reduces stress by allowing parent to tow tired children on their rolling luggage or conveniently carry it over their shoulder. This is the perfect carry-on cabin bag with wheels for little boys and girls (17. 5 x 8 x 12. 2 inches). And it functions as a storage toy with lots of Trunki characters available for little ones to make friends with and store their belongings in.
The High Road Car Organizer with Kids Snack Cooler is useful to store and organize miscellaneous items between the seats. It is easy to reach by the kids in the back seat. This Middle Seat Car Organizer includes a cooler in the middle, with space to store items on the outside and a flat tray on the top.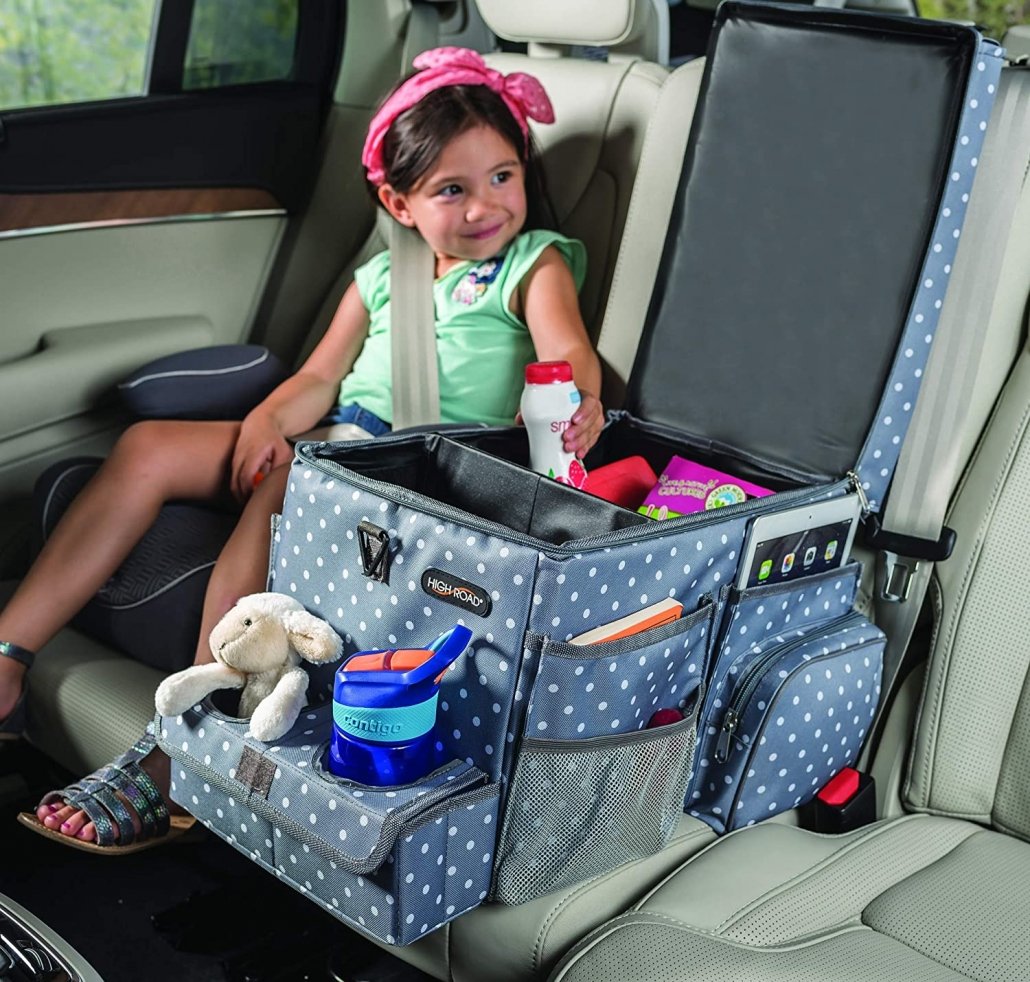 The Lil Gadgets Kids Wireless Bluetooth Headphones are high quality, sized for kids age 4 plus and compatible with nearly all Bluetooth devices. Offered in six wonderful colors and now with a one-of-a-kind SharePort feature. This allows one headphone to be connected wirelessly and others to daisy-chain so all listeners are untethered from the device.
The ear pads and headband are covered with SoftTouch breathable mesh material for your child's comfort. And the ear pads are manufactured with children in mind — using some nifty engineering to make sure the ear pads won't fall off.
Developed, designed, and tested with kids of all ages to ensure durability of the final product while maintaining style and comfort. Every headphone comes with a 100% LilGadgets Satisfaction Guarantee. They believe that you'll love the way these look, sound, and feel.
These headphones are the must-have road trip accessory for kids, and provide 12 hours of battery life with a 180 hour standby. A USB charging cable is included, plus a 3.5mm cable so even if you outlast the battery, you can still listen on them the old fashioned way. Every headphone also comes with a micro-fiber travel bag to make transporting easy and so you have something to clean your device screens.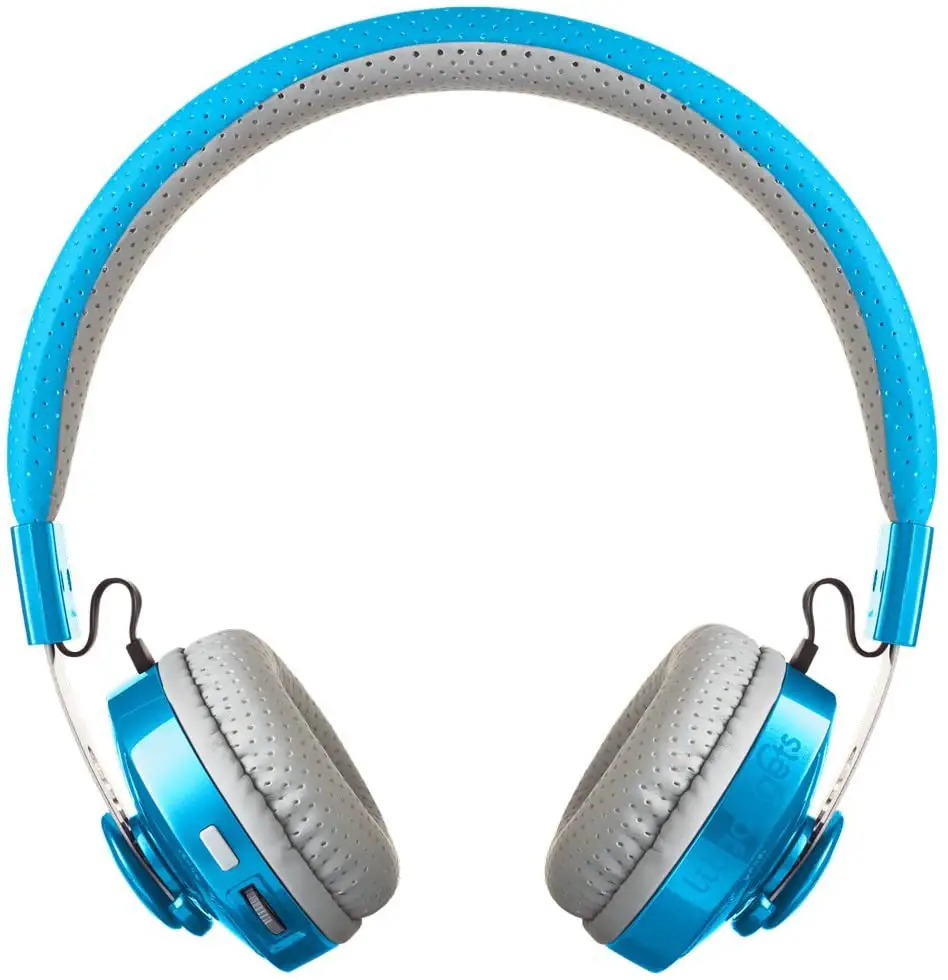 The Essential Road Trip Accessories for Kids
Firstly, use this family travel packing list to help you stay organized and ensure you pack the road trip essentials for kids. This will help your journey to be less chaotic. Secondly, these travel storage items will allow you to separate items depending on their purpose, and where or when you need them. Therefore, enabling you to find the desired travel items during your family road trip and vacation.
What road trip accessories for kids do you love? What would you recommend our community takes on their next road trip with kids?
And remember, let's BE Family so you can enjoy the journey.
Until next time,
💕💖 Ruth
For more about a family road trip check out these posts:
Simplifying a Road Trip with Kids
Best Road Trip Snacks for Kids
How to pack your car for a family road trip
Printable Road Trip Games for Kids
How to get your car ready for your next family road trip
📌 Pin it for later 📌
BE Family Products Inc., or (BE Family Travel) participates in the Amazon Services LLC Associates Program, an affiliate advertising program designed to provide a means for sites to earn advertising fees by advertising and linking to Amazon.com. Using any of the links on this website does NOT cost you anything but does help us continue to create content on this blog. Thank you so much for your support and for partnering with us. Let's BE Family.