As an Amazon Associate, BE Family Travel earns from qualifying purchases. Learn More
Snow Tubing in Asheville and Western North Carolina for the 2022 season
Snow Tubing, also called Snow Sledding, has become a staple winter activity in Asheville and the Western North Carolina area. Many local snow tubing parks have opened up, and some ski resorts now offer family-friendly activities in addition to traditional snow skiing and snowboarding. The joys of backyard snow sledding can be almost replicated anytime during the season, even if mother nature has not blanketed the North Carolina mountains with snow. Furthermore, Asheville area slopes can use their modern snowmaking equipment to create a winter wonderland, without even a single flake falling in the WNC area.
If your family is visiting Asheville, or you live in Western North Carolina, then check out our guide of 21 Fun Things To Do In Asheville with Kids.
Below we have curated a list of the most popular snow tubing or sledding slopes for the 2022 season in the Asheville, NC area. We also consolidated information and links for each location to help you pick the right one for your family.
All the information with each listing is taken directly from their websites. Certainly, this is a great resource to help you compare options. We would encourage you to also contact the slopes you are most interested in to verify their information has not changed.
In this post, we highlight the benefits of snow tubing in Asheville and the Western North Carolina area, which offers convenience and a safe environment for families. We discuss how snow tubing is more affordable than skiing and the snow tubing gear you will need for snow tubing with children. Plus, our curated list of the most popular snow tubing slopes in the Asheville and WNC area for 2022.
There are lots of great snow tubing locations in the United States. Are you looking for a snow tubing destination in your area? To learn more about popular snow tubing destinations for families, check out our articles about snow tubing in North Carolina, Tennessee, Pennsylvania, the Poconos, New Jersey, and Colorado.
Find out everything you need to know about snow tubing with kids in this article.
Asheville Area snow tubing offers a safe environment
Using a specifically designed slope for snow tubing can offer a safer experience for your whole family. I can't even count the number of times I've collided with a stump or large rock while backyard sledding. Hidden just under an innocent-looking layer of snow could be a real danger for you and your kids.
Certainly, there is a risk in any family activity, but snow sledding or tubing on a professionally designed slope can dramatically reduce your risks.
Snow tubing in Western North Carolina is convenient
It is quite rare to wake up in Western North Carolina to a winter wonderland of snow. Therefore, if you are visiting Asheville or live in WNC it can be hard to plan on good solid snow for sledding. Luckily with so many options for snow tubing in the Asheville area, this makes it an easier activity to plan. All the snow tubing or sledding slopes are very conveniently located within 45 minutes to one hour and 45 minutes drive from Asheville, North Carolina.
There is no doubt that backyard snow sledding can have some fast and fun downhill runs at times. With that fun also comes trudging back up the snow-covered hill carrying a sled or four! In addition, all of these WNC snow sledding slopes offer the convenience of a conveyor belt or lift back up to the top for your next exhilarating run downhill.
Tubing can be more affordable than Skiing
Snow Skiing is a very popular sport in WNC, and it also requires some very costly equipment to buy or rent. In addition to skis, you will need ski boots, poles, goggles, and possibly a winter sports helmet. There is the cost of ski lessons for beginners, and I always have to factor in the price of a sore rump at the end of the day!  Skiing can be a really fun family activity but the cost for half a day for a family of 4 could be in the range of $250.00 – $400.00 with ski gear rental.
Traditional snow tubing or sledding for a few hours will run you around $100.00 – $120.00 for the same family of 4 with the rental. It can be less expensive at some locations as younger kids can sometimes go for free.
Snow Tubing Gear
Snow tubing really only requires the rental of a tube. No special boots or poles to rent or buy. You can also buy a nice snow tube for less than half the cost of a pair of skis.
Above all, you may consider a snow bib for snow tubing, this is not required but can be helpful in keeping you dry and warm. Most tubing places do not rent snow bibs.
You will want to have a good set of waterproof snow gloves and snow boots for you and the kids, as there's nothing like cold wet hands and feet to put a damper on all the fun. Items like these are perfect and affordable.
Most popular snow tubing slopes for 2022 in the Asheville, WNC area
Here are the most popular snow tubing slopes in Asheville and Western North Carolina area for families to go snow tubing with children. In Asheville NC tubing snow fun is readily available, let's find out where!
All information below comes directly from the business's websites. Please verify all information directly with each business before making plans or purchasing tickets.
2058 Skyland Drive, Seven Devils, NC 28604
info@hawksnesttubing.com
828-963-6561
Hawksnest Tubing Park is the largest snow tubing park on the East Coast!
With over 30 lanes of snow tubing that span from 400 to 1,000 feet long, Hawksnest Tubing is your family's destination for a unique winter experience. Our four different snow tubing areas provide an array of terrain that satisfies even the most advanced tubers!
Hawksnest's snowmaking facilities are able to provide the best possible conditions and fun for the whole family. We offer 100% lighting and snow tubing on all lanes, so the fun can continue into the night. Our snow-grooming equipment is state of the art, so we can offer a wide stretch of groomed lanes for tubing fun.
Featuring four different areas to snow tube with over 30 lanes of fun!
Lanes are 400 – 1,000 feet long with three moving carpet lifts to bring you back to the top.
100% snow making and lighting on all lanes.
Pricing:
Sessions are one hour and 45 minutes long and run every two hours.
Weekday – $31
Weekend/Holiday – $40
**Must be 3 years of age or older to tube.
1007 Beech Mountain Parkway, Beech Mountain, NC 28604
info@skibeech.com
828-387-2011
If you like sledding, you will love tubing!
Beech Mountain Resort has constructed a  state-of-the-art tubing park adjacent to the Resort Village at the base of the slopes. Therefore, it's a great location that provides for extra long tubing runs, and offers convenient access to ice skating, shopping and dining in the Alpine Village.
With chutes up to 700 feet in length, all ages can enjoy an exhilarating ride.  Our tubing area is serviced by a magic carpet conveyer, which transports riders quickly to the top!
**Riders must be 42" or taller to ride**
Pricing:
Weekday – $30
Weekend/Holiday – $35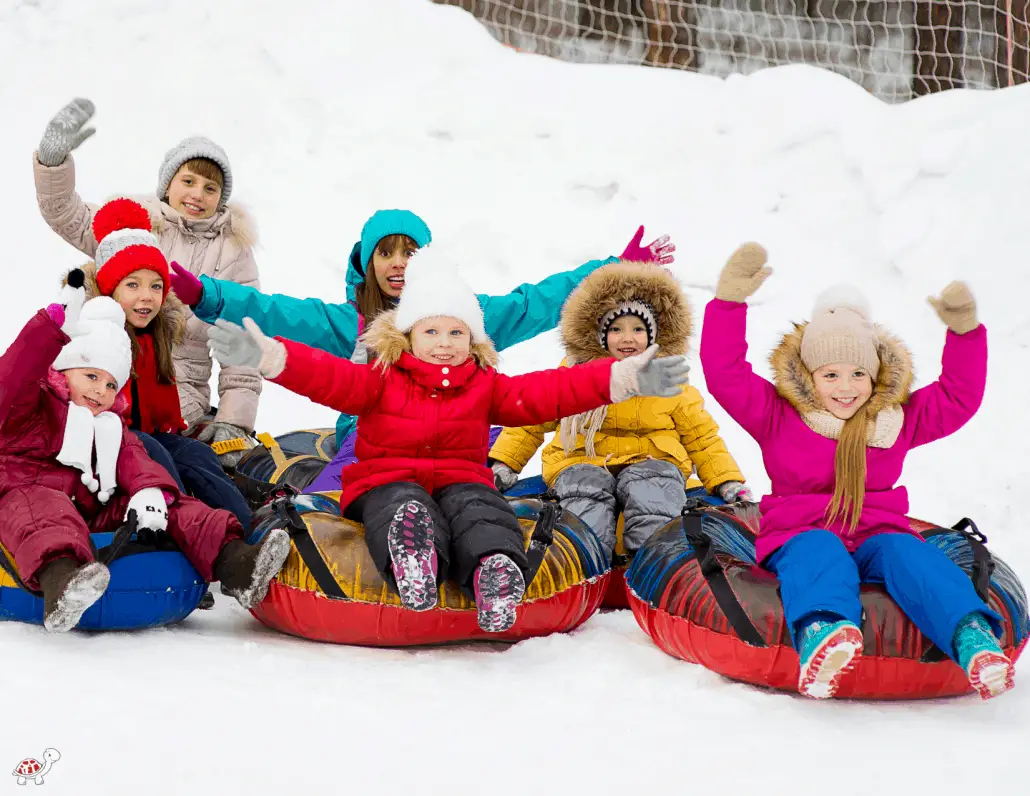 Cataloochee Ski
4721 Soco Road, Maggie Valley, NC 28751
ski@cataloochee.com
828-926-0285
Snow Tubing Fun for the Whole Family!
Tube World, located in Maggie Valley across from Ghost Town in the Sky, is the home of great snow tubing fun each winter!  Our groomed slope is made for riding specially designed inner tubes.  You'll ride our moving carpet lift to the top of the hill, then tube your way down the snow-covered run.
Tubing typically opens in mid-December and continues through the first weekend in March.
Pricing:
Sessions are one hour and 45 minutes long and run every two hours.
Weekday – $30
Weekend/Holiday – $35
Holiday rates apply for the following dates: Saturday, December 19, 2020, through Sunday, January 3, 2021; Friday, January 15 through Monday, January 18, 2021; Friday, February 12 through Monday, February 15, 2021, and any weekend or holiday.
**There is a 42″ minimum height requirement.**  Only Tube World equipment may be used. No two person tubing allowed.
Wee Bowl Snowplay Area
Wee Bowl Snowplay Area, located at Tube World, is for children who aren't quite tall enough to meet the height requirements for tubing on the larger hill. The Wee Bowl is open on a limited basis as weather and snowmaking allow. Cost is $5 per session and runs on the same session times as Tube World.
Watch our Video of Snow Tubing at Cataloochee Ski – Tube World
1009 Sugar Mountain Drive, Banner Elk, NC 28604
828-898-4521
Looking for something different? Try tubing!
Located on the Sugar Mountain Golf Course; the 700 ft long tubing lanes are serviced by a Magic Carpet lift. Snowmaking, lights for night tubing and regularly groomed lanes complete the facility. Sessions are just under two hours long and run from 10:00am until 10:00pm. Individual tickets must be purchased at the tubing park.
Snow tubing is located across the street from the base lodge. The tubing park consists of several 700 ft. long lanes. Park is serviced by a moving conveyor lift called a Magic Carpet, which transports riders smoothly to the top of the runs.
Pricing:
Sessions are 1 hour and 45 minutes long. Sessions times are: 10am, 12pm, 2pm, 4pm, 6pm, 8pm
Weekday – $30
Weekend/Holiday – $36
Holiday rates apply December 14, 2020 through January 1, 2021.
Upon approval children ages 3 & 4 FREE with a ticketed adult.
Must be 3 years of age or older to tube. Children 6 and under must ride/share a tube with an adult. Children 7 and 8 must be under the direct supervision of an adult.
3461 Puncheon Fork Road, Mars Hill, NC 28754
828-689-3322
Snow tubing Asheville slopes are great for Family Fun!
Better than traditional sledding, snow tubing is great fun for the whole family. Slide down the run then take a "magic carpet" lift back to the top to repeat the fun. The Tube Run also features snow making capability and a lighted hill for nighttime fun.
Featuring one big slope 60 feet wide at the top, 100 feet wide at the bottom and 350 feet long of sliding fun! No designated lanes means tubers have the option to link up tubes increasing the fun factor. In case you get hungry while having fun, we have snack and drink options available. Nothing better than a cup of hot cocoa to warm up with!
Pricing:
1 hour session – $20
2 hour session – $30
Children 5 and under ride free with paying adult. Groups of 12 or more $25 per person for 2-hour session
5865 Willow Road, Hendersonville, N.C. 28739
moonshinemountain33@gmail.com
828-696-0333
Moonshine Mountain Snow Tubing Park located in Hendersonville, NC. Offering the best and steepest snow tubing in Western North Carolina. With over 500 feet of fun & excitement for all ages and we are one of the only Snow Tubing Parks in the Southeast that allows trains. Sorry we do not take reservations. YES we make our own snow!!
The tubers lift has a 250lbs. weight limit. If you exceed this limit you are welcome to walk to the top. The tubes have a 300lbs. weight limit. This is for everyone's safety.
Pricing:
Per person – $30
Groups of 20 or more – $25
Minimum height requirement of 36″. All children under the age of 8 must be accompanied by an adult. All tubers ride solo (this includes children).
Click here for an important safety video.
10725 US-23, Mars Hill, NC 28754
acambron@aol.com
828-689-8444
The Premier snow tubing experience. Features 3 snow tubing lanes. A solarium with a fireplace and full views of the tubing runs is available for hosting birthday parties and celebrations.
The slope is lit for night tubing till 9 PM. A variety of snacks and yummy Hot Chocolate are available. Please tell your friends and family.
Pricing:
Tubing:    $30 for 1 hour per person
$45 for 2 hours per person
Group of 15 persons or more
$22.50 for 1 hour per person
$37.50 for 2 hours per person
Children ages 3-5 free with paid adult.
Watch our Video of Snow Tubing with Kids at Zip N Slip
Ski Sapphire Valley
127 Cherokee Trail, Sapphire Valley, NC 28774
828-743-7663
The entire family will enjoy this 500 foot run with a vertical drop of 60 feet! Attendants and an easy 'moving sidewalk' get you and your tube to the top and off you go. Tubing sessions are for 1.75 hours and do sell out. As they are on a first come, first served basis, you should inquire at least one hour before you would like to tube.
There is no age or height restrictions for the Frozen Falls Tubing, parents are responsible. Each person must be in their own tube. Parents may hold on to the child's tube with the handles.
Pricing:
Sessions are 1.75 hours
Public Rate: $30
Amenity Rate: $22.50
Call for Group Pricing: 828-743-2251​
NC Highway 181 South, Jonas Ridge, NC 28641
jonasridgesnowtubenc@gmail.com
828-733-4155
Jonas Ridge Snow tubing is an exciting activity for you and the whole family. There is a conveyor to take you to the top. With 5 snow tube lanes to choose from and they go from slow to very steep and fast for the more daring snow tuber. 
Come and visit us for a safe and fun family atmosphere in the high country of North Carolina. Jonas Ridge Snow Tubing is a great alternative for those feeling a bit crowded at Sugar Mountain Resort or Hawk's Nest located in Banner Elk, North Carolina. Also Jonas Ridge has lights for night tubing.
We suggest kids be at least 3 years old. ALL children have to sit in a tube by themselves.
Pricing:
1.75 Hour Session
$35/Person
$30/Ages 6 and under
$30/Person for Groups of 15 or more (Groups must call ahead to reserve a time)
1 Hour Session
$25/Person
$20/Ages 6 and under.
NOTE: Once purchased you may only upgrade to the 1 Hour & 45 minutes for the  price difference plus $5 per person charge.
Military Discounts $3 off each immediate family member.
Tell us what you think in the comments!
We want to know about your experiences with snow tubing in the Asheville and WNC area. Is there a place we should add to the list? Let us know in the comments, and we are happy to look into it.
Did you try one of the places listed? Let us know more about it, and share your pictures on social media. Visit the BE Family Travel Facebook page HERE.
For more about family travel, check out these posts:
Everything You Need To Know About Snow Tubing with Kids
Fun Things To Do In Asheville with Kids: A Quick Guide
North Carolina Snow Tubing with Kids: Most Popular Resorts
Simplifying a Road Trip with Kids
Take the Kids to Biltmore in Asheville, NC
How to Pack your Car for a Family Road Trip
BE Family Products Inc., or (BE Family Travel) participates in the Amazon Services LLC Associates Program, an affiliate advertising program designed to provide a means for sites to earn advertising fees by advertising and linking to Amazon.com. Using any of the links on this website does NOT cost you anything but does help us continue to create content on this blog. Thank you so much for your support and for partnering with us. Let's BE Family.