So, you're taking the kids for a snow-tubing vacation in the winter. Where is the best spot to go snow tubing with kids if you live in North Carolina or the surrounding area? Discover the best North Carolina Snow Tubing locations for families in this round-up of the most popular snow tubing resorts in NC.
What are the rules you need to know? Is there an age limit for kids? How should toddlers dress for snow tubing? We'll answer the questions people ask about North Carolina snow tubing. Use the tips in this post to keep you and your children safe while snow tubing in North Carolina.

As an Amazon Associate, BE Family Travel earns from qualifying purchases. Learn More
What is snow tubing?
Snow tubing lets gravity, the snow, and tubing take you on a fun ride downhill. Nowadays, many ski resorts also offer snow tubing as an option for people who want to enjoy the snow but do not have the skills required for skiing or snowboarding.
As the term suggests, snow tubing requires the use of a tube to ride on and allows you to slide through the snow on downward and upward slopes. Gravity will cause you to slide downward, and the momentum created by the descent will propel the upward movement, where you and the tubing will go to a standstill.
When snow tubing, wear appropriate clothing, especially for the kids, and always ensure the snow tubing path is clear and free of obstructions.
Snow tubing with kids
Snow tubing is a fun winter activity for all ages. Thus, you can bring your kids snow tubing with you, but you need to ensure their safety. First, when bringing your kids along, choose a time in the morning or afternoon rather than at night. It is easier to keep track of your children during daylight than at night. Also, snow tubing at night often attracts older crowds.
Read this article as a guide to everything you need to know about snow tubing with kids.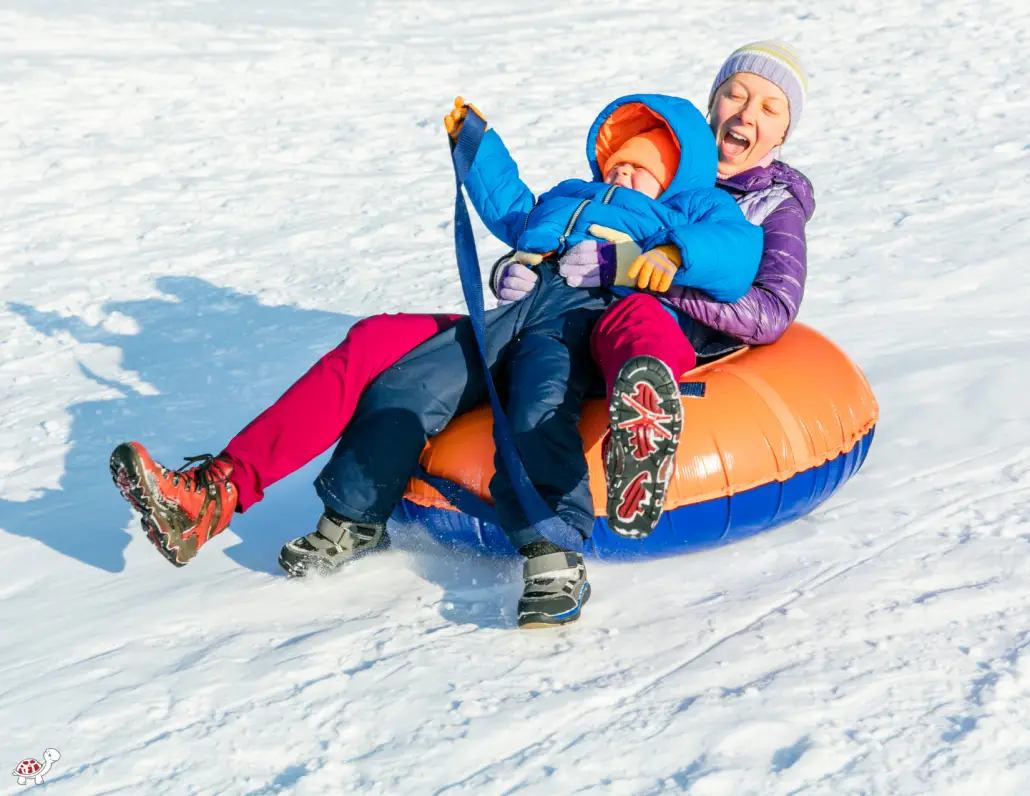 Snow tubing gear
Make sure that you are wearing appropriate clothing for snow tubing. Wear waterproof pants and jackets. Wearing gloves, a hat, and boots are also recommended.
If you do not have gloves, mittens will do. Both types of hand covering will work for snow tubing. As long as your hands feel comfortable and the hand covers stay on and keep your hands warm, that matters the most.
Keep your fingers and ears warm during snow tubing because that is one of the best ways to increase your comfort level. Have a good pair of waterproof gloves and a hat that can cover your ears. 
Here are some of the best snow-tubing products to buy from Amazon.
Snow tubing pants
First, choose adjustable and comfortable snow tubing pants. Pants with an adjustable waist size ensure that they fit your waist comfortably. Also, pick pants with unisex sizing, so anybody in your family can wear them.
Pants with snug elastic ankles that allow a secure fit to keep the cold winter air out are also available on Amazon.
For kids' pants, we recommend this product – JAN & JUL Kids' Waterproof Cozy-Dry Rain/Snow Pants, Lined with Fleece. These are waterproof pants that are soil-repellent and breathable. 
Snow tubing boots
Here is a link to the best child unisex snow boots. Heavy duty and offering all-weather protection, these boots have waterproof synthetic and fabric upper.
These boots are also lightweight for your kids to lift with their feet and have an adjustable string that allows for easy disentangling.  
Snow tubing accessories
These snow gloves come with a buckle closure system and thermal insulation fit for subzero conditions. The hidden elastic straps ensure that the gloves are attached to your wrists at all times. 
You may also want to ensure that you do not slip and injure yourself. For that, we recommend using ice cleats for hiking boots and shoes. These stainless anti-slip traction cleats will ensure you get up the terrain without sliding back. These cleats will keep you and your children safe and injury-free. 
To help keep your feet dry while on the snow, use gaiters. This product will keep you protected against hypothermia. If waterproof snow pants are not available, use gaiters instead. 
These snow tubing accessories will help keep your family safe and more comfortable while snow tubing with kids.
When to go snow tubing in North Carolina
The best time for snow tubing in NC is mid-winter, between January and mid-March, ideally on mildly snowy days. This period also coincides with the ski season in the state.
Together with all the rest of the states in the Northern Hemisphere, the snow tubing season in NC runs from Thanksgiving until early April. In 2022, the projection is that winter will start in NC on December 21 and end on March 20, 2023.
In North Carolina, the coldest month is January, when temperatures can go as low as 29.6°F (-1.33°C). Ferguson and Deep Gap are the North Carolina regions that get the most number of days with snow.
Thus, the main snow-tubing season in NC is from mid-December to early March. What if there is no regular snowfall? You can still go snow tubing despite the lack of snowfall. All you need is to ask if the resort uses snow-making equipment.
Many snow tubing resorts in North Carolina make snow so visitors can still snow tube. As long as it is cold enough for the snow to stay frozen, you can snow tube in North Carolina during the winter.
Snow tubing in Charlotte NC
Some ask, "Is there snow tubing in Charlotte, NC?" The answer is yes. There are over ten ski resorts and snow tubing options located in rural areas around the city of Charlotte. Snow lovers can hit the slopes at ski and tubing resorts within less than a two-hour drive from the city.
Almost all Charlotte ski resorts offer snow tubing programs for kids and beginners, so your young ones can enjoy fun activities in Charlotte's winter wonderlands. Most of these resorts are open through mid-march.
There are also options to go river tubing in Charlotte, and one is specifically located in the US National Whitewater Center. However, if you are looking for snow tubing in this city, you can head west, where you can go snow tubing in the North Carolina Mountains.
North Carolina Snow Tubing Resort options include:
Keep reading to learn more about North Carolina snow tubing locations for families.
Snow tubing in the North Carolina Mountains
Snow tubing in the North Carolina Mountains allows you to enjoy scenic views perfect for family gatherings and picnics. If you so wish, you can have guides who will make you feel safe the entire time.
The highest mountain elevations usually receive 80 plus inches of snow every winter. However, the weather is hard to predict. So, make sure you bring your jacket and rain gear. Temperatures are often cold and about 15 to 25 degrees cooler in high elevations compared to temperatures in the city.
In areas like Beech Mountain and Mt. Mitchell, the temperatures hardly go over 80 degrees, even during the harsh heat waves in the summer months.
Snow tubing in Asheville, NC area
Snow tubing in Asheville is readily available, where you have many great snowing-tube options to choose from. Western North Carolina is my home, and there are plenty of options for snow tubing and skiing near me.
When visiting Asheville with kids, the closest location is to go snow tubing in Mars Hill, NC. There are many sledding and snow tubing slopes situated within a one-hour drive from Asheville.
Make sure your children are at least three years old to be allowed to snow-tube in these great snow resorts.
Where to go snow tubing in Asheville, NC? Check out these North Carolina snow tubing options near Asheville:
Zip N Slip Snow Tubing Park
Zip N Slip is NC's leading snow tubing service. It is a family-owned business and has been in operation for over 20 years. It is a 20-minute drive if you are coming from Asheville by the Interstate and a 30-minute drive if coming from Johnson City, Tennessee.
This resort offers great amenities. To make sure people do not get hungry in their place, they have a small food truck that offers a great menu though it does not offer many items to choose from.
If you are the type who needs to warm up before taking the plunge, they have a warm-up room at Zip N Slip. Also, there's a fire pit to make sure people have the option to warm their bodies on a cold winter night.
Make sure to try their complimentary marshmallows if you love roasting in the outdoors.
Wolf Ridge Tubing
If your children are five to eleven years old, the Wolf Ridge Tubing (3461 Puncheon Fork Rd, Mars Hill, NC 28754) is a great place for your family because it has the perfect hill size for kids of these ages. 
Wolf Ridge may not be the largest resort in the area, but here, you will be served like a king by the owners and staff. It also offers some of the cheapest services in the area. 
You can enjoy this park even at night, as the tubing lanes are lit during that time. There's no need to walk back to the starting spot since you can ride their "magic carpet" to get you to the top. 
Snow tubing in Hendersonville NC
Hendersonville receives significant snow, with possible snowfall from November until March. The month with the most snow in the city is January, averaging 5.2 inches of snowfall. 
Hendersonville snow tubing options include: 
Moonshine Mountain Snow Tubing Park
Another great option is Moonshine Mountain, which also provides great customer service. From helping you with parking to pushing you down snow tubing on the mountain, you will get a memorable experience due to their excellent service.
Moonshine Mountain Snow Tubing Park is at 5865 Willow Rd, Hendersonville, NC 28739. This resort features changing rooms, a fire pit, an on-site ATM, and a conveyor to lift people upward. The lift usually has a long waiting line but is worth the wait. You can link with friends and family going down the slope with as many as six tubes going down together. There is also hot chocolate for purchase.
Black Bear Snow Tubing
Black Bear Snow Tubing, located at 373 Kerr Rd, Hendersonville, NC 28792, is another family-friendly snow-tubing park in Hendersonville. It features four lanes 300 – 500 feet long, on-site food, a heated lodge, and professional-grade tubes. Instead of a conveyor, Black Bear uses a cable tug to assist adults and young ones to the top.
Black Bear offers the following:
State-of-the-art snow-making equipment
Tube-tugging equipment (no need to walk your way to the top)
Heated lodge for you to stay warm
Hot drinks, concessions, and hotdogs
Warm weather tubing for fall and summer
On-location playground
Black Bear resort is just outside of Hendersonville in the majestic mountains of western NC. It's about a 12-mile ride from exit 49A on Interstate 26.
Frozen Falls Tube Park
This resort is located in Sapphire Valley at 127 Cherokee Trail, Sapphire, NC, 28774. The first thing you should look for is the park's community center. Behind the community center is the Frozen Falls Tube Park. That is where all snow-tubing adventures take place. The price per person is $30, but if you present an amenity card, the price goes down to $22.50 per head. You can purchase such a card at the community center. 
If you stay long in the resort, you should buy an amenity card because that gives your family access to the sauna and an indoor pool, a mini-golf course, a fitness center, and an arcade. The amenity card is very reasonably priced. 
This resort welcomes groups of at least ten persons, and if you are coming with a group, pre-book your outing to secure a date and time. Advanced group reservations must be completed one week in advance.
Snow tubing in Cherokee NC
There are no specific locations for snow tubing in Cherokee, NC. However, in the warmer summer months, you have the option of river tubing because there are a lot of resorts for this activity in the Cherokee area. Nonetheless, you can snow tube near Cherokee, which is still snow tubing in NC – in the mountains surrounding Maggie Valley.
"In seed time, learn, in harvest teach, in winter enjoy."

– William Blake
Snow tubing in Maggie Valley
Maggie Valley is a popular resort town in the North Carolina Mountains for many years now. This town is located west of Asheville, and it is an "old-fashioned" town with fun festivals, vintage motels, craft shops, cars and motorcycles, and lots of other things to do.
Where to go snow tubing in Maggie Valley?
Tube World
One ski resort for snow tubing in Maggie Valley is Tube World, located at 1080 Ski Lodge Rd Maggie Valley, NC 28751. This snow tubing place is fun and unique in its own way.
This resort enforces Covid 19 rules, so you better have your masks with you. If you lost yours, do not worry. There is staff around who make sure people wear and hand out masks.
This resort features three lifts – beginner, intermediate, and advanced snow tubing enthusiasts. The lines can get long, depending on the time and day, but they can also move very quickly.
As for food, they have a touchless ordering system, so you order your food with your mobile device.
Tube World is located four miles from the Cataloochee ski area in Maggie Valley. So, do not look for Tube World in the ski area. The resort does not allow the use of equipment not provided by them. Also, there is a minimum 42-inch height requirement.
Snow tubing in Boone NC
If you choose to snow tube in the Boone area, here are your best options. The town of Boone in Watauga County is located off the Blue Ridge Parkway. It is known for its beautiful, picturesque area and outdoor activities.
Where to go snow tubing in Boone, NC?
Jonas Ridge Snow Tubing Park
Jonas Ridge Snow Tubing at 9472 NC-181, Newland, NC 28657 is a family-oriented snow tubing place. Its features include an uphill conveyor belt and a lodge with a fireplace. It's great for children as they have a separate area where kids can play.
At Jonas Ridge, you can slide down with more than one companion to make a chain. Chaining has a limit of 4 persons but will only be allowed if the group holds onto the handles on the sides of the tubes.
For safety reasons, children under six must be accompanied by an adult when on the lanes. Many restaurants are operating in the surrounding areas.
The resort charges $25 for one hour of tubing. Children are charged a fee of $20/hour.
Hawksnest Snow Tubing and Zipline
Hawksnest Resort is along Skyland Drive and is located in Seven Devils, NC. It is one of the largest recreation hubs in the area, with four snow tubing areas and 30 lanes in total. It also features seasonal ziplining and a moving carpet lift.
Ziplining at Hawksnest is offered in three variants – hawk tour, eagle tour, and do-it-all tour. With the first option, you take a cable ride for 1.5 miles, while the eagle option offers a 3-mile ride. For the do-it-all option, you can try all 20 cables available for ziplining.
Hawksnest Tubing is the largest tubing park on the East Coast, with 30 lanes traversing a maximum distance of 1000 feet. They have four snow tubing areas that provide different terrains that can satisfy even the advanced tubers.
Suitable for ages three plus. Hawksnest is closed on Wednesdays. Snow tubing prices start at $35 on a weekday or $45 on the weekend for a 1 hour 45 minutes session.
Beech Mountain Resort
Beech Mountain Resort is a very kid-friendly resort, as they allow two-year-old children to have fun with their families in this resort. Along with snow tubing, this resort also offers biking, hiking, sledding, and skiing. That means access to the resort all year round. In summer, the snow-tubing slopes transform into downhill biking trails.
Beech Mountain Resort is located at 1007 Beech Mountain Pkwy, Beech Mountain, NC 28604. When snow tubing in North Carolina, this resort offers runs 700 feet in length. The tubing area has a magic carpet conveyer that transports riders quickly to the top!
There is a height requirement of 42 inches or taller. Snow tubing sessions last 1 hour and 45 minutes. Prices start at $32 on a weekday or $38 on a weekend or a holiday.
Sugar Mountain Resort
Sugar Mountain boasts a resort featuring a food court, which is great for food buffs. You can have vegetable soup, muffins, and hamburgers without the burgers. The muffins taste yummy and fresh.
Sugar Mountain ski resort is the largest in NC, with 21 trails and nine lifts, including a speedy 6-person chairlift, the fastest in the state. Sugar Mountain resort is elevated at 5,300 feet and has more than 110 acres of skiable terrain.
Visit Sugar Mountain Resort at 1009 Sugar Mountain Dr, Sugar Mountain, NC 28604. Located on the Sugar Mountain Golf Course, the tubing lanes span 700 feet and are serviced by the Magic Carpet lift. The resort also features regularly-groomed lanes, lights for the night, and snowmaking.
Sugar Mountain snow tubing sessions are under two hours and occur between 10 am and 10 pm. Tickets are available at the tubing park. You will sign a waiver if your child is 11 years old or younger. Children must be three years of age or older to tube. Prices start at $33 on weekdays and $40 on weekends and holidays. Children aged 3 and 4 are free with a ticketed adult.
Best snow tubing in NC
These are your options for the best snow tubing in North Carolina. Tubing is an easy winter activity because you only need a tube to slide down the hill.
Make sure you are sitting because it is safer to slide in that position than lying on your stomach. Also, have a lanyard attached to the tube. It is much easier to carry back up the hill.
Wear appropriate clothing, especially for the kids, and always ensure the snow tubing path is clear and free of obstructions.
These are the best places to go snow tubing and skiing near me. To learn more about snow tubing, read our popular articles about Snow Tubing With Kids or Snow Tubing in the Asheville, NC, Area. We also have articles about snow tubing locations in Tennessee, the Poconos mountains, Pennsylvania, New Jersey, and Colorado.
For more about family travel, check out these posts:
River Tubing in Asheville NC with Children
Fun Things to do in Asheville NC with Kids
Snow Tubing with Kids: Everything You Need To Know
River Tubing with Kids: What You Need to Know
The Complete Guide To Traveling With Children
Multi-Generational Travel Ideas For Families
BE Family Products Inc., or (BE Family Travel) participates in the Amazon Services LLC Associates Program, an affiliate advertising program designed to provide a means for sites to earn advertising fees by advertising and linking to Amazon.com. Using any of the links on this website does NOT cost you anything but does help us continue to create content on this blog. Thank you so much for your support and for partnering with us. Let's BE Family.