Introduction
There's nothing quite like traveling with the family. It's a great way to bond and explore new places together. Of course, as any parent knows, traveling becomes a little more difficult when you have children to think about! Traveling with children can be stressful, but it doesn't need to be. Follow these tips for a smooth family travel experience.
Picking The Perfect Destination
When you're traveling, it's incredibly important that you choose the right destination. If you have a destination planned it can also make the experience much more enjoyable since you can be better prepared.
Of course, choosing the right destination can be easier said than done. There are so many different places that you can visit – how do you narrow it down?
How to Choose the Best Family Vacation Destination
If you're not sure where to start, here are some things to consider:
The first thing to consider is what locations actually interest you. There's no point spending potentially thousands of dollars on a vacation if you aren't going to have fun. So take time to decide which destinations you want to go to.
You can always add more activities to your itinerary for the children to do later down the line if needed. Consider what you find fun. Do you want to have a relaxing getaway or a fun-filled adventure?
When you have considered what you, the adults, want to do, then you can consider the more in-depth details about what the kids are going to do.
Some vacations will always be a safe bet for children – going to the beach is always a lot of fun, no matter what age they are. On the other hand, things like theme park vacations tend to be better for children between 3 to 12 years old.
Consider whether you are going anywhere that has a kid's club to keep your young one entertained when you are traveling too. It will allow you to have some time to relax while your child is entertained.
Last but not least, think about your mode of transport. Are you going to be able to take a car and drive there, or are you going to need to fly? This is an important consideration because it can have a huge impact on how your trip begins and ends!
What to consider before Traveling with a Baby
You may find it a little easier to travel with babies and young toddlers since they will spend most of the time in the car sleeping, but you are going to need to stop a lot more frequently if you are driving.
Babies shouldn't be left in car seats for a duration spanning more than 2 hours in the space of 24 hours, so you need to ensure that you are taking plenty of rest stops on the way.
If possible, try to avoid flying with newborns between 0-3 months old unless it's a necessity – it'll put a lot more stress on you than you need, especially if you have a particularly fussy baby or a baby with colic.
Flying also may not be ideal for your baby's immune system since planes are full of people who may have all sorts of germs! Wait until your little one is around 3-9 months old before you invest in that infant passport and take flight!
There are lots of great resources out there on the internet that can help you pick the perfect destination. It's ultimately just a matter of considering all of the main aspects of the trip so you have the best time possible. Check out this article about the Top Family Vacation Destinations in the US.
Printable Family Travel Planner
If you are looking for a vacation planning guide to help your family plan a fun, easy, and memorable vacation with children, check out our Printable Family Travel Planner.
The 65 printable page travel planner covers family vacation budget and itinerary planning, with budget tips and daily, weekly, and monthly travel itinerary templates. Printable travel checklists and more are included to help your family prepare for travel.
Planning An Itinerary And Choosing Accommodation
Once you've decided on a location, it's time to plan your itinerary. The easiest way to do this is by using the internet to do some research.
Just enter the name of the city into the search bar, and you should see a list of some of the main attractions in the area, both for adults and children.
You will also need to ensure that you choose the right accommodation for a fun and relaxing trip.
Hotel vs. House?
Now, where should you stay when you are traveling with kids – in a hotel or in a house?
For the most part, it's generally better to stay in a private house if you are going to be traveling with children.
Why? First of all, staying in a house is great if you don't have much of a budget to play with since houses are usually cheaper than hotels.
You will also save a little bit of money staying in a house because you will usually have a kitchen that you can use. This means that you won't be obligated to eat out every single night, and you can instead cook.
Not everyone likes cooking when they are on vacation, but you can make cooking on vacation an enjoyable experience. For instance, a barbecue session could be a great idea for a warm summer's night, and it's something the whole family will enjoy!
Secondly, you get to know your neighbors and meet new friends as well as enjoy the company of your family members. Thirdly, you get to live in a home rather than a hotel room which means that you may feel a little more relaxed.
You'll have a lot more space to spread out too, which can definitely come in your favor after the kids have gone to bed since you can still enjoy yourself without worrying about waking the kids up in the process.
With that being said, hotels can also be a good choice for different reasons. You might want to consider staying in a hotel because it's a convenient option.
Family-Friendly Hotel Options
Hotels are usually located near public transportation, shopping malls, restaurants, etc., and you can easily find them online.
Also, hotels tend to be cleaner than houses since they are usually professionally cleaned once per day. However, you will probably pay a little bit more for a hotel than you would for a house since hotels are typically more expensive.
Hotels also come jam-packed with things to do. They tend to have restaurants, kid's clubs, pools, and so much more. You won't have these features if you are staying in a house.
Visiting Extended Family
Alternatively, you could stay with extended family or friends if they live in the location that you intend to travel to. Multi-generational travel is a popular option for families.
You should think carefully about this, though. Staying with extended family can be great since you'll get the opportunity to spend time with your loved ones.
With that being said, though, we all know that family can sometimes be troublesome to deal with, and they may not always behave the way that you would like with your children.
For instance, some family members may completely disturb a child's sleep schedule, letting them stay up too late. It can be easy to have disagreements about what you do on the vacation too.
For these reasons, it's a good idea to make sure that you are a little bit more flexible when you are going to be staying with family. You will find that your travels are much more enjoyable if you have that level of flexibility.
You may need to follow other people's rules when you are staying in their homes, so if that's something that you're not comfortable with, then it may be better to stay elsewhere, even if it does cost a little more money.
If you intend to stay with family, the best thing to do is to speak to them in advance to check what their expectations are and check if you are okay with them. It'll certainly help you to minimize your stress.
Nonstop vs. Direct
Traveling with children can be quite a challenge if you make things too complicated for yourself. For that reason, it's usually best to stick to the most convenient option: non-stop flights. This will allow you to save time and energy.
When you choose direct flights, you may have to take a bus or train from one airport to another. This can be very stressful since you don't really know how long it will take to get there. Couple that with children who are getting impatient, and you have the perfect recipe for stress.
With that being said, there are some circumstances when it may be better to get a direct flight if you have children.
If you're going to need to take a very long journey lasting about 12 hours to get to your destination, then it may be better to get a direct flight instead, where you have a break in the middle. Your children will need the opportunity to get up and move around, after all.
You will also find that the flight will be a lot easier on you if you bring things with you to make the children more comfortable. Things like blankets, stuffed toys, and travel pillows can be useful. Consider what your child may need if they tend to struggle with motion sickness too.
Also, bring a selection of travel activities for kids to keep them entertained during the journey. This includes sticker books, travel toys, printable road trip games, coloring books, audiobooks, screen time, and kid-friendly snacks.
Do You Need A Ticket?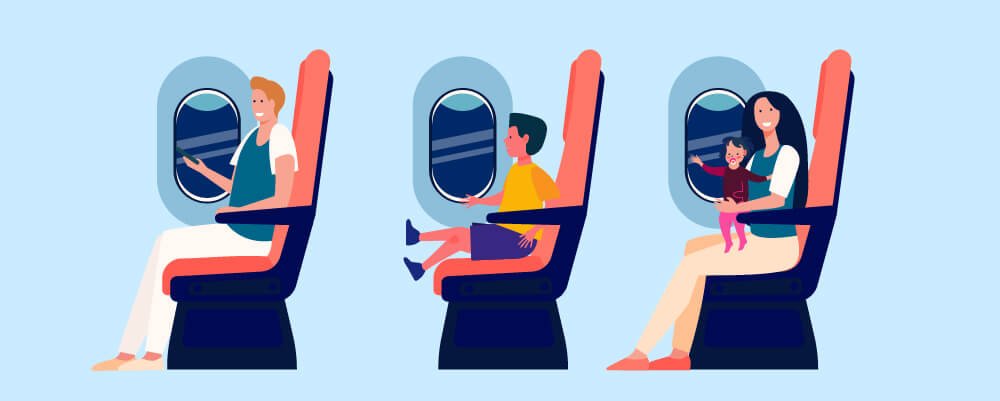 It's worth considering if you will need to pay for extra tickets for your child to come with you on the trip. In a lot of cases, a travel company will offer lap seats for children under the age of 2 years old.
With that being said, though, you may save money with this, but you may sacrifice your sanity in the process. You may not be comfortable with your child on your lap for the whole journey.
In most cases, it's better to pay more money to have a separate seat. That way, you can also use your own car seat on the plane, which will be better for the safety of your child. It's a good idea to double-check with the airline about whether they require an extra payment for you to bring your car seat or stroller on the plane with you.
Planning Your Days
The next thing that you will need to do is plan out how you are going to spend your days while you are traveling. There are plenty of ways to do this, but here are just a few ideas:
Make a list of activities you want to do during your vacation. Make sure that you include things like visiting museums, eating at restaurants, seeing shows, etc.
Plan out your itinerary so that you can see as many of the sights as possible if that's what you are interested in.
Of course, you may not want to overcomplicate things either. Don't pack too much into the space of one day. It's best to take half of the day for sightseeing and activities, and the other half should be spent relaxing. You'll certainly thank yourself for this, and so will your children.
Also, while you may be eager to spend the whole half day in history museums, consider the fact that your children may not want to. You want to make the trip fun for your children, and to do that, you need to make sure that you are breaking up the educational content with some kid-friendly fun. It's all about striking the right balance.
Keeping Children Engaged
Perhaps the hardest part of traveling with your child is keeping them engaged on the trip. It's important that your children have fun too, not just the adults.
But how do you keep children engaged when traveling? The answer to that will depend both on the personality and the age of the child. For instance, you wouldn't entertain a baby in the same way that you would entertain a child that's in school or in their teenage years (see also, 'Is it Illegal to Take Your Child Out of School for Vacation?').
Traveling with Babies
For the most part, keeping young babies entertained while traveling should be fairly simple. If your child is under the age of 1 year old, it's usually just a case of taking them wherever you need to go but keeping them comfortable.
That's it! Your baby needs to be comfortable and maintain a routine, but beyond that, the world is your oyster when you have a baby and you're traveling.
It's really important to reiterate how important it is, though, that your little one does keep a schedule. Keep up with their eating and sleep schedule – you'll certainly thank yourself in the long run for ensuring that this happens.
It may not always be possible to keep the routine as strict as you may have previously been able to at home, but try to be as close to it as possible.
It's also a matter of making sure that you bring the correct items with you to make the journey comfortable for your baby, whether you are traveling by car or in a plane.
Tips For How To Travel With A Baby
Here are some tips for keeping babies happy while traveling:
– Bring a portable crib or travel bassinet. This will ensure that your baby has somewhere safe to sleep.
– Pack a diaper bag with diapers, wipes, and a changing mat for your baby.
– Keep bottles of formula and breast milk handy (see also, 'How to Travel with Frozen Breast Milk').
– Have extra sets of clothes ready for your baby in case they get dirty or wet when you go out.
– Bring baby travel toys, books, DVDs, and games for your baby.
– Take regular breaks, at least every 2 hours.
As we've previously mentioned, it's also a good idea to ensure that your child isn't stuck in their car seat, baby carrier, or stroller for the entire day. They need to get a little bit of exercise if they are at a stage where they are walking.
If they haven't started walking yet, then they still need to have a stretch – bring a mat or blanket that you can put on the floor to allow them to stretch and move around on.
Traveling With Toddlers
Babies often aren't able to engage with the world as much when they are young. That's why the toddler stage can be a lot of fun for traveling. Toddlers are usually at a point where they will start to engage with the things that they see around them when they are in a new location.
Of course, that does mean that traveling with toddlers can also be a challenge since you need to make more effort to keep them entertained than you would need with a baby.
Toddlers like to be on the move, and it can be exhausting for parents to keep up with their active little ones when traveling and sightseeing.
Make sure that you take the opportunity to show your little ones the sights around them, allowing them to interact with things. At the same time, give them the opportunity to relax and replenish their energy too. Being constantly on the go can be quite tiring for such a small person!
When you're back at your accommodation, you could allow your child to spend some time having some gentle fun in the pool (supervised!) and going on the playground. Bring a selection of the essential travel toys for toddlers.
Traveling With Preschoolers
Traveling with pre-school-age children is generally easier than traveling with younger kids. As we've already discussed, toddlers don't understand what's happening around them very well so you won't be able to explain everything to them.
However, preschoolers do understand what's happening around them, which makes traveling with them a lot easier. You'll find that they love exploring new places and learning about different cultures.
Use our Summer Planner for Kids with various summer bucket list ideas for kids, summer planner templates, calendars, checklists, rewards systems, and more for parents and children.
Traveling With School-Age Children
If you're planning to travel with your older child, you should know that there are certain things you need to prepare beforehand. For example, you need to make sure that you pack enough travel snacks for your child.
Likewise, it's a good idea to let your school-aged child have more involvement in planning the trip. They don't have to plan the whole thing but ask them for their input about what they would like to do on the trip.
This way, they feel involved and part of the process. It's important that you involve your child in the decision-making process because this will help them develop into independent adults who are capable of making decisions for themselves.
Now, it's usually best to do this in a structured way. Ask your child what they want to do, but give them options. Tell them about some potential activities they can do, and ask what they would prefer to do.
Even just giving them a little bit of input in the planning process can help them to feel more engaged and provide them with a trip that they are going to remember for a long time to come.
Tackling Common Challenges
We would hardly be giving a comprehensive guide if we claimed that every aspect of traveling with children is plain sailing. There are definitely some challenges associated with traveling with kids. The question is, how do you tackle these problems? Well, here are some tips:
Too Sleepy, Or Not Sleepy Enough
Ah, jet lag. It's an issue no matter who you are, but it can be a particularly challenging thing to deal with when traveling with children. It can often be harder for younger children to get past their jet lag if you're crossing into different time zones.
Of course, there are ways to help your child get over their jet lag much faster. One of the most effective methods is to expose them to sunlight during the day. If possible, try to arrange for your child to sleep in the sun.
This will help to boost their body temperature, which will help them to fall asleep quicker.
If you are intending to visit a European country, then it can also help to make your children go to bed around one hour earlier than they usually would help them to get used to the new time zone.
You should ideally implement this routine change around a week before you depart. 
It's also a good idea not to go out of your way to make your children stay awake during the day. You may be tempted to do this to ensure that they'll sleep at night, but it's far more likely to backfire.
Instead, you can allow them to take short naps during the day. Your child also isn't going to have a lot of fun on the trip if they're constantly exhausted!
Sick Away From Home
When you're traveling with children, it can be easy to forget that they aren't always healthy. In fact, many parents find that their children become sick away from home.
Of course, you shouldn't expect your children to be perfectly well all the time. However, there are strategies to stay healthy while traveling with children. And, you should be prepared to treat minor illnesses as soon as they occur.
You should keep plenty of kid-friendly pain medication on hand in case they are hurt or you need to treat colds and flu. It's also a good idea to bring a thermometer and a first aid kit with you.
Make sure that you include items such as bandages, antiseptic ointments, antihistamines, cough syrups, and other medications that your child needs.
It's also vital that you come prepared for any and every eventuality. Make sure that you invest in some travel insurance before you go.
Ideally, you should be getting a policy that will allow you to be transferred back to your home country if there's an emergency since different countries can vary in terms of the quality of their medical care. Always thoroughly check the policy before departing in order to know what you are truly paying for.
Eating On The Road
You may begin to panic when you notice that your kids are stuffing themselves with junk food when out on the trip. In truth, this may be the time to loosen the rules a tiny bit. Let them indulge a little more when they're on vacation.
Of course, this needs to be within reason – moderation is still important. But don't panic too much if they're eating a little more sugar than usual. Just keep an eye out for the sugar crashes, and counter the synthetic sugar with a little bit of fruit.
It's also a good idea to eat at places that have meals that you know your children will eat. Your child may not have quite the same refined tastes that you do, so don't try to force them to. If you're going to feed them some new foods, give them in small doses. If they like them, great – let them try the dish! Just be patient since it's all-new for them.
Too Much Tech
Kids can be glued to their tech – it's an unfortunate truth of life in the 21st century! For this reason, it's a good idea to set a couple of rules about screen time before you depart.
Likewise, set by example – minimize the time you spend on your phone and give them something to focus on that isn't a screen. Some screen time is okay, but too much of it can easily detract from what could be the adventure of a lifetime for your children.
As an alternative to screentime, check out our Printable Travel Games for Kids to entertain the children on your next family road trip or flight.
Reluctant Co-Travelers
Your teenager may not be overly keen to hang out with you, their parents. It's pretty standard, but there are ways to deal with it. Perhaps the best thing to do is to give their close friend an invite.
They'll be more engaged because they can have fun with someone else their own age. Alternatively, you can go with a group of friends and their parents. It's also worthwhile to ask your teen about what interests them so you can choose a destination that will appeal to their interests.
Tired Of The Trip?
If your kids are having fun on the trip, that's great, but what about you? Focusing on the kids all the time can be exhausting. That's why it's a good idea to make sure that you take a little bit of time for yourself when you're on vacation, so you don't feel burned out.
Speak to someone else on your trip to see if they can babysit for a while. Or hire a local babysitter to give you a chance to enjoy yourself for some kid-free fun.
Packing Tips
The main thing is to make sure you pack everything you'll need, but don't take too much. You won't want to carry around a lot of stuff, because it can get rather heavy. That may not be ideal when you're also carrying around babies and toddlers! Only carry the things that you actually need.
So how do you ensure that you are packing the necessities but you aren't packing too much? Well, here are some of the essential things that you need for children of all ages.
Packing Essentials for Every Family Trip
There are a few things that you're going to need for pretty much any trip – a first aid kit and some packing cubes. The cubes will help you to organize your suitcase a little easier, so packing is less stressful. You can buy them pretty much anywhere.
A first aid kit is essential for ensuring that you have the tools on hand to treat your family in the event of an emergency.
Of course, you are also going to need toiletries, clothing and your passports if you're going abroad.
Infant Travel Gear
Infants need a lot of stuff! Thankfully, in some places, you can hire things such as strollers, car seats, and more on a short-term basis.
You'll also save a lot of space in your suitcase on the way down by getting things like extra diapers and baby food from the internet and shipping them to your room.
Some things that you are definitely going to need while traveling, however, include diapers, wipes, diaper cream, changing mat, bibs, pacifiers, food, bottles, teething items, medicine for gas, toys, a baby carrier, spare change of clothes and breastfeeding supplies.
Toddler Travel Essentials
Likewise, toddlers also need a lot of stuff for the road! In addition to the things babies need like diapers and other hygiene items, you will also need things like snacks, toddler toys, and activities to keep them entertained.
Otherwise, the list is pretty similar to what you would need for a baby.
Packing List for School-Age Children
Your school-aged child doesn't need nearly as much gear as a baby or toddler would.
Instead, you can bring their clothes, emergency contact information on some paper for them to access if they go missing, snacks, things to do, a bottle of water, and anything else that your child simply cannot go without.
Get our Family Travel Packing Lists for your next family road trip, beach vacation, or flight with children. These Printable Packing Lists will help you pack everything you need for a family vacation with a baby, toddler, or kids.
Summary
If you follow these tips, you'll be able to enjoy your family vacation without worrying about anything. While traveling with children, you'll be able to relax and enjoy yourself. Knowing that you've done all that you can to prepare for the journey ahead.
For more about family travel, check out these posts:
When Can You Travel With A Newborn?
Printable Travel Games For Kids
Summer Planner For Families
Family Travel Packing Lists
BE Family Products Inc., or (BE Family Travel) participates in the Amazon Services LLC Associates Program, an affiliate advertising program designed to provide a means for sites to earn advertising fees by advertising and linking to Amazon.com. Using any of the links on this website does NOT cost you anything but does help us continue to create content on this blog. Thank you so much for your support and for partnering with us. Let's BE Family.