When looking to cool off and escape the summer heat, there is nothing better than a fun, relaxing day on the water. Tubing is up there with families' favorite summer pastimes of cookouts, camping, and pool parties. River tubing with kids is an affordable summer activity for families, which only requires a small amount of tubing gear.

As an Amazon Associate, BE Family Travel earns from qualifying purchases. Learn More
Before you hit the river to go tubing with your children, there are some important factors to make it the best water tubing experience for your family.
In this article, we will cover everything you need to know to go water tubing with your family. We will discuss what to wear and what to bring for river tubing with kids. Plus a review of popular tubing gear and river tubing floats, followed by tubing safety, and what to consider before you go to the river with children. We will include our favorite river tubing quotes. Then take a look at the best rivers for tubing and locations for family-friendly river tubing near me. Let's dive in!
What is River Tubing?
River tubing is a sport done outdoors on a river by people who ride on top of an inflated innertube on the water. The current will float you down the river. If the water conditions are gentle, this can be a relaxing outdoor sport that is suitable for a wide range of ages. River tubing with kids is a great summertime activity for a family vacation. Many companies offer tubing tours or river tubing equipment rental. Or you can purchase tubing gear for a private family adventure floating on the water.
What to Wear for River Tubing?
It is important to wear shoes for river tubing to protect your feet. You will have to walk across uneven surfaces, and there could be broken glass or sharp rocks at the river. Are you wondering what kind of shoes to wear when river tubing? Do not wear flip-flops which will easily come off your feet and get swept down the river. For river tubing with children, choose to wear tennis shoes or waterproof shoes that strap to the feet.
When river tubing with kids, you will definitely get wet. Wear clothing that can get wet and is quick to dry. When I take my family river tubing near me, I dress the kids in a swimsuit, plus quick-dry shorts and a top. This helps to protect them from the sun, and the extra layer helps keep them warmer if the temperatures cool down out of the water.
Wear a sun hat to help protect your head and face from the sun. You may want to wear a pair of sunglasses, preferably with a strap to keep them secured, to help with the glare and reflection on the water.
Do not wear anything valuable that you would care to lose in the water. Remove jewelry and watches. Remember to empty your pockets. Leave your wallet and house keys locked in the car. Put important items such as your cell phone and car keys in a wearable dry bag.
What to wear when river tubing with kids:
Tennis Shoes or Waterproof Shoes that strap to feet (no flip-flops)
Clothes that can get wet (such as a swimsuit / quick-dry shorts and top)
Sun Hat 
Sunglasses (preferably with a strap)
What to Bring River Tubing with Kids?
For a day of river tubing with children, there is some tubing equipment and supplies you need to bring river-tubing. Obviously, there is the main river tubing float for riding down the river. And most importantly for family water sports, a life jacket. Make sure all children and non-swimmers wear a life jacket. Every state has different laws and requirements, but it's not worth the risk. Never take a child into a river without a life jacket! You may need paddles, depending on the speed of the water. One paddle for your group is a good idea just in case it's needed.
Depending on the distance you are water tubing, and the speed of the river will determine the length of your river tubing trip. You will likely be on the river for at least 3 hours. Remember to wear sunscreen and check out this sunscreen hack for kids.
Bring plenty of water so everyone can stay hydrated out in the sun. Consider bringing an extra inner tube to carry a cooler of drinks. Or use a mesh laundry bag that you can tie to the tube. Fill it with drinks, and the water will keep them cold while you float down the river!
Other tubing gear
Bring a nylon rope to tie the tubes together and prevent your group from getting separated on the river. And carabiner clips are useful for attaching things to your tube, such as water bottles. hats or dry bags.
Floating down the river is hungry work! When river tubing with kids, you need to bring snacks with minimal packaging. And a waterproof cover for your cell phone or camera so you can capture these special memories without losing items to the river. Or consider using a waterproof camera.
Items to bring river tubing and leave in the car include a pump to inflate river tubing floats before you begin. Get a pump that plugs into your car, so you're not exhausted from blowing air into the tubes before you even get started on the river! Also, bring towels, dry clothes, and shoes so your family can dry off and change after your river adventure.
Here's what to bring when river tubing with kids:
River Tubing Float – tube or raft
Life Jacket
Water
Cooler with drinks or a mesh laundry bag that you can tie to the tube.
Snacks with minimal packaging
Waterproof cover for your cell phone or camera
Items to bring river tubing and leave in the car: inner tube pump, towel, dry clothes, and shoes.
What's the difference between a tube and a raft?
An individual uses an inflated inner tube for water tubing. Whereas rafting uses an inflated raft that accommodates a group of people at the same time. River tubing is typically done on gentle water where individuals float down a river at a relaxed pace. White water rafting is more advanced and requires a group of people to paddle and navigate the raft through more intense water rapids.
Tubing Equipment
When river tubing with kids during a family vacation, choose to rent tubing equipment at your destination. This will make traveling with children easier, especially when deciding how to pack for a family road trip for when flying with kids.
There are plenty of tubing rental companies and tour operators in destinations where river tubing is popular. River tubing is a very affordable family activity, especially tubing equipment rentals for a day trip or afternoon on the river.
If you have access to family-friendly river tubing locations where you live, then consider buying tubing gear that you can use multiple times. Here is the most popular river tubing equipment for tubing with children.
Floats for River Tubing with Kids
The best river tubing float needs to be puncture resistant and made of strong vinyl. As you float down the river, you will need to navigate obstacles and sharp objects. River tubing floats need to withstand UV light exposure and river conditions. When choosing water tubing gear, it's important to consider the grip, comfort features, and the bottom of the tube.
There are many options for river tubing floats, and the price starts at $20 and up to purchase a tubing float. There are floats for river tubing with rider-support handles to provide heavy-duty grip as you ride down the river and make it easier to carry out of the water. The comfort features available for river tubing floats include head/backrests, a cup holder, or a mesh bottom.
Inner tube rings are suitable for warmer weather because your body will be sitting in the water. Whereas tubes with a mesh bottom, or rafts, allow you to carry a cooler or picnic lunch for your day on the river. River rafts with a bottom are also better for cooler water because they keep your body up out of the water.
What size inner tube for river tubing?
The diameter of the circular tube measures inner tubes. Generally, river tubing floats range in size from 30 inches to 70 inches in diameter. But, on average, floats for river tubing are between 40 and 60 inches.
To have a comfortable and relaxing float down the river, you must consider the size of your inner tube. The bigger you are, the wider the river tubing float needs to be. River tubing floats can accommodate a wide range of body types from children around 50 pounds up to adults of over 280 pounds.
If the innertube is too big for your body size, then it will be more difficult to navigate and control in the water. That's why it is important to use a smaller size river tube for children.
The Best River Tubing Floats for Families
Here are our recommendations for the best river tubing floats for children and adults. Don't forget to bring an air pump for the car to re-inflate the river tubing float before you venture onto the river.
Designed with bold stripes and a fun cartoon rat picture, this tube lives up to its name. It is ideal for floating in the river because it is sturdy and durable. The tube is constructed with two air chambers with double valves and an all-around grab line for easy handling. It includes a repair patch. This river tubing float for kids is 48″ in diameter and is designed for children aged 9+ years.
This Inflatable Floating Water Tube is built with durable 18 gauge vinyl and has two air chambers for stability, comfort, and added safety. There is a built-in cup holder to keep your refreshment nearby as you relax in the water, and the mesh bottom keeps you cool and comfortable. Designed with a built-in backrest for easy cruising so you can enjoy the water all summer long! It includes two heavy-duty grab handles to make carrying a breeze. Plus, easy-to-use connectors to fasten it to an Intex River Run Connect Cooler or additional River Runs tubes. A repair patch is included. This river tubing float is approximately 51″ in diameter, which makes it ideal for adults.
Cooler for River Tubing
Once you've chosen your floats for river tubing with kids, then you want to add some other water tubing equipment. A worthwhile addition is a cooler for river tubing, to help store your drinks and keep them cold. Here are the best river tubing coolers.
The Intex River Run Connect Cooler is one of the most popular coolers for river-tubing. The inflatable floating cooler is 35″ in diameter and has 2 handles for easy maneuvering. There are 2 simple-to-use connectors to attach to your Intex River Run Connect Lounge river tube. It has 5 built-in cup holders for cans and bottles.
If you need a larger floating cooler for river tubing then look no further than the Intex Mega Chill 2. This heavy-duty cooler has 4 handles and 6 cup holders. The base can also be used as a floating base for a cooler up to 48 quarts. It includes a removable ice chest that holds up to 72 cans and ice. This cooler for river tubing has three air chambers and includes a repair patch.
This portable cooler is also constructed with an IPX-8 leakproof and airtight zipper that ensures the cool temperature stays in and warm air stays out. Equipped with one padded detachable shoulder strap and double handles for easy carry when you are going river tubing with kids. It has a capacity to hold 20 cans. It is perfect for a day on the river and will keep your food and beverages cold for up to 72 hours.
Life Vest for River Tubing 
Each state has different rules for who must wear a life jacket when on the river. As a parent, it's important to make sure every child and non-swimmer is wearing a life jacket in the water. It's not worth the risk.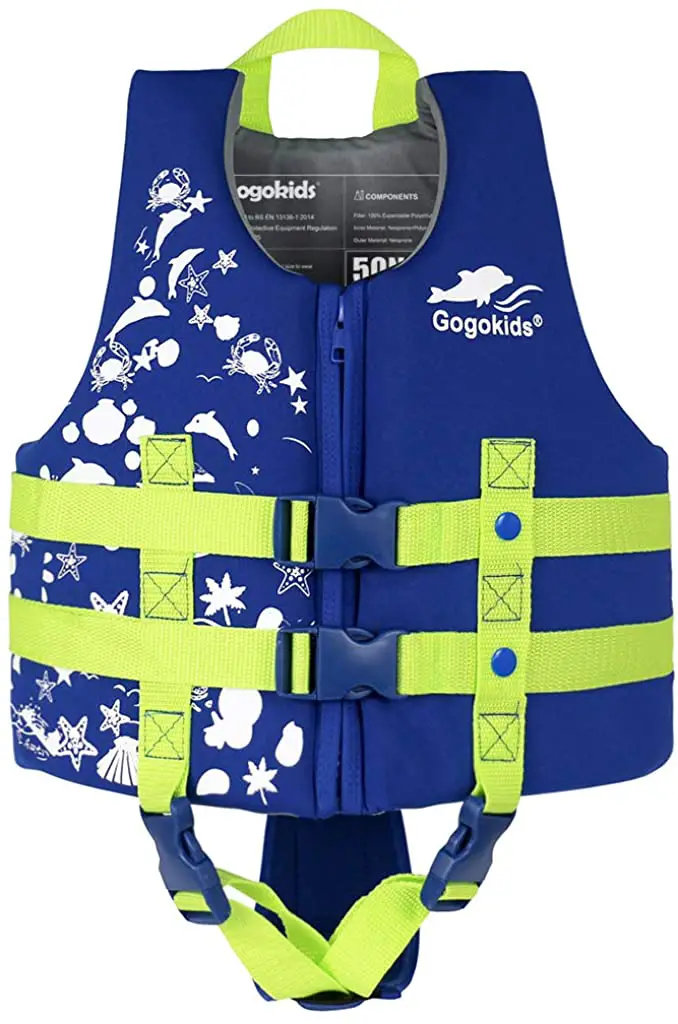 This float swimsuit buoyancy swimwear for boys and girls is a jacket style. It wraps around the child's torso and keeps arms free for swimming. Made of top-quality neoprene for warmth and buoyancy. This life jacket for river tubings gives children more confidence in the water. The adjustable chest strap with quick-release buckles provides comfort and safety, and the adjustable crotch strap ensures a snug fit.
If you have an older child or teen who is not a confident swimmer, then consider using a life jacket when river tubing with children or teens. This U.S. Coast Guard-approved life vest safely keeps children above the water surface. The lightweight durable foam fits the shape of the body and is comfortable to wear. Fits chest sizes 28-32 inches, and a weight range of 90 to 120 pounds. The adjustable straps offer a tight fit for a range of children without sacrificing motion. While quick-release buckles make it easy to secure the vest and remove it fast if necessary, hidden straps encourage mobility.
Tubing with Toddlers
Depending on the location, the depth, and speed of the river, most river tubing rental companies require children to be at least 4, 5, or 6 years old to rent river tubing floats. Tubing with toddlers is not recommended, and it is better to wait until your child is older and a stronger swimmer. River tubing is an activity for children who can swim and are comfortable in the water. Never take a child into a river without a life vest.
Tubing Safety
Before you head to the river to go tubing with children, there are several things you must consider to keep your family safe. Is your river of choice suitable for river tubing? Determine the river's water level and flow rate. If it's too high the current will be moving too fast and river tubing will not be safe. If the water level and flow are too low then you might not be able to float and rocks will be exposed.
Check the river conditions before you arrive at the launch spot. Rivers that are perfect for tubing one day can be too dangerous the next. Most tubing tour operators update their website with daily river conditions, or you can call them for an update. It is important to know if the river is open to everyone for tubing, for strong swimmers only, or closed entirely.
Also, the USGS website has a color-coded map with daily streamflow conditions and current water data for the nation.
Is tubing safe?
River tubing is safe compared to other water sports such as white water rafting or water skiing. However, there is always a risk of drowning whenever you take children into the water, and there is a chance of sprains and strains.
That's why it's important to follow these river safety tips when you go river tubing with kids.
River Tubing Safety Tips
Never go into the river alone.
Make sure everyone in the group knows the take-out location.
Preview your route to learn what obstacles lay ahead.
Inspect all of your equipment to ensure it is operating correctly.
Wear a life jacket.
Wear shoes to protect your feet.
Don't bring any glass to the river. Broken glass can cause severe bleeding, to you and others in the water.
Use a short rope to tie tubes together, so you don't become separated from your group, and secure equipment like a cooler tube. 
Don't allow long ropes to dangle. They can get snagged on obstacles in the riverbed and cause a safety hazard.
If you fall out of your tube, keep your feet downriver so you can push off obstacles.
Don't forget to use sunscreen.
Stay hydrated.
Tubing Safety Tips
The final decision before going river tubing with children, is whether you want to use a river tubing outfitter, or plan the adventure yourself?
Typically, the easiest and safest option would be to go with a river tubing tour operator who will take care of everything for you, and has experience with river-tubing. They will include the tubing equipment rental and a shuttle to the launch pad, as well as safety advice. This is a good option for your first-time river tubing with kids.
If you choose to plan the river tubing trip yourself, then we have more tubing safety tips before you head to the river. Find the public access points to the river. You won't be limited to the sections of the river where tubing companies operate. Therefore, make sure the section of the river you plan to go tubing with kids is safe to do so.
Make sure everyone in the group knows the take-out location. Have a planned meeting point in case you become separated from each other. Remember to take a vehicle to the exit point, so you'll have a way to get back to where you started. Always tell a family member or friend who isn't tubing with your group when you plan to return and where you are going.
Then you must decide if you will rent or buy the tubing gear. River tube rental is about $25.00 per person, depending on if you need the shuttle transportation service or an extra tube for a cooler. So, if you plan on making river tubing with children an annual summer tradition, consider purchasing the tubing gear upfront. This is more cost-effective in the long run. Overall, river tubing is a very budget-friendly activity for families.
River Tubing Quotes
Here are some popular river tubing quotes.
"Keep Calm and Go Tubing"
"Tubing is Back!"
"When in doubt, river float"
"If there is magic on the planet, it is contained in water." – Loren Eiseley
"You feel mighty free and easy and comfortable on a raft." – Mark Twain
Water Tubing Near Me
There is an abundance of options for river tubing in North Carolina. Thankfully, we have many of the best rivers for tubing in Western North Carolina. So, I am spoilt for choice about where to go river tubing near me. Check out this article about Asheville, NC river tubing locations and I will see you on the river!
If you're visiting Asheville, NC with your children then try these fun things to do in Asheville with kids. And if you're here during cooler weather, then consider snow tubing with kids in Asheville or these North Carolina snow tubing locations.
For more about family travel check out these posts:
River Tubing in Asheville NC for Families
Fun Things to do in Asheville NC with Kids
Snow Tubing with Kids
The Complete Guide To Traveling With Children
Multi-Generational Travel Ideas For Families
BE Family Products Inc., or (BE Family Travel) participates in the Amazon Services LLC Associates Program, an affiliate advertising program designed to provide a means for sites to earn advertising fees by advertising and linking to Amazon.com. Using any of the links on this website does NOT cost you anything but does help us continue to create content on this blog. Thank you so much for your support and for partnering with us. Let's BE Family.