If you are taking a trip to Orlando, Florida, it should include some time spent at Universal Studios and Walt Disney World. It may surprise you just how close the two theme parks are to each other.
Though both take up a huge amount of space, they are handily situated relatively close to each other. There are also several options to get between Universal Studios and Walt Disney World though some take longer than others. 
In this guide, we will look at how far Universal Studios is from Walt Disney World.
Also, read this article, so you know What to Consider Before you Travel with a Car Seat and learn more about How To Travel With A Baby Without A Car Seat.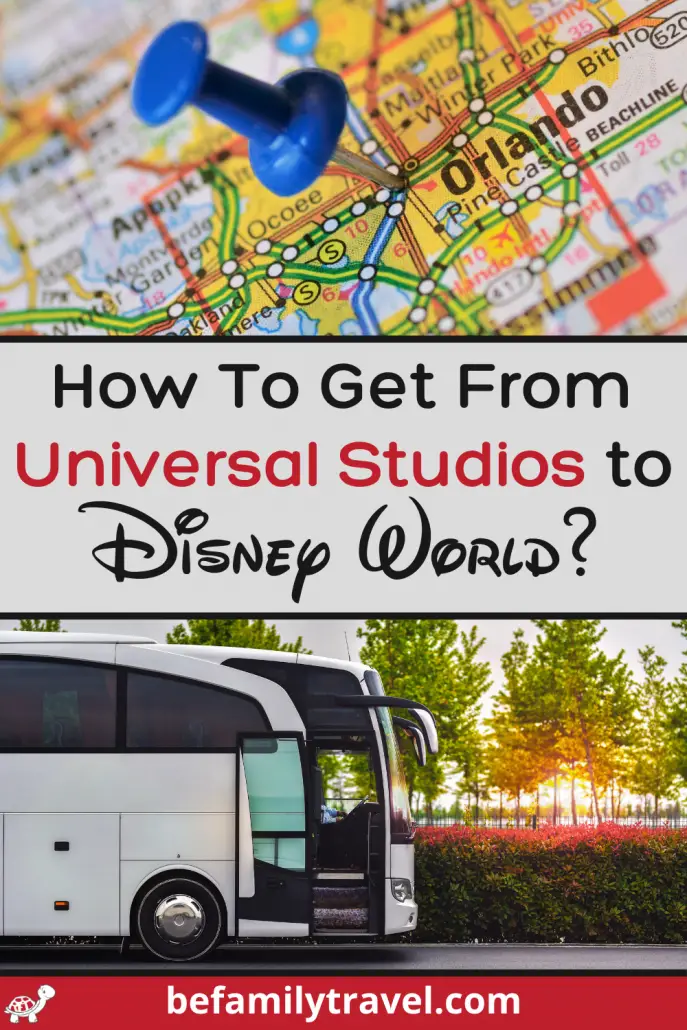 The Distance Between Universal Studios And Walt Disney World
Both Universal Studios and Walt Disney World take up a huge amount of space on their own, but they are not too far away from each other.
Universal Studios is a mere eight or nine miles away from Walt Disney World, and the journey should only take between 15 and 20 minutes in a car in good traffic.
Both theme parks are relatively close to Orlando Airport, so you should not have to travel far to get to either one of them. Universal Studios is actually the closest theme park to the city of Orlando, located near the Southwest of the city. 
While Walt Disney World used to have a Magical Express bus service available to transport guests from the airport to Walt Disney World, that is no longer available.
Disney only decides to offer free transportation to move guests around Walt Disney World, so you will need to pay to get between Universal Studios and Walt Disney World, and from the airport.
Thankfully, due to the distance between the two theme parks, it does not cost too much to get from one to the other.
The Methods Of Getting From Universal Studios To Walt Disney World
If visiting Universal Studios and Walt Disney World for part of a longer trip or if you are in Orlando simply to visit both theme parks, you have several transport options available. 
Renting A Car
The state of Florida is rather spread out, so you may want to rent a car for a simple way of getting around Orlando at your own pace. You may even get a good deal through your accommodation provider.
The route is relatively straightforward as you take the I-4 east and then exit 75A, where you should see some signs to direct you to the main parking garage at Universal Studios.
If you want to choose where to leave your car, Universal Studios parking starts at $27, which is typically a little more expensive for all-day parking when compared to Walt Disney World parking which starts at $25 per day. 
However, Universal Studios offers complimentary parking upgrades with Avis and Budget car rentals.
Use A Chauffeur Service
Check with your accommodation provider if they offer a chauffeur service, as this may be the easiest option, though it may be a bit more expensive.
There may be a considerable price to pay, yet if you are only in the area for a couple of days, this may be an ideal way to relax instead of trying to drive yourself and navigate the traffic.
Take A Taxi
For another relaxing option, simply order a taxi to take you between Universal Studios and Walt Disney World.
Try to find a reputable service, as a one-way journey should cost about $45. Mears Transportation is one of the best taxi services available, so ensure that you note their contact details. 
Order An Uber/Lyft
In recent years, taxis from an app have risen in popularity, which includes Uber and Lyft. These are usually cheaper than a typical taxi and can be far easier to organize.
Simply download the app, set up your account, link it to your payment card then use the app to order a taxi on the specified route when you need it.
Mears Shuttle Services
You may be tempted to order a Mears Taxi, yet the provider also offers a shuttle service between theme parks.
The journey should cost around $21 per adult, which is relatively reasonable though you will be sharing the bus with other guests.
The service also stops at other popular attractions, such as Sea World, so this is not a direct journey, and it may take more time than you expect.
Take The Bus
Yes, you could take the public bus, but there is no direct route between Universal Studios and Walt Disney World.
Of course, the buses head to the theme parks, yet you would have to change buses at least once to travel between them from your accommodation.
This is a cheap option yet far from ideal if you worry about the time, as it can take over an hour, even 90 minutes, to complete the journey.
That's time you could be spending at the theme parks enjoying the attractions. 
Final Thoughts
You would be hard-pressed not to book tickets for both Universal Studios and Walt Disney World if you are booking a family trip to Orlando, Florida.
Both theme parks are well worth visiting, and they are separated by only eight or nine miles, so there are several transport options on offer.
Whichever transport option you decide to take, our Disney activity pack is a great way to while away the time spent in transport getting there or waiting in line for the attractions. 
Frequently Asked Questions
Are There Shuttles Available To Take You From Walt Disney World To Universal Orlando Resort?
There are modes of transport that can take you and your family from Walt Disney World to Universal Studios, but they are not free. You could use a traditional taxi through apps such as Uber and Lyft are likely far easier to organize.
There is also the Mears Transportation Group which operates a large-scale shuttle service in the Orlando area, though, for a round trip, it does charge around $33 for adults and $25 for children. 
Is It Cheaper To Stay At Universal Studios Or Walt Disney World?
If you were to compare prices between Universal Studios and Walt Disney World, there is an overall winner. In general, Universal Studios is cheaper than Walt Disney World on a  number of factors. These include hotel rooms as well as tickets, and even theme park food.
For more about family travel, check out these posts:
Disney World Itinerary Planning: What You Need to Know
Tips and Tricks for Disney World
Walt Disney World Vacation Planner
Games To Play In Line At Disney
How Many Days For Disney World?
Disney Genie Plus Review
Which Is Better, Disney World Or Disneyland?
15 Best Family Activities In Orlando To Do On Your Travels

BE Family Products Inc., or (BE Family Travel) participates in the Amazon Services LLC Associates Program, an affiliate advertising program designed to provide a means for sites to earn advertising fees by advertising and linking to Amazon.com. Using any of the links on this website does NOT cost you anything but does help us continue to create content on this blog. Thank you so much for your support and for partnering with us. Let's BE Family.