A trip to the beach can be a bit of a hassle for moms and dads. Not only do you have to pack the essentials to keep the kids comfortable, but you also have to ensure that every bit of their day is enjoyable. Luckily for us, there are parents out there that manage to beat the beach at its own game. If you want your trip to the beach with the kids a little bit easier to manage, here are some family beach hacks to keep in mind.

As an Amazon Associate, BE Family Travel earns from qualifying purchases. Learn More
What Are Family Beach Hacks?
After more than a decade of taking kids to the beach, these are our tried and tested family beach hacks. Use these simple family beach hacks to save time and reduce stress when taking babies, toddlers, or children to the beach.
Over 20 Popular Family Beach Hacks
1.   Sunscreen Hack for Kids
A dab of sunscreen can protect your baby's skin from the harsh glare of the sun. However, applying it to them is more of a hassle than necessary.
The trick here is to make the application part as gentle as possible for your children. You can do this by applying a bit of the sunscreen to a make-up brush and then putting it on your child's skin.
Soft, sweeping motions with the brush will evenly apply the lotion over the skin while preventing it from getting into your kid's eyes. At the same time, it frees your hand up from getting sticky from all of that lotion.
Check out our video of this sunscreen hack for kids using a brush applicator.
Just remember that the sunscreen would only last for a few hours. Have a sunscreen alarm set, so you can call your kids back to re-apply the lotion.
2.   Baby Powder Beach Hack for Sand
It's hard not to get sand all over the body when going to the beach. The problem with sand is that it's quite tricky to remove from the body, especially if it gets wet. Even if your kid takes a shower after a day at the shore, there will still be some grains of sand on their skin, hand, and folds.
One of the best family beach hacks you can use here is applying baby powder all over the sanded body. Baby powder absorbs all the water from the sand, turning it dry and flaky. Once all the moisture is removed, you can shake off the powder and sand with a few taps. All that is left is smooth and sand-free skin. You can double the effects of baby powder by mixing a bit of cornstarch when applying it to the skin.
Check out our video of this baby powder beach hack to see how easy it is to remove sand from the skin.
3.   Use a Snack Container to Hide Valuables
Having all your valuables with you is a must when at the beach. However, you might want to hide them in an inconspicuous place. The best way to do this is through the containers of your snacks. A container like the one used by Pringles is big enough to hide some phones, keys, and wallets. You can even use something as small as an empty chapstick to hide some rolled-up cash.
The goal here is to make your valuables hidden in plain sight. To everybody else, your kids and would-be thieves, your containers look like boring trash and would not bother with it.
4.   Fitted Sheet Beach Hank
Many beach hacks with babies will teach you that you won't need an elaborate setup to give your kids something to sit by under a shade at the beach. This hack, in particular, requires you to bring a fitted sheet with you and then lay it on the beach. Use a cooler or your bags to stretch out each of the four corners as far as you can.
You will have an area wide enough for your kids to sit, play, and eat without getting sand all over their bottoms and legs. Add a little umbrella to one side to give everyone some nice, cool shade.
Baby Beach Hacks
5.   Baby Beach Tent
Your baby is not yet that ready for the heat of the sun, but they still want to have some beachside fun, too. One of the best beach hacks for infants in this situation is to give them the shade that they need with a small beach tent that can fit one baby inside.
These tents are easy to set up and can provide your baby with cool shade to sit on. It's also the perfect place to change their diapers or have nap time in the tent.
6.   Outdoor Beach Blanket
A waterproof beach blanket is one of the simplest yet effective beach hacks for babies and adults. If you know what you are doing, it can serve as a portable spot for you and your family to sit on without getting scorched by the sand beneath. The trick here is to pick a blanket (see also 'Best Beach Blanket') large enough to allow at least two adults and a few kids to sit comfortably while also made from sand-proof and heat-resistant material.
But where to store it? To solve this problem, pick a beach blanket with an easy-carry tote bag. With a few folds, your wide blanket will be small enough to fit in the bag and be carried anywhere.
7.   Bring Bath Toys from Home to Use at the Beach
One of the best family beach hacks for a baby that you can easily apply is to keep them distracted with toys. But don't spend on beach toys if you have none at home.
Instead, bring with you some of the toys that they use in the bathtub to the beach. Bringing something familiar will help the baby get comfortable enough to play on the shoreside.
8.   A Mesh Laundry Bag to Carry Beach Toys
At the end of the day, the toys you bought for the beach will become wet and sandy. One of the beach hacks for infants that you could use here is storing all of the dirty toys in a mesh laundry bag.
Not only is a laundry mesh bag strong enough to hold these toys in, but you can also clean the toys without taking them out of the bag. Just rinse the bag with water, and all the sand will seep through the bag. Once all the sand has been washed away, you can let the bag hang to dry all the toys.
This is one of the most popular family beach hacks you'll want to share with other parents!
9.   A Small Inflatable Pool for Little Ones to Cool Off and Play Safely in the Water
Since babies are not yet ready to handle the beach independently, you would want to improvise, so they don't miss out on the fun. You can purchase a small inflatable pool where your kid can play around under your watchful eye.
Have it set up under your beach umbrella or tent and fill it up with seawater (see also 'Best Beach Tents'). With this, your baby has a small pool/playground to themselves. They are more comfortable away from the waves and under the shade.
Beach Hacks for Toddlers
Tip: Unsure about how to implement these beach hacks? Practice for a few weeks before the big day. How well you implement these family beach hacks will depend greatly on how confident you are to perform each step.
10.       Hooded Beach Towel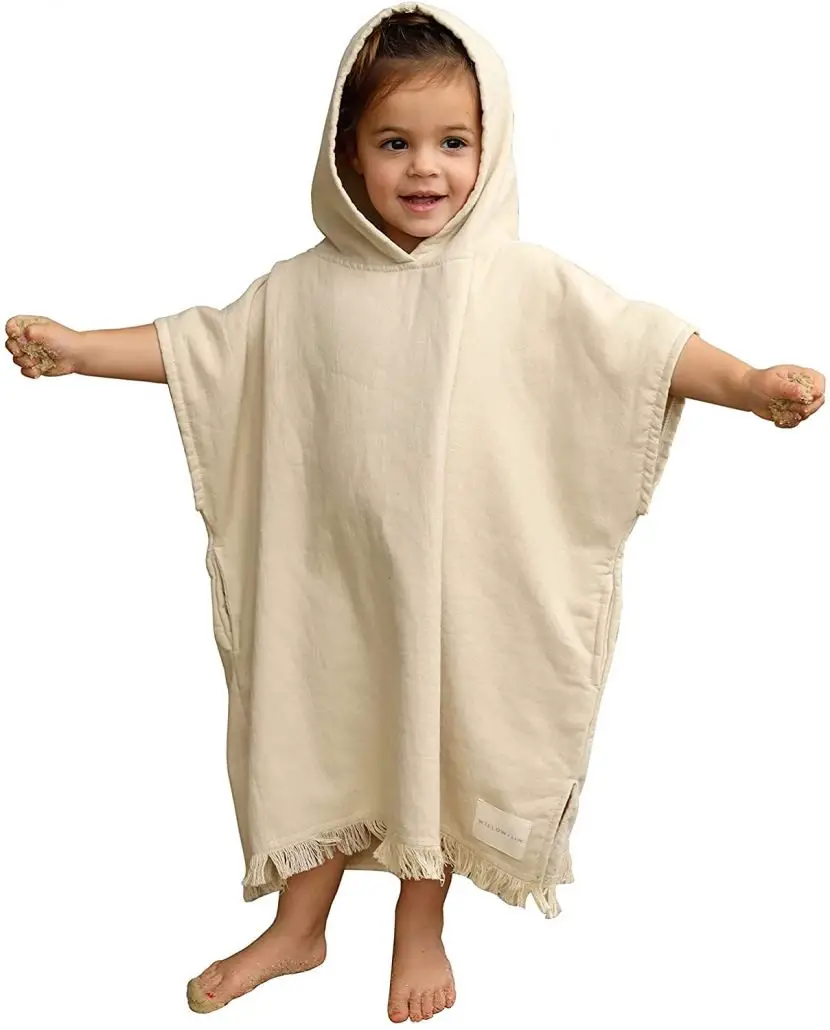 Picture this scene: your kids have already dried themselves but want a little bit more fun running around the shore before you leave. There is no sense in letting them move with a towel. So you will need something more fitting to their form.
One of the best beach hacks for toddlers is a hooded beach towel. This will be worn by your child like a poncho and allows them to change hands-free. It keeps them dry and protected from the sand without hindering their movement. And because these towels don't have to be held to be close to the body, your kids won't likely drop them into the sand to be forgotten.
11.       Water Shoes to Protect Your Child's Feet from Hot Sand and Sharp Objects
The beach itself can get hot, especially during noontime. Also, there's no telling what lies hidden in the sands to prick your child's foot as they walk.
You can prevent accidents by buying a pair of water shoes for your child.  One of the simplest and cheapest toddler hacks for the beach. These shoes are made of rubber, which makes them light enough to wear around but tough enough to repel sharp objects and heat. So as long as your child wears these as they play around, the chances of your beach trip getting cut short are greatly decreased.
12.       Protective Sun Gear
The sun's glare is notorious for its intensity on the skin, especially at noon and early afternoon. Thus, you want to be prepared with beach gear that can protect your children from the sun. But what should you bring with you on your day at the beach with kids?
Any baby beach hacks sun protection set should come with an SPF 50+ sunscreen. The lotion should provide a protective layer strong enough to shield the skin of your kids from the sun as they play on the beach. A lip balm with an SPF 30+ protection should also be necessary to protect their lips from becoming dry and flaky.
One of the simpler beach hacks with toddlers is giving them a sun hat to protect their heads from the heat. A pair of toddler sunglasses with a strap can also reduce the glare from the midday sun. And a swimsuit rashguard set is essential for protecting your child's delicate skin from the sun.
Beach Hacks for Moms
13.       Pack Your Beach Bag the Night Before
Don't wait for the big day before you start packing all the essentials. One of the easiest mom beach hacks that you can do is to pack everything the night before. The night before the big day is close enough for you to remember all the essentials that must be included in your beach bag, but not too close that you'd start panicking as you pack.
To make things easier for you, have a checklist of sorts as you go through your essentials. Take note of what they look like and which compartment they went through. The less you fumble through your beach bag, the easier it is for you to remember where things are stored as you unpack things at the beach.
Check out this article about Beach Essentials for Kids, and download our FREE Beach Essentials Packing List.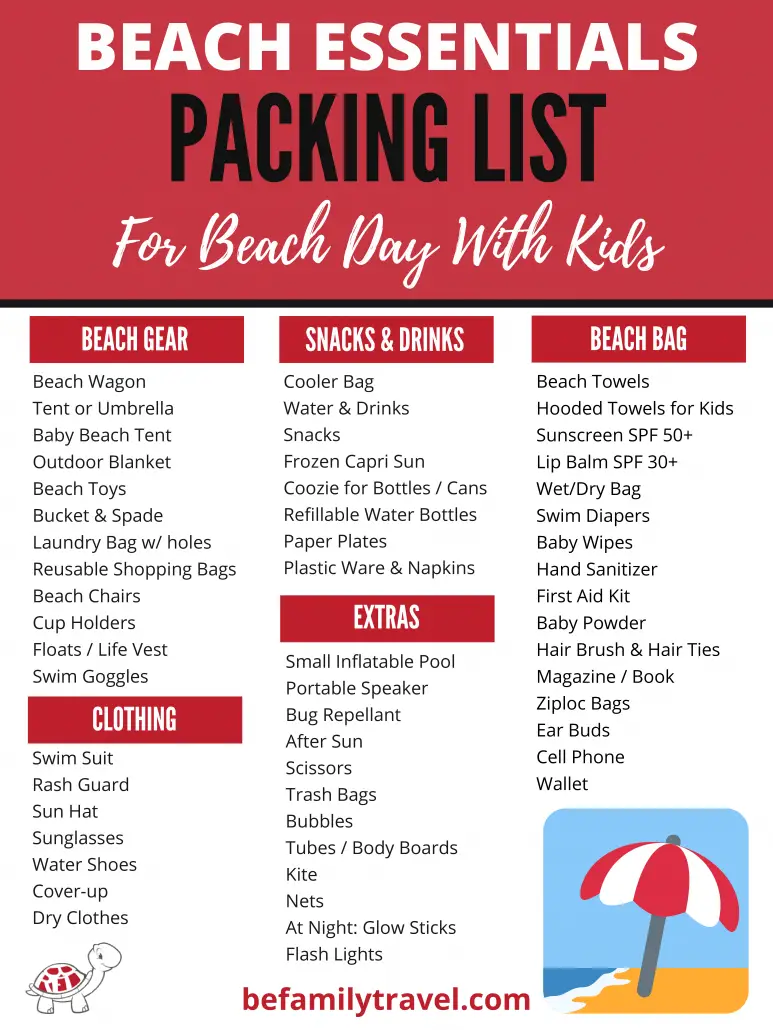 14.       Freeze Water Bottles as Ice Pack
Ice cubes can get expensive nowadays, and you might be miles off from the nearest grocery store to get a bag of them. Make things easier for yourself by filling up some empty plastic bottles with water and then freezing them overnight.
On the big day, you should have sizeable blocks of ice ready to be placed in your cooler box. These frozen water bottles will keep your other snacks and drinks cool. And as they defrost, you can drink the cold water or use it to refill your reusable water bottles.
15.       Bring a Reusable Water Bottle for Each Family Member
Buy reusable water bottles and have them assigned to your family members. These bottles are light enough to be carried around anywhere and can store all kinds of liquids, from plain water to juices.
You can have them stored in the cooler so they can be chilled as you travel. And when the day is done, they can be stored back in the cooler for cleaning once you get home.
We love the THERMOS Funtainer. The vacuum insulation technology keeps drinks cold for up to 12 hours, and these bottles do not sweat!
16.       Bring a Cooler for Snacks, Lunch, and Drinks
Of course, you'd rather not be eating stale food or drinking lukewarm soda on your day at the beach. Avoid this problem by bringing a cooler bag with you. Modern coolers are compact yet lightweight to be carried around anywhere.
They are also made of a material that can maintain the temperatures inside at cool levels. It will also serve as a nice complement for any of the family beach hacks mentioned above, like the frozen water bottles. If you cool all your beverages a few hours before you head to the beach, the cooler and the ice will keep them chilled well until the afternoon.
17.       Pack Individually Wrapped Snacks for Kids
One of the best money-saving beach hacks for parents is preparing the meals yourself. Find out what your kids want for their day at the beach and have them prepared a few hours before you go.
A few sandwiches they are familiar with are safe options, but you can also try some healthy and delicious recipes online. You'll find out that you can prepare more snacks with the same money you would otherwise spend on bags of chips and other junk food. 
Check out these healthy travel snacks, which are perfect for a day at the beach with kids.
Extra Beach Hack: Want something cool for your feet as well? Try digging half a meter underneath the sand. The sand below is cooler than the top layers.
Beach Hacks for Parents
18.       Beach Wagon with Chunky All-Terrain Tires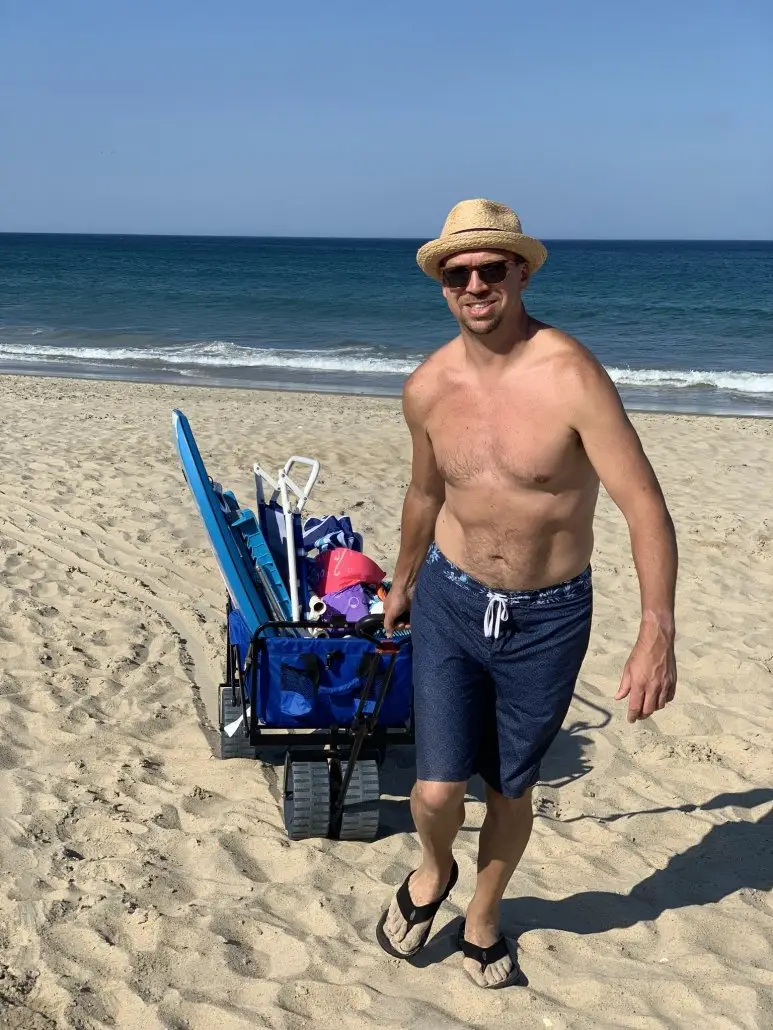 Save all that strength, and don't lug around baggage as you head to a nice spot at the beach. Buy a collapsible beach wagon that can hold all of the essentials and can be easily pushed through the sand.
The beach wagon is one of these parent beach hacks that are only effective if you know exactly what you have bought. For a beach cart, you need thick extra large all-terrain wheels. Check if the wheels are 4 inches wide and feature ridges at the surface. Wheels with this profile will help the wagon move through the beach without sinking beneath the sand. These wagons are also made from a series of connecting steel frames that allow them to be collapsed to a more compact form when not in use.
19.       Reusable Shopping Bags as Beach Bags
The goal with many beach hacks for families is to spend less while using more of what you already have. Instead of buying new bags for visiting the beach, use whatever shopping bags you already have. The new, eco-friendly bags are made of durable stuff that can hold quite a few items without breaking.
And when not in use, these re-usable grocery bags are easy to fold and keep out of sight while maintaining their durability for months. And when these shopping bags are showing wear and tear, they can easily be disposed of without adding to the worldwide trash problem.
20.       Have Kids Carry Their Own Bags
Want to teach some responsibility to your older kids while using a beach hack? Prepare their separate beach bag and make your child responsible for it throughout the day.
Make sure each beach bag includes a towel, sun hat, sunglasses, and water bottle, and have the kids observe how you pack all items. Not only will this teach them to be mindful of their stuff, but it will also take much of the load from you and your partner when managing all the essentials for the beach trip.
21.       Avoid Being on the Beach in the Middle of the Day
Timing when you and your family will hit the water is crucial for your trip. No amount of sunscreen will protect you from the glare of the sun. And the heat can be unbearable on top and beneath your feet at certain times of the day.
Instead of being on the water from 12:00 noon to 3:00 pm, the hottest period of the day, plan something else with the kids underneath the shade. Only be exposed to the sun before or after the midday sun to prevent sunburn and overheating.
22.       Use Ziploc Bag for Electronics
To protect your electronics from salt water, one of the easiest beach hacks for families that you can use is to put them in a large Ziploc bag. The plastic Ziploc bag will protect your electronics from the water by preventing it from seeping in.
If possible, have all your electronics in one Ziploc bag to conserve space. It would also help you if you can keep the opening shut so any moisture would not find its way into the contents inside.
23.        Bury Your Cooler in the Sand
A cooler is already great at storing things at low temperatures, but you can make it even more effective. Dig a hole in the sand large enough for your cooler to fit in and deep enough that it can be buried halfway.
The sand beneath the layer exposed to the sun is cooler, which makes it a great insulator. Removing your cooler from the hole is not as hard since sand does not offer a lot of resistance unless wet.
24.       Use Aloe Vera Ice for Burns
We often apply ice packs on sun-burnt skin, but it is not as effective as we want them to be. One of the niftiest family beach hacks is preparing some Aloe Vera ice cubes.
The night before, have some Aloe Vera gel poured into an ice cube tray and have it frozen overnight.
You can even mix some water in to make even more cubes for the family to use for the day. The cube will cool the skin while also treating the inflammation. And unlike regular ice cubes, the cooling effect lasts even after the Aloe Vera cube has melted.
25.       Go Upwind
This is one of the easiest beach hacks for families that you can use, especially on a crowded beach. If you want some extra space to park all your things, follow where the wind is blowing.
What makes this hack work is that most people would go with the wind in finding a camping spot instead of against it. And don't worry about shifting wind directions since it always blows from the sea whenever you are on a beach.
Of course, it's up to you to find a way to keep your things from being blown over by the wind. If done right, you should have a big enough camping spot for your family nearest to the water before the rest of the beachgoers arrive.
Conclusion
The family beach hacks above will make your stay less stressful and more enjoyable for you and the rest of your family. Just keep in mind that your level of enjoyment with these hacks is directly proportionate to how well you implement them.
Take the time to study and practice these hacks so you can get the hang of them before the big day. And remember that the success of your day at the beach depends greatly on how well you prepare for it. If everything has been set right, then you and your family should have a great and relaxing day with each other as you hit the waves.
Remember: A beach hack is just as good as how prepared you are for your trip to the beach.
For more about family travel, check out these posts:
Baby Powder Beach Hack For Sand
Beach Essentials: What to bring for Kids
Family Beach Vacation – Ultimate Guide & Packing Lists
How To Survive Rip Current with Kids
When Can You Take a Baby to the Beach?
Baby Beach Accessories: The Must-Have Beach Gear
BE Family Products Inc., or (BE Family Travel) participates in the Amazon Services LLC Associates Program, an affiliate advertising program designed to provide a means for sites to earn advertising fees by advertising and linking to Amazon.com. Using any of the links on this website does NOT cost you anything but does help us continue to create content on this blog. Thank you so much for your support and for partnering with us. Let's BE Family.