Waiting in the baggage claim area for checked bags is a nerve-wracking experience. The longer it takes for your luggage to show up, the more nervous you start to feel. What if this is the trip where your bags didn't make it? The last thing you want to deal with during or after a family vacation is a lost baggage claim. But, what are the steps you can take to learn how to avoid lost luggage?
While there's no guarantee of preventing lost baggage when flying, there are ways to reduce the chances of lost luggage. Follow these steps to help make losing your suitcase less painful. Take action before you find yourself in the unfortunate situation of wondering how to find lost baggage at the airport.

As an Amazon Associate, BE Family Travel earns from qualifying purchases. Learn More
In this article, we provide eight steps about how to avoid lost luggage when flying with children. We also discuss why luggage gets lost, whether the airline is responsible for lost luggage, and what happens when luggage is lost. We provide an overview of reporting missing luggage and tracking lost baggage. In addition to details about how to get compensation for lost luggage and tips about maximizing your lost luggage claim.
When flying with kids, you may also be interested in our articles about Navigating Airport Security with Children or our Helpful Tips for Flying with a Toddler. Get our Printable Family Travel Packing Lists to help pack everything you need for a family vacation with a baby, toddler or kids.
Step to Prevent Lost Luggage
Now let's look at how to prevent lost luggage when flying with children. Before taking your next flight, follow these steps, and learn how to avoid lost luggage.
1. Make your bag easy to identify.
Everyone owns a black upright suitcase. In the hustle and bustle of the baggage claim area, it is easy for someone with a similar suitcase to misidentify your suitcase and take it as their own. Therefore, make your baggage stand out and easy to identify. Use colorful luggage tags and bright-color luggage straps. This is also a unique feature that the airline can use to help identify a lost bag.
2. Make it clear how to contact the bag owner.
It's important to label the bag with your name and make clear where it's going. Add your contact information to the outside and inside of the bag. The luggage ID tag must include your name, cell phone number, email address, and destination address. On the top of your open suitcase, add the printed itinerary of where you're going along with your contact details. This will help baggage handlers have a better idea of where to forward your bag if it gets lost or delayed.
3. Make sure your bag is tagged correctly.
Remove old tags and barcodes that are on luggage from previous flights. If the wrong tracking barcode is scanned, then your luggage won't end up at the same destination as you. Double-check the tag the check-in agent adds to your bag. Ensure it's attached properly and the bag is labeled to the correct destination.
4. Add a tracking device.
A lost baggage tracker will give you peace of mind. Know where your checked bag is with a GPS-tracked device such as Apple AirTags. Place it into your suitcase, and then use an app on your cell phone to track the device. If the luggage is delayed, the tracker will help the airline track your lost baggage and return it to you more quickly.
5. Check in early.
Arriving late at the airport increases the likelihood that your checked baggage won't have time to make it onto your flight. After you check in and drop off your luggage, it still has to make it through the airport and to the loading bay. Help prevent lost luggage by checking in early. Give your luggage plenty of time to be loaded on your flight.
6. Don't book tight connections.
Direct non-stop flights are the best option for how to avoid lost luggage. If you are taking multiple flights, ensure there's no tight layover. Allow plenty of time for your baggage to be unloaded from one flight and reloaded onto your next flight at your connecting airport(s).
7. Travel carry-on only.
If you prefer not to learn about how to deal with lost luggage, then consider traveling carry-on only. There is something very liberating about traveling light. Discover how to create a travel capsule wardrobe and only pack the necessities.
Plan ahead. Always travel with multiple changes of clothes and pajamas for each family member in your carry-on bag. Also, carry toothbrushes, toiletries, personal care items, and enough diapers for at least 24 hours (in case you're delayed).
8. Keep valuables and sentimental items in your carry-on.
If you are checking a bag, make sure the items are easy to replace if they are lost or delayed. Always keep valuables (jewelry, technology, money) on your person. Put sentimental items in your carry-on. This includes items you / your child would be sad to be without, such as stuffed animals, gifts, souvenirs, or souvenir clothing from this or previous trips.
Another idea to avoid lost luggage is to consider your child(ren) taking a carry-on suitcase. This helps to reduce the need for so many checked bags. This is only beneficial if your child is old enough to maneuver a carry-on suitcase through the airport and onto the plane. Otherwise, a parent will find it challenging to deal with too much carry-on luggage without help.
Travelpro is my favorite brand of good quality and affordable carry-on luggage.
Why does luggage get lost?
Lost baggage is what all travelers dread! The main reasons why airline luggage gets lost include:
Increased flight demand means more baggage is being transferred, so the likelihood of mishandling increases.
Tight connections make it challenging to get luggage to the right flight on time.
Not enough baggage handlers to manage the demand and a shortage of airline employees to process lost bags. So bags sit in the wrong location for days or weeks, waiting to be processed.
Human errors – incorrect tagging or loading mistakes.
Baggage tags become smudged and unreadable, or tags come off bags and make it harder to get luggage to the correct destination.
We flew from England to the United States in the summer of 2022. When we arrived at our destination, all three checked bags were missing. We experienced lost baggage at Dublin airport during a flight connection. This was at a time when lost luggage in Europe was a very real problem.
After two years stuck at home during the Covid pandemic, this was the first summer (2022) that people felt comfortable traveling internationally again. But due to staff layoffs during the pandemic, European airports couldn't handle the increased demand and volume of luggage that needed to be transported. This caused utter chaos for travelers at European airports, as we experienced in the Dublin airport.
Are airlines responsible for lost luggage?
The simple answer is yes! There are international treaties (for international flights) and DOT regulations (for US domestic flights) that require airlines to provide compensation to passengers if their bags are lost, delayed, or damaged.
Recently we filed a lost baggage claim against United Airlines. We were flying internationally from EXT to DUB (with Aer Lingus) to IAD (with United) to CLT (also with United).
Initially, I thought it would be a lost baggage Aer Lingus claim because that is the airline where we checked in. However, I discovered it is the final transporting carrier who assumes all baggage claim risks. Therefore, the last two legs of our ticket were with United, so they assume responsibility for the lost baggage.
What happens when luggage is lost?
Traveling is stressful enough, and lost luggage adds to the anxiety levels. If your bag doesn't arrive on the baggage carousel for your flight, then check the other carousels. Make sure your bag wasn't delivered to the wrong carousel. If you still can't locate your luggage, it's time to report a missing bag.
Stay calm. Getting upset about the situation only makes things worse.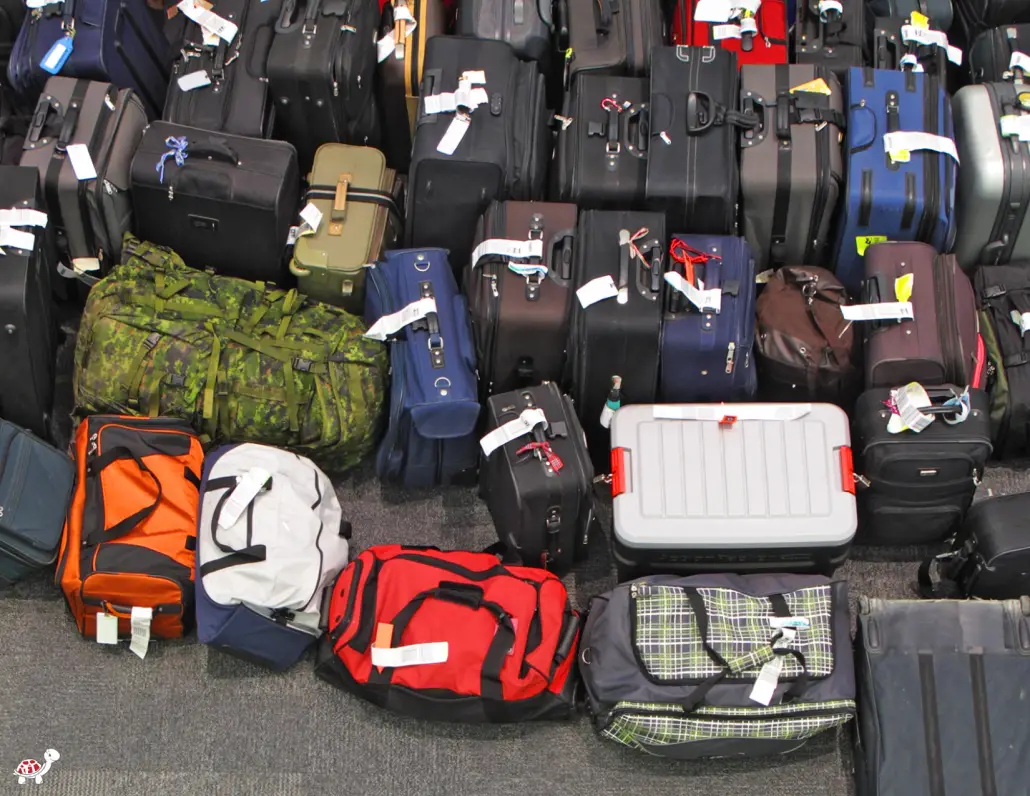 How to report missing luggage?
Go to the baggage desk for the airline that operated your final flight. Present the bag tags you received at check-in. The agent will use the barcode/bag ID number to track your luggage in the system. Hopefully, the agent will be able to identify the location of your missing bag and arrange for it to arrive on the next flight.
When reporting missing baggage, you will be issued a file reference number by the airline. Keep hold of this number, as you will need it to receive any future tracking information.
To file a lost baggage report, the airline agent will want to know lots of information about your bag and travel plans. Provide them with the size, color, and material of your checked bag, plus any identifiable features. This is when it comes in handy to put a colored luggage tag and a colorful strap on your bag so it stands out from all the other black suitcases!
The lost baggage report must also include your local address and contact information. Confirm that the airline will arrange delivery of the bag to your destination. Get the phone number of lost baggage customer service so you can check the progress of your bag's arrival.
How to track lost baggage?
When filing your missing luggage report, request your lost baggage world tracer number. This is a 10-character reference number used to track the progress of your baggage inquiry. 
The airlines also offer baggage tracing on their website using the file reference number. This is where they will post updates about the status of your bag. Here is an example of United Baggage Tracing from my most recent lost baggage experience.
Ultimately, lost baggage tracking requires time and a large dose of patience! The biggest frustration after my recent international flight was the time I had to spend tracking my lost baggage.
Since I checked in with Aer Lingus in Exeter (EXT), I was issued bag tracking numbers that are not in the United airlines system. No one could track the location of my three checked bags.
Each time I called United bag tracking for an update, I was on hold for a minimum of 90 minutes (often much longer). I kept being told to "be patient" and "give it time."
Finally, after five days, two of the bags showed up at our regional airport. United never knew where the bags were or when they would arrive. I received a phone call from a gentleman who worked at the information desk at our local airport. He said he saw my bags going around on the baggage claim carousel. He thought I'd want to know where they were, so he called the phone number I had on my luggage tag. I was incredibly thankful for his kindness and went to the airport immediately to retrieve my missing luggage.
How much do you get for lost luggage?
Under U.S. and Montreal Convention air passenger rights laws, the maximum baggage liability for international flights is approximately $1,780 (USD). The airlines lost baggage compensation could be more, but this is the most that airlines are required to pay for a lost, damaged, or delayed bag.
On a domestic flight in the United States, the maximum liability amount allowed by the DOT for lost, damaged, or delayed bags is $3,800.
Airlines are also required to refund any baggage fees you paid the airline to transport the bag that was lost.
Airlines are required to provide lost baggage reimbursement to compensate passengers for reasonable expenses that they incur while their bags are delayed. Keep receipts for the expenses you incur, such as toiletries, clothes, and pajamas that are needed while waiting on your luggage.
Does lost luggage get found?
According to the DOT Air Travel Consumer Report, in February 2022, six out of 1,000 checked bags are lost, damaged, delayed, or pilfered. The worst airline for lost baggage is American Airlines at a rate of 0.98%.
Delayed luggage can typically take three to seven days to reach its destination. Airlines have different policies to determine when a bag is officially lost.  Most airlines will declare a bag lost between five and fourteen days after the flight, but this can vary from one airline to another.
So, even if you follow our steps about how to avoid lost luggage, there is still a chance you could lose your luggage. Keep reading to find out the best ways to receive compensation for lost luggage.
How to get compensation for lost luggage
When filing a lost baggage claim ticket, these are the steps you want to take before your flight. This will make the process easier for receiving lost baggage reimbursement. Here is what I did to maximize my lost luggage claim.
Take a photo of your checked bag.
Before checking in your bag, take a photo of it. This is helpful if you need to file a lost baggage claim. Know the brand of your luggage and exactly what it looks like to provide a detailed description.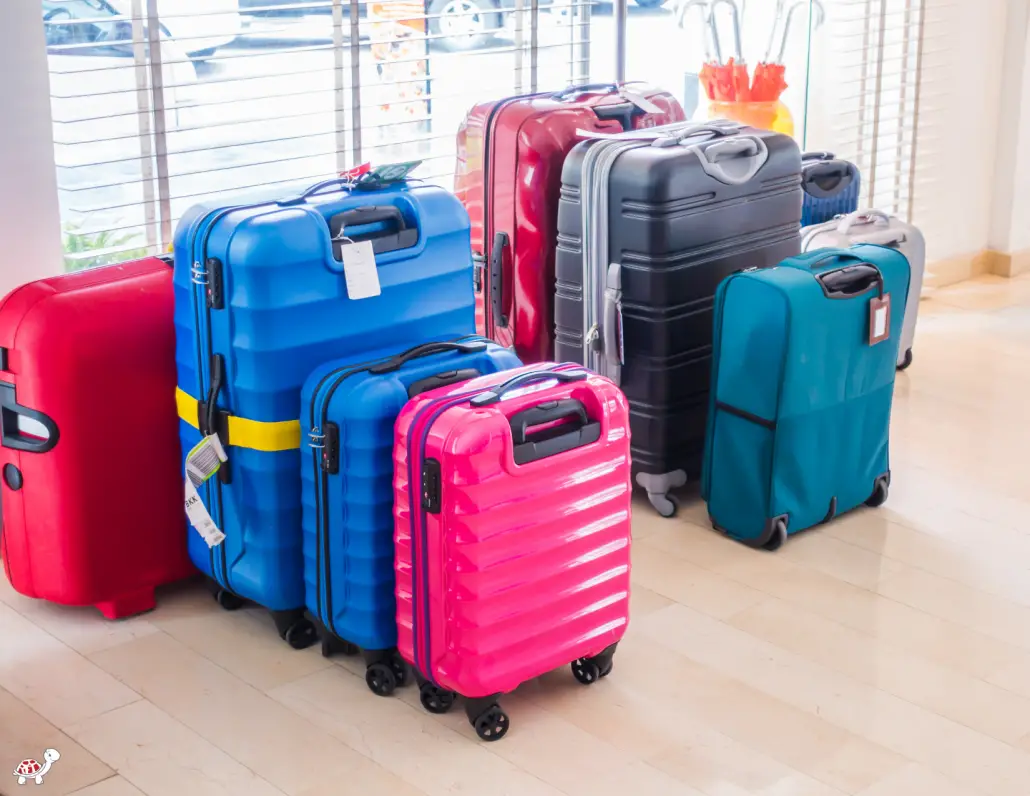 Know what is inside your checked luggage
Take photos of what you pack inside your bag. Keep a list of what is inside each checked bag. When luggage is delayed, the customer service agent needs to know the unique items in your bag. e.g., red tennis shoes and a blue bathing suit.
Keep receipts
When filing a claim to receive compensation for lost baggage, the airline will request proof of purchase for items valued at $100 (USD) or higher. Keep receipts for the items you purchase for your trip or during travel. Knowing the value of the items in your checked bag will make it much easier to file a claim and receive a fair reimbursement.
Don't put the receipts from items you bought on your trip in your checked bag. The receipts will be no help to you if your checked bag goes missing. I've learned that lesson the hard way!
Purchase lost baggage insurance.
If you're traveling with items worth more than the bag liability limitations, you can buy an additional insurance policy for checked luggage at the ticket counter. For example, lost baggage American Airlines' additional insurance cost $5 for every $100 worth of checked bags. The total valuation of checked bags cannot exceed $5,000 per passenger.
Check with your credit card company to see what coverage they offer for lost or delayed baggage. Or consider purchasing a travel insurance policy to receive additional compensation for lost baggage.
Conclusion
As frustrating as it is to lose your luggage when flying with children, it's not completely avoidable. There are plenty of actions you can take to reduce the chances of lost luggage. Following these simple steps about how to avoid lost luggage will help make the process less painful and ultimately help get your bags returned to you more quickly. Keep a calm attitude with a large dose of patience. Ultimately be prepared with the necessities in your carry-on just in case you find yourself at the airport with no checked luggage.
For more about family travel, check out these posts:
Best Airplane Bed for Kid, Toddler, and Baby
Complete guide to getting your baby or child a U.S. passport
Navigating Airport Security with Children
Helpful Tips for Flying with a Toddler
BE Family Products Inc., or (BE Family Travel) participates in the Amazon Services LLC Associates Program, an affiliate advertising program designed to provide a means for sites to earn advertising fees by advertising and linking to Amazon.com. Using any of the links on this website does NOT cost you anything but does help us continue to create content on this blog. Thank you so much for your support and for partnering with us. Let's BE Family.